Last week United Way of Waco-McLennan County announced $1.2 million in grants benefiting specific missions and priorities undertaken by local nonprofits, part of newly reconstituted protocols that seek to fund specific objectives and initiatives benefiting the Waco area rather than simply awarding funding to nonprofits for general operations and broad goals. This dramatic shift by local United Way board members sparked some confusion last year when, in transitioning to this new model, Salvation Army of Waco, Family Health Center, the YMCA and Community Cancer Center saw United Way funding significantly curtailed.
In this Trib editorial board Q&A, United Way of Waco-McLennan County executive director Barbara Mosacchio and president-elect Andrew Pick, logistics manager at Caterpillar Inc.'s Waco distribution plant, explain why the United Way board is optimistic about grants tailored to specific needs in Waco, focusing on education, health, financial stability and safety-net services. In all, 26 organizations received funding of 38 applicants; 14 of the organizations have never previously received United Way funding. More to the point, of 60 programs that applied for grant funding, 37 made the cut. United Way considered $2.65 million in funding requests. Incidentally, Salvation Army, Family Health Center and the YMCA are among nonprofits with initiatives funded, plus novel endeavors funded by nonprofits ranging from The Cove, which provides services to homeless students in Waco Independent School District, to American Gateways, which assists immigrants with legal services in such matters as asylum, visas and the Deferred Action for Childhood Arrivals program. Pick and Mosacchio also discuss United Way policy outreach.
Q A lot of people in the Waco area may still be confounded by changes at United Way. I mean, this is certainly not our fathers' United Way of Waco-McLennan County.
Barbara Mosacchio True. If you look at our United Way in alignment with other United Ways across the country, across the globe, their model has shifted significantly. Andrew and I early on were able to study these other United Way models. What we realized is that this community wasn't really benefiting from the true essence of a strong and vital United Way.
Andrew Pick We were essentially operating from an old template and have been for decades. As Barbara said, 10-15 years ago the United Way — the institute within the United States as a whole — laid out a different approach they wanted to take. Many of the United Ways were in the forefront of that change. They have completely adopted this new approach. They're much more oriented to outcomes — not just the quantity of service we can provide a customer, because we've got a lot of agencies in our county providing great service. But we're now more concerned with how many people they're serving. We're more interested in seeing a significant difference in the trajectory of the lives of those they're impacting. It's really all about adding some outcome metrics around it.
Q It looks as if you've narrowed down the missions you're considering to four key areas. We're talking about education, economic security, essential services and health and wellness.
Pick When Barbara came aboard as executive director [in March 2017], we took some time to step back and consider the evolution of United Ways across the U.S. We benchmarked different United Ways in different states, learned what we could online and when they sent us information. We physically visited a couple of United Ways to see what they were doing in terms of organization that really moved the needle in their communities. If you're going to make that kind of shift, you don't just jump into it abruptly. You do some validation to make sure you're making the right decisions. In doing that, when we looked at the models other United Ways had applied, we looked not only at lessons learned in making those transitions but how they would structure the investments they were making and had been making for the last decade. So with all that, we looked at how we were going to reshape our United Way and we landed on those four pillars you just articulated.
Q So what distinguished whether a United Way got it right?
Mosacchio The ones doing it really well were having conversations about "collective impact" [in which different agencies work on specific missions in unison to attain broad community goals] long before we in Waco began using that word. United Way was on the leading edge of this collective impact work. And so when a United Way is doing it really, really well, they're responding to the deepest need in the community. They're working with the community to not only generate investment but to then steward and make sure that investment is going toward the greatest impact. They're focusing on community will. They're bringing the community voice to the table. We're a public trust, we're not a private foundation. Prosper Waco and all the work it's done has articulated the needs our community wants addressed, the highest needs. We've aligned with that while maintaining safety-net services and essential services for people in crisis. But the goal is ultimately moving people beyond crisis to stability.
The United Way of Waco-McLennan County announced $1.2 million in grant awards Monday, the first round of funding to be distributed to area org…
Pick Jumping forward in the process of questions, the process we rolled out this year is, yes, a competitive-based grant process, so organizations must be able to clearly articulate how they're meeting the needs of our community, how they're going to measure success within their program. They must demonstrate and articulate program capacity and show effectiveness of the programs as well as their organizational capacity. Can they clearly articulate where they are with their financial situation from a stability standpoint?
Q Does this include things such as a nonprofit's success at individual fundraising, beyond what it might get from United Way?
Pick Yes. So it really is a very rounded approach to what we're judging within the grant process. As you've seen with the wide range of organizations we're funding this year, many are new organizations to us, of all different sizes of organizations, small to large. It really got down to who articulated those components the best. Those are the ones that have come through and are gaining funding. So any organization that has clarity with regard to those aspects can be funded by the United Way.
Mosacchio Thinking about some of the organizations in the previous United Way model — there were anywhere from 19 to 22, 23 organizations — they were —
Q Some seemed to appear as beneficiaries year after year by rote, on cue, regardless of whether they pursued specific missions tailored to local needs. And apparently some did not because, in the midst of all this, civic and business leaders several years ago began to highlight key failures in such things as education, financial security and health care through the Prosper Waco anti-poverty initiative. Some agencies and nonprofits weren't necessarily working in strategic coordination, which is where this collective impact model arose.
Mosacchio And that's very much the old model of United Way. When I was leaving the YWCA in Dallas, we pretty much could depend on $1.2 million [from United Way]. We didn't really have to prove a lot other than we were a well-run organization, we had financial integrity, we had good operational excellence and we had good programs. It wasn't that the organizations being funded were doing anything wrong. They just weren't being asked all the right questions.
Q Tell me about these community investment councils that help determine what missions you seek to address in our community.
Where do these people come from? I saw a good example in Trib staff writer Brooke Crum's Tuesday story about Jessica Juarez, admissions director at Bella Beauty College, who serves on the community investment council overseeing nonprofit missions involving safety-net services. Turns out she actually benefited from public assistance programs herself when she became a single parent. That suggests to me that she knows the needs.
Mosacchio We have a strong network of contacts through our United Way board, through our staff, through our work in the community, so it's a combination of people who come to the table as issue experts to serve on these councils. We have doctors and nurses and educators who really understand the needs for the kind of programming we're looking to fund, community leaders, donors who are investing in our work every single day and people who have actually benefited from these services — it's a blended perspective. They were trained, they were educated on our impact framework, they were deeply involved in our strategy and mission. They didn't just come off the street. These are people who said, "This is important work, I want to be part of it."
Q Do you offer counseling to newer nonprofits such as The Cove, which only started up in 2016, yet neatly fills a serious niche in terms of addressing a significant number of homeless students in Waco Independent School District?
Mosacchio It isn't our job to tell an organization how to run their program, it's to evaluate the program. But our board approved an additional $50,000 for capacity building. Throughout this year we will be offering training on things such as how to build a logic model ...
Q How to build a what?
Mosacchio A logic model. It's a very scientific thing [that diagrams shared relationships between an agency's resources, activities, outcomes and impact]. Taking the opportunity to help these organizations advance their work and perform well not only fulfills the United Way model but helps them in their other funding applications.
Q In January United Ways of Texas released a study indicating that, based on 2016 data, 44% of people in McLennan County households live in poverty or are one paycheck away from financial disaster and possibly winding up on the street. Yet I keep receiving letters to the editor from business executives and hearing from our politicians, God love them, about how we're in an economic boom and benefiting like crazy from tax cuts. In Waco we see buildings and restaurants and all kinds of businesses opening up. We can't keep tourists out of here even with all the highway construction, which is terrific. Yet I think about those 44% of folks in our county in poverty or close to it. Make sense of this for our readers.
Mosacchio Unemployment is down, but if you look at the bulk of jobs across the state, they're paying on average $20 an hour. For a family of four in Texas to live, to not just be in survival mode or budgeting for poverty status, to be in a sustainability budget, they need to be earning about $53,000 to $54,000 a year. Federal poverty guidelines are completely ... and I'm sorry, I get really passionate about this —
Q That's fine.
Mosacchio The federal poverty guidelines are completely antiquated. They say that, you know, if a family of four is making — I think it's $23,000 or $24,000 a year — they're living above the federal poverty guidelines and they're not eligible for any kind of assistance. And you have these families who are employed, they're retail and service workers, they're people who work in our factories, they're child-care workers and they are barely maintaining. They're making tough choices every single month. Do I buy groceries or do I pay this bill for medicine? When I put gas in my car, do I fill up my tank or do I put just $10 worth of gas in my car? The pace of pay in our state has simply not kept pace with the cost of living. It's a really simple equation. We did some policy work with our state association this year. You look at these families and, well, everybody was pretty excited because of the fact that the Texas Legislature funded full-day pre-kindergarten.
Q Right, and state lawmakers and our governor are proud of this.
Mosacchio But we have income-restricted it. These families that we're talking about — probably some of the families you know — are not eligible for subsidies that could make full-day pre-kindergarten more affordable to them. These people are getting pushed off into the margins.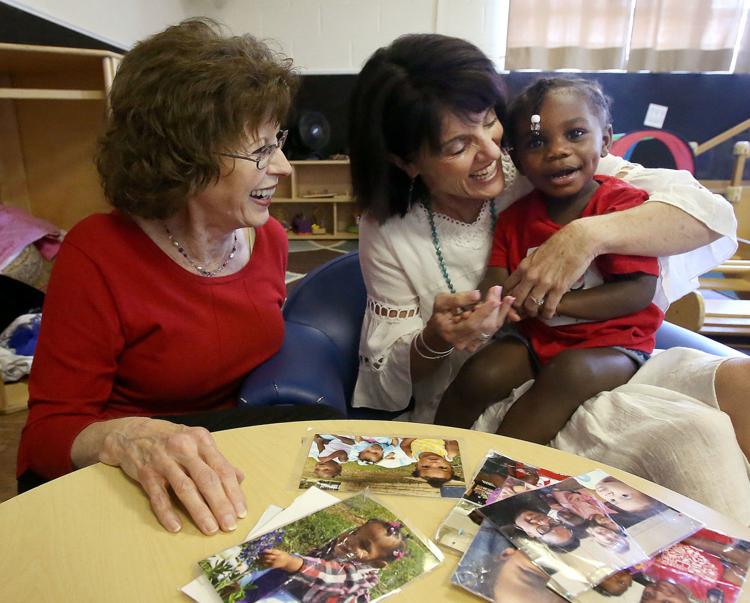 Q I notice that two organizations receiving first-time funding from United Way offer legal services, one specifically regarding immigration services. These are tremendously important as state and U.S. laws get more and more complicated. And, as mentioned, you have The Cove, dealing with homeless students who "couch surf" from house to house. One of our past superintendents told me about a student who lived under a local bridge but still went to school. How is United Way keeping up with changing community needs such as these when it comes to deciding what missions are important and what are not?
Mosacchio When we built our strategic plan, we invited about 11 members of the community to sit with us at the table and look at each goal, each area of our impact framework, and prioritize the kind of issues we would fund. When we came to safety-net services, we said, "Well, obviously it's food and shelter and those kinds of things." But because we had great minds at the table , they were able to say, "Well, wait a minute — people with legal issues living in poverty or just above poverty, if they can't solve certain legal issues, that's a clear barrier to their ultimate stability as an individual or as a family in this community." So we used our community leaders, we used Prosper Waco, we used the city to help us build our strategic plan. We aligned their recommendations to our impact framework and that helped us identify the kind of issue areas that we would look to address.
Q So how will people be able to learn the mission success of the organizations you're funding?
Mosacchio Just as we're transparent about who we're funding [as reported extensively in the Trib Tuesday], it's our responsibility to come back to the community, potentially in partnership with Prosper Waco, looking at that bigger, global community score card and reporting the outcomes the agencies we're funding are achieving. That will become part of our ongoing work.
Q You have a new way of doing things. You're funding programs, not agencies. You've basically reworked your entire process. Now you have to go out to the community and say, "Give us money." What's your biggest challenge moving forward? How do you sell what you've done to your donors and to potential new donors?
Mosacchio It is helping the donors and broader community to understand what a high-impact United Way is and why it's important to the community. So, first and foremost, it's about helping the community understand United Way is more than just a workplace campaign. Second piece, we've made a great deal of progress by [diversifying] the list of agencies benefiting and tying it back to core issues. But the proof will be in the pudding. Our responsibility is to track, report and share those outcomes, to come back to a donor, whether they give a $10 contribution or more, and be able to clearly say, "Here's where your dollars went. And here's the difference it made."
Q Is the workplace campaign still the primary strategy to raise funds?
Q That's where you get the most dollars?
Mosacchio Yes, though we've taken a 360 approach to fundraising. We're looking at ways to diversify our revenue streams and build relationships with our donors that don't just happen once a year when we pick up the phone and say, "When are you going to launch your campaign?" We'll be having meetings, sharing information with them, looking for ways to inspire their employees to give, as opposed to just expecting them to give.
Q So does a fund campaign drive still exist in Waco?
Mosacchio It's actually gearing up right now. July-August is when the initial campaigns begin like H-E-B, the city of Waco and Caterpillar. August to January will be those really intense times when the workplace campaigns will be going on.
Q Looking back at this United Ways of Texas study, it looks at a lot of cities in Texas. Is there something unique about Waco that makes our challenge singular?
Mosacchio When you look at the average median income, when you look at the wages, we were significantly lower than some other cities and counties. We don't have quite as many industries as some other places do. We have a lot of retail and service jobs that typically pay a lower amount of money. One of the messages I'll deliver to the Waco Business League today is to answer the question: What can we do? There's obviously policy work to do.
Q What kind of policy work?
Mosacchio The opportunity to be a voice on issues in such matters as child care and income restriction for full-day pre-kindergarten because it's potentially Andrew's employees [at Caterpillar] or SpaceX's employees who are going to be hurt by the fact they're not going to meet those income restriction guidelines. It's looking at ways to connect employees to better financial literacy training, whether through one of the nonprofits we fund or some other initiative.
Q Are there things, for instance, the hometown newspaper and our lawmakers should be advocating in Congress, the state legislature and with our readers?
Mosacchio At the state level, there's this whole predatory lending issue, a serious pitfall for [struggling] families. So, yes, predatory lending, this income restriction for full-day pre-K and the quality and standard of child care across the state. One disappointment in the Texas Legislature was a dashed opportunity for legislation that created much more emphasis on maternal and child health. It was defeated. [Note: A bill to expand Medicaid eligibility for mothers for a year after delivery rather than just two months passed the Texas House but never made it through the Senate.] Texas has an astronomical rate of teen pregnancy still. And the infant mortality rate, particularly for African-American women, is huge. These are the kinds of issues in alignment with others in our community we're going to take a stand on.