Barry Johnson, 61, an attorney who grew up in Waco and returned to his hometown from Dallas in March to care for his mother, is a Republican candidate for McLennan County district attorney, a position occupied for two terms by Abel Reyna. Whoever wins the March 6 GOP primary election will face independent Daniel Hare in the Nov. 6 election. Early voting in the Republican primary election begins Tuesday.
In this interview with Trib courthouse reporter Tommy Witherspoon and the editorial board, Johnson discusses the allegations of corruption and political favoritism leveled at District Attorney Reyna. This includes what some say is Reyna's mishandling of Twin Peaks cases arising from a shootout involving rival motorcycle gangs and Waco police in May 2015. Johnson also discusses his own background, including his lack of experience in criminal law and his youth spent around noted courthouse figures in Waco.
Q    Your father [Joe N. Johnson] was a justice of the peace and a district judge in McLennan County. How long did he serve at the courthouse?
A     He was a JP for 24 years and a district judge for 16 years.
Q    Forty years. Your dad had a wealth of experience, and from the ground up, in the judicial realm.
A     He really did. Before Dad ran for JP, [74th District] Judge [D.Y.] McDaniel and some of the others, [including 54th District] Judge [D.W.] Bartlett, said, "Hey, you need to run for JP." My dad had Tommy [Witherspoon]'s job [as courthouse reporter for the Trib] at the time and he said, "I can't run for JP, I'm not a lawyer, I don't know anything about that." And they said, "No, no, you need to run. You don't need to be a lawyer to be a JP."
Q    Right. You don't have to have a law degree to be a JP in Texas.
A     He ran against a lawyer who was well established and a former county court-at-law judge. I said at my dad's funeral [in 2015] that my dad got elected as a non-lawyer because he was a good trumpet player. He played trumpet all over town, you know, played professionally. Back in those days there was a guy named Bill Foster.
Q    Yeah, an oldtime newspaperman. He's still around.
A     Well, he wrote a scathing article about how my dad's opponent was a lawyer and was the guy for the job and all Dad was was one of those beer-joint trumpet players. And my dad said when that came out, everybody put two and two together and went, "Oh, that's that Joe Johnson." He swears that's how he got elected. He beat that guy two to one. But one of his campaign promises was, "If elected, I'll enroll in law school." So he got elected in May and enrolled in law school in June and had no idea of what he was getting into at all until, all of a sudden, he was going day and night. [Judge Johnson graduated from Baylor Law School in 1964.]
Q     You were gone from Waco for a long time, particularly in the Dallas area. And you were in Oklahoma a while. Give us a sketch of your career up till now.
A     I was born and raised here in Waco, went to Waco schools. In fact, I grew up over in South Waco where the H-E-B parking lot is now. I went to junior high at Lake Air and graduated from Richfield High in '74. I went to Baylor University and graduated from there in '79, then went to work for a company called the Texas Coffin Company. They manufactured caskets and other burial supplies but primarily caskets. I worked for them for five years. It was a great job, you know, coming right out of college.
Q    What did you do? Build caskets or—
A     I was a salesman. I'd go from funeral home to funeral home and we had our certain accounts that we would call on—
Q    Why would that be a great job?
A     Oh, it was just a great sales job. You know, I lived in different places. I started out in Abilene as an assistant manager, so I did build caskets out there. They said, "Hey, you're assistant manager." I showed up my first day out of Baylor in a suit. And that's the last day I wore a suit. Every other day I wore blue jeans and boots and it was back in the back—
A     Yeah, in Abilene. So I was there a year and then I got promoted when a sales territory job came open. I moved to San Antonio and those were just great jobs, you know, as a young kid right out of school. You know, you get in your car on Monday and hit the territory. You go out Uvalde way or go down to the Rio Grande Valley…
Q    Working around caskets all the time, did that convince you to go to law school?
A     I ended up working in San Antonio and the South Texas territory and then got transferred over and worked the Houston territory. And when the company sold, we all kind of had to scramble and find something to do. So I went up to Dallas and was in the commercial real estate business for two years. At any rate, I kind of toughed it out and started getting trained to where I knew what I was doing and then, all of a sudden, about halfway through 1985, '86, the bottom just fell out of the real estate market [because of the oil bust]. That's when I applied to law school up in Oklahoma City. [Oklahoma City University School of Law.] I went straight through and got out in December '88. So I came back here.
A     To Waco. I went to work for a law firm here for about a year or so — Haley, Davis, Wren, Bristow and Rasner. Now it's Haley & Olson.
Q     I read in Tommy Witherspoon's story last year that you pretty much grew up around the McLennan County Courthouse.
A     My mother would drop us off at one of the movie theaters downtown. We'd walk over to my dad's at five o'clock so he could bring us home. I remember the courthouse had the same smell it has now. In trying cases all over the state, it seems all courthouses have that same smell. You walk in and you know you're in the courthouse. It was just a great place. Judge Ray Mormino [a state district judge and county judge at different periods] was still there. He was judge in the 170th and, when he retired [in 1989], my dad ran for his job. And Judge McDaniel was still there. So I got to know all those guys.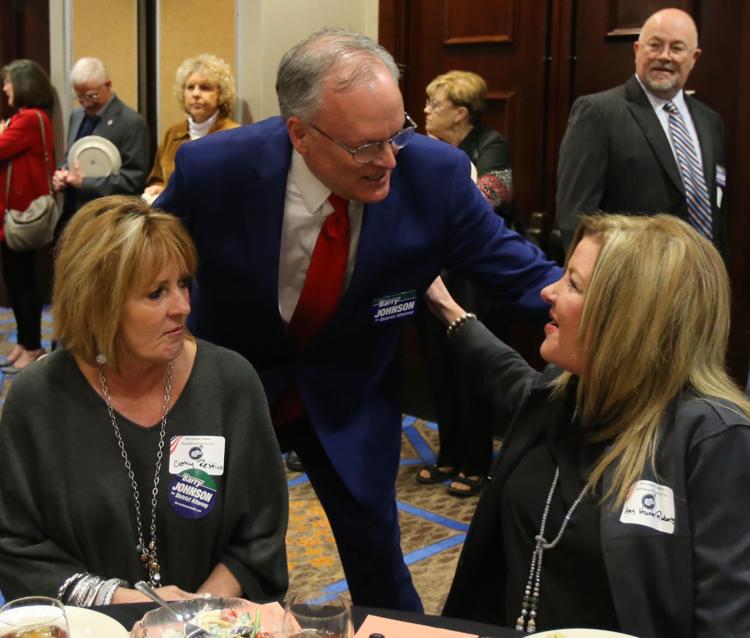 Q    Voters in our county face a dilemma in the district attorney's race, especially in the Republican primary election. We have a district attorney who is covered in allegations suggesting he's not trusted by at least some local law enforcement, allegations that he kills prosecution cases for political donors and allegations that he's badly mishandled the Twin Peaks biker cases. Yet we have a challenger who has a long career in the law but not in criminal law. Since you're the latter part of this unwieldy equation, why would we want to pass up what we have now and put everything on a new horse?
A     That's a great question. I did practice for the majority of my career in civil cases, which is what you do from the plaintiff's side of the bar. I don't think there's any question that I'm qualified to do this job because I was prosecuting those civil cases that were in my opinion much more difficult than prosecuting a murder case or a DWI case.
Q    Yet criminal law and civil law are different. Don't you think you'd face a steep learning curve?
A     Oh, I'm practicing criminal law now and have been since I've been back in Waco. There has been somewhat of a learning curve—
Q    What's been the biggest learning curve for you since you've come back?
A     Well, there hasn't been a lot other than I haven't actually picked a jury and tried a case. All my cases have been settled. I've got several trials coming up. That will probably be after the primary. Probably the biggest learning curve for me has been it's a different, substantive area of the law. But as far as getting your cases ready, being on time, just doing the things that a lawyer does — 90 percent of it is integrity. It's really been pretty much the same and, to tell you the truth, a lot easier and less complicated than the discovery and preparation phase of a case in civil law.
Q    Still, one could argue you're a novice in criminal law. You'd come into a post for which you have solid legal training, no doubt about that, but how will you compensate for the fact that you're not an old hand at criminal law the way the incumbent is?
A     Well, I admit and certainly agree there's somewhat of a learning curve. But as far as my experience goes and what I've been doing, in my opinion the only difference in a criminal case and a civil case is the subject matter.
Q    The post of district attorney is sometimes viewed more as a managerial role in terms of administration, organization of the office and working closely with talented, smart assistant district attorneys. What would your policies be in that regard?
A     The administrative part of being a district attorney is important. And there are a lot of good lawyers already there that I would enjoy working with and there are some, of course, if elected, I would change. But I think the most important part of this job is to get the brightest and the smartest and the most ethical group of lawyers together. My goal would be to have the best district attorney's staff in the state. My position would be: Don't hire anybody unless they're smarter than me.
Q    The Trib has reported on problems between the district attorney's office and local police and other law enforcement agencies. Do you have a policy or protocol as to how you might change working relationships with police or even district judges?
A     For the district attorney's office to be in any way in conflict with the police department is inexcusable. It shouldn't happen. The police department in Waco is a good police department, our judges are good judges. In my opinion, that's one of the problems that we're having now. The district attorney's office showed up at the scene at the Twin Peaks [motorcyclist shootout in 2015]. The reason we're having the problems we have now is because, for whatever reason, Mr. Reyna went out there and, all of a sudden, he's a witness, so you're potentially disqualified from doing your job of prosecuting. More so than that, you have put your prosecutorial immunity at risk, which means the county may be on the hook for a whole bunch of money. In civil cases, such as the hundred on file down in Austin right now — those are frightening from a financial perspective.
Q    You're talking about federal lawsuits alleging that Reyna's taking over a police investigation just after the Twin Peaks shooting and jailing 177 bikers on million-dollar bonds through the criminal justice system was an assault on their civil rights?
A     Yes. The most important thing I learned from my dad as a jurist: Everybody's got to be treated the same with no favoritism whatsoever. And there's just so much smoke right now in this DA's office, with this district attorney. It's like, is everybody lying? Is [Reyna's former prosecutor] Greg Davis wrong in his affidavit [in which he accuses Reyna of repeatedly quashing prosecution cases as favors to political donors]? When you walk in the courtroom, you have to know the law or you don't go in there. And don't ever hang your judges out to dry. And with your donors or your friends or whoever, they have to know they're not getting any favors. That's not going to happen. Once you get into this two-tier justice system where there's even a hint of that, your credibility is gone and you don't have any business in that office.
Q    There has been a lot of concern about how all these people were thrown into jail, some possibly having nothing to do with the violence. What would be your first course in handling these cases if you became district attorney?
A     The very first thing I would do if elected, I'd give my top people — and it would be four or five very skilled lawyers and investigators — every one of those cases [under indictment] would go under the microscope. I would give them a deadline — hopefully it would be about 60 days, 90 days at the most — and then I'd want them back and I'd work right with them. I think you've got to figure out which of those cases should go forward and what you're going to do with the other ones. [Note: Two district judges on Feb. 8 signed orders submitted by the DA's office dismissing charges against 13 bikers arrested in the 2015 Twin Peaks shootout; the dismissals drop the number of indictments from 154 to 141 with more possible in coming weeks.]
Q    I know as a district attorney you cannot be concerned about all these civil cases piling up down in Austin .
A     That damage is already done and it cannot be undone. The district attorney is not going to be defending those cases or otherwise participating in the defense of those cases. Two law firms have already been retained [to defend the city and county]. It's not for me to involve myself in this in any way as district attorney when I'm sworn in. My position is when there's a violation of the law, when a case comes across my desk, then that case will be prosecuted if it's a prosecutable case. And if there's a case that comes across my desk where I think it's not worthy of going forward, then it will not go forward.
Q    We've seen a lot of cases dismissed in recent days, as well as cases where the district attorney has now recused himself.
A     What this dismissal of cases shows is we've been right all along in our campaign, that justice is in jeopardy in McLennan County because of Mr. Reyna's actions. Those cases he dismissed didn't suddenly become bad a week or two ago. Those were probably not cases back on May 17, 2015, and he's in essence admitting now that those were innocent people and that those people were persecuted for his own political gain and he would never have dismissed those cases in my opinion if the Republican primary election wasn't being held two weeks from the time of those dismissals. He says it's not political , but that's hogwash. It's completely political. If we haven't been able to do anything else for this county, we've at least been able to shine a light of truth on exactly what Abel Reyna has done by arresting 177 people and indicting 154. He knows it was a mistake, no matter what he says. It's pretty clear. Justice has been denied. And it's a shame, an absolute shame.
Q    You're also running against a district attorney who failed in the very first Twin Peaks trial, one that he and First Assistant District Attorney Michael Jarrett said they wanted to try first and foremost. I'm referring to last fall's trial of Dallas Bandidos chieftain Jake Carrizal.
A     That's what I don't understand. They got to pick their best case and their theory was, "Once we get the conviction there, the rest of them will fall like dominoes." Well, the problem with this cause of action being similar to [racketeering] in federal court or organized criminal activity, engaging in gang violence, was they just weren't able to prove it. If you can't get more than six people [on the Carrizal jury] to say he's anything other than innocent and that's your best case, you're going down the wrong trail. And as the police department was originally investigating [this as] a murder case, from what I can tell, about five murders went down out there. [Note: Of the nine bikers killed during the Twin Peaks melee, four died with police bullets in them, autopsy results indicated during the trial.] And that's where I think it went wrong. The trial also went on too long. You know, you had four full weeks. I think the jury, from what everybody was saying, was sitting up there bored.
Q    I think I saw a few going to sleep.
A     As a trial lawyer, that's the one thing we fear the most. You've got to keep the jury interested and it's not easy to do. You got to go at it real hard. I think they were just going down the wrong path. And then this Carrizal guy ended up being a good witness.
Q    A mailer this weekend sent out by the Reyna re-election campaign alleges that your campaign, in Mr. Reyna's words, "is supported by biker gangs and funded by biker gang defense lawyers."
A     When he says we're the bikers' "puppy," as he said at the McLennan County Republican Club meeting [where the two candidates appeared Jan. 18], when he tries to paint me as their mouthpiece, that's ridiculous. It's nothing more than a diversion to cover up his own criminal activity. I've never owned a motorcycle. He certainly has. Never ridden a Harley-Davidson. He has. All of those bikers were Abel Reyna's biggest supporters when he ran in 2010. This is nothing more than a ruse and a smokescreen to try to cover up his mishandling of the Twin Peaks matter and its costing our county millions of dollars to deal with it and then his own criminality in dismissing cases in exchange for donations and money. That's all it is. He's trying to paint me whichever way he can paint me, such as not having courtroom experience. I've had a hundred times more courtroom experience than Abel Reyna will ever have. I'm all for prosecuting the bikers who shot and killed other bikers. They will be prosecuted. But for him to try and say that bikers' lawyers are behind me — they haven't been behind me at all. I can't think of any other than maybe a couple that might've donated anything to my campaign. They haven't been supporters of mine. They're in the criminal defense bar and, to tell you the truth, they were probably for [Democratic DA candidate] Seth Sutton 100 percent before he dropped out. They certainly weren't for me.
Q    Have you ever in your legal career encountered a breach or a possible breach in your own integrity? How did you deal with that?
A     I have not. I've certainly made mistakes. But as far as my integrity goes and the way I handle myself, I'm not aware of any breaches in my integrity. I'm not trying to say, "Hey, I've never made a mistake in my life," because I've made those. But as far as my integrity and the way I approach things — telling the truth and being ready and treating my clients the way they should be treated, pursuant to my oath — I don't recall any violations that I've had in that manner.
Q    You've never been sanctioned by the legal bar or anything like that?
A     No, I've never been sanctioned. The only thing I've had happen is, when I started doing some mass action cases, two grievances were filed against me. Never had a grievance in all these years.
A     Products cases. But the bar just sent me a note saying that they had looked at them, that they were not cases, that they threw them away and don't worry about them—
Q    What do you hear from people on the campaign trail?
A     The bulk of what I hear is there's got to be a change, that McLennan County can't afford another four years of Mr. Reyna. The majority of what I hear, going around to the chili suppers and pancake things, is: "What do we need to do to help you?" and "We need a change." But the real risk is when you say to yourself, "Hey, this is going pretty good, I think I've got a good shot at this." Then you could end up getting beat. There's 13,000 households that are going to decide this election and I'm running against a two-term incumbent. The way I look at it, I'm running behind.
Q    What's been your biggest lesson on the campaign trail?
A     Well, it's such a great honor to get out and reconnect with old friends. But as far as lessons learned, it's shown that we all have to step forward when the situation calls for it and serve our fellow citizens of McLennan County. That's what I sense, going to the post office today or other places in recent weeks. People are so encouraged that somebody has stepped forward to shine a light on this whole mess that's been made in McLennan County. It's been a different kind of campaign because there's so much that is contentious, but those issues have to be brought out. And now they have been brought out.
McLennan County District Attorney Abel Reyna, 45, declined to respond to requests that he sit down with the Trib editorial board to answer questions about his tenure.
Abel Reyna and Barry Johnson both have deep roots in McLennan County.