Pressing for positive change in East Waco: Q&A with Waco City Council District 1 challenger Mark Shaw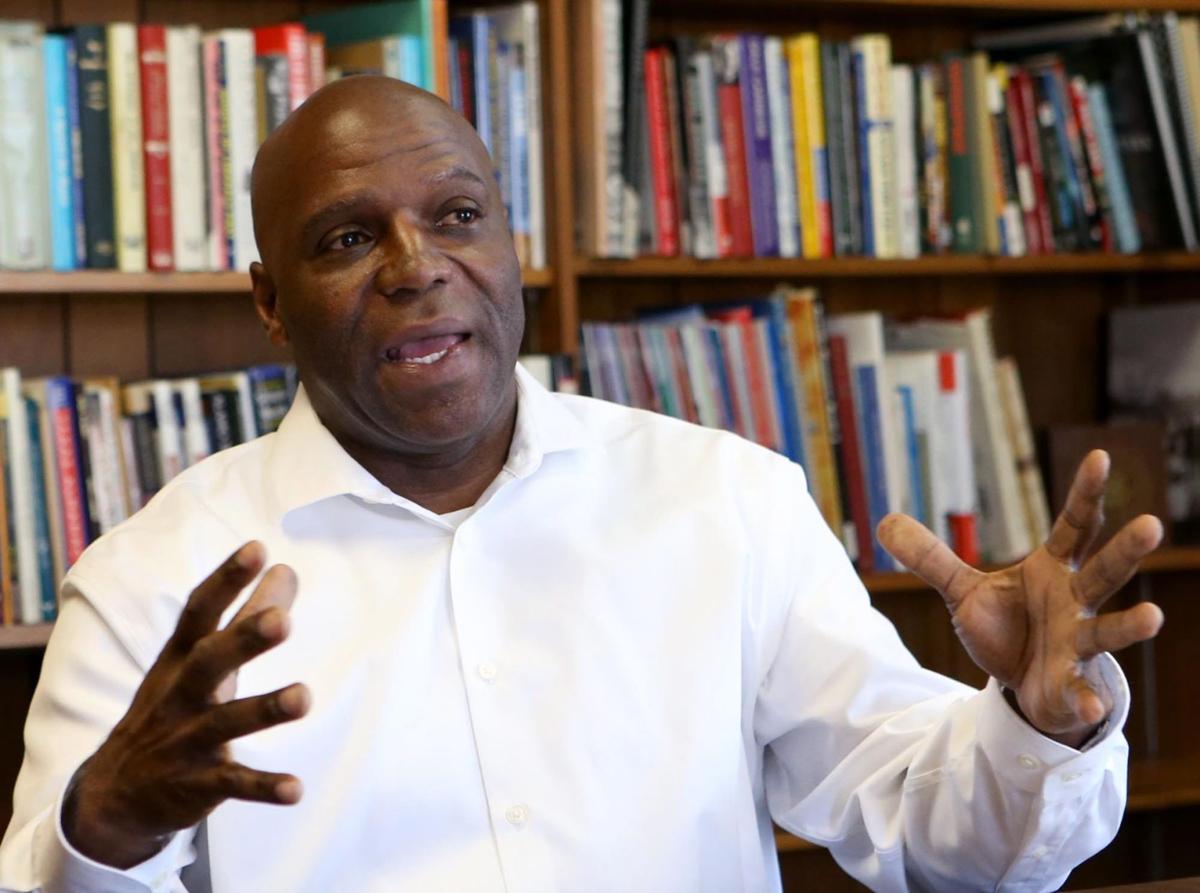 Mark Shaw, 55, a business manager for The Johnson Group who also rehabilitates houses, is challenging Waco City Council incumbent Wilbert Austin, 76, to re-election. Shaw is making his second bid to represent District 1, having come in third in a four-way race in 2004 that saw veteran educator LaRue Dorsey win the council seat over both Austin and Shaw. In this Q&A with the Trib editorial board and staff writer J.B. Smith, Shaw discusses the importance of public education in city affairs; welcoming the label of Republican conservatism in this council race; and last year's feuding between Councilman Austin and some neighborhood leaders over the lack of restrooms in a neighborhood park. Rev. Austin, who has served on the council 10 years, declined to be interviewed by the editorial board, insisting he was too busy. District 1 encompasses not just East Waco but the Timbercrest neighborhood, parts of far South Waco and neighborhoods around McLennan Community College and Texas State Technical College. Election Day is May 7.
Q     You were a bright young prospect for public service when you ran in a four-way Waco City Council race in 2004. When you failed to win, you vanished from the public square till this February. Where have you been?
A     I fought the impulse to run till the very last minute. I didn't want to get into the race. I'm extremely busy because I'm already in the community working. I'm one of the few investors who will buy houses, fix them up and resell them in East Waco. I believe in it. I really enjoy it. I've probably done about a hundred. I have a crew that works with me. I subcontract out, but I do a lot myself. I've kind of always done it on the side, but in 2015 I incorporated. The business is called Nice Investments. I have these homes all over, but I like the older homes of East Waco and I've fought to slow the cycle of tearing down residences because I think that's a part of having affordable homes.
Q     You were in the pawn business, weren't you?
A     Still am. The Johnson Group is a holding company and they have a real estate portfolio. They have a roofing company, a furniture outlet and a lot of other things, but I've mainly focused on the pawn side because that's what I know. But I love all of it.
Q     You've said the political climate has changed a lot since your last appearance in a City Council race. How so?
A     Texas has always been a conservative state, but a lot of people don't really know what conservative means. So when just by chance someone said to the newspaper, "Hey, Mark Shaw is running (for Waco City Council) as a Republican" — well, I never meant it to work out that way, but that's OK because I'm proud to be a conservative. A conservative to me means living within your means. Whether you make $700 a month or $2,000 a month or $3,000 a month, if you live within your means on whatever money you have, that's conservative. So if I'm in the city and I'm representing my community on the City Council, I want the city to also live within its means. That's a conservative agenda. At least, that's my take on it.
Q     Well, when I interview people in East Waco on Election Day, sure, some might agree with you on the Noah Webster definition of conservative. But some equate conservatives as enemies of the African-American and minority communities that make up much of District 1.
A     Part of that is not really understanding. I mean, we [African Americans] were Republicans long before it was fashionable to be Republican. As far as the Republican Party goes — and I don't really want to get into this issue too much — but if it had not been for Abraham Lincoln and so many other Republicans of that era, I don't know where we'd be today. I can't say that switching parties during the Kennedy era did that much for the minorities. I understand how people feel about it, but the real issue is: Can I do this job? Can I do what the community needs? I mean, look at what we have now in East Waco. Are we willing to settle for that or are we willing to risk a change for something that is positive for the community?
Q     You make a good case for conservatism — living within your means, being fiscal-minded, expecting government to do the same. One strong point Prosper Waco makes is that, sure, raising the minimum wage might be nice, but it's far more important that one learn financial literacy and the importance of thoughtfully investing and saving and building upon the money you do make. How do you impress that message on people in your community who might get the wrong idea when they hear that you're conservative?
A     It all has to do with how you approach it. People often say, "I need more, I want more." A lot of people don't understand how many resources they actually have. There are different ways to get fresh fruits and vegetables, for example. There's an organization for that. I'm not saying someone should go and get in a soup line, but if people do a little bit of homework, there are programs out there that can help make your budget balance out. And my phone is on. Call me and, if I have an answer or a resource for you, that's how we need to do it.
Q     So this Republican identity won't be a hindrance in the area of town where you're campaigning?
A     Well, I don't think it hurts me at all. As I say, that's who I am. I'm not going to come in and pretend I'm somebody I'm not. I'm not going to do any under-the-table deals, including the situation at the Hood Street park where we have police on overtime standing in the park. Let's look at a budget that works for the entire city where all the parks have the proper facilities and they are lighted and monitored and they work like any other park. No special treatment for East Waco or any other part of Waco.
Q     When you announced this council run, you said you wanted to see more economic development in East Waco. That prompted your opponent to claim credit for the development of the Rapoport Academy, Lula Jane's and the new city firehouse.
A     Well, the Rapoport Academy development really predates a lot of my opponent's work. And I don't want the fire department mad at me, but did we really need that fire department right there in East Waco? I'll pass on that. I know we had a study and we needed to move fire stations. I mean, it's a nice fire station with a gym and kitchen and all, but let's be real: We got one right here on Columbus Avenue. And as a conservative, I'm saying there was really nothing wrong with the one we had. And Rev. Austin really didn't have anything to do with that new fire station. He had no influence on that at all.
Q     From our perspective, the correct answer to that question would have been: How much does a firehouse have to do with economic development anyway?
A     As far as Lula Jane's goes, I like it, I've been there, I've eaten lunch there and I'm all for it. But if that's your record — Lula Jane's and a firehouse — then we're in trouble. Have you been down Elm Street often?
Q     Well, yes, as a matter of fact.
A     And does it look pretty improved?
Q     Well, Lula Jane's makes a big difference with a going concern right there.
A     Yeah, but out of 18 blocks, you have one new business. Look, I think my opponent has done his part but, like with our Congress, if we keep re-electing the same people and expecting something different, it's never going to happen. And I pledge, if elected, if I don't get the job done, you won't have to worry about me running again because I won't. I have a mission to make a positive change in this community. And if I can't do the job, "Hey, see you later."
Q     I remember when Wilbert Austin was running against Lawrence Johnson years ago, time after time, and Austin was always saying, "Well, we need to get some businesses down on Elm Street and we need a drug store and a grocery store and a post office." And Lawrence Johnson would say, "It's not that easy. We don't have that much say on whether a grocery store moves in. There's only so much we can do." And I suppose that's what Wilbert would say now that he's in the job. What would you do that would be any different? I mean, you have 7,000 people in East Waco. Most of those people shop at the Bellmead H-E-B and it's going to be hard for anyone to compete with that. It's a mile and a half from those people.
A     But I don't shop at H-E-B and not everybody shops at H-E-B.
Q     Yes, but the point is that, with 7,000 people, the demographic profile is not very high. You have some middle-class folks there, but you have more lower-income people and Elm Street is not a major corridor anymore. You're involved in the business community. How would you convince a business to open up there?
A     I like H-E-B, nothing wrong with it, but look at Whole Foods. It's not necessarily the easiest to get to and they're darn sure not the cheapest, but people fight to get there. I think specialty stores, something like that, can be part of the success.
Q     You might make a good point about specialty stores. What I'm saying is that some of these stores you're talking about would only be convenient to a couple thousand people [if placed in East Waco].
A     District 1 is by far probably the most diverse district. This year I've had more Hispanic buyers than all others buying property in East Waco. So why couldn't we have a restaurant there, an ice cream parlor, a drug store or a cleaner's? I'm not saying we need a big-box retailer but we do need businesses in the community that will support the community so that we can have some pride and places to go and places to shop and places to eat. I don't have all the answers, but I do know if you don't have pride in the community, it's end of game.
A     [Payday lending] is really loan-sharking and I am totally opposed to that.
Q     You're in the pawn business. Isn't that regulated?
Q     What's the maximum you can loan at?
A     It's a staged scale for pawn shops, so if you came to a pawn shop and you wanted to borrow $1,500, 18 percent APR is all we can charge. So if you want a payday loan or title loan, the way they get around that is that it's not necessarily interest but a "fee." That's part of the trick to it — and I don't think that's fair. When you print up a contract like they do and it's 10 pages long and you need bifocals to read it, I don't know whether that's a fair way to do business. So I would be opposed to that.
Q     Recently some folks in East Waco began pushing for installation of restrooms at East Waco Park [401 Hood St.], something Rev. Austin has said he refuses to allow because of the possibility of illicit activities and the fact the park draws crowds and creates parking problems.
A     Bathrooms in the parks? Absolutely. And every park.
Q     Even if they cost something like $100,000?
A     We got two officers, two dogs, two trucks on overtime sitting right there on Turner Street (watching over the park). Which is the better way to spend your money?
Q     But the city has a policy that neighborhood parks don't have bathrooms, only regional parks such as Cameron Park.
A     I disagree. I don't want my 5-year-old — well, I don't have a 5-year-old — but I wouldn't want him running behind a tree or a house. I want him to go to the bathroom. I want him to have water too. I'd like a water fountain.
Q     What about the issues of keeping those bathrooms maintained and nefarious activities out of them?
A     It's 2016. Are we going to go hide in a box and concede we don't know how to go to the bathroom without police monitoring us? Or are we going to say, "We need to do what's right for the community. We have to have bathrooms." We have them in Cameron Park. Are you saying if it's in East Waco, they don't know how to go to the bathroom?
Q     Well, the logic is that if it's a neighborhood park, people can walk home.
A     No, I disagree. I think they need bathrooms and water fountains. I won't change on that. Not only is it safe and sanitary but it's a necessity.
Q     The city has become increasingly involved in efforts to help Waco Independent School District in bolstering economically disadvantaged neighborhoods and the academically struggling schools in those neighborhoods. Is that the proper role for the city?
A     Till we get our inner-city schools to the next level, they need all the support they can get. If I can get you through high school, if I can get you through college, if I can get you through trade school, if I can get you into business, you are more valuable long term to the city and your community as opposed to paying for drug treatment or incarceration later. If we can help promote goodwill, that's what the city needs to be doing.
Q     The 100th anniversary of the Jesse Washington lynching is fast approaching, something that reflects badly on this city a century ago. How should we commemorate this tragic occasion?
A     It was a horrific event. We can apologize but, you know, it has to be something that is real. I can't anticipate that happening in 2016, but the event itself is etched into so many minds and hearts. We have to bring it to the forefront and have an open discussion about it. We have to have a fair apology and then we have to move on. What keeps bringing it up is the fact some people feel like we're still there and that we haven't progressed.
Q     What are the top things people ask you about?
A    I think most people feel like the current councilman is just out of touch with the community. A lot of people want to know what's happening in the community because they're interested in how it will impact them. By no means do I have all the answers to that, but I tell people if I don't have an answer, I will get them the answer. I may not be able to do the job myself, but I will give you 100 percent and do everything I can to make sure those changes are positive for our community. I'll do my best to represent my district as a key part of Waco.
Interview condensed and edited by Bill Whitaker.