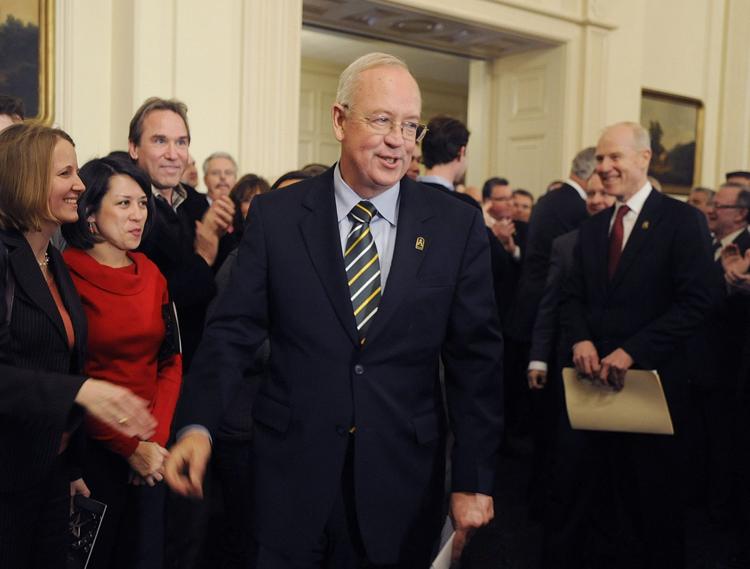 Two days after the Aug. 19 joint announcement by Baylor University and former president and chancellor Ken Starr that he would leave his final campus post — that of professor of constitutional law at Baylor Law School — the 70-year-old former federal judge and solicitor general sat down for an extensive interview with the Trib at his new home in southwest Waco. In this expanded online version of Sunday's published Q&A, Starr praises the Baylor regents for their actions to address victims of sexual assault but vigorously defends his own efforts and those of both the Baylor administration and the student body to forge Title IX policies regarding sexual violence and campus safety; questions whether universities and colleges can adequately judge cases of sexual assault when they lack the powers and procedures of real courts; and notes concerns by federal courts, college officials and Congress regarding overlooked due-process issues. Starr began his eventful tenure at Baylor in June 2010 and was fired from the presidency on May 26 along with head football coach Art Briles following the Pepper Hamilton law firm's nine-month investigation of campus protocols and failures regarding sexual assaults, some of them committed by Baylor football players.
Q    I mentioned to one of my neighbors that I would be interviewing you. He's a devoted Baylor alumnus who blames four or five regents for engineering your firing from the Baylor presidency. He said to tell you that you've been a fine man of great accomplishment at Baylor. How would you respond to him and others who feel similarly?
A    Continue to love Baylor. Presidents come and presidents go. One of the great lessons of life is that institutions endure. The generations come and the generations go, the scripture says. But institutions endure. I would say support this beloved institution and I thank them for their kind words.
Q    You may not have had a Baylor tenure as long as, say, famed Judge Abner McCall, but you've certainly packed a lot into your six-year tenure: helping shore up the imperiled Big 12 athletic conference; successfully mounting the $100 million President's Scholarship Initiative to address rising tuition concerns; overseeing funding and construction of a state-of-the-art riverfront stadium on campus; invigorating ground-breaking research by transforming the old General Tire & Rubber Co. plant into the Baylor Research and Innovation Collaborative; and, finally, bringing peace to this long-volatile relationship between the Baylor Alumni Association and Baylor University, which at least some believe may have ultimately cost you your job. Many also credit you with bringing a joy of enlightenment and spirit of community engagement to the campus or at least bolstering all that. Of this list of accomplishments, is there any that you're particularly proud of?
A    Above all, working with students on affordability and accessibility. The scholarship initiative was Stage 1. It's a continuous, evergreen effort. There will be no end to the mission to support our students, especially in regard to need-based scholarships. I'm also very thankful for the team effort that went into negotiations for now nine agreements with community colleges around the state [strengthening student transfer agreements]. Baylor, I believe, is setting the right kind of pace for private institutions to echo and mirror what the public institutions have long done. We think of Texas A&M and its very close relationship with a great community college in Brenham. Well, we have that same relationship if not the same flow. We're so much smaller. And beginning right here at home, with McLennan Community College, we wanted to make sure that very ambitious students could find an alternative path to higher education. That's the American story. Community colleges were a product of the early 20th century when there was much more of a sense of the growth of the population and a moral and policy commitment to universal access, which no other country in the world has. We stand alone. This is part of American Exceptionalism. I am very thankful that Baylor, in a very practical way, has said, "We want to make sure a Baylor education is available to families and students who might not be able to afford that education."
Q    You were still new at Baylor when you began the $100 million President's Scholarship Initiative to ensure that traditional Baptist families could still get an eduction at Baylor amidst increasing tuition costs. When you went around and talked to Baylor alumni about giving, whether they were first-time donors or veterans at giving, did you get a sense as a new president of where they wanted Baylor to go in the next 10 or 15 years?
A    Two things. One, they did not want to compromise the Christian commitment. And they wanted the Baylor Alumni Association fracture to be healed. "Heal these divisions." I heard that continuously.
Q    Were they tired of all the years of fighting?
A    There was also anger, so there was battle fatigue in some quarters, but there was also a sense that things in the past had not been done well or wisely — "Let's treat everyone with dignity and respect" — and one of my early quiet initiatives was to gather around a council of very wise people to just discuss what can and should we be doing regarding, among other things, the Baylor Alumni Association. Out of that grew courtesy, respect and hospitality, which was my articulated policy on behalf of the university. We should treat the Baylor Alumni Association with courtesy, respect and hospitality. That having been said, I was committed, and I said this openly, to the prospect of unification because of the inefficiencies of having two separate alumni services [with one, the BAA, operating outside Baylor University's umbrella].
Q    When you arrived at Baylor, you had been a federal judge, solicitor general and dean of the Pepperdine Law School, but you had also been a controversial special prosecutor looking into possible improprieties involving the Clintons in the 1990s. Did this represent a major hindrance to your getting down to business as president of Baylor?
A    I never suffered from expressions of acrimony. Not once did I experience an unkind word or someone turning his or her back or someone saying, "I'll never shake your hand." So the graciousness and civility of Baylor Nation triumphed. I would like to think that my work on behalf of the institution and staying assiduously away from politics of any sort was helpful. They saw — "by their fruits, ye shall know them" — that I was all in for Baylor. I drank the Kool-Aid. I fell in love with this beautiful place, and I was going to work really hard.
Q    Well, some in the Baylor Nation definitely had reservations about how the Clintons were treated, yet emerged as your strongest supporters in all this.
A    However we vote in the voting booth, I hope they saw, and I think they did, that I was completely committed to building Baylor and there was no alternative agenda or ulterior motive. I would go out of my way to demonstrate this. For instance, with the "On Topic" series [showcasing prominent national figures on campus], the former senators who came were not of my political party. But I knew them both. I didn't know Sen. [George] Mitchell well, but I knew Sen. [Joe] Lieberman quite well. But I wanted a George Mitchell and a Joe Lieberman, towering figures in this American life. And so, by word and by deed, I wanted everyone to know, "I love you all and I don't care what your politics are, if any. That's not why I'm here."
Q    Reviewing your legacy at Baylor, it strikes me that you began your six-year tenure in crisis and ended it in crisis. I know these crises were very different, but did you feel the levels of support among administration, staff and the Baylor family were the same in tackling these problems? I mean, in 2010, no sooner had you walked in the door as Baylor president than you had to help shore up the Big 12 athletic conference, then in danger of collapsing.
A    There was a great spirit of unity with respect to the Big 12 crisis, both in 2010 and 2011. I believe ironically that the crisis actually contributed to the unity of the Baylor family. We knew the stakes were extraordinarily high for us. The spirit of unity and commitment was extraordinary, from the board of regents to the most recent alumnus or alumna. Folks rallied around and wanted to know, "How can I help?" And there were ways that folks did help, even if in small and seemingly inconsequential ways, but the unity of the Baylor family was palpable and I think it set the stage for doing some very helpful things on the athletic side.
Q    Did you feel the same level of support last year amidst alarm over the uproar concerning sexual assaults involving campus students and allegations of indifference by Baylor officials?
A    Well, everyone wanted the best for our students and I think there was a singleness of purpose in regard to our doing this right and focusing our energies and efforts on doing this right. Obviously, the sorrow that attends any active, interpersonal violence was great and grievous, but there was still a unity of purpose throughout. I thought that we were going to work very hard to do the right thing and do it in the right way.
Q    You received a lot of credit for helping shore up the Big 12 in 2010 and 2011. Is there one element that really made it work for the next several years? It might be a person or a policy or even the realization of a certain threat that made this work.
A    It was truly a classic team effort. The great Michael Jordan said individuals can set records, but teams win championships. It was the Baylor team unified, out on the field and doing everything we possibly could. We were determined to leave no stone unturned and so we had mechanisms in place to ensure that we acted with diligence and effectiveness. We had meetings twice a day. The Baylor executive council, with key members of the regent leadership, as appropriate, attending by phone, set out a strategy and we executed it effectively.
Q    Yes, but is there something you believe held the Big 12 together?
A    There needed to be a basic reform of revenue sharing. One of the principal bones of contention was unequal revenue sharing. There was a lot of thoughtful discussion by the leaders of the institutions with respect to reforming that element. A lot of credit goes to the University of Texas and Bill Powers, then president, and David Boren, then as now president of the University of Oklahoma, who in the spirit of solidarity of the conference moved the conference in the direction of something that had never existed since the founding of the Big 12. That was an enormous structural reform. The other thing was the happy coincidence of the need to renegotiate the Big 12 television contract and the keen interest on the part of NBC, ESPN and Fox Sports in coming to terms with the Big 12. So from our perspective at Baylor, the very generous television revenue flowing equally to all institutions was a great source of strength and unity. Much of it boils down to relationships.
Q    But you didn't really have any relationships with these people in 2010. You had just come on board.
A    We got pretty close pretty quickly. These were really bonds of friendship, which were helpful. But during the 14 months of all that, when you combine 2010 and 2011, we had what was really an institutional realignment. Nebraska did not enjoy the Big 12 and it felt a greater affinity to a true heartland, till recently, with expansion of the Big Ten. Colorado likewise looked more to the Pacific than it did to the heartland — their alumni, their recruiting efforts for various sports, very much looked to the West. So we needed that realignment. And, happily, institutions are now beating down the door to get in [the Big 12].
Q    When you hear about the prospects of SMU or the University of Houston joining the Big 12, do any alarm bells go off or does it give you hope?
A    It gives me hope because of the keen interest in joining the Big 12. A number of obituaries were being written not so long ago about the Big 12 and now not only is that not the case — and I've lost track over these last two months — but according to an ESPN report that I saw, institutions are beating down the doors in Dallas. [The athletic conference is headquartered in Irving.] I received a number of those calls myself when I was at Baylor. So that gives me great, great hope. There's a strong sense of solidarity and health in the conference and now there's going to be a wide range of choices if the conference sees fit to expand.
Q    Even given notable achievements such as creation of the Baylor Research and Innovation Collaborative, athletics plays such a major role in collegiate matters these days. I remember getting into a discussion a few years ago with someone from Baylor athletics about the $266 million McLane Stadium, then still under construction. I popped off and said, "Well, this will be the stadium that quarterback Robert Griffin III built." And he politely corrected me: "No, this will be the stadium that Art Briles built." And there's that wonderful recollection in which you meet Coach Briles, just after your arriving at Baylor in 2010, and you unwittingly ask what you can do for him. And he starts talking about building an on-campus athletic stadium. So who built McLane Stadium?
A    Once again it was a team effort. The visionary was, of course, Art Briles, but he had the complete support, morally and practically, from [successful entrepreneur, philanthropist and prominent Baylor alumnus] Drayton McLane Jr. Drayton spoke about this — long before his gift [leading in funding construction of the stadium] — of this need and the unifying nature of an on-campus stadium. He saw this from his experience in Houston with Minute Maid [Park, built so as to place his baseball team, the Houston Astros, closer to the center of the region's population]. Drayton also saw that — which I was unable to see — how this could bring town and gown more effectively together [in Waco], especially given our location. Drayton frequently said, "Dream big, it's free." The stadium wasn't free, but it was a big dream, so we were able to dream it free of charge. But it was because of Drayton and then, once again, members of the board of regents, especially Dary Stone, working tirelessly to raise funds for that. So I was a worker bee, but the real monarchs were the regents and then very generous folks who rallied around. Granted, some of them might not have ordinarily had that as their object of enthusiasm. But they saw its value to the university as a whole because of its being on our front porch.
Q    Absolutely, as opposed to being, say, a half-mile away.
A    Actually, two and a half miles away, but what a difference two and a half miles make!
Q    But it has strongly bolstered the relationship between Baylor and downtown Waco and the neighborhoods contiguous to it.
A    The community with its $35 million gift [for infrastructure improvements at and around the stadium] made it possible. If that infrastructure gift had not come in early on thanks to the [downtown Tax Increment Financing district] board, the mayor and the entire City Council — well, when I stood before the City Council, I was unsure whether there would be complete support. We were optimistic that there would be majority support, but the City Council unanimously and enthusiastically saw the wisdom of this transformational project. Not all cities can boast of that sort of leadership.
Q    In our last interview, you suggested we at the Trib did not devote as much space as we should have to the burying of the hatchet between the BAA and Baylor. Your wife, Alice, was at a spirited June banquet that the former BAA — now the Baylor Line Foundation — threw to celebrate its newly healed relationship with Baylor. Baylor Line Foundation President Tom Nesbitt was complimentary of you and some Baylor leadership on the other side of the feud. It was practically a lovefest compared to what I've seen in the past. As a key participant who helped mend relations between this very independent alumni organization and Baylor, what is it that made peace possible? What clinched the deal?
A    Above all, the agreement — wisely so, by the board of regents of Baylor University — to provide a mechanism for alumni-elected regents.
Q    You're talking about the three regents that Baylor and the Baylor Line Foundation jointly elect from alumni ranks. Right now it's a joint election, but doesn't it eventually go to the Baylor Line Foundation to elect in time?
A    No, it goes to the entire alumni. It will be a task, but it will be a wonderful task and a community-building task and an enthusiasm-building task for folks to be able to say, "Hey, I'd like to serve on the board of regents." The board of regents, to its credit, over these recent years has been opening the board to the voices of others. I'm so grateful now that there are two student regents, two — that's a major reform. The board continues to have a very respected faculty regent. The faculty regent — first Todd Still, then Lori Baker — would win universal acclaim from the faculty. There could be no reasonable assertion that these are some kind of inside political appointment. It's a meritocratic appointment of someone who had chaired the faculty senate in each instance. These are great reforms. So the significant and admirable step by the Baylor board of regents of saying, "We're open to—
Q    OK, just a minute. I've been part of a newsroom that has watched the regents closely for years. How hard was it to get the regents to buy into three alumni-endorsed regents — not one, but three — added to this board? I thought it would be a miracle if even one alumni-endorsed regent got on the board.
A    I get very little credit. This was the considered judgment of the board of regents. I don't know of a single person on the board of regents who, as it were, had to be dragged kicking and screaming. It was viewed as a healthy and good thing to do on the merits and it was one of those potential breakthroughs in terms of achieving this very important goal of unified alumni services. That was such an important goal and the regents shared in that. So whatever acrimony once existed, that was just set aside.
---
Baylor University and the Baylor Alumni Association announced Tuesday that they have agreed to settle their bitter, long-standing legal battle symbolized by the wrecking ball Baylor took to the BAA's campus headquarters.
---
Q    Helping forge peace between the two may have been one of the great triumphs for Baylor leadership, but in the wrangling leading up to it, private emails from a few years ago were released to the public last summer. These showed a Baylor president — you — trying to stay on course on a number of challenging initiatives while certain regents — one or two in particular — seemed far more interested in humiliating the BAA and even destroying it. One senses your great frustration with all this leadership infighting in these private emails. Sometimes your words are put bluntly. There has been a strong suggestion by some that what befell you last May is payback by regents allied with those one or two regents from a few years ago — that they used a legitimate scandal over sexual assaults at Baylor as a way to get rid of you for reasons unrelated to your actions or inactions in that scandal. Can you speak to this stubborn rumor?
A    The emails were unfortunate and very injurious to the university and certainly harmful to the spirit of goodwill that we were genuinely trying to achieve. But what role that may have played in the fullness of time, I honestly don't know.
Q    Well, some who champion you believe it. So I ask again: Did you sense any sort of ulterior motive by the board in May?
A    Well, I am at this stage not going to comment at all on anyone's motives, but I'm just grateful that this period of acrimony has been set aside and that we will now move forward as a university. I wish I were not on the sidelines, but I am and I will be cheering wildly.
Q    When you left the chancellorship of your own volition on June 1, some days after regents removed you as president, you made it clear that you were doing so as a matter of conscience. What was your conscience telling you?
A    Well, as you may recall, there was an announcement that I was being relieved of my duties as president but that I would continue as chancellor on terms and conditions to be agreed upon. Conversations ensued and I found, as a matter of conscience, I was simply unable to agree to the terms and conditions—
Q    But is there something specific? You and I have had conversations about this "matter of conscience" and that it was important people understood this as the reason for your stepping down. But people will naturally ask, "Well, OK, what's the matter of conscience?"
A    There was an honest disagreement in visions between the board and myself with respect to the role of chancellor or some comparable role for myself.
Q    What did you envision it as?
A    My own view was above all an individual who would be out very publicly supporting the university and above all raising funds for the university.
Q    Well, that's typically what a chancellor does.
A    But the proverbial difficulties lie in the details. It was really in the details that I determined, as a matter of conscience, I could not accede.
Q    Well, let me try it this way: My definition of a chancellor is someone who is the face of Baylor and is helping in fund-raising. Did they have a different view of what a chancellor should be?
A    There were sufficient differences in the vision and the role that I was simply unable to accede to that role and there were time pressures with respect to a decision. This is not a criticism. We were all eager to find a path forward. But rightly or wrongly, wisely or not, I determined I could not accept that role, thus I would simply continue as a member of the faculty.
Q    My Trib colleague, Phillip Ericksen, conducted a great interview with Baylor Title IX Coordinator Patty Crawford. It offers a strong insight into Title IX and the difficulties of implementing it. Contrary to what some might believe, Ms. Crawford praises Baylor as actually being ahead of the curve in Title IX matters, hiring a full-time Title IX coordinator well before the U.S. Department of Education recommended that universities and colleges do so. I think Baylor hired its full-time coordinator six months before the Department of Education made the suggestion. And Baylor put her to work in November 2014. What prompted you to seek out someone full-time for this position?
A    There was a natural evolution and progression of our work regarding student safety at Baylor, including in freedom from sexual violence, so I had a rather different perspective than the prevailing narrative. But the archives of the university will show that we began focusing [on this] in late 2010, which was student safety as a whole, and then a student-dominated committee on student safety was formed. We had a public session in early 2011. That committee worked and, out of that, in 2012, emerged a campus-wide committee on safety. We were closely monitoring, at the executive council level, what the [U.S. Department of Education] Office for Civil Rights was saying and doing. And we responded, I believe, in a very reasonable and appropriate fashion. We saw issues more broadly focused on campus safety. It wasn't a specific focus on Title IX or interpersonal violence alone. We want our students to be safe, on or off campus. That committee did very good work.
Out of the work of that committee came the determination that there should be experts brought in. We brought in the leading expert on campus safety, including Title IX, in the country, Margolis Healy [a law firm specializing in campus safety, security and regulatory compliance for higher education]. They worked for months and reported, if memory serves, in mid-2014. It might have been in the spring of 2014. Margolis Healy, as part of their recommendations, recommended the hiring of a full-time Title IX coordinator and we promptly accepted that and began the process of advertising and interviewing for the full-time Title IX coordinator. I believe there's a misunderstanding that there was no Title IX coordinator [before Crawford]. That's not true. We were always in obedience with the guidance provided by [the Department of Education's Office for Civil Rights].
Q    Were Title IX responsibilities previously divided up between different staff?
A    There was a single coordinator but not a full-time coordinator. At first it was John Whelan, vice president for human resources, which was an appropriate place for it at the time. He left — you do have turnover — and there were numerous conversations about what should the Title IX function look like. It was then vested in Karla Leeper, who was extraordinarily capable as chief of staff and became vice president for compliance — and compliance obviously included but was not limited to Title IX. When she left, Juan Alejandro was then the designated Title IX coordinator and that designation continued and Juan is a very able and effective and energetic servant and a member of the [Baylor] executive council. I should add that the Title IX coordinator was a member of the executive council beginning with Karla Leeper, so the Title IX coordinator had a seat at the executive council round table among other things. As our information grew —
Q    Through the U.S. Department of Education?
A    No, by virtue of Margolis Healy and the work of our campus committee. So we weren't just listening. We met with the top officials of Margolis Healy. I believe we worked very consciously on the entire issue of campus safety and I'm so glad you take note that we had the decision to have a full-time coordinator almost a year before the Office for Civil Rights gave that guidance. That's very inconsistent with the popular narrative.
Q    Yet in an interview that Phillip and I did with current regent chairman Ron Murff, he says he's concerned about the failure of actions in 2011 and 2012. He points to things not happening regarding Title IX implementation in 2011 and 2012.
A    There are different perspectives. What I know is what the Baylor administration was doing and what we were doing, step by step, beginning in 2010 with the focus on campus safety and compliance with what we understood to be Office for Civil Rights guidance. It's very important as well that we understand that OCR provides guidance — it's not law of the land, it's guidance.
Q    But as you well know, major universities and colleges have been getting tripped up on this matter of what's guidance and what's regulation. This hasn't just snagged considerable institutions of higher learning nationwide, it's also sparking great debate in the halls of power on Capitol Hill and in federal courtrooms. Is this the consequence of a continually shifting policy that seems fuzzy on regulations and guidance? Or is it something else?
A    It's important to understand what is the law and then what is best practice. I honestly believe — and this is my perspective — that we were dutifully seeking to ensure the safety of our students through best practices. There is a different perspective, but this is mine. Now, talking about student safety: There are areas where, in moving toward the adjudicatory and counseling process, we did not have the capacity with respect to counseling that we needed to have when we needed to have it. I am not privy to all the specific facts of the Pepper Hamilton inquiry or investigation, but from what I have gleaned there were shortcomings in other functions of the university in the operations in terms of contact with students and responsiveness to students. And once that was identified, there was very prompt remediation. And the board of regents, in February of this year, worked very collaboratively and showed great leadership with the administration. The board of regents, admirably, said we have to do more with respect to counseling. And I agreed we should have been doing more.
Q    Yes, in February regents really demonstrated a commitment to certain Title IX obligations. Yet it still seems all this was a moving target. What's being recommended in terms of best practices strikes me as extremely fluid. And that's something that Title IX Coordinator Patty Crawford talked quite a bit about in her interview with us. It seems every few months she and her staff are gaining new insights and guidance about best practices. Given consideration of whatever was coming out of the Office for Civil Rights and court decisions and due-process concerns for the accused — how much did this situation, one very much in flux, play havoc at Baylor?
A    I don't think there was havoc. I honestly don't. I think there was a very orderly and professional process on the part of the administration in responding to the information that came to us. One cannot deal with what one does not know. So a lot of the information with respect to shortfalls in counseling or a particular office not having responded as professionally as would have been desirable was recently revealed information. There's no suggestion that I know of that in 2011 and 2012 somehow the [Baylor] executive council was ignoring information that was before us. And one of the things that I view personally as reassuring is that no one, to my knowledge, has questioned my integrity. Bad things happened along the way and the chief executive is ultimately responsible. But in terms of the discharge of our duties, I believe Patty Crawford's point is an extremely important one: We were ahead of the curve.
Q    I know you talk with fellow presidents of universities and colleges. Are you finding similar confusion or hesitation or indecision about Title IX matters and sexual violence? My reading suggests these sorts of problems are widespread. Baylor may get a lot of the attention because of its overtly Christian mission, but it's obviously a problem at universities ranging from Stanford University to Columbia University to the University of Virginia.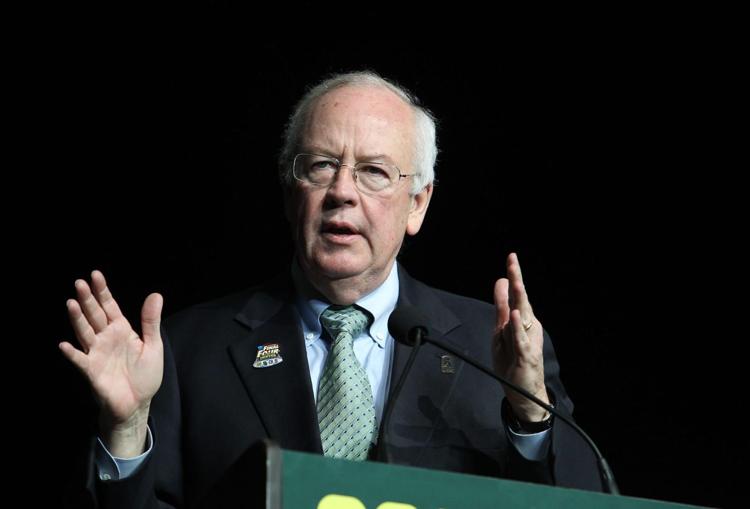 A    For one thing, I believe that, ironically, Baylor was being looked to as an example of how to try and get it right. Every university is going to have its failings and shortcomings. I believe — my perspective — we were doing our best to be a model of concern for our students. There is growing concern, which you have editorialized about in the Tribune-Herald, about institutional capacity to adjudicate and then fairness of the process. And when you have over 20 law professors in a letter raising profound concerns, then, "Houston, there is a problem." [The May 16 open letter by 21 law professors from several universities including Harvard and Stanford alleges the Department of Education is unlawfully regulating how colleges must define and address allegations of sexual assault, thus compromising certain critical due-process rights.]
And when [constitutional scholar] Alan Dershowitz, a great defender of human liberty, is publicly saying, "The current regime raises serious fairness concerns," and when you have thoughtful observers saying, "The institution [of higher education] is utterly ill-equipped to make those kinds of judgments," and when there are procedural rules such as the "preponderance of evidence" [now used by colleges to determine adjudication involving the accused in sexual assaults, as opposed to the "beyond a reasonable doubt" standard typically employed in criminal procedures in genuine courts of law], then the fairness concerns are even more profound. Lives are profoundly affected. We rightly look to the victims — we have to begin there — but we have to keep the balance true. And that means the rights of the respondent [the accused] have to be very assiduously attended to. Can a university do that with lay adjudicators? That's a very burning question. I have serious doubts that our institutions have the capability of doing it and there may be a better way than creating an adjudicatory mechanism that is dedicated specifically to this when in fact we're talking about alleged criminal actions.
Q    The Title IX office at Baylor even has retired judges at its disposal. I mean, it seems like certain judicial elements are already bleeding into the collegiate process.
A    Yes, but without the rules of evidence and the rules of procedure [of actual courts]. Some judges are accustomed to elaborately worked-out, over decades if not the centuries, procedures. And a great man, [Supreme Court] Justice Felix Frankfurter, said famously: "The history of liberty is largely the history of procedure." That is precisely what the concerns being articulated about regarding Title IX are all about. So everyone of goodwill is rightly and profoundly concerned with student safety and student welfare and responsiveness, but we are now talking about an adjudicatory mechanism which is difficult given its nature for universities to do.
Q    When you recommended that Baylor regents hire the Pepper Hamilton law firm to conduct an investigation of shortcomings and inconsistencies regarding Baylor in the realm of sexual assaults and its handling of such allegations, you presumably did not expect that you would become a victim of the board after the investigation was complete. Did you underestimate something?
A    (Laughter) I must have. What I was seeking to do was give the board of regents the best possible professional advice to handle the situation that exploded onto the national consciousness on Aug. 20 of last year, a year ago. We went through an orderly process, even over and against the criticisms of the Waco Tribune-Herald, in terms of confidentiality of the [Baylor law professor] Jeremy Counseller report [an inside investigation before Pepper Hamilton's inquiry]. His basic recommendation based on his short but intense fact-finding was simply there be an outside law firm brought in and I readily accepted that, I believe, wise advice. And we began in administration to do our due diligence.
There were other firms vying [for the job] and we were hearing from a lot of law firms and I even knew some of the law firms. But I was really guided by the recommendation of a friend, Teresa Sullivan [president of the University of Virginia]. So that was the recommendation we made to the board. And the rest, of course, is history. I think in the popular understanding that there was a misunderstanding that Pepper Hamilton was somehow reporting to the administration and that the administration was privy to information [from the ongoing Pepper Hamilton investigation] and that we were not disclosing the information. But, as you know, the law firm was engaged by the board and reporting directly to a special committee of the board. And we in the administration of course were subjects of the investigation. I don't want to say I received no information as the process was unfolding — I did in order to run the university — but the structure was such that this was Pepper Hamilton reporting to the board.
---
---
Q    If you were to give advice to another university or college president on how to handle Title IX challenges, what would you advise differently?
A    I would above all advise having a full-time Title IX coordinator in place. No matter how small the institution is, the stakes are so high that I believe there's no substitute for having a full-time, highly trained coordinator and that's the structural point. In terms of the cultural point, I would place high emphasis on prevention and I believe we were already doing that. It's a work in progress, but it's not as if there were limited efforts on prevention. We were working hard on prevention, going back really several years, even before Patty Crawford. Those are the two things: Title IX coordination and work hard on prevention. Of course, then you have to have the full panoply of services and counseling and so forth. But I would also say: Be more energetically involved in the policy conversations that are underway. Be really engaged with this. There's so many things that are vying for your attention, but Title IX we now know is of such exquisite sensitivity that one would do well to inform one's self not just on the administration — do we have the right people on the bus and are they doing their jobs and is there accountability and are we loving our students and caring about our students? — but I'm going to be spending time really focusing on the policy level. Don't just delegate it to the lawyers. Now, I don't think it's a fair accusation that we delegated anything to the lawyers because of the beauty of the round table of our executive council. We discussed all of these things and made decisions on how to move forward. The Department of Education will be undergoing change regardless of who the next president is and Congress has been focusing not just on Title IX but on the tendency of the Department of Education to overregulate in various ways.
Q    The Republican National Convention has something about it in its 2016 platform. [The GOP platform specifically says that the Department of Education has sought "to micromanage the way colleges and universities deal with allegations of abuse" and that sexual assaults should be left to the legal system, not collegiate protocols, to resolve.]
A    I didn't know that. But look at senators on the U.S. Senate Committee on Health, Education, Labor and Pensions. [Democratic Sen.] Barbara Mikulski could not fairly be charged with not having great sensitivity to the issue of Title IX. Yet she agrees fully with the broad proposition [of Republican Committee Chairman Lamar Alexander, former U.S. secretary of education] that the Department of Education in this administration has wildly overregulated. Now, I'm not saying with respect to Title IX but overall this department has overregulated all education. But I'll speak just to higher education. I think there is a consensus among college presidents — I've served on several boards involving higher education — and there's a consensus, with no dissenters, that the Department of Education in so many respects is going much too far in terms of overregulation. We must deregulate.
Q    You mention that certain lapses about campus operations were revealed to you for the first time in the Pepper Hamilton findings this past spring. Were you ever able to learn or determine just why certain "operations" faltered in terms of dealing with certain Title IX matters and obligations?
A    I was deeply distressed to learn that our "first responders" at the staff level were, according to Pepper Hamilton's oral briefings, insufficiently sensitive at times to complaints of alleged interpersonal violence. From what the law firm found, and I have no basis for questioning these particular findings, at our "ground zero" level, we did not completely live up to our fundamental responsibility to be a loving and caring Christian community.
Q    One question we at the Trib keep going back to: Baylor football player Sam Ukwuachu was indicted for sexual assault in June 2014, yet he seems to have stayed on the football team even after this. Where is the propriety in this?
A    I can't recall the specifics, but I do know that Sam was suspended during the pendency of the university's own student conduct process [regarding the sexual-assault allegation against him]. It's also my understanding that he never played a single down for the Baylor Bears. That said, we have all learned lessons the hard way and need to do everything we can to ensure that Baylor's athletes are individuals of good and noble character.
Q    One thing head football coach Art Briles touted in his memoir was the idea of second chances for his athletes, some of whom obviously weren't worth such consideration, judging from the evidence. His credo is an old one among coaches, but is it time to rethink it?
A    I believe the creed should continue, but there has to be a dose of practical wisdom and a more thorough assessment of all facts. And then a predictive judgment. Justice should be tempered with mercy and heaven help us if a Christian institution of higher education turns its back on the philosophy of second chances. That's our theology. And it should be the way we conduct ourselves. But at the same time we must be "as wise as serpents and harmless as doves," so there may be some judgments made now. Maybe there is a different mechanism. Maybe you [a player] need to go to community college for a year. Let's see how it works out with that program.
Q    Well, it seems questions of responsibility and judicial and academic proprieties involving Title IX are ricocheting everywhere. You have this recent U.S. 2nd Circuit Court of Appeals decision that determined Columbia University failed to ensure due-process rights, including a Title IX investigator who declined to interview witnesses who might have bolstered the defense of the accused in a somewhat shaky sexual-assault case. And you have instances such as that during the sexual-assault trial of former Baylor football player Sam Ukwuachu where a prosecutor angrily confronted outside the courtroom a Baylor administrator for bungling matters for the sexual-assault victim. Put it all together and it seems to me any Title IX program at any campus is only as good as its weakest link. If you don't have the right people, if you don't have solid people unerring in their approach and judgment, then you're in big trouble.
A    I'd just say it's high risk, especially now in light of the understandable societal and cultural concerns about sexual violence. A college president would be well advised to make sure he or she has the best expert advice — and then executes.
Q    Your administration at Baylor saw a lot of interesting features. For instance, you hosted these occasional "On Topic" evenings where you brought interesting national figures to campus and put them on stage for an hour or so of robust discussion. And I know you were excited about the campus philanthropy class — a terrific exercise in which Baylor students researched area nonprofits in terms of their missions, accomplishments and fiscal solvency, then made actual grants to the best of them. And you became caught up in some of the missionary outreach that involves so many Baylor students. You've been a strong proponent of religious liberty as well as the pro bono work that the Baylor Law School does, such as helping undocumented and very confused immigrants understand their options before the law. Which of these did you most identify with?
A    It's hard to make a Sophie's Choice because they all were very dear to me. But I've written about creating within the student body a culture of philanthropy. While this was definitely a grassroots, up-from-the-faculty idea, not only did I praise it and laud it, I went to meet with the foundation folks [the Once Upon a Time Foundation, which began The Philanthropy Lab program in 2011] in Fort Worth to praise them and urge them to do more. In contrast to other institutions where this is perhaps just a nice program, at Baylor it's viewed as a passion by Baylor students, given our world view. Obviously I'm no longer there, but I very much hope that this idea and ideal of philanthropy will spread throughout the student body. I was very supportive of creating a major in philanthropy. I was very interested in the idea of a greater and more intense focus on preparing our students for non-profit leadership — not just for-profit leadership but non-profit leadership.
Q    The non-profit industry is going to be carrying a greater burden of what government once assumed in terms of constituent service.
A    And what unites all those is the idea of worldwide service. How can we be more effective when we have been called to serve, not be served? How can we help imbue the students with that? To me — and I emphasized this throughout my tenure — a critical part is being engaged in extracurricular activities. To again quote Drayton McLane: "I learned more outside the classroom than I did inside the classroom." And may it always be so. If you're a physicist, sure, you better do your work inside the classroom — really, no matter what your major is. That's necessary, but it's not sufficient. This is a much more holistic approach to the vision of Christian higher education. It's not just, say, a matter of you check the box and go to [classes on] Christian scripture and church heritage or you go to chapel. Rather, we should seek transformational experiences. And are we at Baylor creating opportunities for true transformational experiences for those students between the ages of 17 on the young side and 23 on the top side?
Q    You've made it clear that religious liberty will remain a priority for you in the future, but I'd like to know what that means to you. Some people's view of religious liberty seems to involve their own religion but not someone else's. Religious liberty can be a great thing and it can be a horrible thing. How do you steer the concept of religious liberty to where it's something that respects all people and all faiths?
A    That is my concern and it may be the ultimate question other than national security for our country. I believe the focus has to be more broadly on the culture of freedom and the culture of justice. How do we create that? How do we preserve that at home? That's always an open subject and unending quest. How do we work on that culture around the world? The Baylor-Georgetown initiative [a partnership with Georgetown University for undergraduate and graduate students interested in pursuing theses, dissertations or internships related to religious liberty, including cutting-edge research on religious freedom] is a helpful step in that direction, bringing people together from around the world, including different religions and the like, to be in conversation and to see if we can identify a common framework. But there has to be a fundamental agreement on the proposition of human dignity. We have to start at that level. Every human being is entitled to freedom of conscience to the fullest extent possible.
Q    Yes, but why do we seem to be getting so far away from it? It seems in this country like we're getting kind of particular about who gets religious liberty and who doesn't.
A    That's our challenge. You are exactly right. There was, as I reflect on our culture and our politics, a late 20th century consensus on religious freedom that was embodied in the Religious Freedom Restoration Act of 1993. Then when the U.S. Supreme Court had another decision limiting the scope of the Religious Freedom Restoration Act, Congress responded with yet another law. And then along the way, in 1998, as the century was drawing to a close under President Clinton and in a totally bipartisan effort, we had the International Religious Freedom Act. I believe the consensus evaporated on 9/11 in an act of radical Islamic violence. Suddenly the idea of religious freedom — well, some then asked: Was that what they [the 9/11 terrorists] were doing? Rule-of-law tradition: Your freedom ends where my nose begins. But I believe that was the beginning of the erosion of that consensus.
Q    Whenever the subject of religious liberty arises, someone invokes that anecdote about the gay couple who want to wed and the rigidly fundamentalist baker of wedding cakes who sees their relationship as a biblical sin and so refuses to do business with them because it offends his religious beliefs. I offer up another example: How about the gay folks who are preparing to drive across the desert and try to get a fill-up from the last gasoline station before some ominous stretch of desolation, only to find a judgmental merchant won't sell gasoline to gay people because homosexuality offends him religiously? Is that merchant right?
A    (Laughs.) That's a great hypothetical. And my answer is no. In fact, I've spoken on this. I think the area of commerce, doing business, is a different kettle of fish than, for example, churches and religiously affiliated institutions being able in their ordinary course of business to carry on with their religious perspectives. In fact, at Columbus Avenue Baptist Church over a year ago, I spoke at invitation one Sunday evening about the bakery situation and I said: "Let's be mindful that we want to respect everyone's conscience. At the same time, when you enter the stream of commerce, we would all agree you can't say to someone: 'Well, on grounds of race or ethnicity, I don't want to serve you.' And we all agree with that. So we need to be judicious in asking ourselves what we're really trying to preserve and protect." A lot of thinking needs to go into this. I'm to have dinner in a couple of weeks with one of the towering intellectuals in Christian thought, Os Guinness, and we'll be discussing much of this.
Q    Is there anything I haven't asked that you would like to address or elaborate on?
A    Well, I guess I would elaborate on questions about what I am going to be doing now that I'm leaving my post on the faculty at the Baylor Law School. I'm very much going to miss Baylor and especially the students, but doors open and doors close. And so I hope I will be a good steward of my time and really become much more engaged in the community as a servant. I was called upon to lead but we're all called upon to serve and I would love to be a servant.
Interview conducted, condensed and edited by Bill Whitaker.