Invigorating Waco ISD at the campus level, classroom by classroom: Q&A with Pat Atkins, Bonny Cain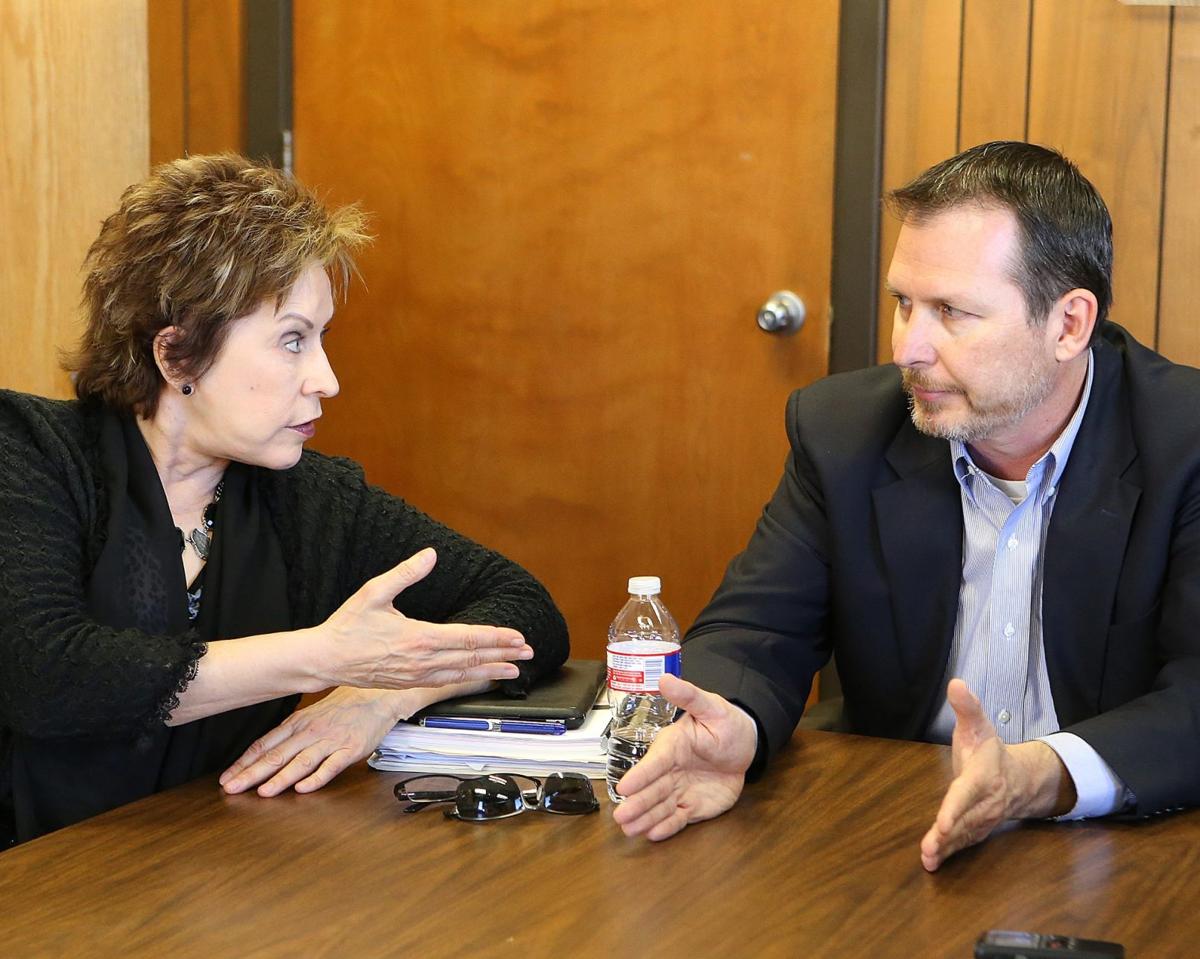 Waco Independent School District voters are being asked on Nov. 3 to vote for a 13-cent hike in the so-called "maintenance and operation" part of the school property tax rate, though in actuality the hike only amounts to about a nickel because the rate is being dropped eight cents in the other part of the school tax rate devoted to debt service. School board members have spent past weeks explaining this, including how many Waco ISD taxpayers might see school taxes remain the same or even drop if an increase in the statewide homestead exemption from school taxes is approved, also on Nov. 3. Some in the community express more interest in what Waco ISD plans to do with increased revenue, drawn from both local taxpayers and state coffers.
In this Trib editorial board interview with Waco ISD board president Pat Atkins and Superintendent Bonny Cain, discussions focus on a plan that would put literacy aides in every pre-kindergarten and kindergarten classroom and allocate a literacy aide for every two first- and second-grade classes, as well as install additional reading teachers at middle schools, all to ensure students are reading at grade level by third grade, a pivotal measure in long-term student success or failure. The Waco ISD plan also invites all juniors and seniors to take dual-credit classes at McLennan Community College and Texas State Technical College. The plan also bolsters efforts to enforce classroom discipline, including expansion of the district's Saturday morning diversion program for both parents and their wayward children. Early voting begins on Monday. This Q&A was conducted Oct. 13.
Q    Downtown Development Corporation executive director Megan Henderson took off her public hat the other day and put on her private citizen hat to say she thought the Waco ISD tax ratification could be the most important catalyst for Waco over the next 20 years. What does she know that some neighbors and friends might not know?
Atkins:    We're talking about investing $8.2 million a year more into the school system, and all at the campus level, to really address the individual needs of students and to put the additional adult presence necessary on campuses to have that impact on a much larger level than what we've been able to do in the past. And I think that, when you look at the very specific targeted areas we hope to address — literacy, discipline, the dual-credit opportunities — I think Megan's right. This could really be a game-changer, not only for the school district but this community.
Q    A parent with pre-school kids who plans to put them in Waco ISD as soon as they're old enough told me he was disappointed the school district video went into more detail about the tax elements than what the funded plan seeks to accomplish.
Atkins:    And I do think that plan is the key to all this, and that comes from the process we went through to get to this plan — visiting with the teachers and campus staff and really identifying those campus needs and saying, "OK, these are the areas where we're going to invest." There were other things brought up that we had to make a decision about that couldn't be addressed through this. But that process and the components of the final plan are what we really need to sell to the community. So, yes, it's a fair criticism to say the district video [click here to view at www.wacoisd.org] focuses more on the mechanics of how you fund it, but there's a lot to go through there as well, especially when you're raising one tax rate and lowering another tax rate and you also have the impact of the homestead exemption (from school taxes in the same election). So what we've done at the presentations across the district, whoever is presenting gets up and talks about the plan at the very beginning and really gives a good overview of what we're talking about. And then we use the district video to explain the mechanics of how we fund it.
Q    Let's talk about the plan. One goal is ensuring that all students are reading at grade level by third grade, which is seen as a reliable indicator of whether a student goes on to success or failure. The plan calls for a literacy aide in every pre-K and kindergarten classroom in the district and a literacy aide for every two classes in first and second grades, plus additional reading teachers at middle schools to help other students catch up. So why aren't our kids reading to grade level with the teachers they have now?
Cain:    It's all about readiness. Different kids have different readiness levels. Some kids know their colors, know their numbers, know their shapes. Their parents have read to them. These kids themselves may even be reading books. But when you have a school district with a lot of poverty, there's a greater likelihood that they don't have those skills, so you have to teach those skills. And there's your dilemma. If you're a teacher with 22 kids of different backgrounds, just where do you start your reading program?
Q    The district has set a goal of 83 percent of Waco ISD third-grade students reading on grade level by 2020. Where did you get that number? And where are we right now?
Cain:    We were at 58 percent last year. That percentage passed the third-grade STAAR test.
Q    So we've got a long way to go.
Atkins:    There was some discussion of what the appropriate metric is to determine whether students are reading on grade level by third grade and, to an extent, the STAAR test is what's being used in the state. It's something the community is familiar with, so it made sense to use that as the metric and the measurement we'll use to determine if we're making progress.
Q    The plan says all juniors and seniors will get to take dual-credit courses if they choose at McLennan Community College and Texas State Technical College at no cost to families beyond, of course, their taxes. Haven't we had this for a while? Why do we need the tax ratification election to fund this?
Atkins:    When the state of Texas changed the funding of the public school system, they also changed the funding of junior colleges and community colleges across the state. I believe what's been done in recent years is tuition for students on free and reduced lunch (who are economically disadvantaged) is covered. Other students, however, have had to pay for tuition to MCC to be able to enroll in dual-credit classes. When my son has taken dual-credit courses, we've had to cut a check to MCC. And there are a number of families across the district that are having to do that. So as we were going through this process this summer, MCC came to us and said, "We'd like to work with you if this initiative passes to find a way to allow the school district to be able to pay tuition and fees and books so these kids can come over here free of charge and we'd like to be able to expand in conjunction with that the number of dual-credit offerings MCC is able to offer."
Q    So we're talking about more course offerings with more student accessibility?
Atkins:    That's correct, though Robin McDurham worked out the details on all this. But I think this is going to allow MCC and TSTC to offer a wider array of classes because some of the financial constraints that have been there will be removed. [Robin McDurham, the Waco ISD executive director of secondary education, says: "MCC currently waives tuition for students who qualify for free and reduced lunch. That number represents about 70 percent of the students who qualify to take dual-credit coursework. With new state guidelines, we can offer more dual-credit to students; however, cost is a barrier for many of our families who barely or minimally exceed the income threshold for a waiver. Additionally, if we offer an early college program, the tuition for the coursework must be provided by the district. Furthermore, funding formulas for the community colleges have changed, and while MCC is committed to providing the tuition waivers, there are issues with having enough students to fill our dual-credit classrooms (minimum of 15 students per class). By providing tuition for students who have traditionally not taken dual credit because of the cost of tuition, we are making it possible to provide more classes and meet the classroom seat limits."]
Cain:    That includes summer if we can work that out. Imagine how many college credits a kid could get if he or she is really inspired. And what's stopping us from even going down to 10th grade or ninth grade? We're looking at all possibilities.
Q    Tell me about Saturday diversion classes. How long have we had them and how would passage of the TRE change them?
Cain:    About four years.
Atkins:    We've been doing it in the area of truancy and we will expand it to address behavior issues. What we heard from teachers this summer was that there needed to be some sort of parent accountability (for children who are undisciplined at school) coupled with an opportunity to help parents improve their parenting skills. When we thought that through, Dr. Cain reminded everyone that we've got the Saturday diversion school in place for truancy and we could expand that. And expansion of that program is a nominal cost, but the results they've obtained over the last four years — most of which is anecdotal — are very positive. Some parents even ask if they can bring a friend to it or if there's a second part that they can come to.
Q    I would think parents would be upset that they have to go to this thing with their child.
Atkins:    As you'd expect, some parents are none too happy to be at the campus or the administration building early on a Saturday morning. But the stories we have gotten from the administration is that the parents who come leave being very appreciative. It seemed like a good way to have that parent accountability piece of the plan but also give these parents information they need to make a better connection with their child at home.
Q    So what's the difference from these "behavior classrooms" for disruptive students also in the plan?
Atkins:    They're at school. My wife teaches in Waco ISD and has for several years and assures me that most of our kids absolutely come to school healthy, happy and ready to learn. But she has also told me that it just takes one or two to change the entire dynamic of the classroom, and that when a child is having a bad day and is acting out or being disruptive, that can distract the teacher and monopolize the teacher's time to where he or she really can't teach the other students. And in talking with teachers and principals this summer, we started talking about how we address that issue because one of the other frustrations that teachers articulate involves the child who acts out. When they write a kid up and send her to the office, a few minutes later she'd be back in the classroom because the office staff doesn't have a way to do this monitoring and instruction and the feeling is, after all, the child needs to be learning. So they talk to the child and send the child back to the classroom — and that's frustrating for the teachers. So we came up with a concept of the behavior classroom where that child will go to a separate classroom where there will be a teacher and aides and the students will continue to receive instruction and also work on behavior outcomes and goals. And when ready, they will return the child to the regular classroom. This serves two purposes — the individual needs of that child are met but it also frees up the teacher to be able to provide instruction for everyone else back in the classroom.
Q    But have we not had these before?
Atkins:    We've had in-school suspension, we've had punishment, we've had out-of-school suspension, but we've not had anything really tailored with getting their needs addressed.
Q    I was talking with a very well-respected educator the other day who, while very supportive of the tax ratification election, voiced some reservations about the effectiveness of behavioral specialists in this setting.
Atkins:    Yes, and I've had those discussions with her. She's correct that there are a number of things that need to happen on a much broader scale than just adjusting behavior. And these are things that need to be addressed across the community through important initiatives such as Prosper Waco. Again, health, education and poverty are interconnected in our community. You can't expect a behavioral specialist in and of itself to have a tremendous impact on behavior. But coupled with other things we're doing in this community and in this district, such as expanding health and social services hopefully in conjunction with the Baylor University School of Social Work, the education and psychology departments, the Family Health Center — if you can partner with those other health care providers to get nurse practitioners on the campuses and those things, then you're going to have a more significant impact.
Cain:    To me, just the fact that this troublesome kid is leaving the regular classroom helps the 21 kids who are left.
Q    I've heard only one criticism. Some suggest that Waco ISD is lowering the interest and sinking part of the tax rate to make the overall rate hike more palatable to voters. Yet since you control the I&S rate, which doesn't rely on voter approval, you can turn around next year after the voters have had their say and raise it back up, causing the overall tax rate to increase. Are you prepared to tell the people of Waco ISD you're going to freeze the I&S rate at the level you've lowered it to for a period of time? And how long would that period of time be?
Atkins:    The reason we're able to reduce the I&S rate is because over the last couple of years we've refinanced a lot of the debt and have been able to accrue an annual savings of $800,000 a year. Secondly, the I&S fund had built up a fund balance of $4 million, so by directing the administration to begin applying those dollars to the debt and not accumulating those funds, that allowed us to take it down even further. And increased appraisals have had some incremental effect because as the appraisal goes up, you can lower the rate and still raise the same amount of money. A lot of thought has gone into this.
Q    Yet some say you would not have done this but for this election.
Atkins:    I gave up a long time ago trying to predict what this board is going to do on almost any issue, but I don't see this board asking the taxpayers to increase the total tax rate five cents this year and then us tacking on top of that an additional four cents next year. If that were the case, we'd have just said, "Let's reduce the I&S rate four cents and just go for a nine-cent increase instead of a five-cent increase." There's no reason to play that game. The difference between a five-cent increase and nine-cent increase is pretty minimal. Can I make the commitment that this board will absolutely not raise the I&S rate? I can tell you that I would be very surprised if this board did anything along those lines. Now obviously something unforeseen can happen. Property values can drastically change one way or the other, but that I&S rate was not lowered eight cents simply to do this. I don't speak for other board members, I don't predict their actions, but I don't see a significant increase in the I&S rate in the near future.
Interview condensed and edited by Bill Whitaker.