Four-way partnership crucial for new Waco Mammoth National Monument: Q&A with National Park Service veteran Russ Whitlock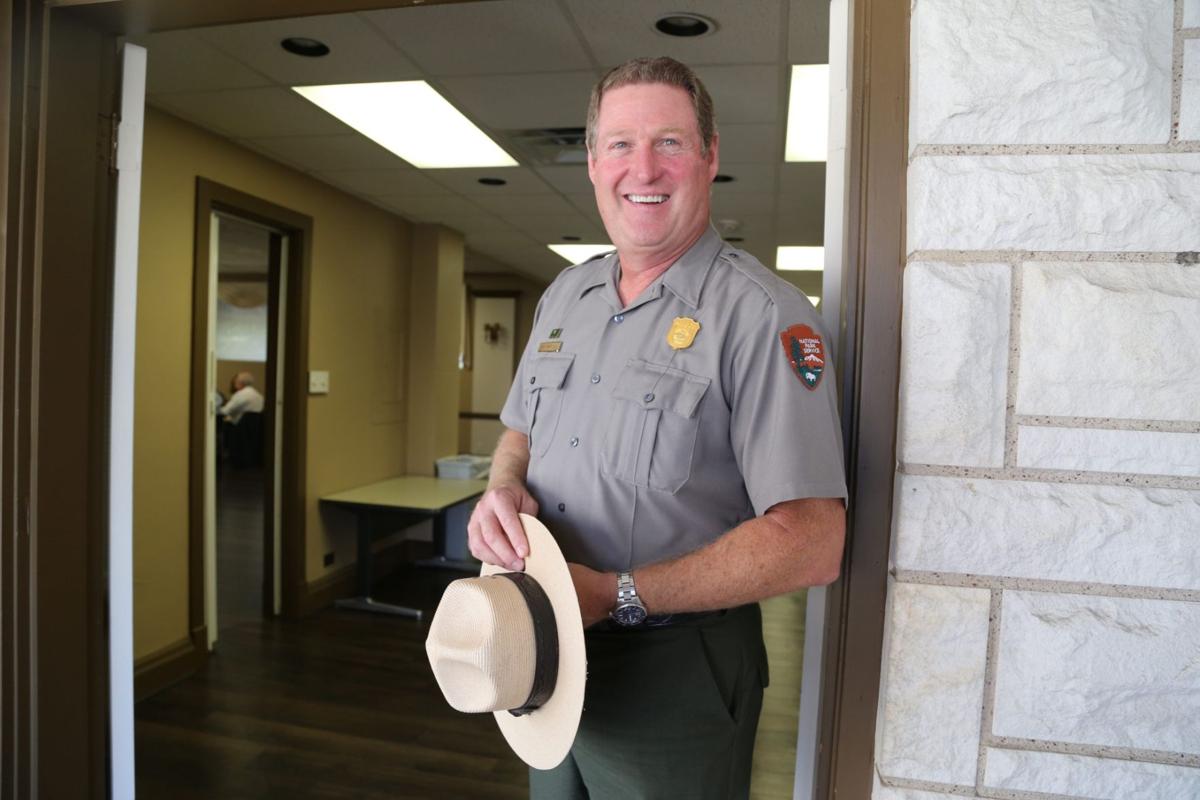 Russ Whitlock, 56, a 32-year veteran of the National Park Service who since August 2006 has served as superintendent of the Lyndon B. Johnson National Historical Park, has assumed the additional duties of overseeing federal responsibilities involving the newly named Waco Mammoth National Monument. After years mired in congressional gridlock, the locally run site — home to two dozen or so Columbian mammoth remains, most part of a nursery herd caught in a flood or mud slide — was designated a national monument in July by President Obama. The White House said the site offers "superlative opportunities for scientific study, including a rare opportunity to understand the behavior and ecology of the now-extinct Columbian mammoth, a dominant species in North America during the Pleistocene Epoch and the largest of all mammoth species."
Before a presentation to the Waco Leadership Forum this month, Whitlock, a South Carolina native, answered questions from the Trib about the increasingly common model for smaller national parks and monuments that the Waco Mammoth National Monument might come to symbolize; what helped clinch the mammoth site's gaining federal status; and the politics that sometimes swirl too close to the National Park Service, including rhetoric by some lawmakers about selling off parts of it. Beginning as a seasonal ranger at Mammoth Cave National Park in Kentucky, Whitlock has served as resource protection ranger at Indiana's Lincoln Boyhood National Memorial; lead ranger for the Ocmulgee National Monument in Georgia; and deputy director at Wolf Trap National Park for the Performing Arts. He served as the National Park Service director's chief of staff in Washington, D.C., before moving to Texas.
Q     This is a dog-catching-car question. Now that Waco leaders have won national monument status from the National Park Service and President Obama for what had been known as the Waco Mammoth Site, what are we supposed to do with it?
A    The biggest thing I see in it is that the National Park Service is a real partner in the operation of the park. We had been on the periphery for many years with the city and the Waco Mammoth Foundation and Baylor University, talking about it and talking about what we'd like to see and dreaming about what we'd like if we actually got national park status and, by golly, it happened. We already had operations agreements and general agreements in place, ready to go. Just as soon as the president's pen hit the paper, we were right behind it, signing our agreements. Now you have a four-way partnership with the park service, the city, Baylor and the Waco Mammoth Foundation, all working together to make this place the best it can be.
Q     But isn't this really kind of an unusual arrangement for national monuments and parks — a real hybrid?
A    It's becoming more and more the rule on new national park sites being added to the system. It's no secret that many of the federal agencies don't have the funding we'd like to have and Waco became No. 408 in the National Park System and that's the Lower 48 and Alaska and Hawaii and Guam and Puerto Rico and the Virgin Islands and even in the American Samoa. These partnership parks are the way that so many of the smaller parks are being created now because the park service doesn't have the financial ability to take these places on single-handedly. And, quite frankly, we've learned over the last 25 years or so as these partnership parks are evolving that really having the close and committed support of your other public and non-government organizations makes them work very well.
Q     What's the toughest part about these sorts of new arrangements?
A    One of the hardest jobs is convincing our local friends — I almost feel now like some of the folks in Waco are my relatives — that, yes, we are the federal government, but there is leeway with which we can approach so many of the policies and programs and all. We really leverage the partnership to the best. Things that might get hung up on the federal side, tied up in red tape and regulations and all, we can say: "Hey, city, how about we work with you all on that and we give you the money and you all take care of that contract?" And the city can in turn say, "Hey, park service, y'all have the expertise in paleontology and you have paleontologists who can come in and survey and conduct research on these bones. Why don't y'all take care of that?" And there are just so many different things that the agencies do well and we learn from each other on that. To go back to your original question, I think the one thing that had the foundation and the city and Baylor University a little bit uneasy was, "OK, we're asking the federal government to come in and be a part of this thing and what is that going to do to all this?" I think we can agree at this point that it's not nearly as scary as some folks thought.
Q     The National Parks Conservation Association was a strong and unyielding supporter of turning the Waco Mammoth Site into the Waco Mammoth National Monument. But it feared the wrong partnership could compromise National Park Service standards locally. Isn't that a fair concern?
A    I'll tell you what. I have been working with folks from Waco since late 2006 or 2007 and I have come to find that those folks literally have adopted most National Park Service policies and designs and programs and operations manuals. I mean, it's like we always joked: When you looked at that entrance sign, it was like, "Wow. That's a National Park Service entrance sign." The only thing missing was the (iconic NPS) arrowhead — and now it's got that. I joked with (city parks program administrator) Jeff Goodman and (Waco Mammoth Foundation board president) Gayle Lacy and the mayor and all of them up there, "You've got a more beautiful entrance sign than a lot of national parks do," and I could pull out the sign manual and show them. And they said, "Russ, that was always our idea. We wanted to design our drives and our trails so that they weren't just straight lines like city blocks but they had curve to them." Our policy has always been that we want you to walk down a trail and not be able to turn around and look and see where you've been the last quarter-mile. We want it to be winding. One of our favorite terms is "laying lightly upon the land," and they (in Waco) took so many of the design ideas and policies of the National Park Service and incorporated them. I mean, that dig shelter is a perfect example of that. That huge thing is sitting there and you don't even really know it's there until you walk up on it.
Q     What was the tipping point for the National Park Service in deciding that this site rated being included in the National Park Service? What was it that convinced National Park Service director Jonathan Jarvis and President Obama?
A    The special resource study [pressed by then-Congressman Chet Edwards] that was completed in 2010 recommended the National Park Service become a partner in the operation. A special resource study is directed by Congress to look at a site and look at what's unique, what's special, what is on a world-class or national level that is deserving of park service involvement. And you have to go through a series of steps and questions to get to that point. When that resource study was put out, the park service was pretty well convinced that we needed to be there. But then we got into, quite frankly, the politics of it — how much park money and how much city money would be involved and who's going to be the lead agency and who is going to pay for all this and can the park service be involved and do it for nothing — and we know that's not true. But it was really the National Parks Conservation Association representative in Suzanne Dixon who helped the folks in Waco get it across the goal line. They use their contacts that I am prohibited by law from doing. But they could go to the White House and open doors and say, "We want you to make time to talk to these folks from Waco and hear their story." And they brought them in and the folks on the (federal) Council on Environmental Quality operation of the White House were won over by the folks who went up there. And then they pushed it through and recommended it to the president. And once the timing was right, the National Park Service director wanted to make sure there was good local support: Regardless of where the politics were on it, did the community want the park service there?
Q     The National Park Service director had a pretty successful visit to Waco in early April.
A    Very successful. I think he wound up the evening announcing that he had no reservations whatsoever in recommending to the Secretary of the Interior that it go to the president for inclusion of the Waco site as a national monument.
Q     I have to ask you because there's a great picture of you in the Oval Office with the president and it looks like everybody is having a good laugh about something. I saw the president's statement from the White House, but did he say anything special about the Waco Mammoth National Monument in a moment of informality?
A    He greeted us when we walked in. There was a genuine attitude of "I'm really glad y'all are here." And it kind of carried through in his message. He chatted with us for just a few moments before the photographers and everybody came in, but he kind of looked at the three park service guys and the National Forest Service guys and said this was something he truly enjoyed doing, setting aside these special places. I told folks later on, there was that moment between him sitting down at the desk and then getting us all assembled as a symbol there and, you know, it might not have been proper, but I said, "Mr. President, I want you to know that you're making a lot of people in Texas happy today," and he turned and looked up at me and said, "You know, I'm glad to hear that. I don't do that very often." (Laughter.) You know, one thing that impressed me was that he didn't speak from any notes. He obviously had read the background information, he was familiar with the proclamations he was about to sign, because he just spoke from memory about those three places. [The Basin and Range, a desert area in Nevada, and Berryessa Snow Mountain in California were also designated monuments.] Waco was the last one he signed and he said (with a certain flourish), "And that's for Waco," and he tapped it twice like he was just particularly proud of that one. At least, that's the way we want to interpret it anyway.
Q     It seems like the National Park Service has run into enemies lately on Capitol Hill. I keep reading of how certain lawmakers want states to take over and possibly sell public lands such as national forests and wilderness areas. Is this a real threat to the National Park Service?
A    My opinion is no, it's not a real threat. In the couple of years that I served in the director's office (in Washington, D.C.), we would occasionally get some of those calls or letters from people saying, "The National Park Service is too big and you can't control it all and we need to turn these lands back." What I've found is when you get those, it's usually somebody with his or her own agenda regarding a certain amount of acreage or mineral rights. It's rarely somebody really believing that the National Park Service has bitten off more than it can chew.
Q     We keep hearing about the huge [$11.5 billion] backlog of upkeep and maintenance projects needed in our national parks. I saw the president's statement the other day about seeking more funding for the upcoming centennial of the National Park Service. Are we catching up or do we really have a long way go to?
A    For many years, we didn't have software programs to document the condition of our inventory of facilities and roads and trails and bridges and septic systems and water lines and those sorts of things. In recent years, the National Park Service has been compiling huge amounts of data into these programs that can now crunch all these numbers that tell us so many buildings need new roofs or so many water lines need replacing. Is the need there? Absolutely. If we are going to maintain these places for the next hundred years, we're going to have to make the investment in them. We struggle very much to keep the next generation, the young people, involved in the parks so they develop an appreciation for them and want them to be there. Go back to what you asked earlier about some people wanting to take park land and sell it. When I was there (in Washington), at one point there was a congressman who was making headlines because he wanted to take the least-visited national parks and sell them to help pay off the national debt. Well, who gets to determine what battlefield, what natural area, is not deserving of our national attention and conservation? Someone in the past, including large groups of people and elected officials, decided that this place or that place is special for whatever reason and we of the National Park Service are charged with protecting and caring for those places. They're entrusted to us by the American public. I know it sounds all hokey, but we really do take this seriously. Is there a backlog? At my park, the Lyndon B. Johnson National Historical Park, it's the president's home and ranch and those structures are, of course, in need of constant maintenance. They're old structures. There's hundreds of thousands of people walking through them and that has an impact on them. It's been 50 years since we've had a large infusion of cash in the national parks and it was LBJ and Mission 66, all through the early 1960s, building up to the 50th anniversary of the National Park Service. They were building houses and repairing visitors' centers and repaving parking lots. And now 50 years later we're coming up on our centennial and maybe we need a Mission 2016.
Q     Are there certain things businesses in Waco should be doing to sell the Waco Mammoth National Monument? Should someone be selling mammoth burgers?
A    The sky's the limit. The more creative people are, the more you build awareness. Site manager Raegan King is well prepared to work with public affairs with the city and Baylor University and keep an enthusiasm and awareness campaign going. Fredericksburg is 30 miles away from Lyndon B. Johnson National Historical Park and it never ceases to amaze me when I'm over there how many people there have never been to the LBJ ranch. It's like, "Do you just not want to go?" And they say, "Well, I just haven't gotten around to it." And I ask how long they've been there and it's like 50 years. Americans, when we get in the car, we feel like we've got to drive for half a day or something to see something unusual and interesting. And we forget to see the stuff in our own back yard.
Interview conducted, condensed and edited by Bill Whitaker.
---
Timeline: The Waco Mammoth National Monument story
---