Betting on vibrant, healthy neighborhoods to produce vibrant, healthy schools: Q&A with Waco ISD officials Pat Atkins, Angela Tekell and Bonny Cain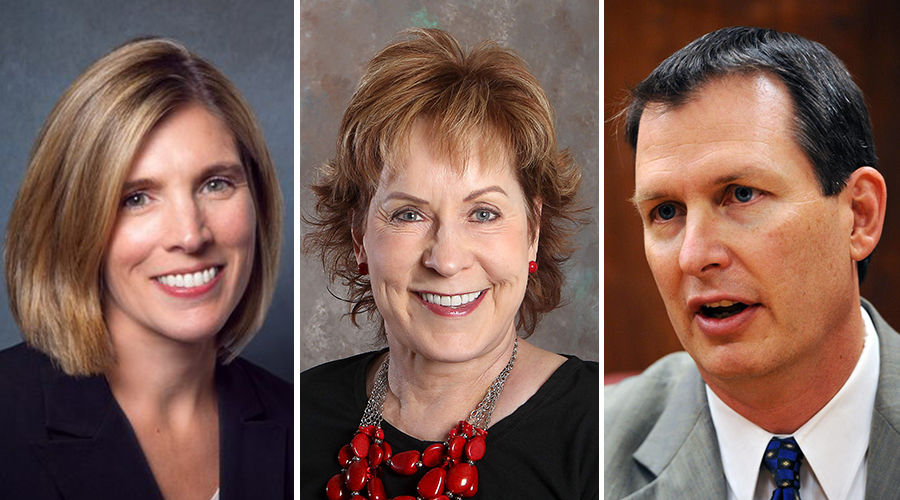 Waco Independent School District trustees plan to assemble three "community transformation committees" to bolster struggling neighborhoods around six Waco ISD campuses that have failed in statewide academic tests for at least three years in a row. Each committee would take two of the six troubled campuses. G.W. Carver Middle School, Indian Spring Middle School, Alta Vista Elementary School and South Waco Elementary School have failed three years in a row. J.H. Hines Elementary and Brook Avenue Elementary have failed four years in a row.
In this interview, Waco ISD board president Pat Atkins, trustee Angela Tekell and Superintendent Bonny Cain discuss what sort of people they seek for these pivotal committees and what their charge will be from the school board; school officials' October visit to Austin to discuss the future of J.H. Hines and Brook Avenue elementary schools with Texas Education Agency officials; and how, ultimately, any fixes on these campuses will rely heavily on improvements in the neighborhoods, an undertaking already under the direction of Prosper Waco and civic leaders working closely with it on its anti-poverty mission.
Q    I understand the recent meeting that board members and administrators had with Texas Education Agency officials included discussion of House Bill 1842, which says if school district officials don't fix failing schools, the state can eventually strip them of their authority or close down a particular campus. For instance, after two years of academically unacceptable ratings, districts will have to develop reform plans with input from parents and other community members. The new law ironically gives our troubled schools more time but makes the penalties for failure pretty severe.
Atkins    If you're in your fifth year of "improvement required," yes, the campus might be closed or a board of managers appointed for the school board. But this new law delays that (possibility) till late 2019. When we were presented a chart for how all this works out (by the TEA), the thought we all had was, "What do we do with essentially two additional years to get our campuses where we meet state academic standards?" And as we were sitting there listening to the principal at J.H. Hines and listening to Yolanda Williams [executive director of elementary education for Waco ISD] talk about Brook Avenue, one thing that became very clear was there are issues here that are much broader than what happens in our schools. These are neighborhood issues that affect school performance. And conversely, something like this — closing these schools — would have tremendous impact on those neighborhoods. And so we began talking about pulling folks in for a much bigger discussion about what needs to happen to help invest in those neighborhoods and what we can do to impact the academic programs at these schools.
Atkins    The whole discussion over an hour and a half was very powerful, all of it focused on those two campuses with the most serious problems — J.H. Hines Elementary and Brook Avenue Elementary. The one line that stood out in my mind was when they told J.H. Hines principal Tra Hall, "Look, we have lots of campuses [in Texas] that are economically disadvantaged. What's different about yours and why is it struggling?" And he said, "Every day my students come to me from a culture of abuse, trauma and neglect." That's pretty powerful. He was talking about folks who are in abject poverty and living in the housing projects — that's different than folks living at two times the poverty rate. Somebody making $48,000 a year who has a family of four might be economically disadvantaged, but that's not really what we're dealing with at this particular campus and in this particular neighborhood.
Cain    It's something we really don't talk about, even at board meetings. But when we were at the TEA hearing, we could just lay it all out. I mean, at board meetings, we don't want to offend anyone.
Q    Anytime we mention in a news story or editorial, say, problems with parenting in certain neighborhoods where children show up on campus hungry and fail to perform academically or even socially, someone takes offense. Everyone thinks he or she knows how to parent. The director of an orphanage once told me parenting is the one skill you aren't licensed to do. It's an interesting point.
Cain    And when you have a parenting class, guess who comes? It's the people who want to be even better parents, not the ones who completely lack in parenting skills. Proportionately, they come from backgrounds where neglect is a problem and, worse, those where sex is just something open around the home. And the food issues are amazing. Some kids have to hide their Pack of Hope (bags of food provided to poor school children for the weekend) under a bush because some parents will sell it for cigarettes — and if the family is then hungry all weekend, that's OK. They don't even think about it.
Tekell    That was a pivotal moment because I think those people at TEA were thinking, "OK, we're tired of hearing your excuses, what's really different about Waco ISD?" And when Tra Hall began to describe the support for that comment, it really sent chills. For me, these committees we want to form are not about another Adopt-a-School program. Yes, we need these committees to help turn around these schools, but this is really about addressing a community problem rather than just a campus problem. This is not a Waco ISD problem, this is a Waco problem, and so it's not about getting a group of people together to discuss, "What can we do differently at this campus so it can meet standards?" It's very much about neighborhood folks understanding themselves. Prosper Waco has done a great job and that all started with (former Waco Mayor) Virginia DuPuy's efforts focusing on education. We have seen more and more people willing to be accountable and responsible for our schools. But our conversation that day was one where we realized this problem is bigger than the school, bigger than the school district. And it is all very confusing, partially because the Legislature is constantly changing the rules and it's already very complex. Does our community even understand why these campuses struggle? You may think you understand poverty, but you don't understand it till you sit there for an hour and a half and listen to Tra Hall talk about his typical day.
Atkins    And when he talked about loss of composure.
Atkins    It's where a student acts out. It's where a student has some sort of verbal outburst or some sort of misbehavior that takes him out of the classroom for more than five minutes. And Tra started providing the data and the number of incidents that have happened — I mean, they've made great improvement there, but when you think of the number of kids on a campus and the 75,600 minutes in a school year or whatever it is [Texas House Bill 2610], there is a lot of school time that is taken up with these issues. I don't think I fully appreciated the depth and frequency with which these things are occurring on these campuses.
Q    And in our young kids.
Cain    But the problems go beyond that. How many of these kids have electricity at home? A lot of times we think this is something that happens to someone who is dirt-poor and lives out in the country, but how many kids in the J.H. Hines school zone do not have electricity in their homes? How many of them do not have food for the weekend? [Public education advocate] Josette Ayres, one of the [Leadership and Education Development] mentors with the Greater Waco Chamber of Commerce, was talking about this a couple of years ago. She was shocked how she would get a phone call and it would be a hang-up. And she would call back and a girl who she mentors would say, "I don't know what our relationship really is but we haven't had food in our house since Thursday," and it was Sunday. And she goes over there and it's Mom and Dad and three kids and there's not a cent of money. And those kids come to school and they're hungry and they're angry.
Q    We have a lot of homeless children attending Waco ISD, don't we?
Cain    Unaccompanied youth is the polite term. Some live in hotels, some are couch-surfing from family member to family member and some live in cars. About a third are living in cars, about a third are couch-surfers and about a third live with other family. We have about a thousand of those. We're really focusing on the high school but usually the younger ones are still with families at someplace like Compassion Ministries of Waco, so they at least have someone. But there comes a point in time when the parents are either done with them or they just don't have the skills or they're into drugs or in prison. Sometimes the kids get out of the home because of sex. A lot of them just want to graduate. One of our best success stories at the Greater Waco Advanced Manufacturing Academy was a kid who was at Brazos High and, well, we said we don't take kids in that program from Brazos High. But this kid convinced us. He said, "If you will let me go to GWAMA and Brazos High, I will graduate." And this kid lived under a bridge and he's a high school kid and he went on a skateboard every day from Brazos High to GWAMA and back so he could finish his education and have a way to support himself. And he did this all by himself.
Q    Where were the parents?
Cain    I don't know. Didn't have any. Didn't have an aunt, didn't have an uncle. At least, that's what they say. And you're 16 and you know you need a high school diploma. It's amazing. I mean, they need stuff. Where do they get their food? If you're a couch-surfer, you don't want to ask for too much because you don't want to wear out your welcome, so you wait till 10 o'clock at night so you can sleep on the couch and get up the first thing in the morning (and not bother anyone). That's why The Cove [a youth-nurturing center] is so important and that's why we're so proud of our graduation rate for homeless students. It was 100 percent last year for the seniors.
Atkins    The statewide average is about 25 percent.
Atkins    We have the literacy piece of the puzzle, but you also have the health and behavior outcome pieces and we've met with Baylor University's School of Education and School of Social Work and they've submitted a proposal to work on those issues on specific campuses. We probably don't have enough money to do it on all campuses. The mayor called me while I was downstairs a moment ago and we talked specifically about this. He wants to get together with me and Prosper Waco executive director Matthew Polk to get the city's input on who needs to serve on these committees. He thinks the people from the National Resource Network [a national nonprofit working with Prosper Waco on battling local poverty] need to be there because they're going to commit to specific programming targeting neighborhoods around Brook Avenue and J.H. Hines. So I think there's an appreciation on the council or, at least, the mayor, who has said we need to come down and speak to the entire council and say, "This is a community issue and these neighborhoods need additional investment and let's work together through these committees."
Q    That's excellent. But it seems there's an awful lot of moving pieces with different committees and teams in different stages and then a lot of different components in the tax ratification election package. The genius of Prosper Waco is that it is trying to do this through the philosophy of "collective impact," but do we have too many pieces? Do we risk duplication of effort?
Tekell    These committees are not duplicating anything. It's not like we're forming a committee to put on an event or figure out what's wrong with this campus and fix it. It's really a pulling back and saying, "Here we have a campus that is struggling and we've done our part as a board — we've gotten the most money we can possibly get out of the state of Texas." I mean, what we're doing at J.H. Hines will blow your mind. You think you know what's going on at J.H. Hines until you listen to Tra Hall and all the people and the resources and the time and the creativity and the energy and the blood, sweat and tears going into that campus to make it work.
Atkins    Talitha Koum [a nonprofit that focuses on at-risk children from eight weeks old to kindergarten] is over there using its model on high-need pre-K students. And you have the Klaras House [a nonprofit assisting children and adolescents who show evidence of emotional and/or behavioral difficulties] providing other resources over there for kids with certain challenges.
Tekell    So we don't need a committee to come up with new ideas. It's really about engaging our community in a conversation about how we got to where we are and where the state says we should be and what they're going to do when we don't get there. We're looking for people who have connections to those particular communities. It depends on who cares the most about, say, East Waco. Who is really passionate about having a vibrant, healthy community that has a vibrant, healthy neighborhood school? It's not necessarily going to be the people who serve on every other committee in town. And, yes, it will be a challenge to get people to the table who have not been invited in the past. Now it might be some of the folks who have been at these Prosper Waco meetings, but we've brainstormed parents, members of the neighborhood associations, the churches and then we have these people who are actually spending their days in our schools. We want to have an educated community in Waco so that when the TEA does come to Waco or the Legislature meets again and they start talking about closing schools, we have people who really know these schools and really know what's going on over there. I want them to be able to say to our leaders, "Look, as a community, we're doing all we can with what you've given us."
Q    How are our state lawmakers helping Waco ISD?
Tekell    Well, I think we need to send invitations to state Reps. [Charles "Doc"] Anderson and [Kyle] Kacal for them to participate as well as state Sen. Brian Birdwell. But so far we haven't gotten a lot of help from those guys. We have a hard time educating them really.
Interview conducted, condensed and edited by Bill Whitaker.