Seven completed. Four underway. Two left.
The 13 individual projects that make up the massive 80-mile rebuild of Interstate 35 through Central Texas are winding down. By this time next year, mainline construction on Interstate 35 from Hillsboro to Temple will be complete.
The two projects remaining encompass I-35 from South Loop 340 through the city to North Loop 340 with the project boundary at the 11th/12th Street overpass. The Texas Department of Transportation will bid out the northern project in December with work commencing in early 2019. No timeline exists yet for the final project covering the southern half of Waco.
When all is said and done, the I-35 rebuild will be the largest project in the history of the Waco district of the Texas Department of Transportation, and one of the biggest in TxDOT's considerable history in terms of length, with as many as 60 miles of interstate under construction at the same time. It will have taken the better part of a decade and cost more than $2.1 billion.
For those who commute to Temple regularly, the end cannot come soon enough. The Waco-to-Temple section has been six years in the making but is closer to completion than many realize. About 90 percent of the drive is now on new concrete — and while traffic is still bunched into two narrow driving lanes in either direction, long sections of highway from Bruceville south to Temple appear ready to open. The last project of those currently underway to be finished is Temple, and even there drivers find themselves atop new concrete in both directions.
Those of us who drive north most of the time have enjoyed the fruits of this Central Texas I-35 project for a couple of years. The new lanes from Waco to Hillsboro are smooth and move traffic along quite nicely once you're out of the Waco area. Last year more of the new highway opened south of Waco, through Lorena to Bruceville-Eddy.
It's difficult to see the progress on I-35 from current driving lanes. High safety barriers and narrow, tortuous driving lanes keep your knuckles white while driving; very few vehicles slow down to the posted speed limit in construction areas. But if you exit and take in the views along the way, it's easy to appreciate how much progress has been made and how close crews are to opening up traffic to the new alignment.
Yes, the new, improved I-35 has been a long time coming (and that's not counting the decades these improvements have been discussed). But when finished, it will make Temple a virtual suburb of Waco (or vice versa, if you're a Temple resident) in terms of drive time and ease of commute. That's incredibly important to me because my grandchildren recently moved to Belton.
And while the 12-foot-wide driving lanes and 10-foot-wide shoulders are the most noticeable improvement, what's happening off to the side of the main driving lanes will provide the greatest long-term benefits.
"A major element and key operational goal for the plan design and construction was to create continuous, one-way access roads throughout the district," said Michael Bolin, deputy district engineer for TxDOT's Waco district. "This is a major safety element and was lacking in several key areas. When it's done, a driver will be able to drive from the south end of the district to the east-west split north of Hillsboro without ever getting on the main lanes if they want to."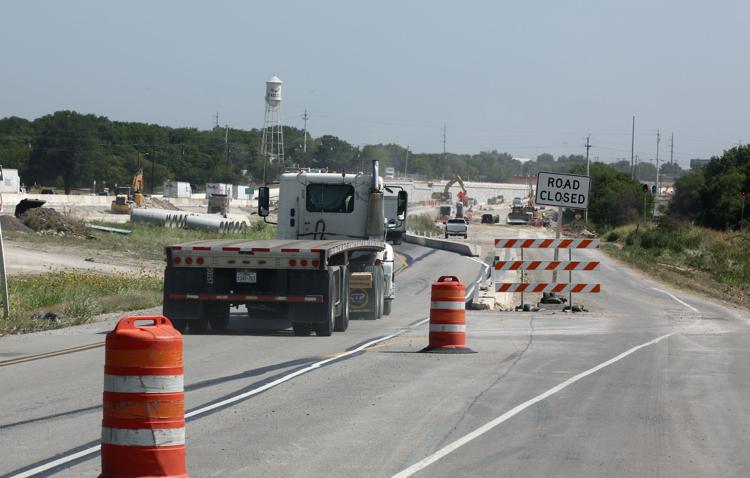 That's probably the most important aspect to the entire I-35 project in Central Texas. It's especially important in Waco where frontage roads are a patchwork of stop-and-start intersections with little or no benefit to traffic or commerce. The lack of continuous access roads in various locations have contributed to difficulty in re-routing traffic during crashes and other incidents. In Temple, new frontage roads will actually make sense and be handily accessible to I-35 traffic. They certainly weren't before.
"We've already put the components in place to expedite the process for developing those (frontage-road) sections (of I-35)," Temple Chamber of Commerce President Rod Henry told me. "There is a ton of interest, even now."
Granted, Temple has been hit hard by the I-35 construction. It's been a mess there for six years. But that's about to change with construction winding down. Henry has been at his chamber post in Temple for five years and doesn't know what it's like to live there without road construction. When asked the key to surviving ongoing construction, he didn't hesitate: "Communication. Open lines of communication between TxDOT, our state representative, local leaders and businesses."
At $243 million, the Temple project is by far the most expensive to date along the corridor, and the most in depth.
Waco has one I-35 project ongoing, from MLK Boulevard north to U.S. Route 77 Business. The two remaining projects in the I-35 plan — both in Waco — will wreak havoc on both local and through traffic for at least two years. Add to that the headaches of game-day traffic at McLane Stadium and ongoing mass pilgrimages to Chip and Joanna Gaines' retail mecca in downtown Waco and it doesn't take long to let out a collective groan about what's up ahead. Businesses and some homes have been disappearing from the new route in Waco for many months as these projects approach the dirt-turning stage.
But like the folks in Temple as well as every town along the 80-mile improvement zone, Waco will endure. Our project will only be three or four miles long at any given time. One of the already completed phases — frontage-road bridges over the Brazos — will allow the broader project to proceed more smoothly. Plus the new overpass at Old Robinson Road on Loop 340 is about finished and will make the loop around Waco much easier and non-stop, at least to State Highway 6.
One fascinating change in highway design in Texas — quite evident along new stretches of I-35 — is how off-ramps and on-ramps have been moved farther apart, and much farther from the intersecting roads they serve. If you've missed your exit as a result, join the club. TxDOT engineers moved them for two reasons. First, all that slowing down and speeding up happens off the main driving lanes. Second, with continuous access roads in place, the option exists to get cars onto them for longer periods before the intersection. That makes sense, but there's a definite learning curve.
Another tidbit from district engineer Bolin regarding the off-ramp strategy: Planning accommodates the expected increase in vehicles on our highways as Texas continues to grow. More than 130,000 vehicles now pass through Waco every day on I-35 and about 110,000 pass through Temple. Both cities will have four driving lanes when I-35 construction is done. I-35 traffic will continue to grow in Central Texas, given it forms one side of the so-called Texas triangle (DFW, Houston, San Antonio and Austin) of population growth.
I'm most excited about the frontage-road implementation. This will transform Waco's business presence along I-35, allowing for new development opportunities where they currently do not exist. Let's face it: Outside of fast food row near Baylor University, there aren't that many retail locations on I-35 in Waco. The current alignment isn't wide enough and was not built with development in mind. Frontage roads and comprehensive design work at intersections along the route will deliver mile after mile of new storefronts. It's already happening in places where I-35 is complete, including stretches between Bellmead and West.
We've all cursed I-35 construction at some point in recent years. Idling in traffic for hours is no one's idea of a good time. But we've now seen what the new roadway looks like and it's very, very well done. When we finally get free and clear of I-35 construction south of Waco, it will be time to fall right into the middle of it for a few years here at home. Hopefully, fewer than six.
We have our share of traffic jams in Waco already, whether because another chunk of the Fourth/Fifth Street overpass gives way or an accident near the Valley Mills flyover leaves traffic with no place to go. There's no question the time has come to address the lifeline of Waco in a comprehensive way.
TxDOT and its contractors have done excellent work on a well-designed project so far. We can't wait to pull the barricades back from Bruceville to Temple and drive the new highway there. After years of waiting, the new I-35 is closer than we realize.