Now that Waco's Second Presbyterian Church has been demolished, I just wanted to review how this came to pass. I am a member of the City of Waco's Historic Landmark Preservation Commission (HLPC for short) so I had a front-row seat for the decision-making process. What follows is my understanding of the process, not that of the HLPC, but you can check everything in this column because we record every single meeting, so that it can be reviewed by anyone who missed the meeting — which was basically all of y'all!
There will now be a bit of back story. Back story Part One: Waco 1893. It was a boom time for mainline churches. The Presbyterian Church decided it had grown so much that a second congregation was justified. So they went suburban — North 13th and Barron! (I am not making this up.) They hired W.C. Dodson, architect of the Waco City Hall (gone), the McLennan County Courthouse (gone) and many fine Texas courthouses (some still standing). In June 1893 the Waco Morning News opined that the new church "has that simple, dignified characteristic which distinguishes Presbyterian churches, but none the less it is a handsome, well-appointed structure and is situated in a splendid neighborhood." In spite of such advantages, the congregation lasted only 25 years, merging back into what had become First Presbyterian. Alas, subsequent congregations also struggled, and the neighborhood declined, especially after Waco Drive ripped though the area.
Back story Part Two: Present-day Waco. Now over a hundred years old, the church is empty but still hanging in there. It had become the second-oldest church building in Waco: Only St. Paul's Episcopal was older. The neighborhood has many vacant lots and uncared-for buildings, though other parts of Waco are booming like there is no tomorrow — or yesterday. Enter a White Knight, Magnolia Vacation Rental, owned by Waco's own Chip and Joanna Gaines. In February 2017 they bought the old church building; no word about what they would do with it. Turn it into a bed and breakfast? Turn it into an event center? No one knew.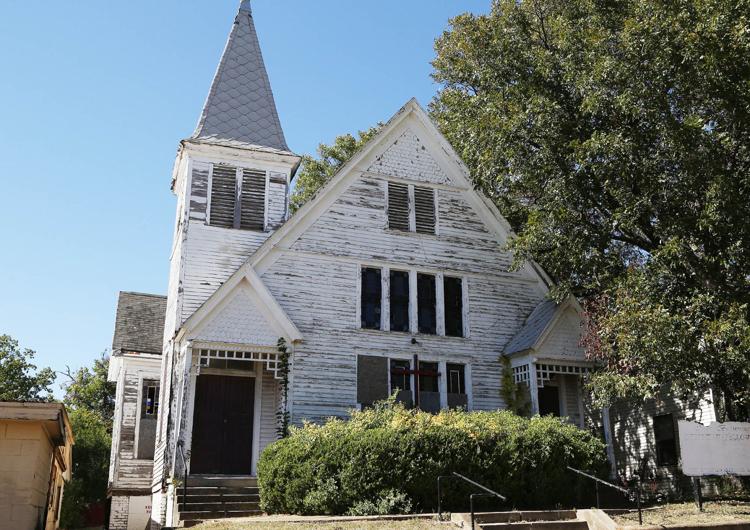 But we found out in 2019: Magnolia would move the church to the Magnolia Market property. This would be part of a $10.4 million expansion. Of that sum $1 million would come from the city's Tax Increment Fund. City staff recommended approval but with the proviso that Magnolia obtain a certificate of appropriateness for relocating the old church building. Melett Harrison, the city's executive director for economic development, was quoted at the time as saying the church "is a local landmark, so it's got to get a certificate of appropriateness."
My first reaction to the proposed move was ambivalent: It could be worse. The good is that the old building would be moved and given new use. The bad is that any move separates a building from its original location, which is part of its story, its historic context. Second Presbyterian was built where it was because it was not (at that point) downtown, and it was in a direction where Waco suburbs were starting to grow. Moved buildings are eligible for the National Register of Historic Places only in the rarest of circumstances.
The 20th century saw a rage for moving historic buildings into historic villages to educate the public about America's past. Some villages consist entirely of old buildings moved from other locations — such as Old Sturbridge Village in Massachusetts — but at Colonial Williamsburg more than 80 buildings are still on their original sites, one of the things that makes CW so important. At Magnolia Market the role of the church is not educational but to provide a place of contemplation for visitors: in other words, a place for the husbands to sit while wives and daughters shop.
Magnolia hired an architectural firm, Clayton and Little, to create a master plan. However, it did not hire a preservation architect or architect of any sort to move and restore the church. Instead, it hired Heritage Restorations, a company that takes apart, reassembles and restores old timber-framed barns. What is missing from this description is that the barns are almost invariably moved, usually to bucolic new settings. I have looked at the website, and the results are quite lovely — and utterly un-historic. As I screened the many images of rustic luxe, I thought to myself: When I win the lottery — yeah, when — this is not what I am going to do.
Three-dimensional chess
Looking back on the announcement, there was trouble from the get-go. Caleb Titley, a partner with Heritage Restorations, told the Tribune-Herald that his company was contracted to have the building carefully taken down piece by piece, though some elements would have to be reconstructed. So far, so good. Ominously, in the next sentence it was stated twice that Heritage Restorations would "reproduce" the building at its new site. That's ominous because a reproduction is not a restoration; it is a new building trying to look old. No reproduction is eligible for the National Register, and it would not even be eligible for local designation. But the headline was that the old building was being used.
In November 2019 came the HLPC meeting. I still held hope that the building would actually be restored, but still there were unsettling clues. We were told that the bell tower would be saved and re-used, but that the clapboard on the original church had lead paint and would cost too much to restore. Hmm. Magnolia is worried about cost?
Unclear from their drawings was whether the original windows would be used. Upon questioning, it turns out, no. The originals had one larger central pane of glass surrounded by smaller panes of stained glass. Not super fancy but, by God, it was original. We were told that instead Heritage Restoration would install modern double-pane glass (energy savings!) with strips to replicate the pattern of the old windows. And the new glass would not be stained but clear. This revelation resulted in a long discussion about what an important feature of the original building the windows were; at one point we were told that being required to restore the old windows might be "a deal-breaker." Does anyone believe Magnolia is that poor?
I can't speak for the other members of the commission, but alarm bells were going off in my head. But the strangest part was yet to come. Magnolia asked the HLPC to guarantee that the moved church would be considered a historic structure. Hmm. Wasn't that obvious? Or was it not? I couldn't decide if we were playing three-dimensional chess with Obi-Wan Kenobi or being gamed by a two-bit card shark. Having been informed that restoring the windows might be a deal-breaker, we politely asked that at least some of the windows be restored and that, if they did a good job in moving the church, it could still be deemed historic.
Demo day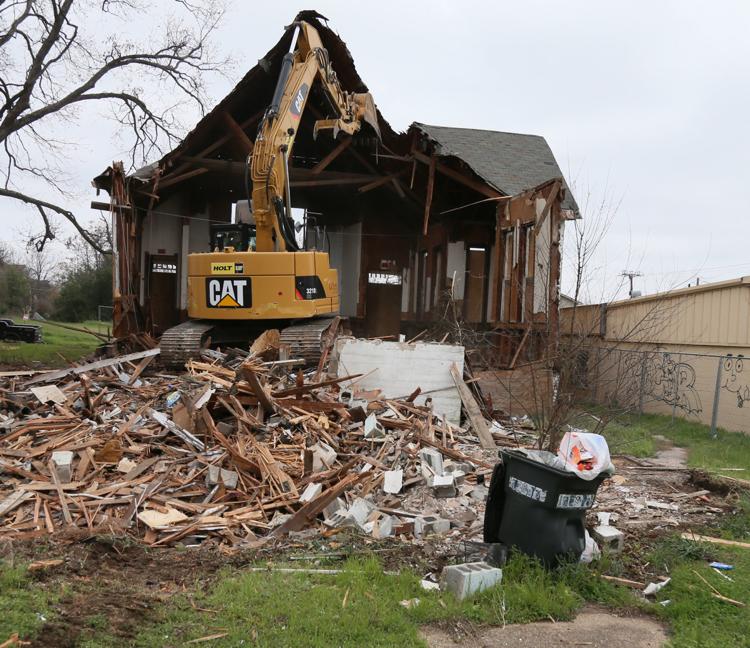 Which brings us to Monday, March 2, Texas Independence Day: I was driving down Waco Drive and looked over to see that it was demo day at the old church. My first thought was, "Oh, they're knocking down that later addition on the back of the building before moving the original building to Magnolia Market." But I was wrong. It seemed demolition had progressed beyond the addition to the main building. I turned and doubled back, snaking down the alley behind the building. The demo had progressed to the back wall and was tearing away at the roof. Fool that I was back then, I thought, "Well, maybe they'll save the main façade and side walls." Wrong again. It all came down, even the pair of original front porches, even the shiplap underneath the clapboards!
Let's recap: Magnolia demolished all the walls, the frame, the roof and the foundation. They saved the bell tower, pews, windows and floor. And apparently the windows are not to be reused, and the plan is to rework the configuration of the flooring to make the property wheelchair accessible. There is no objective standard by which the new church can be considered historic. Certain pieces were removed and then the building was destroyed. In a sense, Magnolia had to destroy the old building, otherwise they couldn't claim that the new one is historic.
I saw the old building coming down, something I would never have imagined when the HLPC approved this charade. At the very best Magnolia was evasive with the HLPC, at the worst downright deceptive. At stake was a $1 million TIF grant. They said they would move the building. But they saved fragments and demolished the rest. And virtually anyone who teaches architectural history or historic preservation will tell you the building going up at the Silos will not be the Second Presbyterian Church. And it will be anything but historic Waco.