Longtime civic leader and Trib contributor Wilton Lanning expressed shock upon opening his Tuesday Trib and laying eyes on a vintage photograph of Conery and Henrietta Miller, parents of Pearl Harbor war hero Doris Miller, on their farm in 1942. "I'm still shook," he told us, recalling his own boyhood encounter with Conery Miller. "I live right on the bluff on Lake Shore Drive and, when the sun sets, I'm looking out at where that actually happened." Tuesday's Trib story focused on release of "Doris Miller, Pearl Harbor and the Birth of the Civil Rights Movement," in which historians T. Michael Parrish and Thomas Cutrer argue for Miller's relevance in ending decades of segregation. By request, we here publish Lanning's own May 24, 2009, column on his encounter with the Miller family.
I was born in 1936 in Waco. During the "war years," my family lived in Texarkana while my father served as a captain in the U.S. Army at Red River Ordinance Depot.
After the war we returned to live in a cabin on the old Lake Waco, a "life in the country."
Lake Waco, a constant-level lake built in 1930, was relatively small and shallow. A cotton field was visible across the way.
One day as I stood near the lake, I was fascinated by the scene of a large black man driving a team of two mules plowing that field. As he came close to where I stood, he called down, "You want a ride?"
This big black man reached down and set the sandy-haired white boy on the bench beside him. He said, "Gee haw," and the mules moved forward.
Not much was said. After a couple of rounds in the 10-acre field, I thanked the big man who had told me he was Conery (Connie) Miller.
I told my folks about my adventure and my dad suggested we drive over to the Millers' house in his 1936 Ford. It was across the highway, up on a hill. My dad said, "I want you to meet Mr. Miller's wife, Henrietta."
They lived in a small, wood-framed white house with a porch across the front. When we arrived they came out on the porch. While we were visiting I noticed a small flag with a gold star hanging in the window.
I don't remember exactly what was said, but I vividly recall the expressions of pride in the Millers' faces — pride in their son, Doris.
I will never forget that day.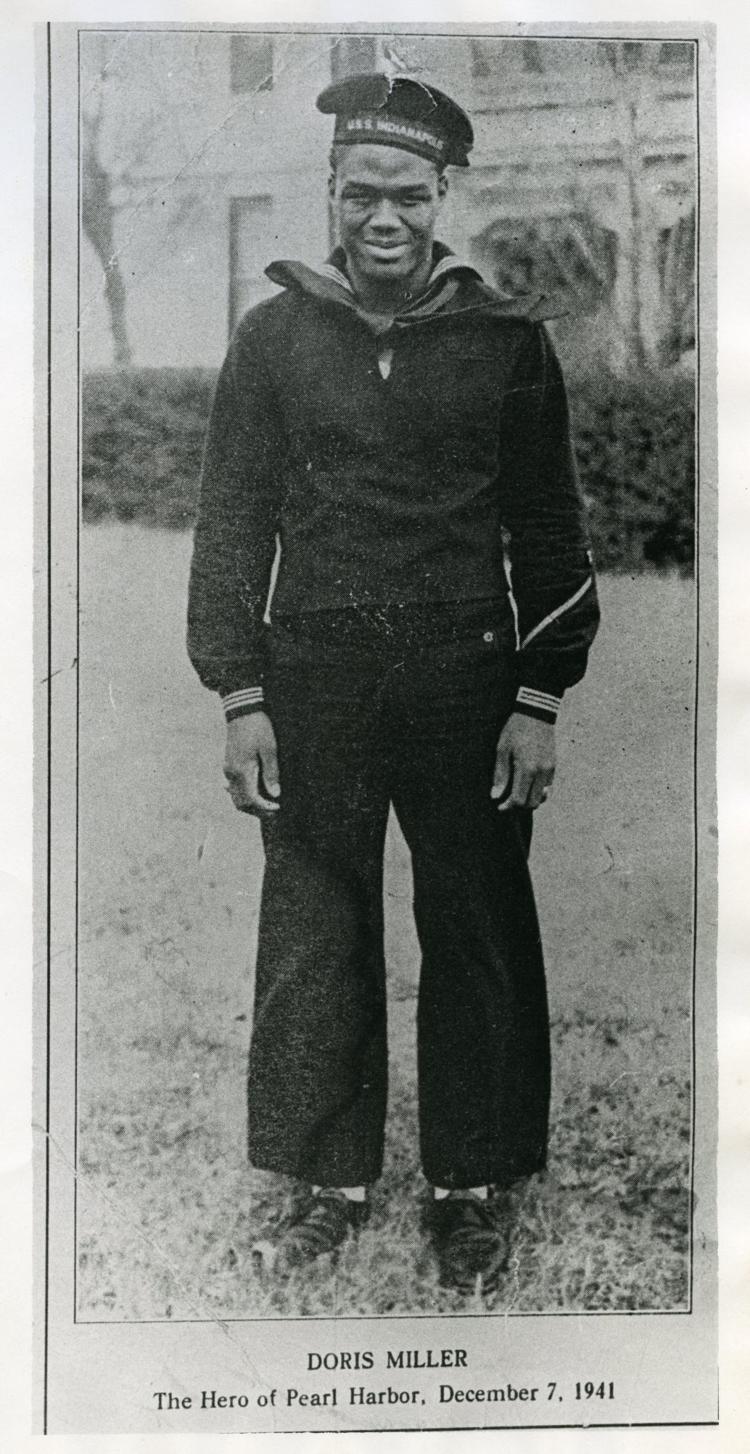 Their son, Doris Miller, was a true hero. He was one of the first men recognized from that "day that will live in infamy," Dec. 7, 1941, when the Japanese attacked Pearl Harbor.
Doris received the Navy Cross from fleet Adm. Chester Nimitz "for distinguished devotion to duty, extraordinary courage and a disregard for his own personal safety."
His picture was placed on recruiting posters across the country. He was sent on a tour to help sell war bonds as well. Later, while on duty on the USS Liscome Bay, the ship was torpedoed by a Japanese sub. The carrier escort vessel sank in 20 minutes. He and 645 other sailors perished.
Today, as I look out across Lake Waco I see a source of abundant water for this city not only for today but for many years to come. A new and much larger Lake Waco was completed in 1964 and it, too, has been raised an additional 7 feet.
But beneath the waters is the place in the country where my family lived so many years ago. It is also the place where Conery and Henrietta Miller lived as well.
Their place is gone. But memories of them and their son live on in my heart.