Fellow Wacoan and HGTV star Chip Gaines recently gained attention by expanding on last year's "Magnolia Manifesto" with a brief but relevant amendment, seemingly acknowledging the hatred played out in last month's shooting rampages in El Paso and Dayton. Rather than following the pattern of politicians and many reality-TV stars, he offers welcome advice for those of us feeling powerless amidst death, madness and chaos: "We believe in human kindness."
The message resonates no less powerfully after yet another shooter — this one briefly a resident of Lorena who possibly became irate over losing his job in the Permian Basin — went on a behind-the-wheel shooting spree a week ago while fleeing law enforcement. Before the deadly chase ended outside a movie theater in Odessa, the killer shot law enforcement officers and innocent members of the public, including a 29-year-old mail carrier originally from Juarez, Mexico, just finishing up her weekend route. The shooter hijacked her mail vehicle.
Under the circumstances, the Magnolia Manifesto is good medicine for an ailing society where too many of us vent anger and vengeance, even if we're not firing bullets from a semi-automatic assault-style weapon.
"I believe that we are all made in likeness and, because of that, our hearts are naturally drawn toward one another," Chip writes. "But the thing about kindness is, it's a choice. It's something that we should give freely with the hopeful expectation that it might one day be given freely to us. And I'm not necessarily talking about kindness that takes shape as grand gestures or niceties that are offered up on special occasions. I'm talking more in the day-to-day, in kindness that abounds in equal measure for a loved one as it does a stranger on the street."
More than 30 years ago, intelligence officer, diplomat, war veteran and former Permian Basin resident George H.W. Bush in accepting his party's nomination for the presidency called for a "kinder, gentler nation." For some including then-real estate tycoon Donald Trump, the summons seemed soft. "I like George Bush very much and support him and always will," Trump said in 1990. "But I disagree with him when he talks of a kinder, gentler America. I think if this country gets any kinder or gentler, it's literally going to cease to exist."
Now, it seems, we're getting to experience first-hand the polar opposite at work.
I remember thinking how admirable that rallying thought by the Republican presidential nominee was in 1988. Yet when we look around our country today, few of us could have imagined we would be this far from "kinder and gentler." Elected leaders no longer inspire us to such moral plateaus. Friends and neighbors knowingly post misleading memes vilifying people with whom we disagree. One is almost tempted to say kindness no longer exists — that to get along in this world, to "win," we must be harsh, cruel, loud, unfeeling and uncaring.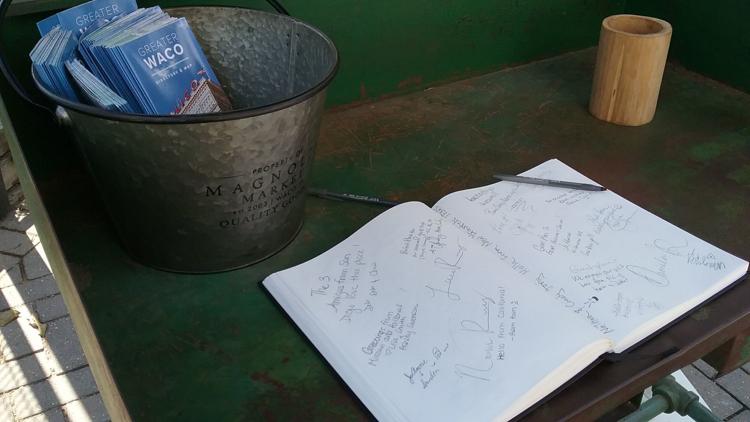 Yet the enduring popularity of Magnolia Market at the Silos may well owe something to the introspective, do-unto-others attitude of Joanna and Chip Gaines. Certainly they don't fit easily into a reality-TV crowd that has included "Keeping Up with the Kardashians," "Duck Dynasty" and the president's earlier series, "The Apprentice," brimming with back-biting business "apprentices" and Trump sitting in judgment of them all each week, deciding who got fired and who stayed.
Sometimes, though, real life restores our faith in human kindness in ways no reality-TV show can.
A recent story about the first day of school restored such faith in me. From Wichita, Kansas, comes a tale of two 8-year-old boys, one white, one black, waiting to start second grade. Connor is white and autistic. Christian is black and never met Connor. But there they were, waiting to begin school. Connor, scared and overwhelmed by the unknown, was crying. Christian walked over to Connor, consoled him and took Connor's hand in his. Calmly, quietly, Christian walked Connor through the schoolhouse door. Connor regained his composure: "I was happy." The two are reportedly inseparable. Kindness somehow endures, despite all.
Connor's mother was moved as she witnessed this event. She worried Connor, who is different, would be bullied. As she noted, it doesn't matter the color, gender, disability or anything else: "Just be kind, open your heart. It's what we need in this world."
Older generations gripe plenty about young folks today — not being able to carry on a conversation, not remaining on a job for long, not learning cursive writing. As we age, our hearts harden, our compassion dwindles. Perhaps every generation sits in stern judgment of those poised to succeed them, but it's not right. Perhaps the most serious complaint we might lodge against others is the lack of thoughtfulness in everyday life in everything from politics to religion to how we conduct ourselves in traffic. Sometimes we fail to notice our own complicity in it all.
"The way I see it, how we choose to interact with our neighbors, our coworkers, the people online, the check-out clerk at the grocery store and even the person who mindlessly cuts us off in traffic has a profound effect on how others will choose to interact with us," Chip Gaines writes in insightful advice so different from what we hear of reality-TV stars and politicians today. "Because here's the other thing I believe about kindness: It's contagious."
Maybe the young can remind us of a thing or two, including how each of us has benefited from others' kindnesses. For me, two 8-year-olds just set a wonderful example of kindness. For you, it might be Texas pastors visiting the border to better inform their ministries of the humanitarian crisis in which we have a key role, particularly regarding innocent immigrant children. Each of us might start making this a better world by noticing little acts of kindness in the daily newspaper — yes, they're there, swimming in the text. And you can see them if you steer around the accidents, politics and crime reports. Perhaps if we took time to notice, we would do better at setting such examples ourselves.