Last month Willow Grove Baptist Church — a quiet place of worship established near Speegleville in 1871 by several ex-slaves led by William "Buck" Manning and A.W. Crawford — was vandalized with Nazi and other politically charged symbols smeared in condiments about the church fellowship hall. Happily, surrounding communities rallied to help in a church cleanup, sending a message of unity that transcends racial lines. As one of those speaking up for Willow Grove noted, "So sorry this happened. Hatred pulls us together, though."
There's another message for anyone who would stir hate or division in the Willow Grove community. It's one of resolve for overcoming adversity that dates back to the days of slavery.
Today the Willow Grove Cemetery Association and Willow Grove descendants will celebrate 146 years as a community and 82 as the Willow Grove Cemetery Association, founded back in 1935. Dr. Marcus Nelson, new Waco Independent School District superintendent, will speak at a banquet at Lee Lockwood Library and Museum. The event runs from 6 to 9 p.m.
Willow Grove history is rich in legacy and spiritual strength. To that end, a little ketchup, a little mustard and a little hate is easily dispatched.
Several years after the Civil War, William "Buck" Manning handed A.W. Crawford the money of several ex-slaves to purchase 320 acres of farmland near Hog Creek in McLennan County. A.W. also was a former slave but could pass for white. The story goes he put an "X" on the land purchase papers to preclude any possibility of his later being charged with fraud in a culture where Southern white hostility toward blacks could prove fatal.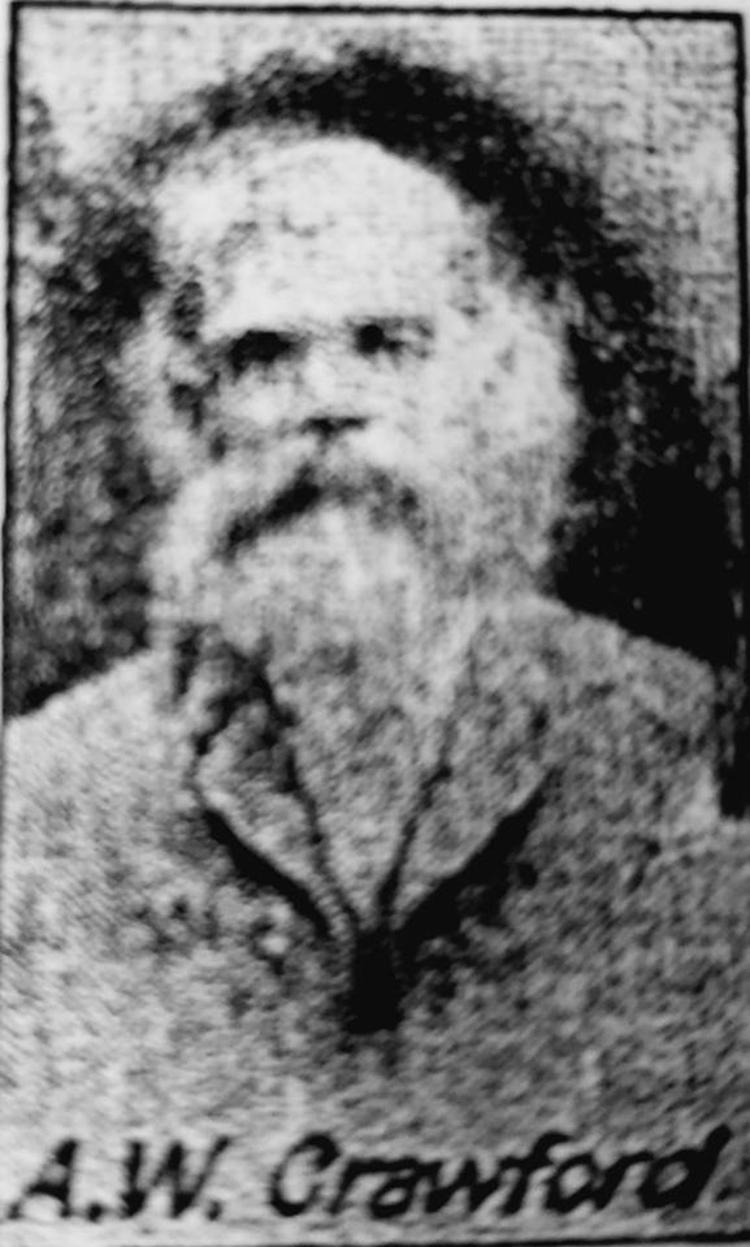 The former slaves had been living in nearby Valley Mills after being brought from Louisiana by William Manning, whom all of the slaves addressed as "Old Master." According to an interview with Buck's brother, Allen V. Manning, in a unique, Depression-era narrative project ("Born in Slavery: Slave Narratives from the Federal Writers Project, Oklahoma Writers Project," pages 215-222, 1936 to 1938), Allen and other ex-slaves were taken from the Manning plantation in Mississippi during the Civil War because Manning was a preacher who didn't believe in killing. When the master's son, Bill, was forced to join the Confederate army after they moved to Louisiana, Allen recalled Old Master as hoppin' mad. So the old man loaded up the wagons again and headed for Texas. Most of his slaves walked alongside the wagon during the long, rough trip. A couple of years more passed before William Manning settled on a stretch in Texas.
"Pretty soon Old Master say git the wagons loaded again and this time we start out with some other people, going north. We go north a while and then turn west and cross the Sabine River and go to Nacogdoches, Texas," Allen Manning recalled. "Me and my brother Joe and my sister Adeline walked nearly all the way, but my little sister Harriet and my mammy rid in a wagon. Mammy was mighty poorly, and jest when we got to the Sabine bottoms she had another baby. Old Master didn't like it cause it was a girl, but he named her Texana on account of where she was born and told us children to wait on Mammy good and maybe we would get a little brother next time. But we didn't."
To hear Allen Manning's recollection, Old Master "went with a whole bunch of wagons on out to the prairie country in Coryell County and set up a farm where we just had to break the sod and didn't have to clear off much. And the next baby Mammy had the next year was a girl. We named her Betty because mistress jest have a baby a little while before and its name was Betty. Old Master's place was right at the corner where Coryell and McLennan and Bosque counties come together, and we raised mostly cotton and jest a little corn for feed."
According to this narrative, Buck Manning was named William after Old Master. When given their freedom, many of the ex-slaves chose to stay and work for Old Master, at least till he cut their wages. Allen moved from Valley Mills to the Willow Grove community with his brother Buck and other ex-slaves. Later, when he was about 30, Allen married a girl from the Waco area and moved to Oklahoma. In his narrative, Allen tells of having 10 children in Oklahoma with only seven of them surviving. The following offers a reflection on his life then and the hardship and anger brought about by the Civil War and subsequent Reconstruction.
"I sells milk and makes my living, and I keeps so busy I don't think back on the old days much, but if anybody ask me why the Texas Negroes been kept down so much, I can tell them. If they set like I did on the bank at that ferry across the Sabine and see all that long line of covered wagons, miles and miles of them, crossing that river and going west with all they got left out of the War, it ain't hard to understand. Them white folks done had everything they had tore up, or had to run away from the places they lived, and they brang their Negroes out to Texas and then right away they lost them too. They always had them Negroes, and lots of them had mighty fine places back in the old states, and then they had to go out and live in sod houses and little old boxed shotguns and turn their Negroes loose. They didn't see no justice in it then…"
I interviewed several descendants of Buck Manning and A.W. Crawford about the establishment of the Willow Grove community. Just about every family member agrees the same values championed back when the community was founded continue today, resulting in a sense of unity that endures the ages.
Lillian Manning, a retired social worker and youngest child of Arthur James Manning Sr., in turn first child born to Reuben Griffin and Mentha Crawford Eaves Manning, told me the first thing her grandfather, Uncle Buck and the rest of the Willow Grove settlers did when establishing Willow Grove was to set aside acreage for a church, a cemetery and a one-room school. The Willow Grove community grew fast, as many of the families had multiple children. Her grandfather had 13, then raised a niece from infancy after his sister died.
"Most of us know the stories about Willow Grove through oral history as family members were always telling stories of our past," Lillian said, adding that she had 12 siblings and that her father attended both Paul Quinn College and Guadalupe College in Seguin. Although he didn't graduate, he passed on his strong belief in education to them: "Most of us attended college and my brother Ruben acquired a doctorate and was president of Paul Quinn College during the '70s."
She tells how family history instilled in her and her siblings prompted some of them — Merrie Ethel Manning-Barr, Monroe Lincoln Manning and herself — to visit Shubuta, Mississippi. The most memorable moment: visiting the plantation of William "Old Master" Manning after going to the courthouse and researching maps and archives. That led them to First Baptist Church in Shubuta where William Manning preached from 1836 to 1856.
"As I sat there, I thought about William Manning, who all of the slaves called Old Master," Lillian told me. "And I tried to visualize how slaves would have felt working the land, picking and chopping cotton — never knowing what their future might hold. That was a powerful moment."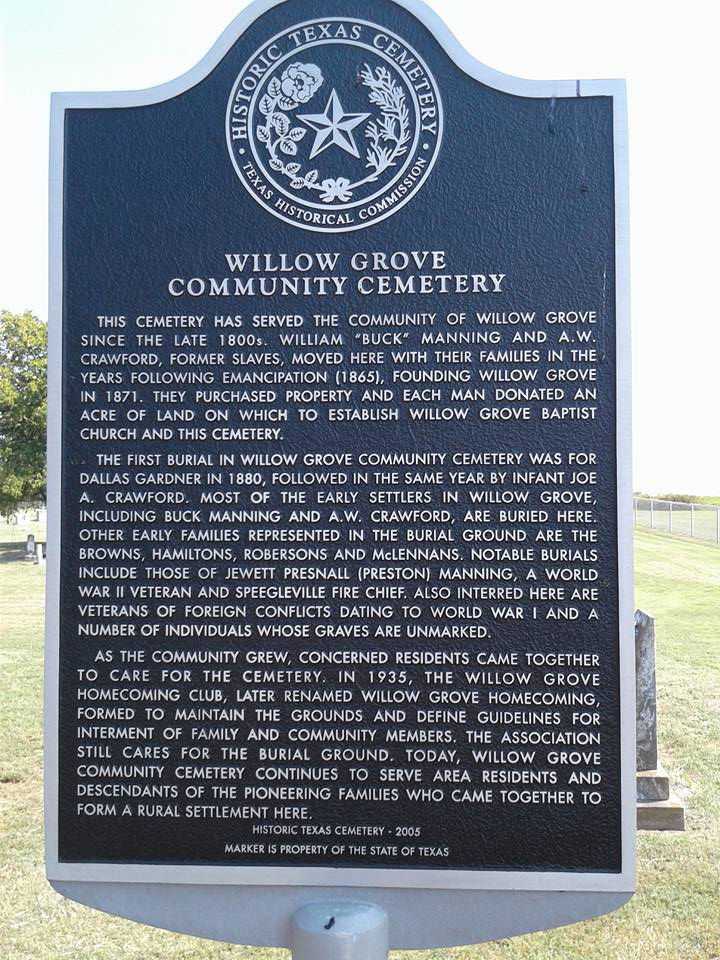 Norman Manning, youngest son of A. J. Manning Jr., a Waco ISD trustee and president of the Willow Grove Cemetery Association, tells me that he was always aware of his winding family history. He voices pride in the fact his ancestors founded the Willow Grove community.
"I didn't get involved with the association, though, until I moved back to Waco from Florida," he said. "My aunt got me involved and helped me understand the importance of our family's significance in the Willow Grove community. After I got involved, I realized that we had a great organization that had done an excellent job of documenting our history. And I was determined to maintain the tradition. We have regular meetings and our celebrations are at the same time each year. In addition, we have several cemetery work days a year and family members show up eager to take care of our cemetery. We have family buried in the Willow Grove Cemetery from every war since World War I and most of us know where their grave sites are. We put flags on the graves on holidays such as Veterans Day."
Lillian Manning tells how, at the first Willow Grove Cemetery Association meeting (back when it was known as the Willow Grove Homecoming Club), everyone gave what coinage they had so Ethel Scales could take 25 cents and buy a secretarial journal. She was secretary till 1976 after which August Jean Manning DeBose became association secretary. "So far, there have only been two secretaries in the history of the Willow Grove Cemetery Association," Norman said.
Norman said family members come from every region of the nation to participate in the Willow Grove Cemetery/Community Association Banquet. Willow Grove Baptist Church will top matters off with an anniversary service at 10:45 Sunday morning.
Rosetta Manning Mainor Stone, 97-year-old daughter of Arthur James Manning Sr., is mother of several well-known members of the Waco community past and present. Daughter Marcia and husband John Neal own Sascees Southern Style Food. And you can visit Reggie at his Silent Spectacular Shoe Shine business at the Hilton. He shines shoes with a flare. He also writes poetry, as did his brother Rafer Earl Mainor, who taught at Paul Quinn College. Mrs. Stone has a message for all young Willow Grove descendants: "I want to tell our young family members to keep in touch with their family. It is important to carry on tradition. And with the Lord's guidance, they will be the ones who will keep the stories alive."
Graffiti bearing Nazi symbolism, the word "Satan" and the name of the president of the Unite…