Tuesday, Sept. 17, 2019, marked the 232nd year of the U.S. Constitution's signing. Given growing debate over constitutional concepts and constraints and even the founding document's health and wellbeing in unprecedented times when rule of law is now questioned, especially as it applies to the high and mighty, any deeply contemplative look backward should not be surprising, whatever one's political perspective.
Which is why settings for such contemplation can be important.
The Doris Miller Family YMCA, Alpha Kappa Alpha Sorority Inc./Delta Alpha Omega Chapter and the Parents Against Crime Coalition (PACC) planned a community engagement activity for Constitution Day to take place at the Doris Miller Y. YMCAs across the United States since June have been celebrating 175 years of providing community services and partnering with civic organizations to benefit youth and families. PACC also has a focus on family involvement in civic education. And this promised to be the perfect collaboration as AKA-DAO is stressing its voter engagement campaign.
A mere five days before the event, someone suggested the Helen Marie Taylor Museum would be the perfect venue for celebrating Constitution Day. However, since it doesn't maintain regular hours, we needed to check for availability. I phoned the local hotel where Helen Marie Taylor resides when this patriotic Virginian is in Waco. I was delighted to learn she would indeed be in town for Constitution Day. I contacted her secretary and she said that she would let us know by Monday whether we could celebrate Constitution Day at the museum after she finalized everything with Mrs. Taylor.
Talk about faith. We began contacting news media, Waco Independent School District and a few other individuals and organizations, informing each about the celebration, even as we acknowledged uncertainty about the venue. How awesome, I thought, that families might have the opportunity to witness constitutional history through presentations by community leaders and an interactive tour led by the museum's lively, fiercely opinionated 95-year-old founder.
Maybe, too, I was elated because, since 1986, the Taylor Museum has occupied the old Barron Springs Elementary School building on former Huaco Indian grounds, all shaded by giant live oaks that, were those sentinels of time able to speak, surely could tell tales of constitutional evolution, including Brown v. Board of Education (1954). I attended classes at the all-black school from first through sixth grade from 1954 to 1960, back when segregation separated blacks from whites in school and plenty else. But perhaps I was excited because I had met the incredible Helen Marie Taylor in June. She impressed me with her passionate insight into the history inherent in every display at her museum.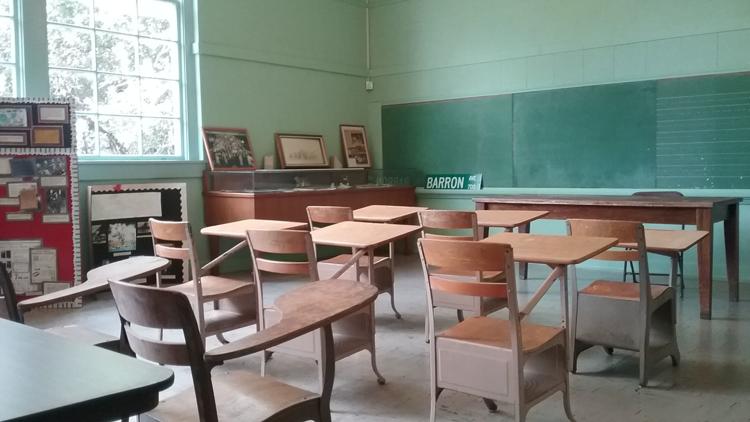 The day unfolded before a lucky couple dozen or so, many unsure if we'd even get into the appointment-only museum. Melvin Carter, YMCA program manager, highlighted the significance of the Constitution. Republican state Rep. Charles "Doc" Anderson, a longtime veterinarian, gave an overview of the Constitution, emphasizing the goals of the Founding Fathers in the Preamble — "to form a more perfect union, establish justice, insure domestic tranquility, provide for the common defence, promote the general welfare and secure the blessings of liberty to ourselves and our posterity." And Democratic County Commissioner Pat Chisolm-Miller, a former assistant of Commissioner Lester Gibson, an African-American icon in Waco, discussed founding principles, underlining how various amendments expanded the rights of citizens initially bereft of liberty. She explained that women and minorities who lacked the right to vote (let alone freedom) when the Constitution was ratified gained as amendments were added, including the 13th, 14th and 15th amendments — what some accurately describe as "the Second Founding."
When Mrs. Taylor finally took the microphone, she engaged the audience in a way that held folks spellbound. She announced she would turn 96 in October — remarkable when one considers that, after decades, she's still trying to get the museum management and exhibits just right before opening it up regularly to the public, an idea more appealing than ever given Waco's recent emergence as a tourist mecca thanks to nearby Magnolia Market at the Silos. She gave a brief overview of her life (James Madison, "Father of the Constitution," is part of her family tree) and Waco history; talked of her years of preserving history through museums, foundations and organizations; then described exhibits in the museum including "We the People," which celebrates the Constitution, Bill of Rights and Declaration of Independence and showcases, among other things, a hand-embroidered vest worn by George Washington.
It's easy to see why she garners so much attention. At her age, Mrs. Taylor not only has seen plenty of history but witnessed perceptions and perspectives about history, our nation and the Constitution change, sometimes for the better, sometimes not. Back in Richmond where she resides, she attracted attention last year by rallying with others to defend preservation of Confederate monuments, particularly one of Jefferson Davis, president of the Confederate States of America. You might or might not agree with her politics — likely to come out in casual conversation — but her museum offers plenty of history with which to engage in any debate, whatever your place in the political equation.
As she led the group through the museum, she spoke rapidly about the founding of Waco, the Huaco Indians and "We the People." Doc Anderson decided he'd just have to be late for another engagement; he followed the nonagenarian up and down hallways to every museum nook and cranny, cognizant of the rare privilege he was experiencing. Waco City Councilman Jim Holmes, who has scaled peaks far and near, hustled to keep up with Helen Marie as she strolled through what one might describe as America's attic with a decided accent on Waco. As community organizer Cuevas Peacock remarked, "Waco has a hidden jewel in the Helen Marie Taylor Museum!"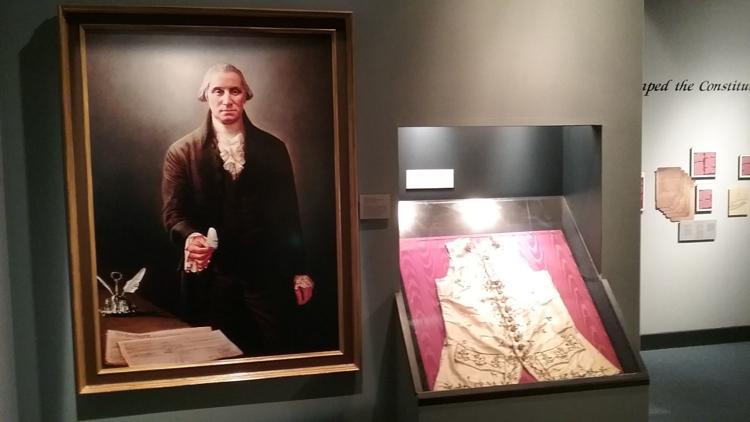 For me, Constitution Day 2019 was much more. The visit conjured memories of hours spent jumping rope in first and second grade on the sidewalk next to the massive old oak that was massive even when the museum building served as Barron Springs Elementary School, named for Thomas Barron, early-day settler and Texas Ranger. There were memories, too, of days spent in the library choosing books to take home and researching through the encyclopedia set near where Huaco Indians once thrived. No wonder the Central Texas Archeological Society chose the museum to mark Texas Archaeology Month on Oct. 12, complete with an information fair featuring archeologists assisting with the identification of artifacts. When I mentioned the absence of a 20-foot oak-tree limb on which I once played, Mrs. Taylor grimaced and recalled how one of those to whom she briefly entrusted museum operations had ordered it sawed off — more evidence of why she just won't let go of the place or put it in anyone else's hands quite yet. She also expressed misgivings she hadn't yet been able to corral more exhibits celebrating African-American heritage.
This month saw noteworthy Constitution Day addresses across our town. Robert P. George, holder of the Princeton University McCormick Professorship of Jurisprudence (once occupied by Woodrow Wilson) and director of the James Madison Program in American Ideals and Institutions, talked at Baylor Law School about the civic virtues required of a conscientious citizenry if they are to put constitutional values and our republic over corrupting partisanship. James W. Ceaser, Harry F. Byrd Professor of Politics at the University of Virginia (founded by Declaration of Independence author Thomas Jefferson), spoke to Baylor political science students on how unique our founding documents are, written and forged by enlightened men counting on public approval of their work, not pressing their ideas through tyranny and trickery.
Somehow, the fundamental Constitution 101 insights offered by Doc Anderson, Commissioner Chisolm-Miller and the indestructible Mrs. Taylor — none exactly eminent scholars — ranked right up there with the political scientists and the historians, buoyed by so much history scattered about them in the museum that day, everything from a rare copy of the famous Rising Sun chair George Washington occupied during the Constitutional Convention in Philadelphia in 1787, to a retrospective exhibit on our area's defining cotton culture, to a Navy bell from a ship dedicated in memory of Pearl Harbor hero Doris Miller, evidence of how the lad's valor far from the cotton fields of Waco shattered racial barriers in not only the Navy but entire U.S. military. And all this serves as evidence of the good that comes when the Constitution is at the forefront of American life. Surely these demand proper appreciation of the Constitution and its tenets, now more than ever. And Helen Marie Taylor is definitely part of that dynamic mix of history and patriotism.