Bill Whitaker: The Trib editorial board offers another round of candidate Q&As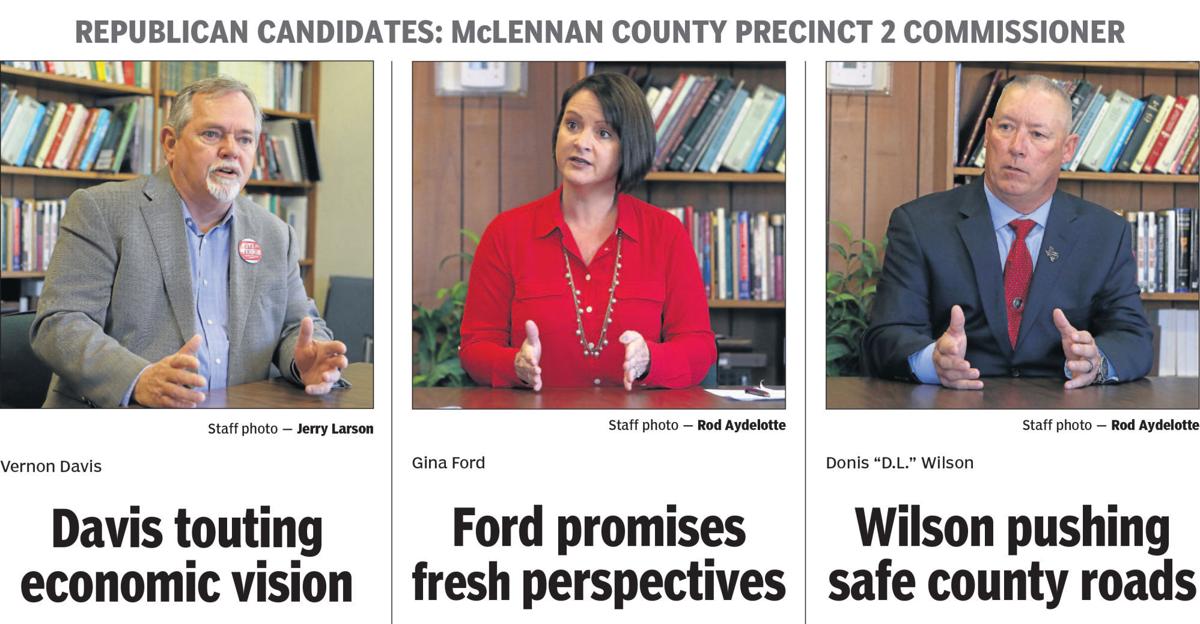 Today the Trib again offers one of its most popular seasonal services to readers, one unique for daily newspapers our size: Q&As with political candidates, in this case those running competitive primary election races. Dominating today's opinion section are interviews with Republicans vying to be their party's nominee for McLennan County Precinct 2 commissioner. Look for Q&As with other competing candidates, including the two Democrats seeking the Precinct 2 post, in coming weeks.
---
---
The Trib began publishing Q&As with candidates several years ago as local service clubs and other news media offered fewer and fewer formal candidate forums and debates. What few remain today often prove stilted affairs, run by political party organizations, with candidates dutifully answering predictable, cookie-cutter questions with rigorously timed responses, all guaranteed to elicit crowd-pleasing slogans and bloated rhetoric but little in the way of substance.
One key reason we began publishing these candidate Q&As was the lively, intellectually stimulating nature of some (though clearly not all) Trib editorial board interviews, by tradition conducted behind closed doors in a journalistic inner sanctum where candidates could then speak more freely. While the Trib crafted candidate endorsements based on such interviews, it eventually seemed to us more useful to publish the interviews themselves so that voters might make more informed decisions on their own.
And, indeed, citizens and candidates alike have voiced preference for the Trib's back-and-forth Q&As. They say the format is easier to digest than a conventional news story. And candidates answer in their own words. The catch is we ask the questions — and we try to ask more probing questions than one finds in many candidate forums.
Yes, a few candidates turn down our invitations to do Q&As. One can surmise that an inability to articulate a vision, to discuss issues intelligently or to defend past actions lie behind these rejections.
An occasional reader has complained the editorial board doesn't always level identical questions at the candidates. True. That's because not all candidates have the same background, qualifications, perspective or knowledge of issues. We view candidate Q&As as prospective job interviews. If, for instance, someone stresses his or her background in public service, law enforcement or business, we try to learn more about those backgrounds and how they might come into play in the office sought.
By the same token, Trib Q&As can reveal which candidates are poorly prepared for the complexities and challenges of the offices sought. Some do so with answers so tepid or brief that, over the course of an interview, they inspire little confidence. Others explode in an amazing spray of rhetoric while offering precious little insight or knowledge. While space requirements force us to edit down much of this, close readings readily reveal who's on top of the issues — and who isn't.
Then again, frayed nerves may well be to blame. A couple of years ago, a candidate of whom I'd heard great promise came in and responded with vague, non-committal, even evasive answers. A day or so after we published this disappointing Q&A, a friend of the candidate phoned to berate me for "making" the candidate "look bad." I responded by offering specific examples of how the candidate whiffed on fairly simple questions, to which the candidate's friend responded: "Yeah, she told me she did pretty bad." My stunned reply: "Then how come you're chewing me out?!"
The very best interviews for us are those that enlighten. Past examples are Parnell McNamara's fascinating insights on virtual border walls, a concept with which he was briefly involved before his 2012 election as sheriff, and Congressman Bill Flores' discussion of health-care complexities — not a topic one might guess a former oil and gas executive to know in depth. Other subjects are illuminating, often in unexpected ways, as state land commissioner Jerry Patterson proved at the Trib while campaigning for lieutenant governor: "I'm having a good time at the events. I get kind of pumped. But then there's the travel and the things I'm not able to do, like wash my clothes. It's fundamental things like being able to have clean underwear. I've been to a lot of Targets and the problem is when you first put them on, they're really scratchy because you haven't washed them."