An hour or so before Democratic Senate nominee Beto O'Rourke was to sit down with the Trib editorial board for a lengthy October 2018 interview, I checked the candidate's Facebook page. I found a live-streaming video of O'Rourke behind the wheel of a vehicle headed up rain-slicked I-35 toward Waco, quizzing two campaign aides on the title and original artist of various country music hits such as "Ring of Fire" beguilingly played by a Tejano band, complete with female vocalist. At one point, O'Rourke dropped a hint about a Hank Williams song by noting that the mystery entertainer's son was famous for the expression, "Are you ready for some football?"
This somehow developed into a history of sopapillas, on which all happened to be dining in transit.
I stuck my head in the editor's office and said: "I sure hope this interview is worth it."
It was. O'Rourke not only displayed the easy charisma and unwavering optimism that drove his uphill campaign — one that, to his credit, subsisted without benefit of corrupting political action committee money — the otherwise undistinguished, 46-year-old El Paso congressman also demonstrated a strong grasp of key issues, including a nuanced stance on immigration, one of three hot-button issues in 2018 (along with health care and President Trump). More than that, he spoke warmly of the people he met in small-town Texas where Democrats fared poorly. He acknowledged that many residents there would never vote for him but professed reverence for them and claimed to appreciate their anxieties.
"I assumed that in rural, more Republican communities, there might not be that much common ground but that they were deserving of my respect, of me showing up and listening," O'Rourke told the Trib editorial board. "What surprised me was on issues of public education, affordability of higher education, even health care... I remember this guy in Henrietta, Texas, being like, 'Hey, I am really angry about Obamacare,' and maybe even said he was mad at Democrats specifically, myself included, and described how high his premiums were, and then said: 'But I don't want you to repeal this unless you have something better.' He justified being angry but said, 'I want to make sure you guys have a plan before you do something to this,' because he acknowledged that other people could not afford health care before the Affordable Care Act.
"His wife, a public school teacher, also Republican, was really anxious about her tax dollars being turned into a voucher, sent to a private school and out of her classroom," the congressman told us. "And I've got to tell you, I went into that coffee shop knowing, 'No one's going to want to vote for me, no one's going to see things the way that I do. No one's probably going to like me.' Those were the anxieties that I had going in. I left just feeling great, not knowing if they're going to vote for me but thinking, 'Man, we've got a lot in common here.'"
After the interview, I told O'Rourke that, win or lose, he might consider writing a memoir of his travels to all 254 counties in Texas and what he heard and learned. I wondered if he might fold some of what he heard into policy stances, all the better to recognize and address our individual differences in quilting America together again, at least to some degree. There was no doubting his intellect, including his desire to expand his own horizons. During the interview, he kept within reach a biography of Julius Caesar, which raised questions as to whether he saw disturbing parallels with present times and the stunning willingness of so many Americans of late to scrap such concepts as rule of law and separation of powers. Alas, I didn't have the time to explore his thoughts on this.
While O'Rourke failed to prevail over Republican Sen. Ted Cruz a couple of weeks later, he failed only narrowly. His bid not only suggested a state long dominated by Republicans very slowly trending blue or purple in cities and suburbs but also spawned possibilities about O'Rourke's future: Try again for the Senate against powerful Republican Sen. John Cornyn in 2020 or take a Lincolnesque stab at the presidency? The latter struck many as an appealing idea, given his boyish charm and undeniable buoyancy. Imagine such personality strengths pitted against a president quick to vilify and attack the most vulnerable and more focused on dividing than unifying.
A year later one is left to marvel at O'Rourke's months of failure amid a large field of Democratic presidential contenders. While his entry into the race last March initially generated encouraging poll numbers, crowds and campaign donations, the lanky candidate from the border town of El Paso got lost as all jockeyed madly to get to the left of one another, many assuming radical policy stances that they couldn't fully explain when pressed, consequently drawing understandable skepticism from both press and public. What's more, O'Rourke's wonderfully easy way of rousing a crowd or reflecting on encounters with everyday Americans didn't fit cable-news debate formats of zingers, personal attacks and simplistic answers.
No one should doubt O'Rourke's sincerity and rage after a 21-year-old white supremacist armed with an AK-47 variant mounted a summer massacre at a Walmart in O'Rourke's hometown, reportedly to battle the "Hispanic invasion of Texas." The killer slaughtered 22 Hispanics amid an environment of hate radio, social-media rants and President Trump's own race-baiting commentary. Unfortunately, that's when O'Rourke ratcheted up his own anger, adopting stances that wouldn't fly in Texas or the Midwest, including a mandatory buyback program for assault-style (semi-automatic) weapons and revoking the tax-exempt status of religious organizations — including churches and mosques — opposed to same-sex marriage.
While some 2018 Senate campaign antics disarmed even critics — one thinks of O'Rourke's skateboard frolic in a Whataburger parking lot in Brownsville — such stunts worked against his presidential bid. As an Associated Press reporter noted early on: "O'Rourke's low profile in recent weeks has taken curious turns. He treated Instagram followers to a glimpse inside his mouth during a teeth-cleaning while trying to decry the Trump administration's border wall. He also recently traveled in Texas, New Mexico, Oklahoma, Kansas and Colorado, but his meandering online posts documenting the journey highlighted things like the open-face roast beef sandwich he had for lunch rather than offering hints about how he'd handle the rigors of a presidential campaign."
'He's not scary'
In the end O'Rourke embraced policy positions just as uncompromising as the incendiary president he increasingly attacked with great verve. And then it was all over. At least his departing words offered some of the hope of the beginnings: "I decided to run for president because I believed that I could help bring a divided country together in common cause to confront the greatest set of challenges we've ever faced. I also knew that the most fundamental of them is fear — the fear that Donald Trump wants us to feel about one another; the very real fear that too many in this country live under; and the fear we sometimes feel when it comes to doing the right thing, especially when it runs counter to what is politically convenient or popular."
Postmortems of O'Rourke's quixotic presidential campaign are many, but Mark P. Jones, a Baker Institute fellow and professor of political science at Rice University who focuses on partisanship in politics, nailed it better than anyone during a lecture before McLennan Community College students last week: "Where Beto ran into trouble was when he started running nationally. He was very popular in Texas because he could be everything to everyone. Diehard progressives in Texas looked at Beto as a true progressive. Moderates and Republicans — and he won a lot of Republican votes — looked at him as a postpartisan, a moderate, he's not scary."
But when O'Rourke stepped onto the presidential stage after only narrowly losing to Cruz, Jones said, "he essentially careened to the left because he felt that was the only way for him to capture the Democratic nomination. He started renouncing all the policies that had made him a centrist — his support for capital punishment against people who are murderers of police officers, his support for pipelines, his support for immigration security or border security. And then on Second Amendment rights he jumped the shark completely and went pro-confiscation of firearms. All the caricatures that Republicans have used against Democrats, Beto turned into reality: 'He does want to take your gun.' "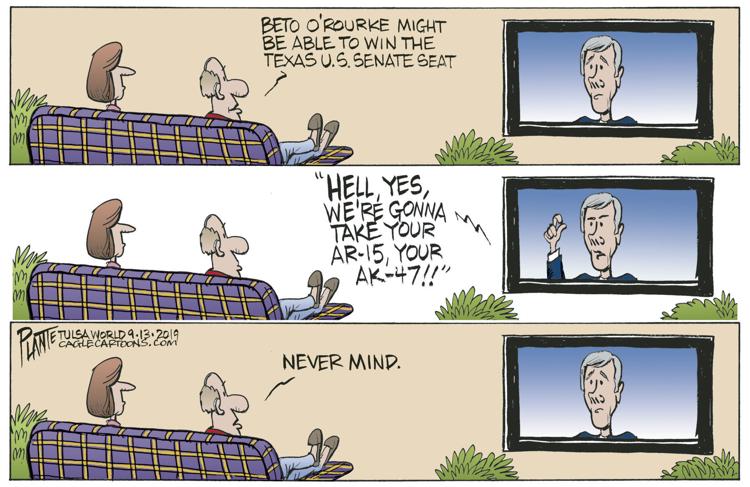 Ironically, national polling suggests voters nationwide are now giving greater weight to Democratic centrists.
O'Rourke's saga yields several lessons, especially as gerrymandering and partisan politics compel more and more of us into tolerating the extremism of one side or the other. In an interview this fall with author and columnist Fareed Zakaria, former British prime minister Tony Blair, commenting on the Democratic presidential contenders, marveled at such positions as simply making unregulated immigration into the United States legal and the dangers of playing to the political base rather than the public at large: "If you want permission to make that argument, you've got to understand that there is genuine anxiety if immigration is uncontrolled or it's happening illegally. If you're not prepared to reach out to those people and understand that, then I'm afraid you're just going to be left in that position where, sure, you'll get a round of applause from a group of party activists, but I'm afraid they don't decide elections. I'm afraid this is the age-old problem of progressive politics."
Always listening
Blair explained that he and Labour Party colleagues managed to raise the minimum wage in Great Britain only because they "reached out to business anxieties and worked with them to do it in a sensible way." In short, they recognized the concerns and reservations of their political opponents, some of them legitimate, and sought to address those fears while solving the overall challenge. Given that context, one wonders if O'Rourke might have been wiser to meet reasonable Second Amendment advocates halfway through such proposals as red-flag laws. Even some Texas conservatives seem eager to adopt such reforms, defying NRA hardliners. Example: Lt. Gov. Dan Patrick, who has demonstrated political courage in proposing to tighten background-check restrictions in Texas.
O'Rourke may have proved most consequential in nudging Texas toward becoming a viable two-party state again, one encouraging more Democrats to hear out and actually reason with those with whom they sometimes disagree. In doing so, he may have reassured not only political independents but some of us who once voted Republican and have for many years watched in horror as the GOP was hijacked by radicals whose NRA idolatry ignored massive slaughters involving unstable minds and high-velocity guns, whose anxious xenophobia has metastasized into outright, unapologetic racism, whose idea of serious policy involved such absurdities as a bathroom bill addressing a gender problem no one could prove even existed.
"He came through Waco nine or so more times during 2018," McLennan County Democratic Party Chairwoman Mary Duty told party faithful in a social-media post after O'Rourke's decision to withdraw this month. "We had a heck of a campaign season. Even though Cruz squeaked out a win, Democrats picked up 12 seats in the Texas House and changed the tone of the [state] legislative session [in 2019]. We sent a couple of new folks to Washington, D.C. Even today, we continue to build on the momentum of that magical campaign season. Beto gave us a sense of belonging. Time and time again, he stayed back to shake hands and pose for pictures and to listen to people. He was always listening."
Trump in Texas
No less than John Cornyn — likely relieved at O'Rourke's decision to pursue the presidency rather than contesting the senior Republican senator's re-election (though the 2020 candidate filing period continues for another two weeks) — nearly conceded as much when speaking to Texas press earlier this year about Republican shortcomings in 2018: "I think we've become complacent in assuming these elections would be decided in the primary and not in the general, and what Beto O'Rourke demonstrated is not only do you have to be concerned about the primary, you have to be concerned about the general election and those are different electorates. They're much larger audiences and you need to have a message that is appropriate for that larger general-election audience.
"Just to give you a couple of quick numbers, when I ran for re-election in 2014, there were 4.7 million people who voted in the midterms. This year there were 8.3 million and Beto O'Rourke, by virtue of his superior economic fund-raising advantage, he was able to deploy as many as 800 people on the ground to get out the vote."
The senator also acknowledged the driving impact of the president on the 2018 race: "Obviously we lost a number of suburbs and I think in part that's because we were hung up on the primary message rather than talking about things like education and health care and traffic — things that I think would be more likely to appeal to a suburban audience. And then, to be honest with you, President Trump was responsible for 100 percent of the turnout. Fifty percent turned out because they wanted to support the president and 50 percent turned out because they wanted to defeat him. Effectively this was a referendum in some sense on him. And that's still going to be a factor in 2020. But like every election, we need to understand the lessons of 2018 and not make the same mistakes in the future."
Rice University political scientist Mark Jones says 2018 proved the perfect storm for Texas Republicans, especially after a "red-meat" state legislative session in 2017 focusing on public bathrooms and sanctuary cities (complete with sexually and racially discriminatory measures) that appeased the party's extremist base but alienated many Texans. That wasn't the only problem.
"Trump being in the White House hurt Republicans," he said. "Donald Trump is the worst thing to happen to Texas Republicans in the modern party era. He's essentially a lead weight around the Republican Party's neck, dragging them down. More Republicans suffer in Texas because of Trump, because in Texas — unlike in Ohio or Michigan or Wisconsin or Pennsylvania, where he's brought to the Republican Party Anglos who in the past voted primarily Democratic or didn't vote at all — in Texas those individuals were already voting Republican. He's not bringing many people over (to the party), but he is alienating some Anglo millennials, Latinos, Asian Americans and he's providing Democrats with a tool with which to encourage these people to turn out and vote."
Indeed, O'Rourke's coattails and Trump's parade of controversies and destructive rhetoric show up in the recent fall of Texas House Speaker Dennis Bonnen, secretly recorded in June throwing moderate House Republicans under the bus in primary elections (including state Rep. Kyle Kacal, who represents a third of McLennan County), all to protect the broader Republican majority in the House and yet appease Republican Party extremists. As Bonnen confided to zealous right-wing blogger, activist and lobbyist Michael Quinn Sullivan regarding Trump, "he's killing us in the urban-suburban districts." Which may be one reason the focus during the 2019 legislative session was on taxes and public schools rather than public bathrooms and sanctuary cities.
Positive factor
And Beto O'Rourke? At age 47, he clearly has a future in public policy if he chooses. Returning to the U.S. House of Representatives seems a questionable course, given that we increasingly send people to Congress primarily to play ball for or against whoever happens to be president, local issues and national consensus be damned. Some have suggested O'Rourke run for mayor of his beloved El Paso or governor, though Gov. Greg Abbott remains popular, despite his seeking to purge moderate Republicans from the Texas Legislature in 2018. Perhaps O'Rourke can reinvent himself in the manner of dynamic Stacey Abrams, 45, who turned her 2018 Georgia gubernatorial defeat under suspicious circumstances into a campaign to help other Democrats compete against electoral factors arrayed against them.
Meanwhile, one wonders how Democratic contenders challenging Sen. Cornyn will fare, including state Sen. Royce West, an African-American lawmaker who projects significant gravitas and common sense, and combat veteran MJ Hegar, an Anglo woman who in 2018 narrowly lost to Republican Congressman John Carter in neighboring Congressional District 31. Jones says the field's considerable talent confirms that O'Rourke's example has roused similarly promising individuals to compete in Texas elections in a state very gradually shifting blue.
"At the time [O'Rourke filed to run for the Senate], it didn't seem like he had a hope. But over time he was able to fund-raise and take advantage of Trump's unpopularity to both raise a tremendous amount of money nationally and then come very close to defeating Ted Cruz in the election. He had sort of this dual thing [working for him] because some people wanted to turn out against President Trump. But Beto also gave people a positive reason to turn out to vote."
The catch: Republicans aren't going to be caught off guard as they were in 2018. What happens in this state and the nation in 2020 and beyond may well indicate what lessons are drawn and digested from one of the most intriguing, engaging and transformative candidates ever, even in a pair of high-profile campaign losses.