Oncor crews spent Thursday restoring power to more than 8,000 customers in Greater Waco who saw their homes and businesses go dark as wind gusts approaching 60 mph battered the area Wednesday night.
By 5:30 p.m. Thursday, 186 customers locally were still without electricity, "and crews are working safely to restore the rest as quickly as possible," Oncor regional manager Michael Baldwin said.
The crowd at Papa Joe's Texas Saloon, on the I-35 frontage road in Lorena, used flashlights and cellphones to continue their merrymaking and pool playing when winds leveled a power pole at about 10:30 Wednesday evening. Tumbling, with a transformer atop it, the pole narrowly missed vehicles in the parking lot, manager Niki Lehmann said.
Oncor crews arrived about 45 minutes later, followed by law enforcement, employee Angela Carroll said. Carroll was sitting near the front door when nature crashed the party, and power was restored shortly after crews arrived, she said.
"Nobody could leave because of what had happened just outside the door," Carroll said. "Everybody just passed the time and waited for instructions. It's pretty much a family network here, a good crowd."
At mid-morning Thursday, 1,396 customers remained without service, but numbers changed throughout the day, Oncor's Baldwin said.
"At the height of the storm, 8,034 customers were without power, with areas all over Greater Waco impacted," Baldwin said. "We have brought in additional resources, including 63 contract crews who are assisting."
Some of the contractors are from elsewhere in Texas, and some are from out of state, Baldwin said.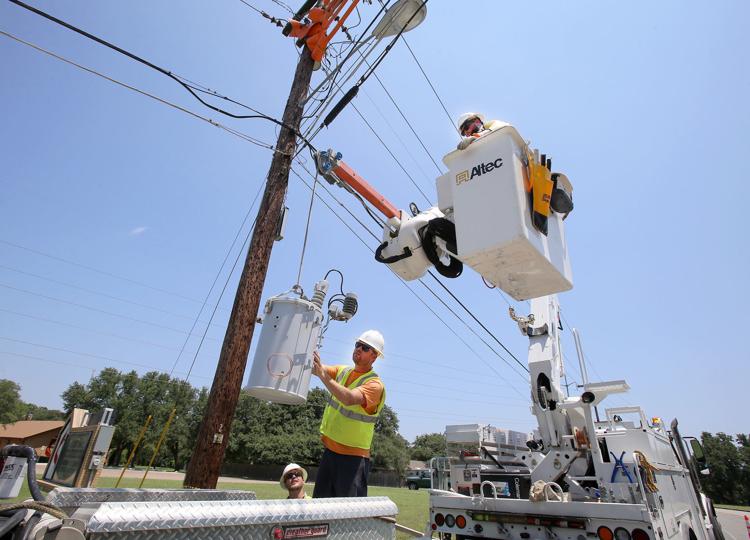 City of Waco crews were dealing with downed limbs that threatened roadways in and around the Pecan Bottoms and Jacob's Ladder areas of Cameron Park and at Brazos Park East, Parks Superintendent John Rose said. Mowing teams and others were assisting the parks department's tree crews, Rose said.
"There were power outages in and around Waco last night that did impact traffic signals, but I am not aware of any major occurrences," Waco Police Sgt. W. Patrick Swanton said Thursday.
Online updates from Oncor revealed 253 East Waco residents were still without power at midmorning, the most among local areas.
Waco Regional Airport reported that American Eagle canceled one inbound flight and one outbound flight because of Wednesday's storms.
Residents citywide awoke to find limbs scattered across lawns.
City solid waste workers are continuing to take an inventory of brush that will need to be collected, Public Works Director Charles Dowdell said via email Thursday afternoon.
Clouds have moved out, and high heat will replace them.
Sarah Barnes, a meterologist with the National Weather Service office in Fort Worth, said Friday's high will reach 96 degrees, but other conditions will make it feel like 108 degrees. There is a 20% chance of rain in the counties west of McLennan, but Waco is expected to remain dry, Barnes said.
"Rain chances will return Saturday night into Sunday, increasing Sunday night into Monday," she said.
Despite the bluster Wednesday night, rainfall totals were sparse, totaling less than 0.2 of an inch around Waco, which has gotten half an inch more rain this June than last June, Barnes said.
The Associated Press reported that potent thunderstorms Wednesday night were blamed for one death and left more than 200,000 people without power across the southern United States. Fallen trees ripped down power lines and crashed into buildings along a line from Texas to Alabama overnight and into Thursday morning, the national Storm Prediction Center reported.
Straight-line winds of up to 85 mph damaged roofs Wednesday in the town of Greenville northeast of Dallas, the National Weather Service reported. In Mississippi, a 19-year-old man died when a tree fell on his home Wednesday night, according to the Delta Democrat-Times.