Don't let the rain fool you, McLennan County is still in a drought.
While the county received bursts of welcome rain showers this weekend, experts say it would take a foot of rain to pull the area out of the drought.
Waco is easy to spot on the U.S. Drought Monitor map for Texas. It is one of two dark red dots, indicating the areas experiencing the most severe drought conditions.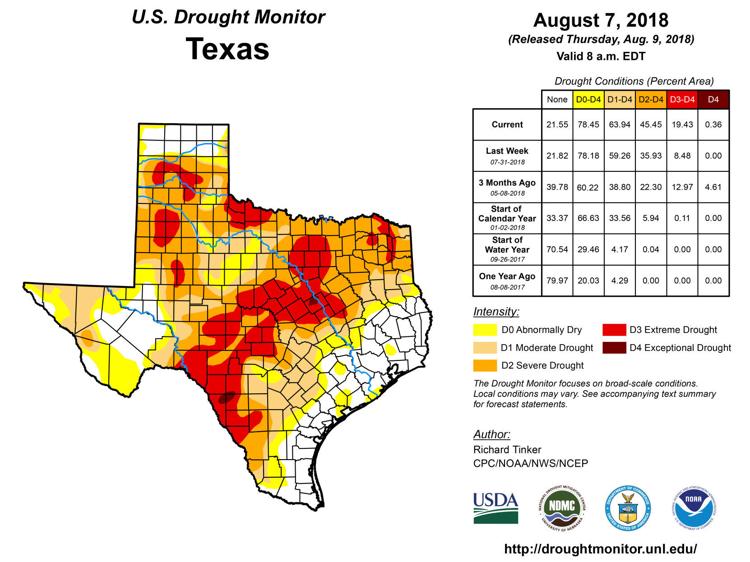 Last week, the National Drought Mitigation Center raised northern McLennan County west of the Brazos River to the highest level, exceptional drought. The rest of the county is in an extreme drought stage, according to the map, an increase in severity from the prior week.
"Waco is doing a lot worse than the state average," State Climatologist John Nielsen-Gammon said Thursday. "Waco is one of the driest parts across the state now."
In spite of the weekend rainfall, National Weather Service meteorologist Bianca Villanueva said it will take a foot of rain to end the drought in Waco. The weather service recorded 0.01 inches of rain Thursday at Waco Regional Airport, 0.1 inches Friday and 0.17 inches by Saturday evening.
Waco also hit an all-time heat record of 114 on July 23, during a string of 100-degree days.
Record average global temperatures are among the signs of a changing climate, but fickle and sometimes cruel weather is nothing new for local farmers.
Todd Westerfeld, 31, owns land in Moody where he and his wife, Amanda, 30, are building a home to share with their 1-year-old daughter. Westerfeld, a sixth-generation farmer, typically grows grain, corn and cotton with his father, Terry.
"If you said, 'I'll give you an 8 to 5 office job that pays really good,' I still wouldn't take it," he said with a laugh. "I don't know what it is. I guess it's maybe German stubbornness."
The growing agricultural crisis he sees on the horizon is the aging of working farmers and the lack of young people interested in farming.
Sure he lost sleep over the weather this year, but Mother Nature has always been unpredictable, Westerfeld said.
"We've had disasters from freezes, from storms. We've had pretty much every disaster you can have happen, and it's just part of the storytelling at the end of the day," he said. "If you can't laugh about it, you're not going to make it."
He lost crops to drought in 2011 and again to flooding in 2016.
This year has been rough, he said. Early this summer, the Westerfelds' corn crop was growing perfectly until the record-breaking heat wave moved in.
"When it got hot I've never seen a crop go from so good to so bad so fast," Westerfled said.
Some of his cotton crops are producing about a third of a typical yield.
"It's just this year everything is like, 'No more, I'm done,' " he said.
The drought has been difficult to manage, but because of the sheer size of his family's farm, he is confident they will survive. Smaller farms, he fears, may not be so lucky.
"You can spend as much money, time, sweat and tears and blood, but at the end of the day if the weather doesn't cooperate it doesn't matter," Westerfeld said. "It's just different, but I wouldn't trade it for the world."
After the cotton harvest, Westerfeld said he plans to put this year behind him, prepare the land for the next crops, and hope for better weather next year.
"Farmers are very adaptive and resilient. They're going to find a way to make something out of nothing," he said. "There's always, always, always a positive. That's the one thing I wish people could take away in life."
McLennan County will soon enter the extreme drought phase, according to the state climatologist. With crops showing signs of the near-record d…