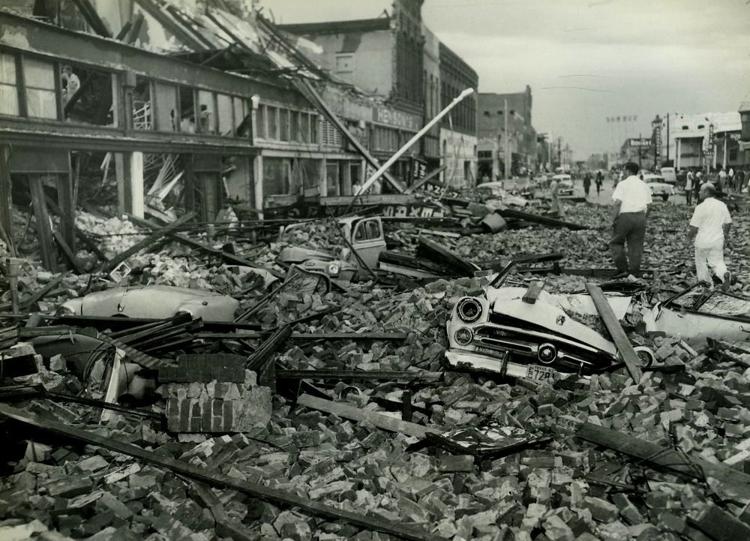 Monday, May 11, 1953.
The vapor lamps are flickering on along Austin Avenue, and the rain has begun. Office workers sweat in front of fans and open windows, curse the oppressive heat and wait to punch out. The First National Bank clock at Fifth and Austin reads 4:30 p.m.
Schools and some downtown businesses have let out early because of the severe storm warnings, but no one seems too worried. The afternoon paper's headline says tornadoes have broken out in West Texas, but there is "no cause for alarm here."
The teeming life of downtown Waco goes on. In back-alley pool halls, boys drag on cigarettes and line up shots. On Austin Avenue, ladies in high heels take a last look at merchandise at Montgomery Ward's, Goldstein-Migel's and the R.T. Dennis Furniture Company, where baby furniture is half-price.
On the East Side of the Square — the black side, in this era of segregation — the rain drives a little girl from her game of hopscotch to take shelter at the tailor shop where her mother works. Next door, barbers cut hair and listen casually to the storm warnings on the radio. They are reassured by the old Indian legend that Waco is tornado-proof.
The bank clock ticks on to 4:31 p.m.
At City Hall, the new city manager — 30 years old, looking anxious but spiffy in a new suit — is talking with a San Antonio visitor. The budget papers on his desk show a whopping $250,000 deficit. He is too busy to look out his window, down on Austin Avenue and off to the south where death is approaching in a black wall of rain.
If he were to look, he might see another 30-year-old man in a yellow Chrysler convertible leaving Austin Avenue for Baylor University, where he teaches business. He just picked up his wife from the downtown Veterans Administration building, and they are soaking-wet. He worries about his master's thesis that sits on the back seat. The rain is now blowing sideways, and traffic lights are swinging in the wind.
Eighty-four miles away, in College Station, yet another young man is hunched over a piano-sized console, tracking what nobody in downtown Waco can see. On the primitive radar screen, it shows up as a vague swirl, a comma, a hook, the tail of a scorpion. He snaps a photo of the screen at 4:32 p.m.
The deadliest tornado in Texas history has entered the city limits of Waco.
Spinning and jumping like a rodeo bull, it touched down south of town, wrecked a Lorena farmhouse and trashed farm buildings in Hewitt. Now it tears into the traffic circle, charging north at about 30 mph and gaining in size and strength. It grinds through Bell's Hill neighborhood and Cotton Palace Park, dumping baseball-size hail.
Now two blocks wide, with a sound that was later described as a buzz saw chewing through wet lumber, it crashes into downtown at 4:36 p.m., turning cars into missiles, straw into darts and pebbles into shrapnel. Buildings tumble, bricks rain down, power lines fall into the streets and the vapor lamps go dark.
The bank clock stops at 4:39 p.m.
In the basement pool hall just off the Square, Baylor student Paul Vass sees the pool balls quiver on the table. He hears a rumble, followed by an eerie wailing sound. He runs upstairs and opens the door.
A shower of glass blows into the office of City Manager Jack Jeffrey. His budget papers sail into the air, and his new suit is torn to shreds.
At the Jockey Club barber shop on the east side of the Square, men huddle under a stairway as windows begin to pop and mirrors shatter. Benny Frank Smith, a young barber, prays the shortest prayer he can think of: "Lord, have mercy."
* * * * *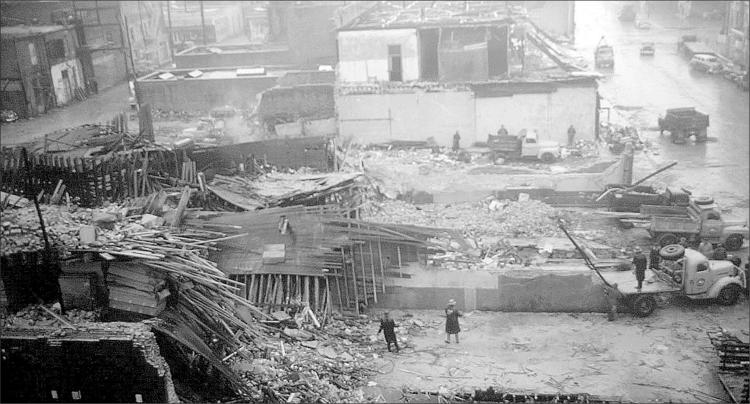 The tornado left Waco after about 15 minutes, and it cut through downtown in only about three minutes. It traveled at an estimated 30 mph, and no one could have experienced it for more than a few seconds. Few, if any, saw it clearly, and no pictures of the tornado itself have ever turned up.
But 50 years later, that moment remains a turning point in Waco's history. Just about anyone who was in Waco has a story to tell — a relative lost or saved, a close scrape with death, a story of selfless rescue.
Besides the individual stories, there are stories of a community transformed by trauma. Some are stories of heroism and unity, of doctors working around the clock without pay, of blacks and whites laboring together and of a community that came back stronger than ever. In other versions, the tornado is a scapegoat for Waco's shortcomings, including its downtown's decline.
Without a doubt, the tornado was a wind of change. With 114 deaths and $50 million in property damage, it jolted public safety officials nationwide into developing better emergency plans. It was the catalyst for the first storm detection radar network in the United States.
It also prodded a backward-looking Texas town into creating its first comprehensive plan, adopting new building codes, starting an unprecedented public works program and questioning the color line that separated black and white Waco. Complacency was the tornado's first victim.
* * * * *
Waco in 1953 was a town drowning in opportunity.
World War II brought two military bases and a deluge of new industries, and many, like Owens-Illinois and General Tire, stuck around. In nearby McGregor, a munitions and rocket factory employed thousands of people, most of whom lived in Waco.
"For sheer industrial ecstasy, Waco is at the state's peak," the Saturday Evening Post marveled in 1946.
By 1953, Blackland Army Air Field had been converted to a municipal airport, but James Connally Air Force Base was going strong as the Korean War came to a close.
Meanwhile, World War II veterans on the GI Bill had flooded to Baylor, which had to buy military housing to accommodate the crush of newcomers.
The 1950 census showed that Waco had added 28,000 in the previous decade, compared with a growth of only 3,000 in the 1930s.
The population now stood at about 85,000, and the newcomers were ready to have babies and buy houses. Rows of cottages and ranch-style houses marched toward Lake Waco and overtook farmland along Valley Mills Drive.
Mayor Ralph Wolf was scheduled to cut the ribbon on a national home furnishings expo on May 12 at the new Heart O' Texas Coliseum.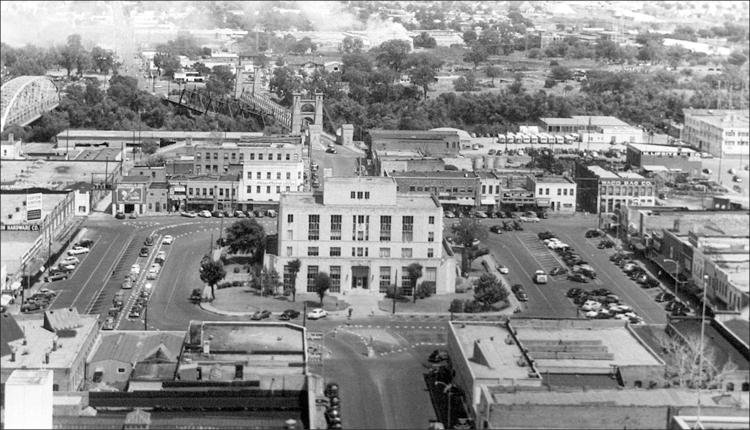 But Waco's newfound economic vigor also brought growing pains.
In a 1952 article, Baylor business professor Walstein Smith described his town as "Rip Van Waco," emerging from 40 years of sleep. It was not yet fully awake, he said, referring to the city's failure to meet the challenges of growth.
Downtown Waco, he wrote, was typical of the city's failure to plan. The central business district was being overwhelmed by the explosions in population, commerce and traffic. The lack of parking was causing some businesses to flee to the suburban frontiers.
Still, Austin Avenue remained the place to shop in Waco. It was lined with more than 300 businesses between the City Hall Square and Ninth Street, including half a dozen department stores, the 22-story Amicable office building (now ALICO), banks, movie houses, restaurants and grand hotels such as the Raleigh and the Roosevelt.
At night, teenagers would "make the drag," cruising down the neon-lit wonderland in shiny new Chevys and Studebakers.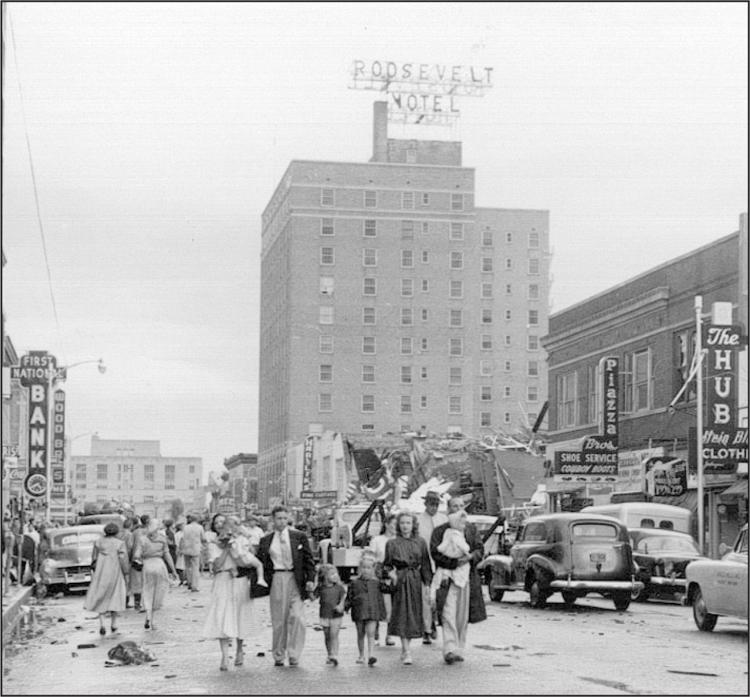 At the east end of Austin Avenue, the Square symbolized the old order. Farmers still drove there on weekends for hardware, seed and clothes, or to sell vegetables at the riverside market. On the west side were the Cotton Exchange building left over from Waco's turn-of-the-century glory days as Texas' premier cotton town.
On the East Side of the Square and adjacent Bridge Street, blacks had their own businesses: the Waco Messenger newspaper, dentists, doctors, life insurance offices, drug stores, hotels, domino halls, cafes and the Jockey Club barber shop.
By 1953, the Square had fallen on hard times, according to John Edward Weems, a Central Texas journalist who covered the tornado and later wrote a book about it.
"There sat city hall, in the middle of a square surrounded by a variety of run-down buildings, both frame and brick, housing butcher shops, dives that served beer only . . . poolrooms and flophouses," he wrote in his 1977 book, The Tornado. "Off to the east . . . most travelers were quite content to stare toward the city from a stretch of U.S. 81 and thank the state highway department for this fast detour around a remarkably unattractive locality."
Jack Jeffrey, the young city manager, had come to Waco from Kerrville, Texas, against the advice of the state's other city managers. They told him Waco still had a hidebound, agricultural mindset, and it wore out city managers quickly.
After taking the job, he discovered the city was going broke. It was overly dependent on property taxes, and many properties were underappraised. The city did not have control of the water utility, and it lacked a system to collect fees from garbage disposal or sewerage.
The community was leery of expensive bond elections, and no major drainage projects had been undertaken since 1938. Floods along the Brazos River and Waco Creek regularly damaged streets and bridges in central and East Waco.
The Brazos River — polluted, muddy and unpredictable — was considered an eyesore, lined with junkyards and rendering plants that fouled the air downtown.
Waco's poorest residents — mostly black and Hispanic — lived in shotgun houses in neighborhoods on both sides of the river, some near Baylor, some near downtown, some in East Waco.
As in most Southern towns, blacks were strictly confined to their own neighborhoods and schools. Most rode in black-owned taxi cabs or the back of city buses. If they shopped on Austin Avenue, they were allowed in only through the back door, if at all.
But the old order was eroding. In 1953, a case was pending before the Supreme Court that would ultimately desegregate schools across the country, and the national civil rights struggle was quietly beginning.
Race relations weren't Waco's only source of anxiety in 1953. Parents worried about the polio epidemic that confined children — breathing with the help of iron lungs — to the Crippled Children's Hospital on North 18th Street.
The Cold War dominated headlines, and a nuclear nightmare seemed possible. Like most cities, Waco had hired a civil defense director in March and had drawn up a disaster plan, which stated that the most likely target of nuclear attack in Waco was Fifth and Austin.
But city officials' practical response was to do nothing. They said it was too hard to get the public interested in disaster drills, and Waco was an unlikely target for bombing anyway.
Waco was a safe, prosperous place where business could do business, and even the weather seemed to cooperate, according to the Chamber of Commerce.
"Those who have studied this location point to a ring of hills surrounding the valley in which the city lies as permanent protection from the fury of the elements," the chamber assured readers in an introduction to the Waco City Directory of 1953.
* * * * *
Tornadoes aren't as choosy about their victims as once imagined. They can gouge the trees out of deep valleys, leaving adjacent hilltops untouched, experts say. They have no preference for open country or dense cities, forest or plains. They strike blindly, oblivious to topography and Indian legends. Tornadoes can strike anywhere a thundercloud can form.
What appeared south of Waco on May 11, 1953, looked like the beginning of a typical spring Texas thunderstorm.
At 3:55 p.m. that day, T.H. McBrayer, a volunteer observer for the U.S. Weather Bureau, stood on a hill near Lorena. He saw cumulonimbus clouds boiling high into the sky, forming a giant cloud that resembled a "middlebuster plow."
McBrayer was watching the formation of what is now known as a mesocyclone, a spinning mass of clouds several miles wide.
Even today, the question of why some thunderstorms develop into mesocyclones remains a frontier of science, says Al Moller, a National Weather Service tornado expert. But firsthand accounts such as McBrayer's have allowed him to reconstruct the weather events that collided around Lorena that day.
Morning thunderstorms from around Fort Worth had pushed a mass of rain-cooled air south, creating a cool front that stalled west of Waco. Warm, moist air from the Gulf Coast hit the front and created an updraft. The buoyant warm air shot up at an estimated 100 mph, forming thunderclouds that towered up to the stratosphere, 11 miles high.
Meanwhile, to the south of the brewing thunderstorm, a warm, dry wind current from the southwest collided with the Gulf Coast wind and created an invisible horizontal rotating tube of air, spinning close to the ground. The updraft pushed the northern end of the tube high into the sky and turned it vertical, like a gardener picking up a hose.
The rotating column of air, or vortex, tightened into a funnel cloud and touched down, though McBrayer never saw it. The twister would rate as an F-5 — the highest on the modern-day Fujita scale of tornado intensity, Moller said. That means rotating wind speeds of up to 318 mph, strong enough to throw a car farther than the length of a football field.
---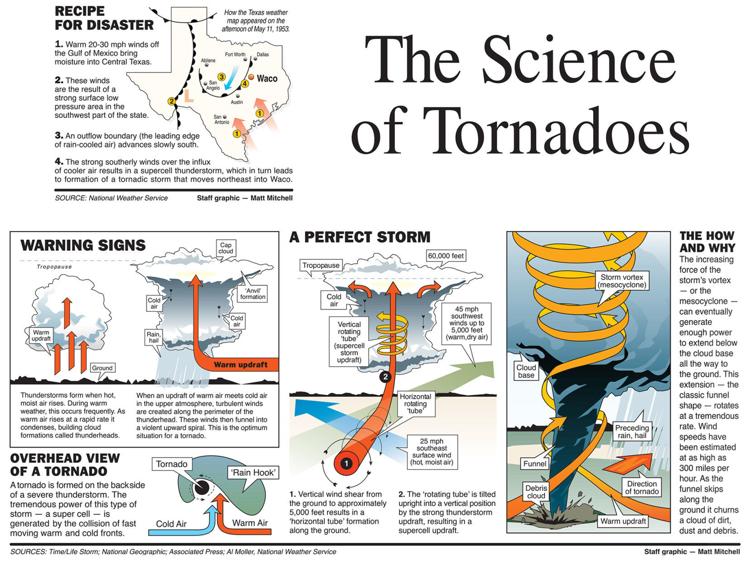 ---
A smaller tornado from the same line of thunderstorms hit a residential area in San Angelo that same afternoon and caused 11 deaths and widespread damage.
That morning, the U.S. Weather Bureau issued a thunderstorm warning through the evening and mentioned the possibility of a few tornadoes in an area bounded by San Angelo, Wichita Falls and Waco.
C.A. Anderson, the bureau's Waco chief, lifted the warning by 1:30 p.m., saying in his hourly press report that any tornadoes would be west of Waco. There was "no cause for alarm," he said in his teletype report.
Meteorologists of Anderson's generation were skittish about using the word "tornado" in a forecast. Until the 1930s, the word had been banned from Weather Bureau forecasts, and the first official tornado forecast wasn't given until March 1952.
Tornadoes were still considered too unpredictable to risk scaring people and making forecasters look foolish.
"There was still that feeling, which was pervasive in the '40s and '50s, that there would be sheer panic if you put out warning for tornadoes," Moller says.
But a new tool was emerging that had the potential to take some of the guesswork out of tornado forecasting.
When Allied Forces in World War II began a top-secret program to spot enemy aircraft through radio waves — an innovation that helped win the war — they were often frustrated by "interference" from the weather. Clouds and precipitation would bounce back radio waves just as airplanes would.
By the war's end, military bases were tracking weather with radar, and universities such as Texas A&M began studying their application to civilian forecasting. By May 11, 1953, the A&M researchers knew about the tornado that had been spotted by radar in Champaign, Ill., only a month earlier, marked by a distinctive hook pattern on the screen.
George Huebner, an A&M meteorology graduate student who had used radars in World War II, heard about the severe weather in Waco that day and turned on the radar console in his office.
After the tubes warmed up, Huebner watched the wand swing around the radarscope and noticed heavy patches of white, representing precipitation.
Huebner took a picture and called in his colleagues, and they began an all-night vigil.
"I could see that big echo in the area of Waco," Huebner said. "I thought, 'Man, they're catching hell up there in Waco.' "
Huebner, now 83 and retired in College Station, said he doesn't remember any well-defined hook signature and suspects the signal from Waco was too weak to give a conclusive reading. However, officials at the time said the pattern on the screen clearly suggested a tornado.
Archie Kahan, head of the oceanography department at A&M, wrote in November 1953:
"By the next day (May 12) it was clear that, with a reasonable amount of coordination between existing weather agencies, the means for preventing a large portion of the loss of life in the Waco disaster was at hand but had gone unused."
* * * * *
The Destruction Begins
Les Rasner pulled over his yellow Chrysler convertible next to a brick warehouse building near the railroad tracks around Eighth Street. The rain was so fierce, he leaned over his wife to protect her. In his last conscious moments, he heard the train-like roar approaching.
By the time the tornado reached him, it was carrying mangled roofs, rabbit hutches and uprooted trees from the Bell's Hill neighborhood. At the Sun Pool at Cleveland and 15th Street, it had knocked over a concrete wall left from the old Cotton Palace. The wall crashed into an underground locker room where several teenage boys had taken shelter. Some lived to tell about it. Billy Betros and Stan Sykes did not.
The vortex moved toward the southern end of downtown, preceded by powerful wind, hail and rain. The sky had gone from green to black.
The tornado decapitated the massive steeple tower on the First Methodist Church at Fifth and Jackson. At a nearby warehouse, a rooftop water tank crashed through five floors of concrete and killed a custodian in the basement.
It headed toward the Cotton Belt railroad and the building where Rasner and his wife wad taken shelter. The wall crumbled, crushing their yellow convertible.
Continuing north, the twister laid waste to the ballpark at Katy Park, 700 Jackson, home of the struggling Waco Pirates minor league baseball team.
It roared onto Franklin Avenue and proceeded diagonally at Austin Avenue. Cars were now tumbling end over end. On the 12th floor of an office building at Ninth and Austin, an electrical worker saw appliances fly by.
Next stop: Fifth and Austin, the densest area of town, the assumed ground zero for nuclear attack. In this block were the four-story Padgitt Building, the five-story R.T. Dennis Furniture Company, the Joy Theater and, in the alley, the Torrance Recreation Hall, which was packed with teenagers.
In a moment, the Padgitt building was a heap of bricks and planks. The R.T. Dennis building — five floors of furniture, supported by nothing but the outer brick walls — collapsed onto Austin Avenue and into the alley behind it, crushing the Torrance hall.
Inside the pool hall, La Vega High School football player Don Hansard was shooting poll with his buddy, Kay Sharbutt, and he had just sunk an 11 ball. The lights went out, and the screaming began.
East of the Dennis building, at the Joy Theater, 100 moviegoers were watching Robert Mitchum in a movie called The Lusty Men. The movie went dark, and the high ceiling fell in one piece.
The tornado was now at the doorstep of Waco's tallest building, the Amicable. If the building fell, it could crush dozens of other buildings.
At the moment of impact, the steel-framed building sprang back like a punching dummy. Employees stumbling down the darkened stairwells were hurled against the wall. The tornado rolled on.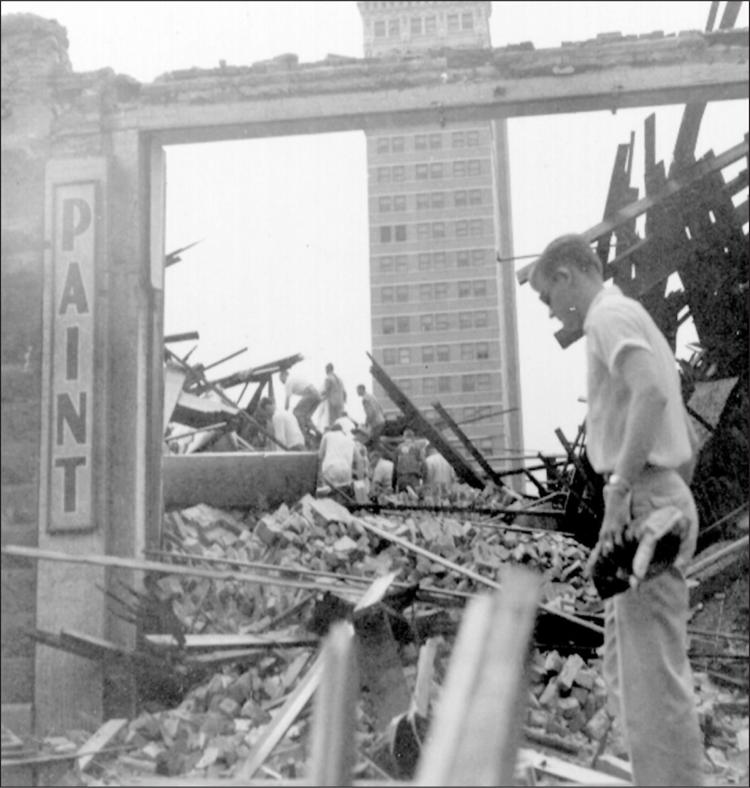 It sheared the top stories off buildings on the Square, crushing shopkeepers, customers and upstairs tenants hiding under mattresses.
The tornado skipped over the Brazos River and plowed through East Waco, destroying homes, grazing Paul Quinn College and taking a huge bite out of East Waco Elementary school, which let out only 30 minutes earlier.
At a Paul Quinn dormitory, the wind tore at 20-year-old Walter Turner, who was headed down to the basement from an upper floor where he had been plastering a wall. He had heard a tornado might be coming, but he wasn't sure what that meant. In the basement, the other survivors looked at him incredulously. He realized the wind had stripped him of everything but his cap, boots and shorts.
At 4:45, the tornado, losing force, reached Bellmead and then played outside of Axtell.
Few survivors knew what hit them. Some thought it was a bomb. Many who weren't in its path didn't know what had happened until the next day.
Power went out in much of the town, and radio stations were knocked off the air for nearly two hours. At the Crippled Children's Hospital, nurses scrambled to operate the iron lungs by hand for half an hour until the electric company arrived with a generator.
Telephone wires were damaged, and the downtown switchboard was jammed within minutes, making communication all but impossible.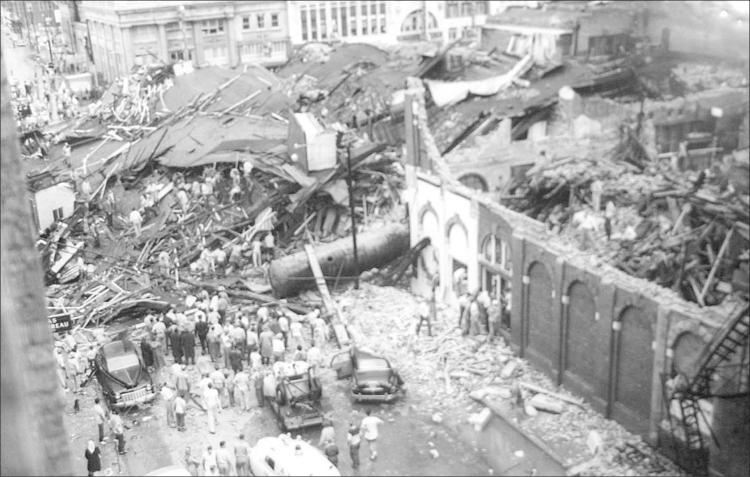 City Manager Jack Jeffrey emerged from his office with a torn suit, but no serious injuries. City Hall, built of concrete and steel, had lost hundreds of windows but no lives.
"I went through the building to see if anyone was hurt," Jeffrey recalls. "Those that were hurt were already gone. People began to flood in there from around the Square."
He went to the police station inside City Hall and tried to contact authorities, including Mayor Ralph Wolf.
Wolf, the Baylor athletic director, was at his office as Baylor Stadium in South Waco, just blocks from the path of the tornado but oblivious to the disaster. He began to suspect something was wrong when he picked up his phone around 5 p.m. and found it dead.
Moments after the tornado, Paul Vass, the Baylor student, stumbled out of the basement pool hall on Third Street. He couldn't believe what he saw: building after building razed to the ground, mounds of rubble piled 20 feet high.
"There was dust everywhere," he recalls. "I remember it so distinctly. You went out and looked and you wondered, which way do you go? The thing I remember most was the car horns. It seemed like 100 of them were jammed. I came down toward the Square. I could see the beginnings of police arriving."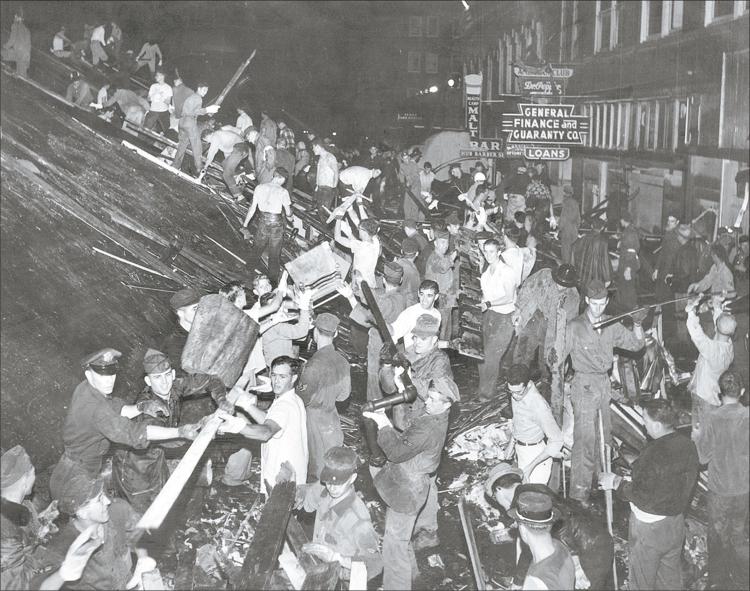 People were on the streets — some injured, some crying, some numb with shock. The rain was still pouring. Power lines were sparking on the ground, and the smell of gas from broken gas lines was in the air. Vass wondered if the Amicable building would fall on him.
The rain had turned Austin Avenue into a creek. Department store mannequins floated face down in the current.
Vass joined other men digging with their hands in the rubble around the Square.
"We were just digging," Vass says. "It wasn't a matter of being brave. It was just something that had to be done."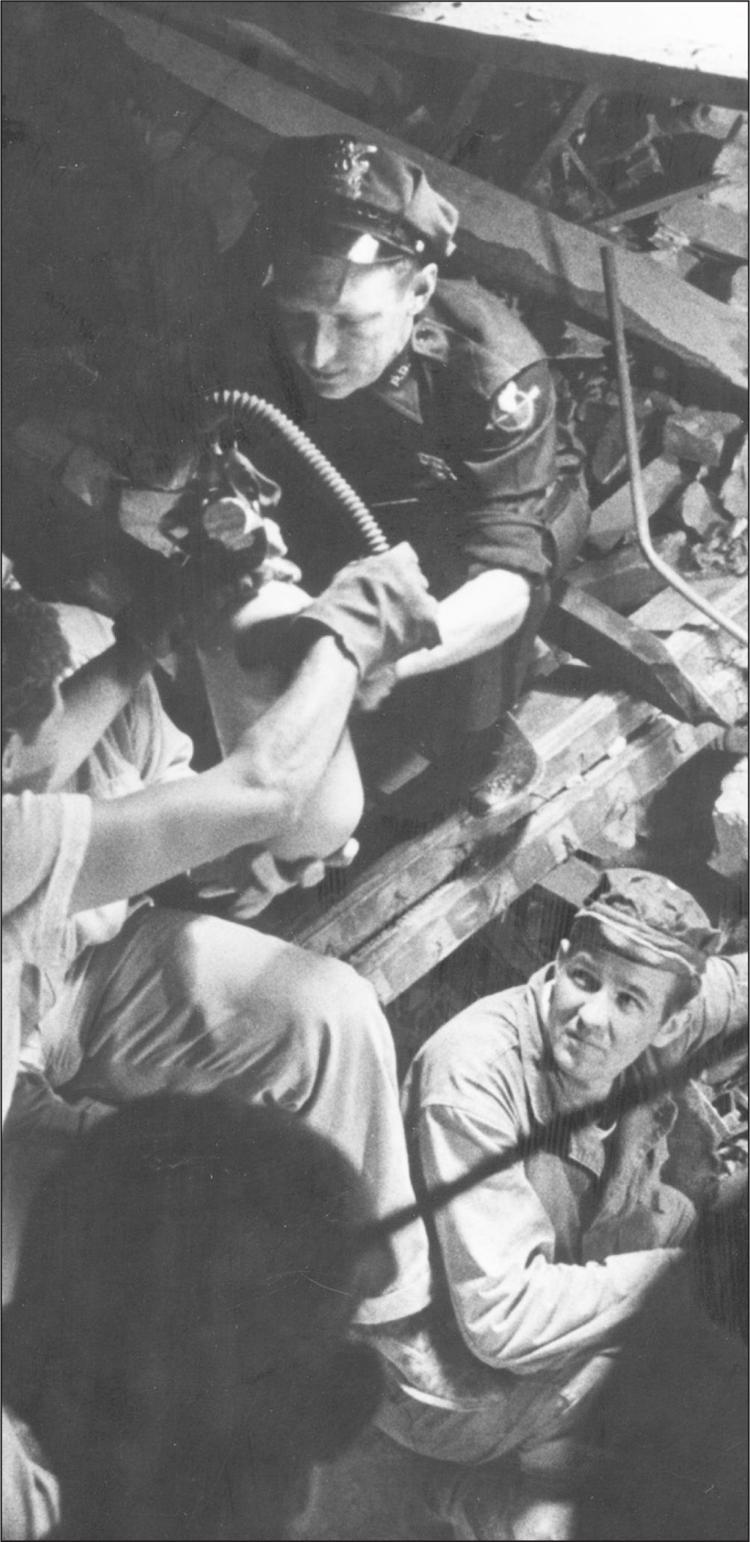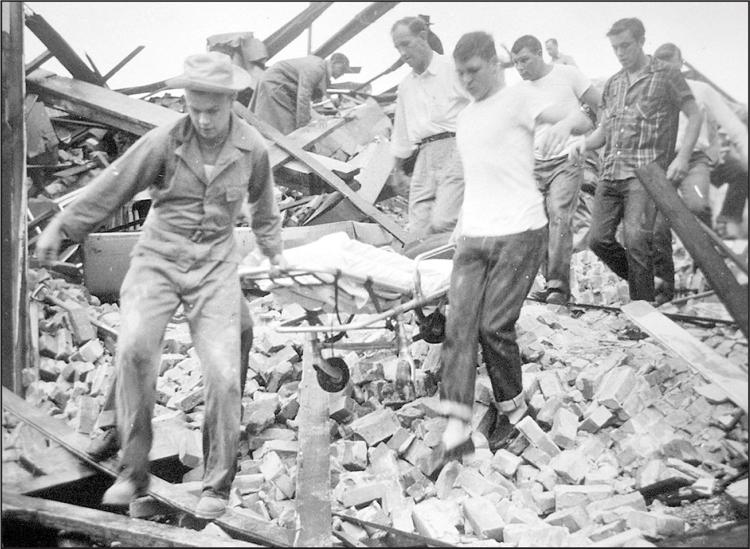 The most extreme destruction was in the 400 block between Austin and Franklin avenues, where 61 people were killed. Most survivors are gone now, but their stories have been exhaustively described in news articles, books and an oral history project.
• Twenty-two people, mostly employees, died in the rubble of the five-story R.T. Dennis building. The last-found survivor, switchboard operator Lillie Matkin, was pulled out 14 hours after the tornado.
• Part of the Dennis building fell on the Torrance Recreation Hall, across the back alley, trapping 27 people and killing 18. Rescue workers heard the voice of young Don Hansard and piped oxygen down to him. He was pressed against the body of  his buddy, Kay Sharbutt, and could feel blood on his leg. Hansard survived, but Sharbutt did not. Another boy died clutching a dime that he was about to hand to the pool room attendant, who also died.
• At the five-story Padigtt building, Dr. Ernest Johnson was freed after more than 3 hours, along with his assistant, Ted Lucenay, a receptionist and two patients. His longtime nurse, Gussie Mayfield, was dead.
• At the Joy Theater, the rescuers discovered the audience was mostly unharmed.  The arch-sharped ceiling stopped just a few feet from their heads.
Across the Square at the Jockey Club barber shop, the barbers and customers emerged from the stairwell corner unscatched and stumbled through a wreck of glass and overturned barber stations. Barbers Ben Frank Smith and Cicero Martin went outside to survey the damage. Most of the east side of the Square had been flattened. They hurried next door to the remains of the tailor shop where the little girl, Cynthia Britt, had sought refuge.
They saw her mother, Minnie Fred Britt, trapped in the wreckage with her clothes ripped.
"Minnie Fred Britt, she was a beautiful lady," Martin recalls. "She was pinned down under a beam and he was trying to pull her dress down. Ben said, 'Minnie Fred, we're not trying to look under your clothes. We're trying to get you out.' "
While some of the men worked to free the woman, Martin found the little girl in the wreckage.
"I picked the girl up," he recalls. "She had just a little blood coming out of her nose. I could tell she wasn't breathing."
The men rescued Mrs. Britt and her dying husband, Edward M. Britt, and laid all three family members on chairs in the barber shop. They arranged for a friend to drive the family to Providence Hospital. The woman was in shock, and they didn't have the nerve to tell her that her husband and their daughter were dead.
---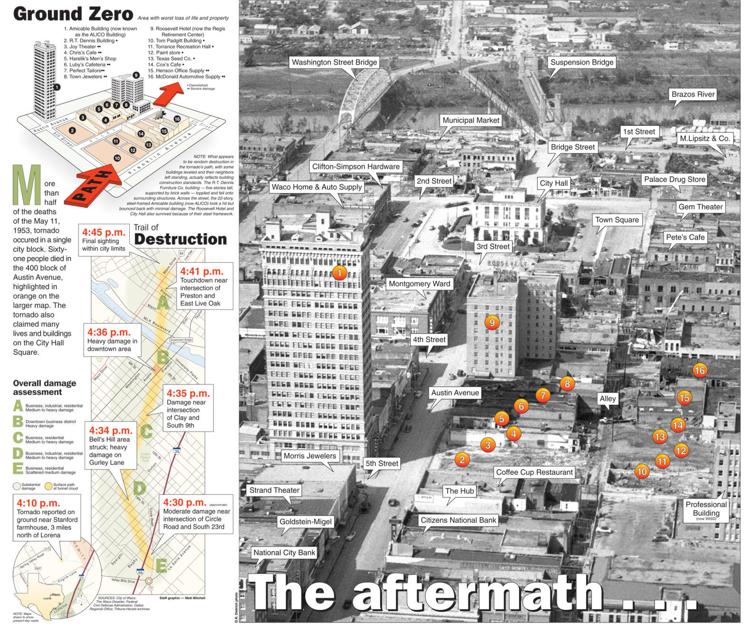 * * * * *
'All of Downtown Has Been Blown Away'
With the best-laid emergency plans in place, an F-5 tornado crashing into a crowded downtown means chaos. Waco was ill-prepared and forced to play it by ear, relying on the efforts of individuals driven by duty and adrenaline.
"Such organization as we had was strictly in the talking stage and on paper," the civil defense director, Jim Meredith, later wrote. "Paper organization is a very dangerous thing because sometimes it leads people to believe there is an organization when there actually isn't."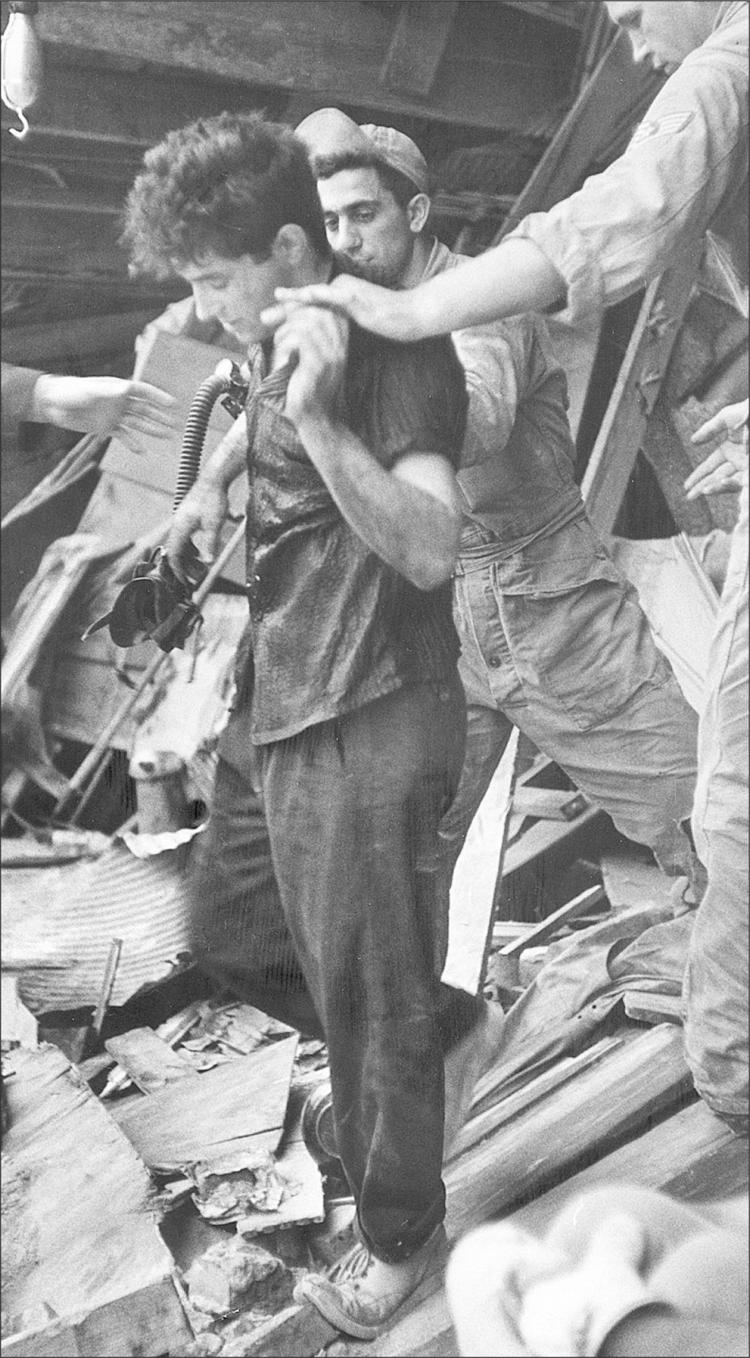 Police, sheriff's deputies, firefighters, utility crews, National Guardsmen and civilian volunteers began showing up downtown but unsure who was in charge. At one point, a telephone company manager with a mobile telephone truck began issuing orders to the crowd through a loudspeaker.
Wiley Stem Jr., assistant city attorney and National Guard commander, arrived at the Armory at 523 Franklin just minutes after the tornado. He had been taking pictures with City Attorney Lyndon Olson Sr. for a condemnation hearing to extend Waco Drive.
The Armory roof and windows had been damaged, but it would have to do as headquarters. Fifteen to 20 Guardsmen had already gathered there without being summoned. They couldn't find the "strong room" where weapons were kept, so they shot the locks off. Stem sent some men to the Texas Power and Light Company for a generator.
Guard Captain John Bates had just gotten home from a trip to East Texas, and he was on his way downtown with his wife to see if his law office was damaged by the storm. A friend of his wife's flagged them down.
"She yelled at me, 'You've got to get to the Armory. All of downtown has been blown away,' " Bates recalls.
Bates shuddered, afraid that explosives he had squirreled away in the Armory had blown up. He later confessed to a strange sense of relief that the disaster wasn't his fault.
By the time Mayor Ralph Wolf arrived at 7 p.m., airmen from James Connally Air Force Base had arrived with heavy machinery, ambulances and trucks. Hundreds of civilians, Guardsmen and crews from Fort Hood, Connally and elsewhere were digging in the rubble. Wolf was unaware that, as mayor, he was in charge and assumed the military men had things under control.
Meanwhile, Bates, soaked to the skin in a coat and tie, was trying in vain to control a crowd swelling to 10,000.
"People were just standing around like zombies," he says. "I had a devil of a time getting anybody to move. I finally formed a skirmish line with fixed bayonets."
At one point he saw a drunken doctor wandering around. He poked the doctor in the rear with a bayonet.
"I told him, you either get back to the aid station or I'm going to lock you up in the Armory and you'll be there for the duration," he recalls.
The doctor complied, but crowd control remained difficult.
"That first night it was wild down there," Bates said. "We had every thug in the country come in for looting. At one jewelry store on the corner of Fifth and Austin, the window was broken and in nothing flat people cleaned out the show window."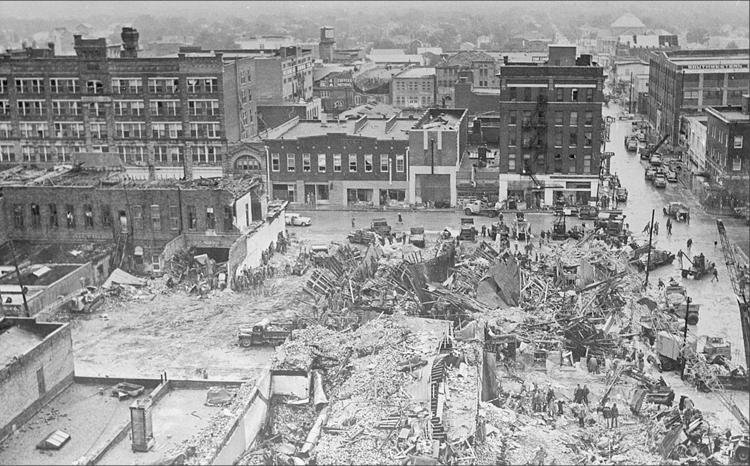 Early Tuesday morning, Wolf discovered that he was by law the central authority in time of disaster. Gen. Gabriel Disosway from Connally dissuaded him from declaring martial law, which would have allowed the military to assume civilian police duties. But Disosway agreed to draw up a rescue plan and pledged men and equipment to the effort.
Wolf appointed a central committee headquartered in the bottom of the Amicable building, and from then on, he would win acclaim for his sure hand in overseeing the recovery, Jeffrey recalls. "He was a do-it guy," he says.
In the next four days, nearly 10 inches of rain would fall, and residents paddled boats through flooded East Waco streets.
Vass, the Baylor student, says he doesn't remember any looting. At one point, he says, his crew found a cash register.
"People were afraid to touch it," he says. "They didn't want to be accused of something."
Vass would stay downtown for two days, catching catnaps in abandoned cars. He joined a crew that was working its way around the Square, looking for bodies, dead or alive. Crews found 38 bodies in the Square alone.
"The first time I saw a body, I felt violated, like it was happening to me," Vass says. "I was worried every time we saw a mattress. We would usually see someone under it or over it. We found three or four under beds.
"At first, when bodies were found, they were treated delicately, like they were wounded. By the second day, when a body was uncovered, they would just grab it by the heels and drag it to the wagon."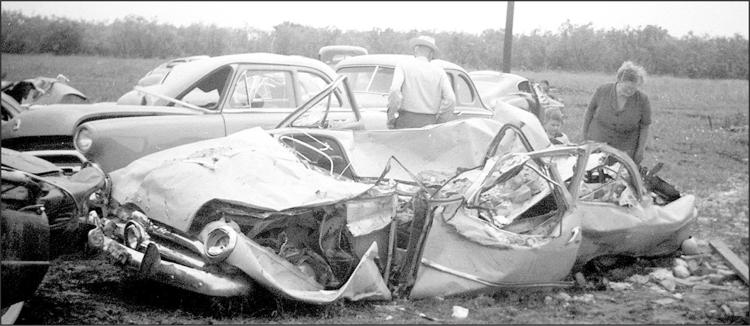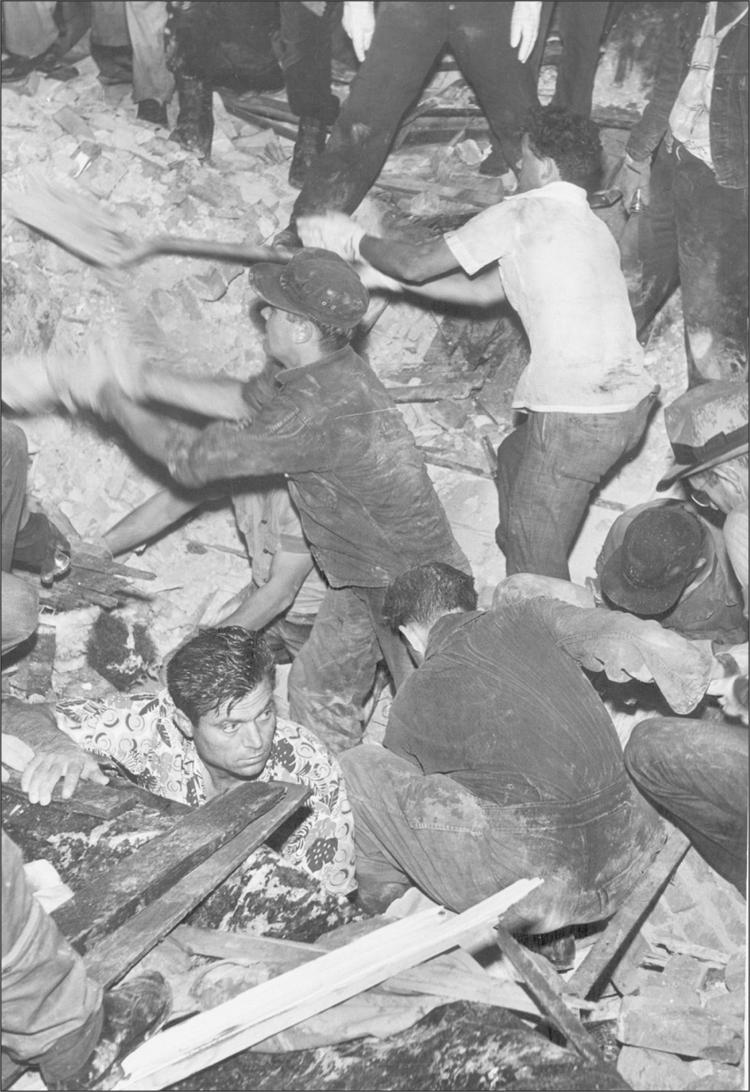 Dead bodies were laid out on the floor of the Armory building. Later, the funeral homes would run out of space and would store some bodies in a Sunday School room at Columbus Avenue Baptist Church.
One thing that did help relieve the jam at the funeral homes: For four days after the tornado, there were no natural deaths in Waco.
With the town's social fabric in shreds, blacks and whites temporarily forgot their usual roles and worked side by side, rescuing victims of both races.
"They just forgot about race and rolled up their sleeves, says Dorothy Tolbert, who was a black home extension agent for the segregated Texas Extension Service. Her office on the east side of the square had been demolished, but she worked at a Red Cross aid station, helping blacks and whites.
"I just got there and started working," she says. "I had never seen people work together like that. For that time period, we didn't know anything about race. It was too bad we had to have a tornado for that to happen."
The disaster made heroes out of doctors and nurses. Many were battlefield veterans and were prepared for anything. In this case, it was a sudden rush of 1,223 patients to hospitals, including 276 with major injures. Only one person died in a hospital.
In the immediate aftermath, some doctors worked by candlelight or flashlight in their darkened clinics, removing glass shards and stitching up wounds. Most reported to the town's two main hospitals, Providence and Hillcrest, where some worked 24 hours straight.
At Hillcrest hospital 22-year-old-nurse Wetona Mayfield found herself in charge of the hospital because all the administrators were at a conference in Galveston. The fifth-floor emergency room was packed, and the single X-ray machine ran nonstop. Dr. Hannibal Jaworski set up a triage center on the ground floor. Patients were evaluated, injected with morphine, and tagged with a piece of tape.
At Providence, Dr. Tom Oliver arrived shortly before 5 p.m. and found a busy but orderly scene. Triage was set up by 5:30 p.m., and teams of doctors went from patient to patient.
Early that morning, he got to Les Rasner, the Baylor professor. Rasner and his wife, Ernie, had been rescued from their yellow convertible and driven to Providence by a young woman whose name they never knew. Oliver had never seen an injury like it: Rasner's head was pushed down into his thorax. He applied traction and popped the head out.
Both hospitals had tended to all patients by 2 a.m., despite shortages of the tetanus vaccine and communication problems with police. But doctors and nurses had their hands full for days.
A few days later, Jaworski met with officials from the Red Cross, who wanted to arrange a way to pay for medical care for the indigent. Jaworski made an announcement that left the officials speechless: The McLennan County Medical Society had decided that doctors would not accept a penny for their work.
By the second day, leaders began to impose order on the chaotic scene downtown, where the stench of death and mud was almost unbearable.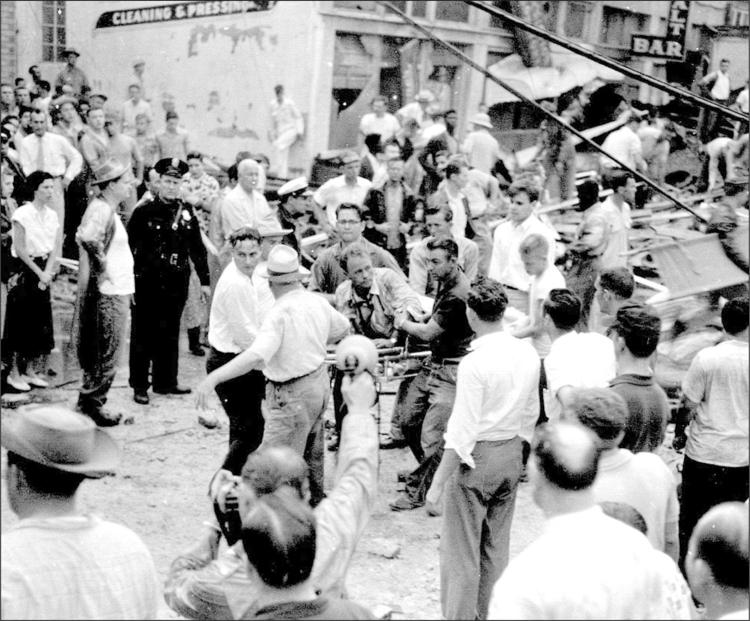 Rubberneckers from around Central Texas crowded in to look at the devastation, and National Guardsmen made slow headway in removing unauthorized people from the scene. They got a lucky break that afternoon, however, as Bates remembers.
"I had just lay down on a cot when someone came and said 'Captain, they've just announced another tornado is coming,' " he recalls. "They all went up and down Austin Avenue with a PA system announcing that, and within 15 minutes, you could have shot a 105-mm (cannon) down Austin Avenue and not hit anybody."
Donations and volunteers continued to pour in from around the state, some more useful than others.
At one point, Guard Commander Stem was told that a group of nurses from Dallas had volunteered their services, and he allowed them to set up a tent in East Waco. Later, he discovered that perfectly healthy men were going into the tent, and the "professionals" inside were prostitutes. He sent the men and women packing.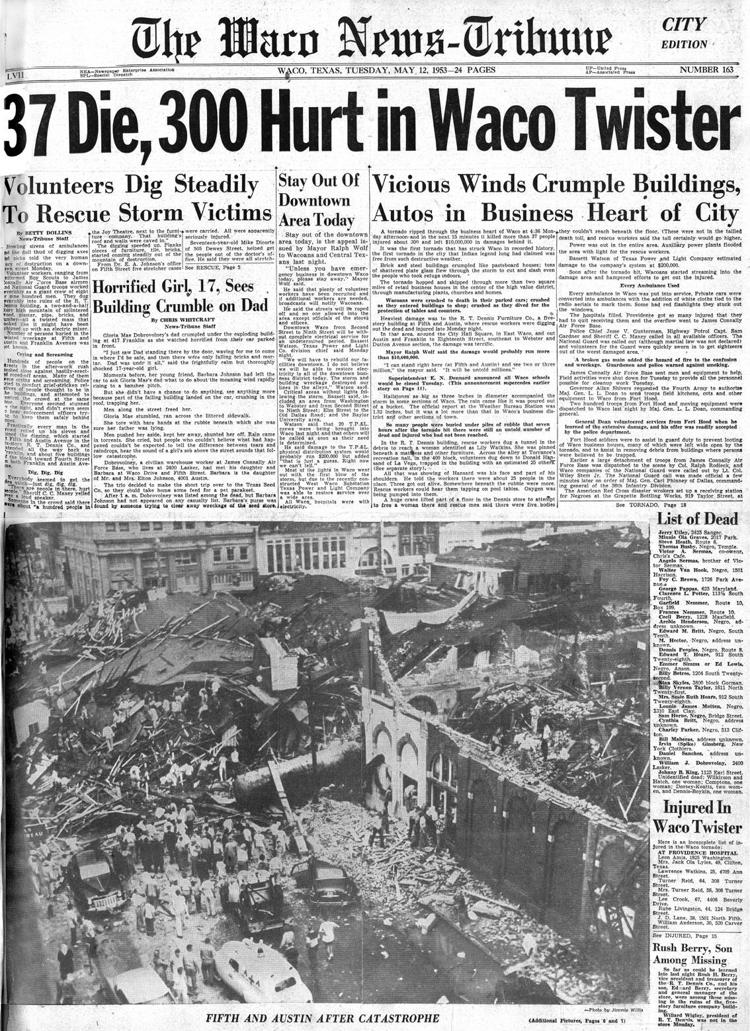 Donated blood, medicine and money poured in and were put to good use. But downtown Waco was overwhelmed with a glut of donated sandwiches that soon spoiled, causing a disposal challenge for health workers.
Ducks from a ruined downtown hatchery wandered around the rubble, eating the sandwiches. Chicks continued to hatch in the mud and waterlogged grain, along with flies and mosquitoes. Displaced rats swarmed the streets. The city responded with DDT and rat poison.
A never-ending convoy of heavy trucks hauled rubble from downtown to a gravel pit near the water plant on Colcord Avenue. Stem insisted that no one could salvage items, including watches and jewelry, from the rubble.
At the dump, three Baylor physicians slogged through the mud with a Geiger counter. They were looking for a small vial of radium that was lost in Dr. Ernest Johnson's office. The radium, apparently used for X-rays, was worth $5,000 and posed a risk of radiation hazard.
After three days of searching in the dump and downtown, they began going through the Padgitt rubble with a crane, checking each scoop with the Geiger counter. At last, they knew they had found their radioactive needle in the haystack.
City Attorney Lyndon Olson warned Mayor Wolf that the city could be in for a batch of lawsuits if solid buildings were destroyed with earth-moving equipment — a fear that never came to pass.
Most of the rubble was removed within a couple of weeks, a feat that would have been impossible without help from Connally and Fort Hood, city officials said.
"If it hadn't been for the military, we would have been in terrible shape," Wolf told an interviewer at the time.
At the end of the week, Wolf met with downtown merchants at the Raleigh Hotel on Austin Avenue. The group learned that the seven days of state pay for the National Guard were nearly up, and they expressed concern that exposed property would be left unprotected.
Bates, the Guard captain, recalls seeing Waco Tribune-Herald publisher Harlon Fentress talk to Wolf after the meeting, then place a call on the hotel phone to his secretary. He asked her to have Gov. Allan Shivers call him.
"In a few minutes, the phone was ringing," Bates recalls. "He said, 'Allan, this is Harlon. We need these National Guard people three more days. Arrange that, will you?' I literally heard Harlon Fentress give orders to the governor of Texas. Sure enough, we got paid for 10 days."
---
May 11, 1954. A year later. Another week of rain and floods. Parts of Waco, including 22nd and Austin, lie soaking under several feet of water. Some farmers grouse about their muddy fields, but at least they enjoyed a respite from the fierce drought that would continue through the '50s. Central Texas cotton farmers in 1953 posted their best crop in 18 years.
Waco residents look anxiously at thunderclouds billowing in the afternoon, and some seek out shelter, but the threat passes.
By now, the path of the tornado has begun to heal over, like scar tissue where a limb was amputated.
Ninety-nine percent of homes damaged in the tornado have been replaced or repaired, and the newspaper reports that residents are better-housed than before the storm. The city is still repaving storm-damaged streets, and the school district is finishing repairs on five damaged schools, with help from a $205,000 federal grant.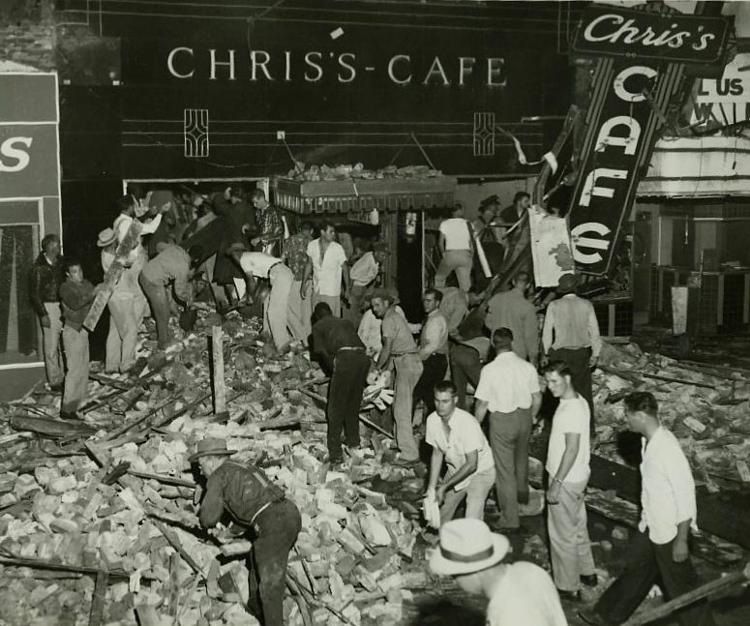 The rubble downtown is gone. Vacant lots have been paved over. At Fifth and Austin, where baby furniture was on sale a year ago at the R.T. Dennis building, there is a new bargain: a half-hour of parking for 10 cents. Citizens National Bank is considering building a large parking garage and drive-through bank at Fourth and Franklin.
Several businesses on the Square have reopened, including the large Clifton-Simpson hardware store. Many business owners have removed the damaged upper part of their buildings and settled for one-story buildings. Others have moved to other parts of downtown or left it altogether for suburban shopping centers.
Some merchants are struggling with the city over new building codes. The city passed them after a U.S. Army Corps of Engineers expert estimated that 90 percent of the tornado deaths could have been avoided if construction standards had been higher.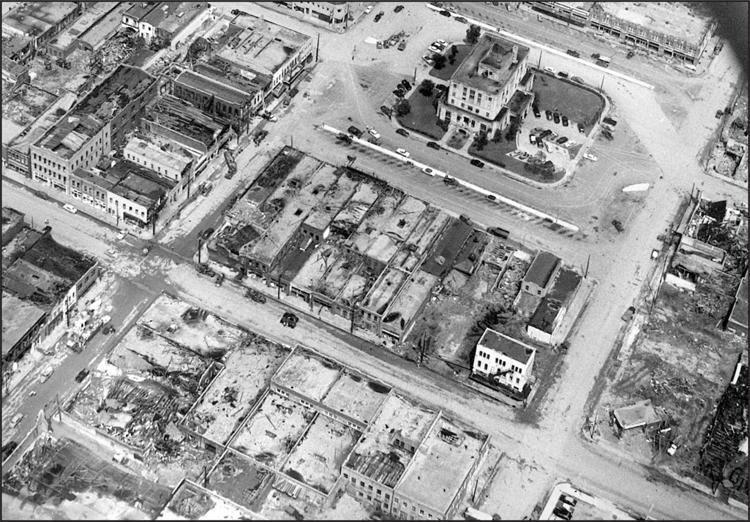 After the tornado, the Chamber of Commerce recommended a plan to rebuild the Square as a modern shopping center with plenty of parking and parks, but merchants let the opportunity pass them by. The newspaper said the idea was "too daring" to catch on.
The rebuilding process was heavily dependent on financial aid from federal, state and volunteer sources. The Waco Disaster Relief Committee, headed by Tribune-Herald publisher Fentress, has received $419,542 in donations from all over the country, thanks in part to appeals from the Dallas Morning News and other newspapers. All but $40,000 has been spent, and that has been earmarked for the education of children orphaned by the tornado.
The McLennan County Medical Society has used insurance reimbursements and doctors' own donations to set up a fund for community health, laying the groundwork for the Family Practice Center.
The city also has beefed up his disaster planning after admitting that Waco has been caught flat-flooted by the tornado. On a visit to Waco, the director of the Federal Civil Defense Administration said other cities should learn from Waco's experience.
The disaster was a wake-up call to weather officials, too. In the weeks after the '53 tornado, the low pressure trough that gave rise to the Waco tornado moved eastward across the United States and spawned more deadly tornadoes. Twisters killed 115 in Flint, Mich. and 90 in Worcester, Mass. in early June.
On June 24, 1953, Texas A&M hosted the first Texas Tornado Warning Conference, with officials from the U.S. Weather Bureau, public safety agencies, the military, newspapers and electric companies.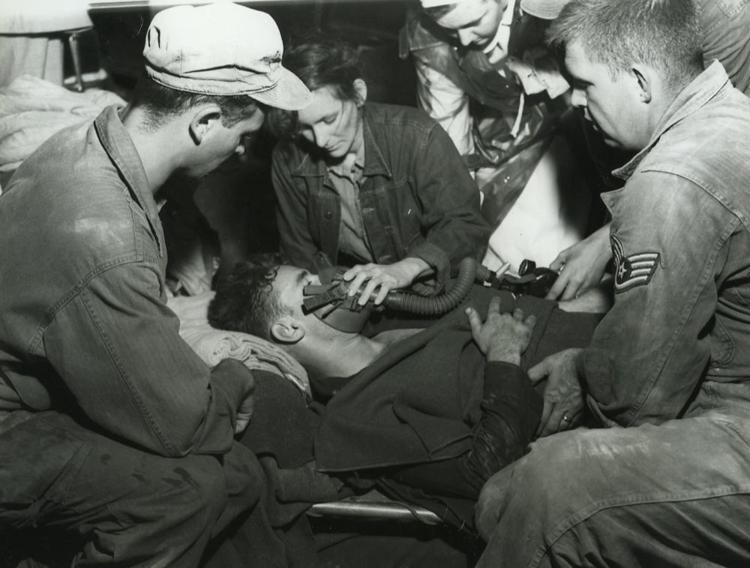 They agreed that the Waco tornado would have claimed far fewer lives if people had been given a few minutes' warning. They agreed to link Texas Department of Public Safety and Weather Bureau offices with a direct telephone line and developed procedures to warn the public.
The Weather Bureau announced that it had 100 military radar sets in storage, but they needed to be retrofitted for civilian use. The bureau agreed to give the radars to individual Texas cities for modification. Huebner, the A&M radar operator, worked on most of the modifications.
The result was the first radar network in the United States, and it soon was expanded nationwide.
Moller, the National Weather Service tornado expert, says Waco was the reason the radar network formed sooner rather than later.
"It was a case of enough is enough," he says. "Fifty-three was what broke the camel's back. Since then, not a single tornado in the U.S. has killed more than 100 people. Because almost immediately, the warning becomes official very quickly."
---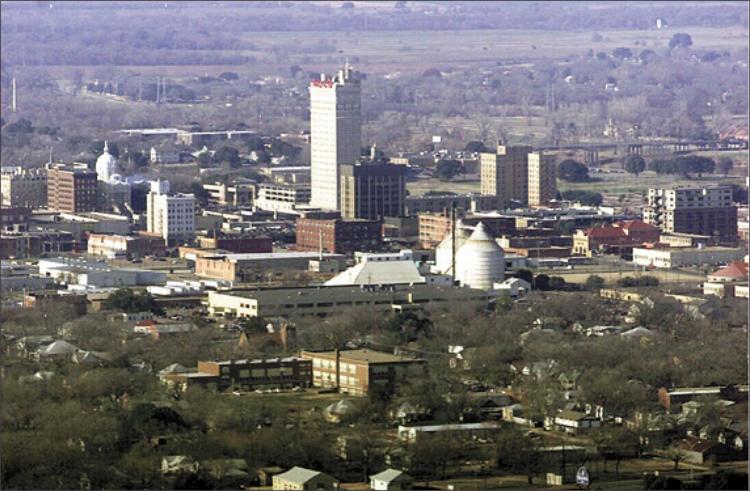 May 11, 2003. Today a crowd will gather at Fourth and Austin to remember the dead at a site where a memorial will soon be erected. Aging survivors of the tornado will remember when this corner was Montgomery Ward's, when the sidewalk bustled with shoppers and when parking space was a premium.
In its place is an asphalt plain that stretches toward City Hall, broken only by a new fountain plaza called Heritage Square. The old Square, with its scores of businesses, is no more. What was one of the densest parts of downtown became a black hole that is only now being reclaimed. The east side that was the section of black-owned businesses is now the Waco Convention Center.
For the generations that didn't live through the tornado, the vista from here might be misleading. It might appear that the entire Square and much of Austin Avenue was carted away by the tornado. In fact, the process of subtraction took years.
Several hundred downtown buildings were destroyed or fatally wounded in the storm, but downtown remained an important commercial hub through the 1960s and early '70s, slowly losing the battle to new malls and strip centers miles away. The Square remained partly intact until the late '60s, when a federal Urban Renewal program cleared it out.
City officials from the era say the tornado hastened downtown's demise but did not cause it.
"In the '60s and '70s, there was not much interest in coming downtown," says former planning director Durwood Ringo, who started working for the city in the mid-'50s. "When you had Lake Air Mall and all that developing, it kind of took away from downtown."
The city responded to that competition by converting Austin Avenue into a pedestrian mall, but the project was widely judged a failure. Ringo says the conversion took too long, parking remained a problem, and the mall failed to attract vibrant new businesses.
There was little interest in historic preservation and little sense that Victorian-era buildings might some day become valuable.
Wiley Stem III, assistant city manager and son of the National Guard commander, says the decision to bulldoze the whole Square was shortsighted. He believes that at least the cotton exchange buildings on the west side could have been preserved.
"If we could have kept those buildings, that area could be a haven of shops and boutiques now," he says, looking out on the area from his City Hall office.
On the other hand, the tornado has become such a convenient scapegoat for Waco's urban problems, it's easy to forget that it actually spurred real improvements.
The convention center, the low-water dam, the extensive drainage projects that keep central and East Waco from flooding — all those can be traced back to the tornado, says Jack Jeffrey, 81, who served as city manager until 1960 and is retired in Waco.
He says long-delayed reforms were an easy sell after the tornado. The city created a planning department and appointed a citizens group called Grass Roots Organization of Waco to study the city's needs.
"What we saw happen to us made us think of planning, and people who wouldn't even listen to you before would go along with it," he says.
The tornado also made it politically possible for the city to take over the water department and to set new service fees, which helped solve its financial crisis.
Within a few years, the GROW committee recommended an unprecedented $12 million bond issue that included major drainage projects. In 1958, the city created its first Comprehensive Plan, which laid the groundwork for a massive federal Urban Renewal program. As a result, Waco cleared slums and noxious industries along the Brazos River, created University-Parks Drive and Martin Luther King Drive, and turned the muddy Brazos into a scenic river-lake.
The gradual reclamation of downtown and the river corridor over the past two decades would have been unimaginable without these improvements, Jeffrey says.
Tommy Turner, the Dallas Morning News' Waco correspondent during the tornado, agrees that the tornado gave Waco a needed kick in the pants.
"Very seldom in life does one day change the entire destiny of a city," he says. "Waco before that was a quiet, sleepy, stodgy town. The tornado was what I would call overnight urban renewal. The tornado was one of those chaotic historic events that is tremendous tragedy but in the long run had some good effect for Waco."
He says the tornado also brought whites and blacks closer together, which made integration easier in later years.
"In the rebuilding process, I think all fair-minded people in Waco saw that they were human beings, too," he says of the black community. "They had always been kind of neglected. When the city began to rebuild, their needs got more recognition."
Records from the time show that black families victimized by the tornado actually received more reconstruction money, on average, than white families. East Waco, which had a high concentration of blacks, also got extensive flood control projects from the city in the late 1950s.
Not that racial strife ended with the tornado. A persistent legend among some blacks claims that the tornado was God's judgment on white Waco for the 1916 lynching of a black teenager on the Square. The legend goes that the tornado followed the path where Jesse Washington was dragged behind a truck.
But Ben Frank Smith, owner of the Jockey Club barber shop, noted that the tornado killed both blacks and whites. He says the tornado experience improved race relations in Waco.
"It was bad that all those people were killed," he says. "The good thing is that it helped people integrate."
Smith resumed his business after the tornado but moved to Elm Street during the Urban Renewal clearance program. He says he got $2,500 from the federal government for the move, a fair price because he didn't own the building, he says.
Dorothy Talbot, the extension agent and aid worker, says she made white friends during the tornado. Another result was that she met Ted Talbot, a young administrator from Paul Quinn College.
"He liked the way I handled things," she says. "He said 'She's bossy, but she knows what she's doing.' We got married the next year."
Paul Vass, the volunteer rescuer, left Baylor soon after the tornado and returned to Waco only two years ago. Now 72 and retired, he has come full circle: He volunteers with the Waco-McLennan County Emergency Management department in the basement of City Hall.
Meanwhile, Les Rasner fully recovered from his injuries.
"In two or three weeks, I went back to teach," says Rasner, now an attorney. "I have never recalled any headache from that. I'm 81 now, and I don't have any arthritis or anything."
Rasner located his wrecked convertible. It was a total loss, but his thesis on insurance law was unscathed except for one soiled page. He turned it in and finished his master's degree.
He never bought another convertible, and he built a storm shelter at his house in Robinson. For years, he would go down to the shelter whenever the weather turned nasty, and one time he spent an entire night there.
"It doesn't bother me anymore," he says. "I haven't been down there in several years."
Even those who escaped the tornado without a scratch are still haunted by it.
Tommy Turner, who still lives in Waco, was at the stoplight at Fifth and Austin, just minutes before the tornado. He had left his office early at the Professional Building at Fifth and Franklin so his wife could pick him up. With two babies in the back seat, they were headed to a studio to pick up a photo for a feature story Turner was writing about a duck who had gone crazy with grief after his mate died.
"My life was saved by a duck," he says.
The couple decided to go home, and soon his editor called to ask about the tornado. Turner said it couldn't be true.
"The Dallas Morning News almost couldn't convince me that we had a tornado," he says.
In the next few days, he would chronicle the destruction for Dallas readers.
"To those of us who were there, it was like a horror movie," Turner says. "I think we've repressed it somewhat. Had I been there a few minutes later, we would have been buried. Every time I drive by Fifth and Austin, inwardly and subconsciously I feel a qualm. I'd seen dozens of bodies there, and that's not something you forget."
---