McLennan County Sheriff Parnell McNamara took off his cowboy hat to slide on an old red cap and recall the stories of when his father put down the pistol and picked up the gas pump.
The sheriff donned the cap during his time attending Baylor University and working with his brother at the Sinclair, and later Texaco, service station his father opened at 19th Street and Park Lake Drive in 1953.
"My dad loved law enforcement," Parnell McNamara said. "But he loved that gas station."
The late T.P. McNamara's almost four decades in law enforcement overlapped with his time operating the service station, which acted as a community hub as much as a place to brim the tank and wash the car, Parnell McNamara said.
CL Rowland, who managed the station for more than 25 years, said the role of gas stations as customer-oriented neighborhood hangouts has diminished over the years.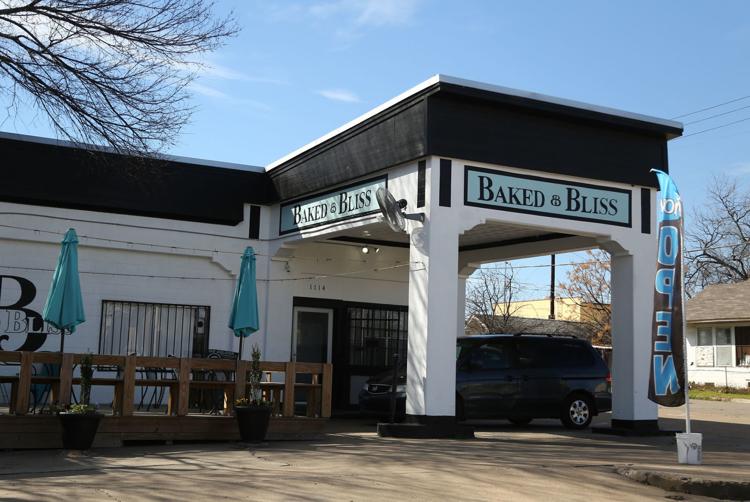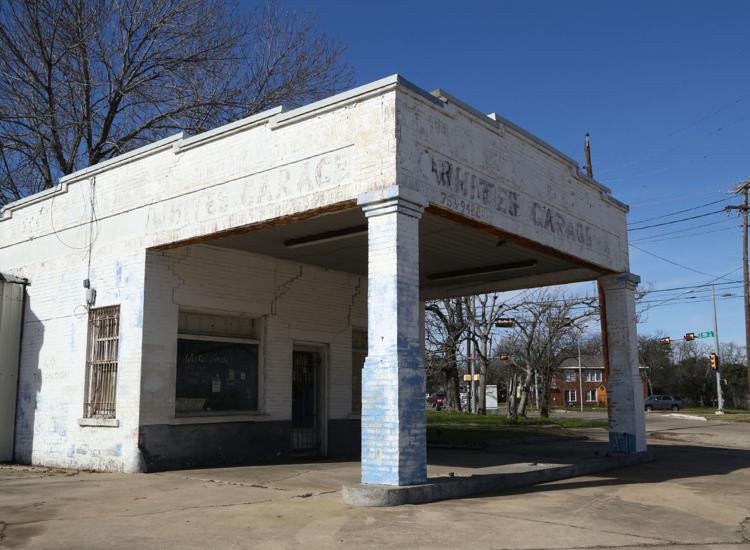 Remains of once flourishing service stations still are scattered across the Waco area, and a few have been given new life. At 18th Street and Maple Avenue, a small service station sits vacant, exhibiting its aging signs. At 15th Street and West Avenue, a former service station sports a fresh coat of paint and a new name, Baked Bliss. It offers baked goods and treats, including quiche, scones, cookies and biscuits.
Not much remains of the station T.P. McNamara operated. After retiring in 1978 from a career spent largely in the U.S. Marshals Service, he started dedicating more time to the station, Parnell McNamara said.
After his father died in 1990, he and his brothers kept the store open for a few more years.
"It was heartbreaking when we sold the property," the sheriff said.
Rowland said T.P. McNamara went out of his way to make every customer feel welcome and every child feel special.
T.P. McNamara required employees to thank each customer for coming, ask what they needed, and ask them to come back and see them. He said those practices were as good as sticking a $5 bill in someone's pocket.
"I enjoyed every minute of working there," Rowland said.
With the state's rich oil fields and concentration of refinery operations, some of the corporate giants of the gasoline industry started in Texas, according to the Texas Department of Transportation's historical studies report, "A Field Guide to Gas Stations in Texas."
The Gulf Refining Company's name refers to its refinery operations along the Gulf Coast, according to the guide. The Texas Company, later known as Texaco, was also from the Lone Star State, as was Magnolia Petroleum Company, which later became Mobil, and the Humble Oil Company, which took its name from the oil fields around Humble and is now part of the Exxon Mobil Corporation, according to the guide.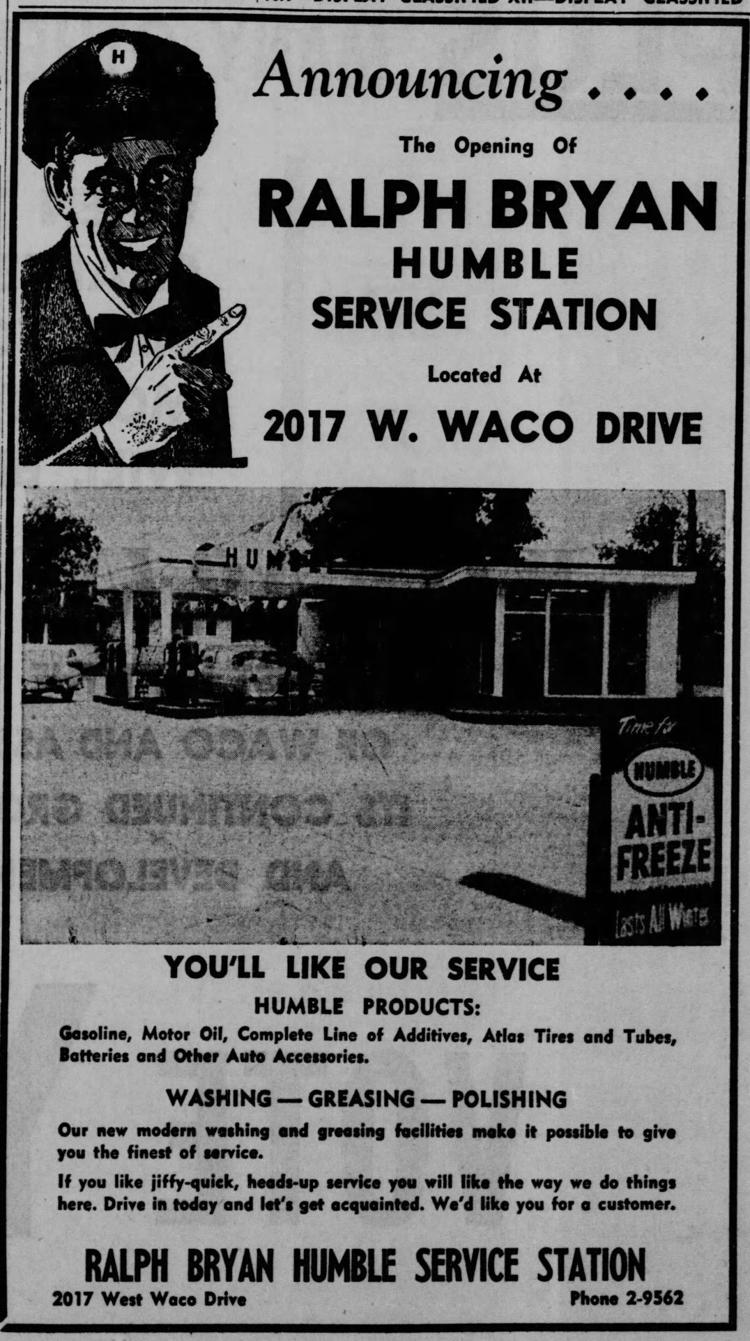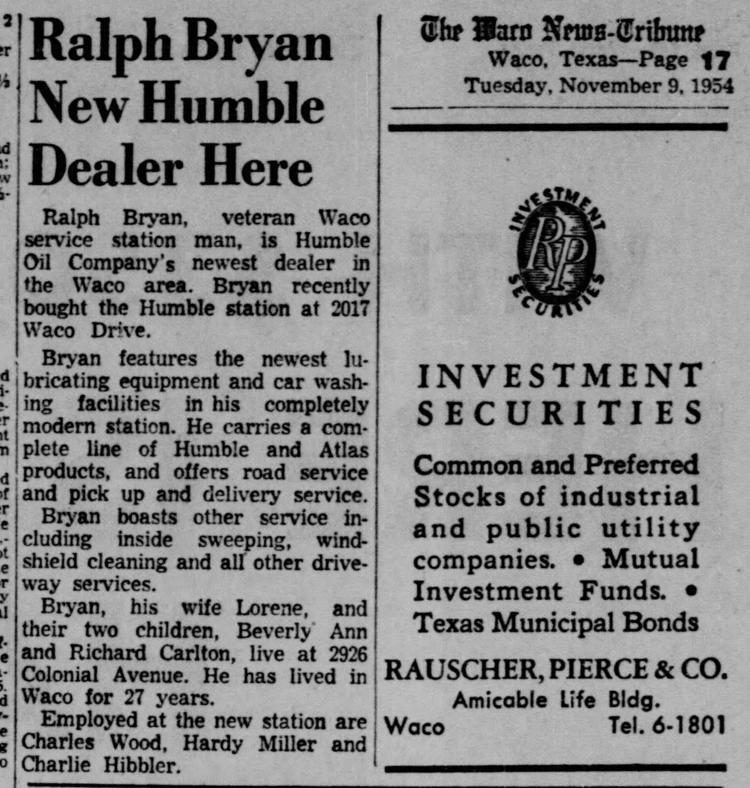 Near where Antioch Community Church sits now, a Ralph Bryan Humble Service Station opened at 2017 W. Waco Drive in November 1954. An advertisement in the Waco News-Tribune promoted sales of gasoline, motor oil, a complete line of additives, tires and tubes, batteries and other auto accessories.
"If you like jiffy-quick, heads-up service you will like the way we do things here," the ad reads.
San Antonio resident Barry Morris, 73, said he remembers making trips to the local service station to add to his football-team sticker collection when he was growing up in Waco, and the trips were big events.
"Humble stations would give out stickers shaped like a foot, one for each team," Morris said. "Every kid tried to get that full set. "
If he had two Baylor University football stickers, he would trade with a neighborhood for a University of Texas sticker.
Morris said he has lived in San Antonio since graduating from high school in Waco in 1964. He has not seen the streets of Waco in a while, but he said he remembers when a Waco service station took a chance on a group of leftovers hoping to make it onto the baseball diamond.
Morris said he and his brother, Ronnie, showed up too late to Little League tryouts to get put on a team. Someone saw there were enough 8-year-olds lingering to form another team, so they called the local Ideal Service Station & Garage and got a sponsorship to make it possible, Morris said.
"They agreed to sponsor these little ragtag guys," he said. "We ended up winning the city championship."
A black-and-white photograph in the Aug. 18, 1965, edition of the Waco News-Tribune shows a team sporting "Ideal Service Station" jerseys. The caption, which includes Barry and Ronnie Morris' names, calls the team the City Minor Little League Champions.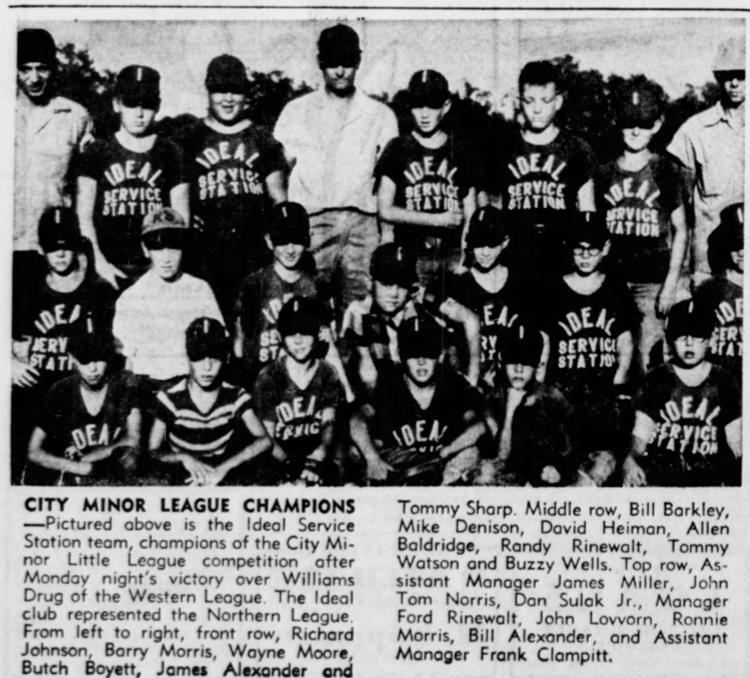 Elm Mott resident Richard Wilshire, 75, said his father, E.D. Wilshire, operated a small Texaco station in Elm Mott in the late 1930s and 1940s.
The station also served as a country beer tavern for about 30 years, Richard Wilshire said. On Friday and Saturday nights, families would come to play pool and dominoes and talk while the children played, he said.
But nothing lasts, he said. The service station, like many throughout the community, no longer exists, and new development has replaced the image of the era, he said.
Wilshire, who has lived in the Waco area his whole life, recently undertook a research effort to find photos and articles of old Waco service stations. He contributes that information to a group of history buffs on Facebook called "Waco, Texas History in Pictures."
"I love history, and I now spend probably 75 percent of my time doing research," he said.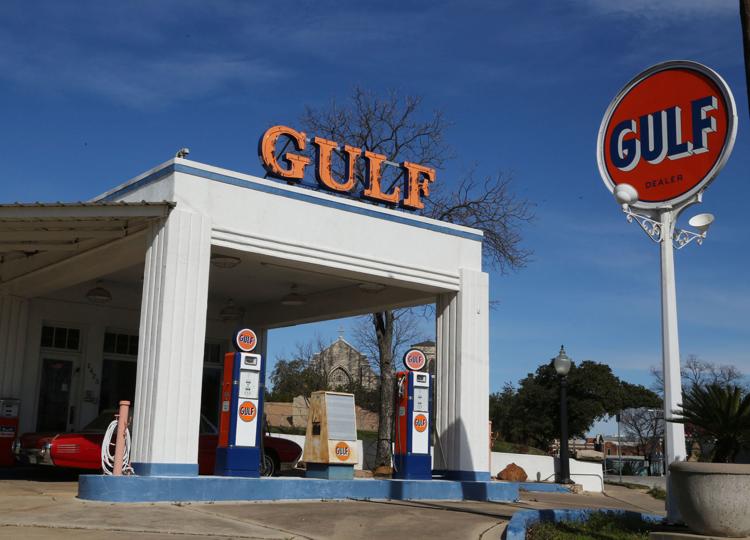 "It's just a shame that somebody doesn't do something with all the rest of those," Wilshire said.
Many could serve as gift shops or ice cream parlors, or whatever is needed, he said.
"It would be good for the community," Wilshire said. "There's a couple down on Elm Street. They're doing all this work to try and revitalize Elm Street. Eventually, there will be a lot of tourist traffic down there."
"If I won the lottery I would do it," he said.