If there were a Waco restaurant hall of fame, Leslie's Chicken Shack would have been a first-ballot honoree. For decades it served succulent fried chicken, mashed potatoes and yeast rolls to customers who flocked to the joint on Old Dallas Highway, even before there was an Interstate 35.
Countless locals and travelers popped in, attracted by the establishment's reputation and the tuxedo-clad chicken that towered 70 feet above the restaurant. It carried a walking stick under one wing and wore a top hat.
With the Chicken Shack now only a memory, the dapper bird now reclines in the back yard of Roadhouse Relics, neon artist Todd Sanders' gallery in Austin. Passersby may spot the chicken peering over a fence on South First Street, near downtown, a locale also known for its "Greetings from Austin" postcard mural on the side of the building, and mentioned in The New York Times "36 Hours: Austin, Tex." guide from 2012.
"I rescued him," Sanders said of the Leslie's chicken sign. "They wanted quite a bit of money in crane and trucking fees to bring him here, so I made a deal to pay $100 a month until I paid off the $2,000 debt."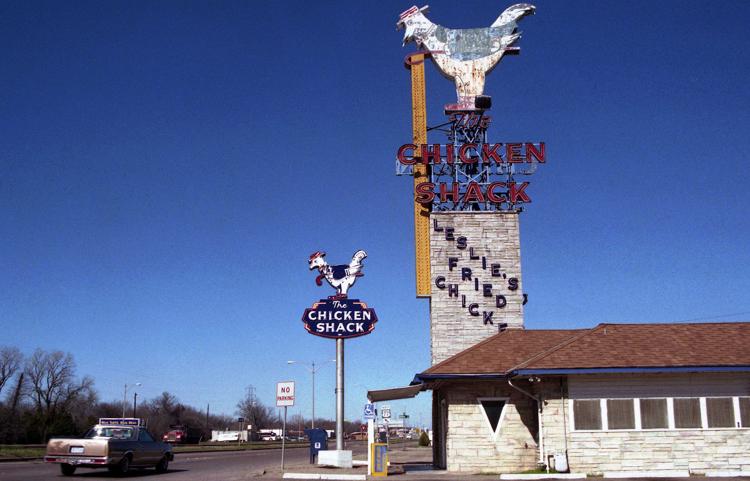 Sanders bought the sign before he hit the big time, producing neon signs for Willie Nelson, Johnny Depp, Miranda Lambert, Norah Jones and ZZ Top, according to his website.
Meanwhile, Sanders said countless visitors have engaged him in conversation about the Chicken Shack sign, recalling their visits to the restaurant of their youth. They remember the packed houses after church on Sundays, the aroma of chicken frying, the sight of Baylor University students peppering the sign with rolls, showcasing their throwing arms during late-night high jinks.
"I get people all the time who tell me that was the first place they had fried chicken," Sanders said. "They have convinced me to put honey on my chicken, saying that's how they ate it at the Chicken Shack. Now I'm sold."
Sanders was born in Houston and grew up in the East Texas community of Montgomery. He often traveled through Waco with his family but never personally experienced the charms the Chicken Shack had to offer, he said.
Still, he wanted the sign "that people could see from five miles away." He also pursues other Shack-related memorabilia, including old ashtrays and coasters.
"I've tried to research the sign but have not been able to find much," Sanders said. "The construction appears smaller-town in style, and it appears a portion of the top has been replaced using rivets from a different era."
He said restoring the sign and shipping it elsewhere "would cost tens of thousands of dollars," and he has not committed to the investment.
"I think it needs to come back to Waco," Sanders said. "I'm not inclined to sell it, though I have had interest expressed. One prospect who owns nearly an entire block near Interstate 35 took a look," but the deal fell through.
He said he would love to see the chicken roosting on Waco's traffic circle, possibly near the historical Elite Cafe building that "Fixer Upper" stars Chip and Joanna Gaines have transformed into Magnolia Table.
An email message to Magnolia spokesman Brock Murphy inquiring about the Gaineses' possible interest in the sign was not returned.
The original Leslie, Leslie Strange, opened the restaurant on April 1, 1934. It featured four tables and 12 stools, according to Tribune-Herald reports. Strange sold the business to H.L. Blanton in 1941 but retained the "Leslie's Chicken Shack" copyright. In 1954, Frank Smith and Sons bought the building from Blanton.
The Chicken Shack closed in early February 1995, when then-owner Randy Johnson's health was failing.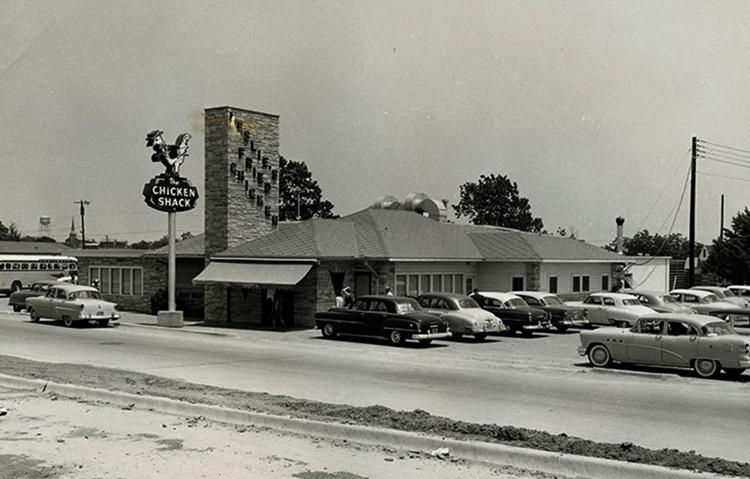 Restaurants sporting the Chicken Shack name have opened in other Texas communities, but their ties to Waco's version remain unclear.
Ronnie Dunn, who manages the Chicken Shack in Corpus Christi, said its logo remains a white chicken wearing a blue tuxedo, making it a match for the bird that towered above Waco.
"We have a big stand-up sign that you can see from the highway," Dunn said. "I'm not sure who started Waco's, but I'm told we all use the same recipe."
Longtime Waco restaurateur Sammy Citrano, who owns George's Restaurant Bar and Catering in South Waco, said he managed a Chicken Shack in Huntsville for the late David Tinsley before relocating to Waco. He said to the best of his recollection, the restaurant featured a large chicken-centric sign. It has changed hands and no longer carries the Chicken Shack name, Citrano said.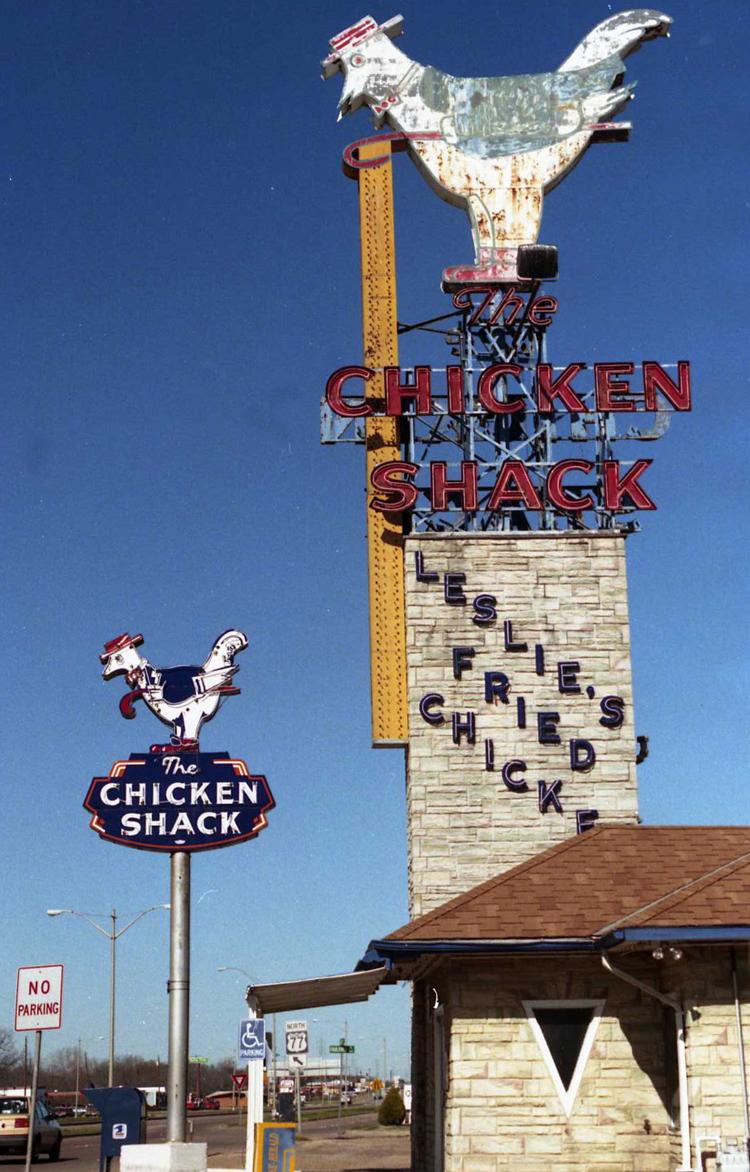 Meanwhile, Sanders said his studio has become somewhat of a tourist attraction, typically hosting two busloads of visitors daily. His pieces are priced starting at $3,500, with some limited editions fetching $25,000.
"Before pursuing fine art, Sanders studied graphic art in college. A chance spring-break trip through Austin ignited his passion for both the city and neon art, so he relocated and found work at a neon sign company. He stayed three years before starting his own business in 1995," according to his website. "In 2007, he left commercial signage behind to devote himself to his art."
His artwork has appeared in Esquire, Fortune, Texas Monthly and Southern Living magazines. He made his 5-foot-by-30-inch "Fireflies in a Mason jar," for the wedding of Miranda Lambert and Blake Shelton.
"I do everything 100 percent by hand, using no computer graphics," he said by phone. "If a sign dates back to the 1930s, that's how I want it to look, right down to the rust. What it takes Mother Nature 50 years to do, it takes me about a week. I rescue old signs from all over Texas."
The Chicken Shack is not the only fowl-focused image on his premises.
A sign proclaiming "Diesel Fried Chicken," appearing on a ramshackle purveyor of both in Van Horn, and referenced in Cormac McCarthy's novel-turned-movie "No Country for Old Men," captured Sanders' fancy.
"It's now leaning against the Chicken Shack sign," he said with a laugh.