In the movie "Green Book" playing in theaters across the country, black pianist Don Shirley (Mahershala Ali) hires a white nightclub bouncer Tony Vallelonga (Viggo Mortensen) to drive him to concert dates across a racially segregated South in 1962.
Shirley's reasons for choosing Vallelonga are twofold: Having a white driver may defuse possible problems encountered by a black man in public places in the South, and Vallelonga's familiarity with using force may help in case there is violence.
For some viewers, "Green Book" is a revelation of what travel was like before civil rights legislation of the 1960s eroded legal segregation. For others, it is no revelation, but a reminder.
The film's title comes from the title of an annual travelers' guide created and published by Harlem postal worker Victor H. Green, "The Negro Motorist Green Book." The paperback book was sold from 1937 to 1966 as a way to steer black travelers to accommodations and services where they would not be refused or threatened because of their race.
As more families traveled by car in the 1940s and 1950s, the possibility of an unpleasant or dangerous encounter while stopping for gas, food or a place to spend the night caused many to look for a resource that would help them plan ahead. Green saw an opportunity and drew on a network of black postal union members to provide motorists information for cities across the United States.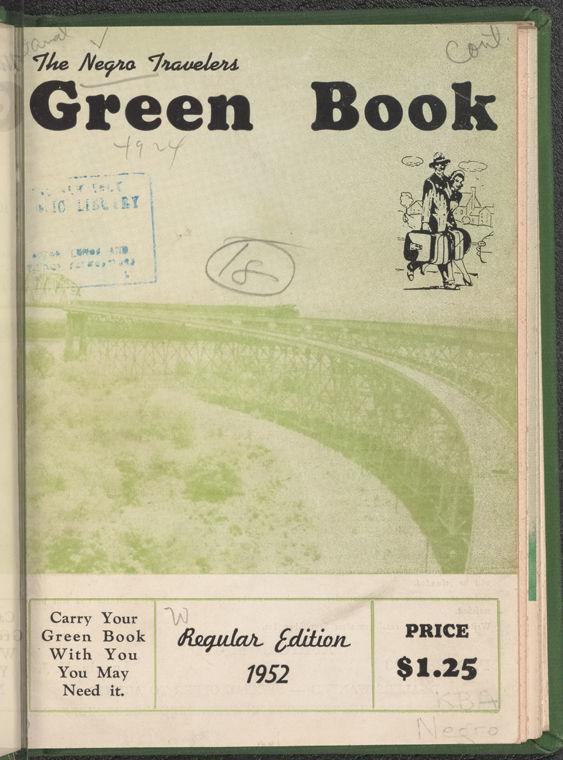 Green retired from the U.S. Postal Service in 1952 to publish the guide full-time. At its height, the "Green Book" — most with the suggestion "Carry your GREEN BOOK with you … You may need it" printed on the cover — sold some 20,000 copies nationwide, distributed by churches, Esso gas stations and the Negro Urban League.
By 1941, Waco businesses started showing up in the guide, and local listings continued until 1966 when Green stopped publication. "Green Book" listings were minimal, largely consisting of a name and address under a category with no additional information.
Categories and locations provide insight into intercity travel in an earlier time. Of the Waco businesses listed in more than a decade's worth of guides, only the Jockey Club barbershop continues to operate, although at a different location than its former spot at the intersection of Franklin Avenue and Second Avenue.
Beauty shops were the most numerous listings for Waco, with up to nine shops, salons and possibly rooms in homes mentioned with names that are now just memories: Cendivilla, Cinderella, Ideal, Mayfair, Modern, Murphy's, Earle Street, Odessa's and Hine's.
Why beauty shops and barbershops in a travel guide? Long drives in unairconditioned cars with the windows open often left hairdos in need of repair, and many beauty shops in the South were racially segregated.
Other Waco services offered in "Green Books" included garages, Malone's, at Clay and River Streets, and Edward's, at 1029 Elm St.; service stations, Hick's, at Franklin Avenue and Second Avenue; and restaurants Kirk's, at 1114 S. First St., and Harlem, at 123 Bridge St.; roadhouses, the Golden Lily, 426 Clifton Ave.; nightclubs, Waco Longhorn at 19th Street and LaSalle Avenue; and taverns, Green Tree, at 426 Clifton Ave.
The two longest-running listings for accommodations were B. Ashford's tourist home, 902 N. Eighth St., and the College View Court-Hotel at 1129 Elm Ave. Owned by former Paul Quinn College President J.W. Yancy, the College View offered lodging for visitors to the nearby college.
Waco's "Green Book" listing locations also show the city's pre-interstate traffic patterns, with most downtown or along or near Elm Street, one of the main highways into town.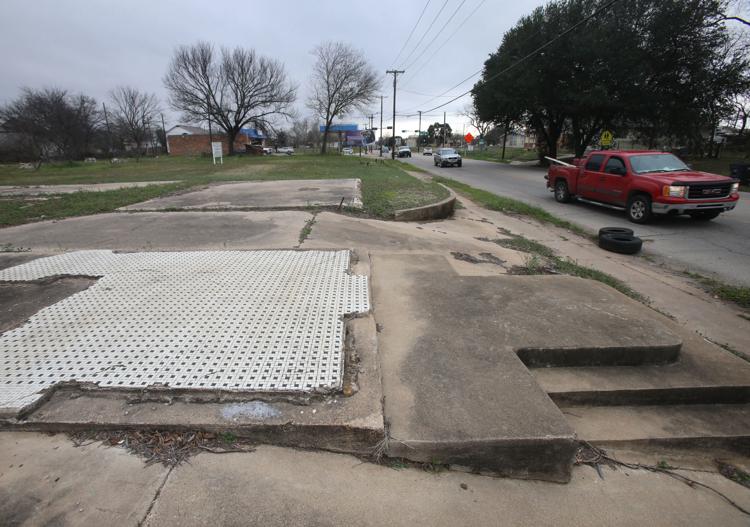 For Waco resident Noah Jackson, 85, the subject of travel in a segregated Texas and South brought back memories of his days playing football for A.J. Moore High School and post-graduation travel with the semipro baseball team the Waco Redlegs, which he owned and managed.
The 1952 A.J. Moore graduate remembered his coaches took care of travel plans when their football team played in cities across the state. When he headed a barn-storming baseball team, however, that became his responsibility.
"We always ate our meals or stayed at African-American places," Jackson said.
Much of that information was word-of-mouth, and places where he and his teams had bad experiences became places never to stop at again. Jackson and his players would return the favor when black ball teams came to the Redlegs' home field of Katy Park for annual tournaments, steering players and coaches to friendly restaurants.
"We knew places that white people didn't know about," he said.
By the 1970s, when Jackson was traveling with Waco Pee Wee Football and Little League teams that he coached, things had started to change, though not necessarily because of changing social views on race. The expansion of fast-food places and chain restaurants brought a different attitude toward customers.
"They didn't discriminate. They just wanted your money," Jackson said. "They came in with a different philosophy: Serve anyone who came in. … The old established Waco places were the last to change."
Beulah Barksdale, 86, attended college at Nashville's Fisk University in the early 1950s. Her parents owned a car, but most of her long-distance travel was by train, with the car generally used for family trips to see relatives in San Marcos, Galveston, Austin, Fort Worth and Houston.
"We packed lunches. We packed food coming and going," Barksdale said of the car trips.
Family leaned on family, college students on classmates, church members on church members to cope with the challenges of travel and finding lodging in a segregated society.
Waco's Paul Quinn College, an African Methodist Episcopal affiliated college, frequently hosted AME gatherings and meetings that pulled visitors from across the state. They stayed largely in people's homes rather than book lodging in motels.
"We took care of each other," Barksdale said.
She said travelers who found the "Green Books" most helpful were likely the ones from the North journeying through unfamiliar and possibly hostile territory. Black people in the South knew how to play the segregated game.
"We learned a long time ago how to live a double life," she said.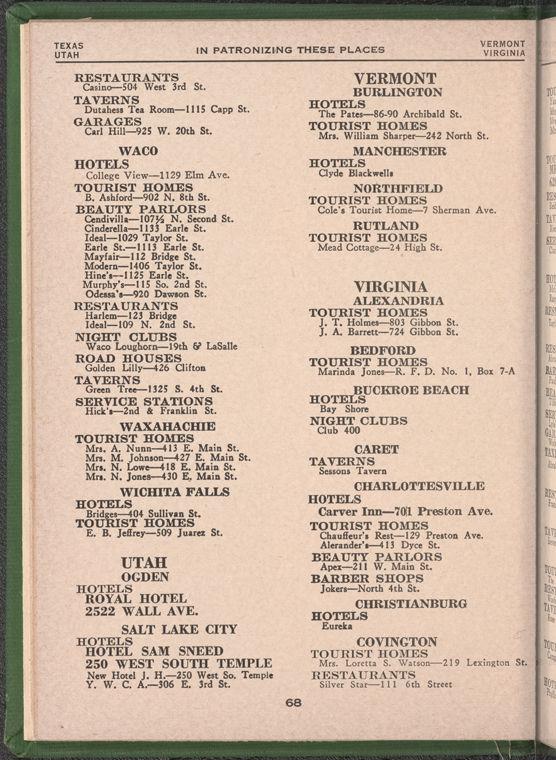 Henrietta Napier, 89, the first black nurse in McLennan County, did her medical training at Nashville's Meharry Medical College in the early '50s. Her school was right across the street from Barksdale's.
But much of Napier's long-distance travel was by rail because her father worked at the Missouri-Kansas-Texas Railroad's Bellmead roundhouse and the family could use rail passes.
Black passengers needing to stay overnight to make train connections could sleep in the station or find a room to rent from black families living near the station, she said. Black cab drivers also knew places to eat and stay away from the station.
Trains in the South were racially segregated, yet another discomfort for black passengers.
"The black section was right behind the engine, and you had smoke come into that part of the train," Napier said. "On the bus, you rode in the back. On the train, you rode at the front."
Travel by car required a little thinking ahead.
"I do remember my daddy taking a gallon of gas in the car and saying, 'Just in case,'" Napier said. "You always took food with you because you never knew if you'd be able to get a hamburger. Picnic lunches were very popular."
Racially separate bathrooms, restaurants, motels, theater seating, even water fountains — those were just a fact of life growing up black in the Jim Crow South.
"You knew 'colored' meant 'colored' and 'white' meant 'white,' and you sort of obeyed the law," Napier said. "I think my parents just said obey the law and you won't get into trouble. … But you also thought 'It isn't going to be like this always.'"
Years of habit are hard to break, even despite changing times, Barksdale said.
"When did things start to change? I don't know because we still fix lunches when we travel," Barksdale said with a laugh. "To this day, I still have an emergency toilet in the car, and I never have used it. You learn to live in two different worlds."