A half inch of rain the day before may have soaked the Robinson pasture where Waco's first girls troop of the Boy Scouts of America — part of the national organization's new Scouts BSA program — camped out last week, but it did not stop the scouts from pitching tents, setting up a campfire, cooking over coals, fishing, hiking and sleeping under the, well, clouds.
In short, camping is a major reason many of the 16 female scouts in Troop 308 gave for deciding to join. As Willow Alexander, 11, explained at a troop meeting later in the week, camping is what separates the Boy Scouts and Girl Scouts in her mind.
"They're way different," Willow said. "I don't want to say anything bad about Girl Scouts, but their camping is more like a sleepover. It's in cabins and there's air conditioning. But the Boy Scouts, it's just wilderness."
Or, as she and fellow scouts discovered first-hand last weekend, "Mud. Mud and ticks."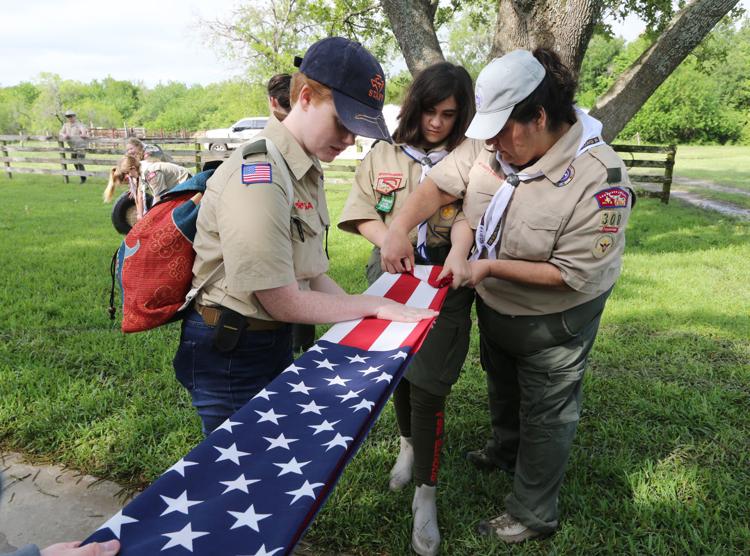 But still, it is camping. Senior patrol leader Jillian Nemec, a 16-year-old Midway High School student, said the trip had all the essentials.
"It was fun," she said. "We got to cook our food, set up a tent and make a campfire."
For 11-year-old Meg Morrison, granddaughter of the first woman to serve as BSA National Commissioner, Ellie Morrison of Waco, the camp out was mission accomplished.
"I led the hike," Meg said. "I went to see my goats. I got a lot of skills and I signed them off in my book."
In the troop's "roses and thorns" post-mortem discussion, Morrison's rose was remembering to bring her hammock, and her thorn was water in her boots.
Troop 308 Scoutmaster Melody Terrell, a veteran leader of Boy Scouts, Girl Scouts and Campfire Boys and Girls, remembers a thorn for the troop: No one remembered to pack snacks for the first day. That meant no snacks, a lesson in responsibility learned for future camping trips and one of the reasons the 62-year-old retired school teacher and academic language therapist finds herself in scouting.
"It's something I enjoy terribly and believe in," Terrell said.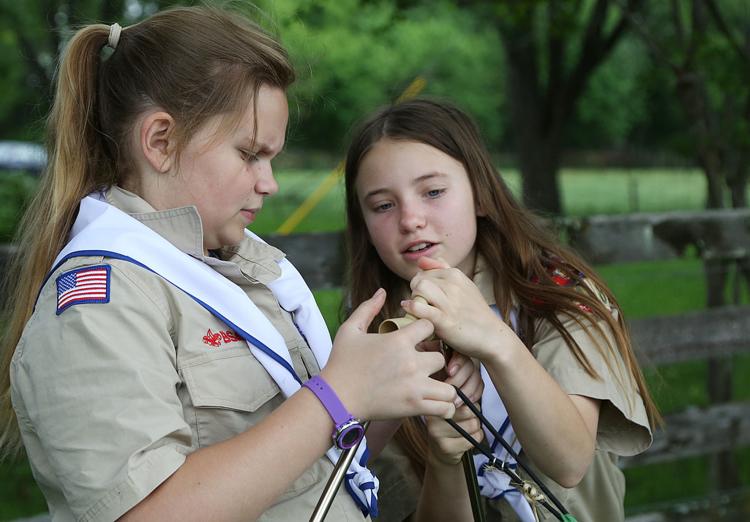 The seed that led to Waco's Troop 308 for girls was planted in 2017 when the Boy Scouts of America announced it would allow girls to join its Cub Scouts program, and then it would replace its flagship Boy Scouts program with Scouts BSA, allowing girls to work up to the top rank of Eagle Scout.
That led to discussions among leaders in Troop 308, chartered by the First United Methodist Church and the oldest continuously serving troop in Waco. It was not controversial, said Mike Stone, the church's contact with the scouts.
"The church is all about serving youth, and we just asked to see if there was interest in it," Stone said.
Last fall, Cub Scout Troop 308 for girls was started, with the older Scout Troop 308 for girls launching in February. The Waco girls troop is the first in the Indian Nations district and one of 30 in the 23-county Longhorn Council. Nationally, there are 1,980 BSA female troops with a total of 14,670 scouts.
Since its founding, the Waco troop has grown from 10 to 16 scouts, expanding from two patrols to three.
That is gratifying for Scoutmaster Terrell, who got involved in Boy Scouts more than 10 years ago when looking to get her grandson, Evan Strot, involved in something worthwhile. She had been involved with the Boy Scout Exploring program when she was in high school and remembered it favorably.
The Exploring program, now an independent BSA affiliate, has been open to boys and girls since the '70s.
"I looked for something to help me raise this child into a man," Strot said.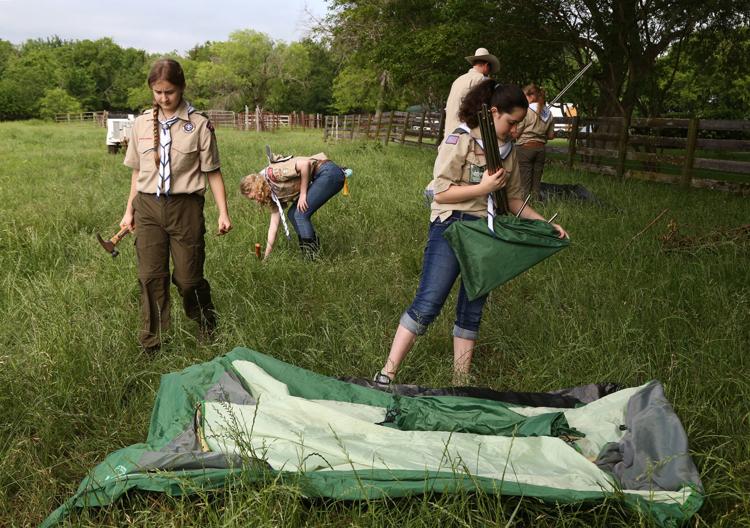 She agreed to volunteer if a Cub Scout troop at its enrollment limit would make room for him. It did, starting a journey that would lead to Evan earning the rank of Eagle Scout and Terrell serving for years in scouting leadership roles.
Terrell had agreed to help staff several National Jamborees and was not surprised when she was asked to lead the new girls troop. While her scouts may see camping and skill acquisition as major reasons to join, she believes in the group's leadership training and character building.
She makes her patrol leaders run the weekly troop meetings, plan outings and lead projects, with as little oversight as necessary.
"The best meeting is me sitting at the back of the room," Terrell said.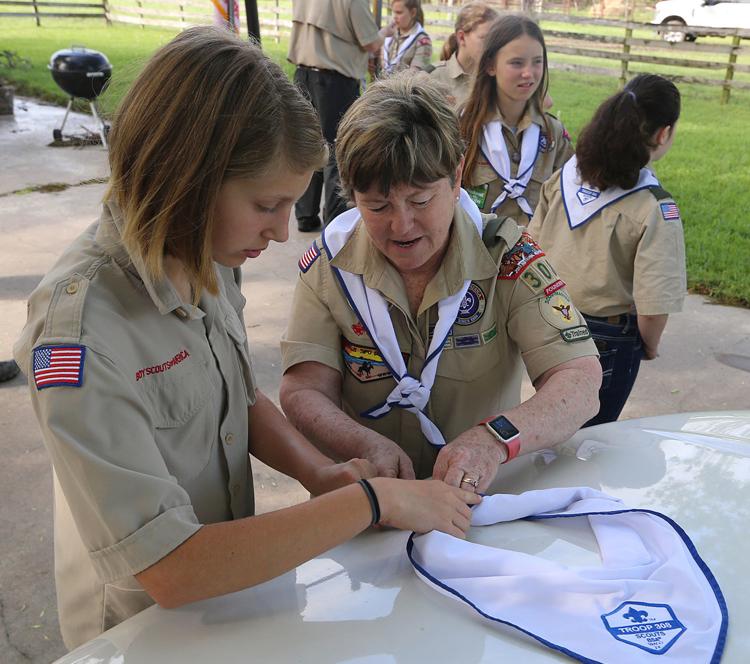 And grouping scouts into same-sex troops merely acknowledges that girls and boys mature at different rates, the former classroom teacher said.
For 18-year-old Shaelynn Conk, a McLennan Community College student aiming for a civil engineering degree, leadership was a takeaway from her time as a Venture Scout, a co-ed Boy Scouts of America program for high schoolers. It was created in 1998 as a spin-off of other co-ed programs that date to BSA's early days.
Conk's Venture Scout group in Temple eventually disbanded, but the scouting philosophy of peer leadership proved valuable, she said.
"(Scouting) is a great place to fail," she said. "You turn to your fellow scouts to solve the problem."
Conk presently serves as an assistant scoutmaster for Troop 308, where her sister Aubree, 13, is a scout and her father, Matthew, an Eagle Scout, also is assistant scoutmaster.
The Conks are not the only connected family in the troop. Willow Alexander's parents Sam and Flip are assistant scoutmasters, as is Meg Morrison's father, Evan. Multiple scouts also have brothers who were or are Cub Scouts and Boy Scouts, and a few Troop 308 Scouts are also Girl Scouts.
In fact, the lines between Boy Scouts and Girl Scouts may be blurrier on the ground than to the adults running the organizations. Boy Scout enrollment of girls in the last two years has not seemed to affect the Girl Scouts of Central Texas, said Hannah Bruno, the Girl Scouts of Central Texas marketing director.
"Fortunately, we haven't seen any kind of decrease. In fact, we've seen a little bit of an increase," Bruno said.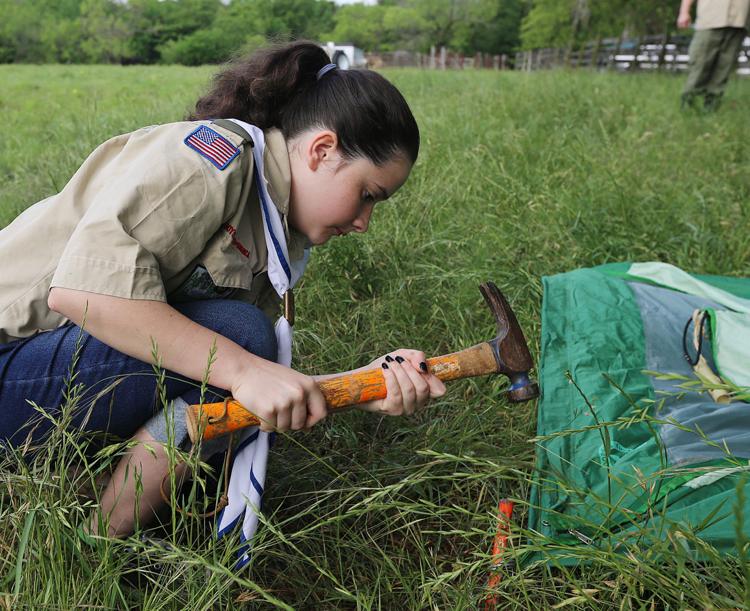 While both organizations work with similar age ranges and cover many of the same subjects and skill training, Bruno said the Girl Scouts focus on empowerment in "the four pillars:" entrepreneurship; science, technology, engineering and math; life skills; and the outdoors.
"What's unique about Girl Scouts is that it's girl-led," she said.
Boy Scout leaders asked to compare the two organizations declined to comment.
For the scouts of Troop 308 for girls, there is more pressing work at hand: skills mastered for merit badges, advancement from tenderfoot to Eagle Scout, community service, organizing hikes in Cameron Park and, weather permitting, camping every month.
For her entire young life, Meg Morrison, 10, was the only member of her family without a Boy Scout uniform.