Memoirs and memories share most of the same letters, by no coincidence. Memoirs, as defined by Merriam-Webster, are narratives drawn from personal experience, and memory is where one's personal experience is stored.
For many writers, particularly beginning ones, memoirs offer a convenient size somewhere between a full-blown autobiography and an essay.
In her critically praised memoir "Holy Ghost Girl," Austin writer and former Waco resident Donna M. Johnson wrote about growing up in the shadow of 1960s and '70s tent revivalist David Terrell. She frequently talks about memoir writing in workshops across the state and offers some pointers.
"Generally, (a memoir) is a slice of life or a life viewed through a particular lens," she said. "I tell my students that there needs to be some sort of reflection on their memories for it to make sense."
Time and meaning are essential to a memoir, but so are rounded characters and a touch of wise perspective, Johnson said.
"One of the main pitfalls (in memoir writing), and I did it in mine, is a slavish adherence to chronology," she said. "The truth is, every day is pretty much alike. I urge my students not to use their writing to settle grudges from the past. … This can't just be how people of your past failed you."
Here is a look at three Waco writers who published slices of their lives last year in memoirs.
Craig Nash, '17th and Dutton'
"For years I had been losing people I loved, and now it felt like an identity, a way of understanding church that I loved, was slipping through my hands and I reacted in anger. Cutting off people at every turn as they talked, my lack of emotional stability and maturity was being vomited out for everyone to see.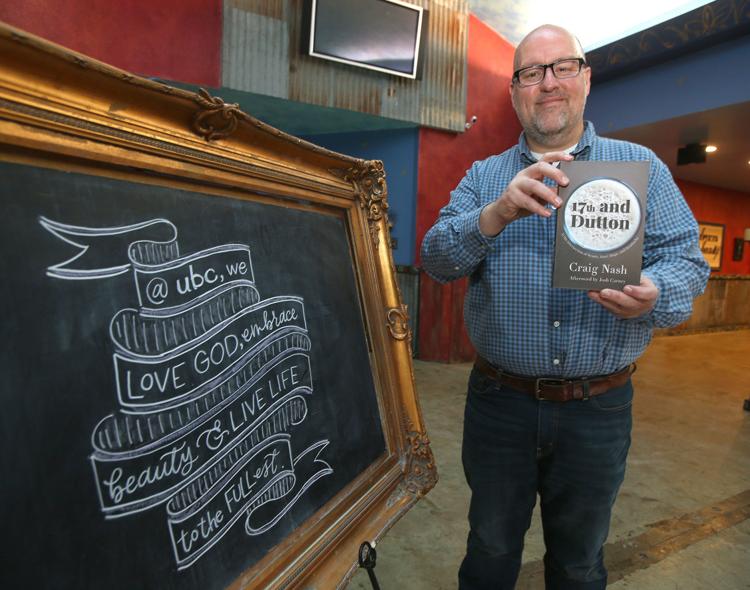 The title of Craig Nash's memoir tips off its sense of place: a specific place known as University Baptist Church, located at the street intersection of the title. It is a church where Nash was first a member, then later a staffer during a crucial period of the young church's formation and evolution over time.
Nash, 44, found himself drawn to and excited by the church in its early days in the late 1990s and early 2000s, offering a new experience and approach to worship and culture differing from the Southern Baptist Church Nash had grown up with. Over 15 years, Nash moved from member to staff member to ex-staffer, when church finances led to the elimination of his position. Emotionally bruised from that experience, he took advantage of what he termed a generous severance from UBC to write much of what became "17th and Webster" during a summer trip to Estonia, where he had served as a missionary.
"My goal was never to write a biography of the church, but more for people who were interested in the Emergent Church. UBC was an early iteration of that," he said.
The Emergent Church is a movement that started in the late 20th century that argued for new ways of relating faith to culture.
For Nash, the years at UBC offered the exhilaration of re-examining the local church and its Christian mission, including worship style, music and organization, even as it experienced growing pains with structure, leadership and personalities. Writing about it, he felt, could provide some perspective.
Nash knew from nine years' experience with Barnes & Noble Booksellers that changes in book publishing meant landing a contract for a memoir would be rare, so he opted to put much of his raw document online in blog form, starting in late 2015. Two years later, some friends started Patristica Press, a print-on-demand company, and Nash opted to pursue a book with them.
The book, with an afterword by friend and UBC pastor Josh Carney, has sold several hundred copies, but is out of print with Patristica Press presently on hiatus, leading Nash to put it back online at 17dutton.com.
"(The memoir) opened up a lot of good conversations and better closure over that experience," Nash said.
He is now regional manager for child hunger outreach at Baylor University's Texas Hunger Initiative.
With one book behind him, Nash is contemplating a second memoir, one looking at his life and country music.
Susan Duty, 'Consider the Damn Lily'
"Together, we were — we are — a legion of odd fellows, outcast pirates, liars, thieves. We have sailed with tempests, but gave up our sinking vessels for new lifeboats. And we don't steal anymore, and we try not to lie so much. Each day, I get to meet girls like me, and I do my best to help them in the same ways people helped me. For all its idiosyncrasies, it's a fun circus to be a part of.
And that, boys and girls, is the story how I ran off to join the circus completely sober — not like that time I tripped acid in 2002 and sincerely thought the carnival was a viable option."
Susan Duty knew she wanted to be a writer as early as first grade. It just took a few brushes with intense life experiences such as substance abuse, two broken marriages and motherhood before that writing got put between the covers of a book.
She knows she is lucky her self-destructive years did not kill her and thankful to enjoy life as mother to her daughter Ava, as a reading teacher to sixth-graders at Cesar Chavez Middle School and as a guide to anyone who relates to her story.
Duty, 33, grew up in a conservative Baptist environment, the daughter of Roland and Mary Duty of Waco's Poppa Rollo's Pizza fame. After years in the wilderness, she is in a spiritual place of belief, not defined by a four-walled church but perhaps a territory outside its walls.
"God loves weirdos, and I write for that girl who doesn't fit in. … I talk about God and I cuss," she said.
"Consider the Damn Lily," a title that proves her point and her irreverent attitude, grew from assorted writings, including pieces posted on her website girlnamedsooz.com, essays for the Tribune-Herald and therapy writing for rehab.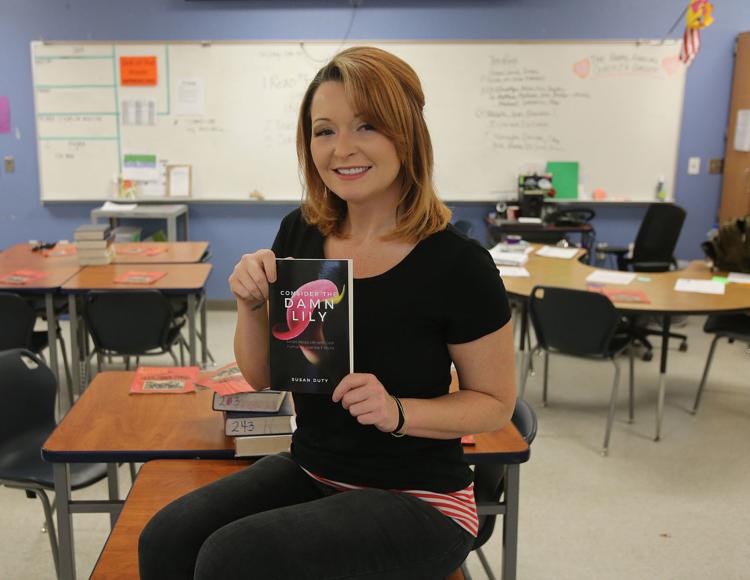 Her self-published book — more control over her material with about the same amount of work to market and sell, she said — not only provides a physical proof that she is a writer, but allows a communal experience in a way that online writing does not. Duty has found copies of her book at local treatment centers.
"That's a cool thing. I'm very tied into the recovery community in Waco," she said, adding that is a major reason she writes so vulnerably and openly. "You do it because you know it will help someone."
She continues to write, with new material often on her website, and is taking writing classes through the Writers League of Texas. She said she considers her writing and her teaching both deep callings.
"Everyone's writing a memoir," she said with a laugh. "I know I'm supposed to be a teacher and I'm supposed to be light wherever I go."
Linda Crawford, 'God, Destiny and a Glass of Wine'
"And here I was, 29 years old, married to a drug addict. I had so many stories to contend with, jumping fences to get my car back from the drug dealers, standing toe-to-toe and nose-to-nose with dealers who threatened to kill me if I didn't leave them alone about getting my car back, knocks on the door in the middle of the night from thugs demanding money my husband owed them, stealing my own car back and driving backwards, trying to miss the flying bullets. You name it; I just about dealt with it."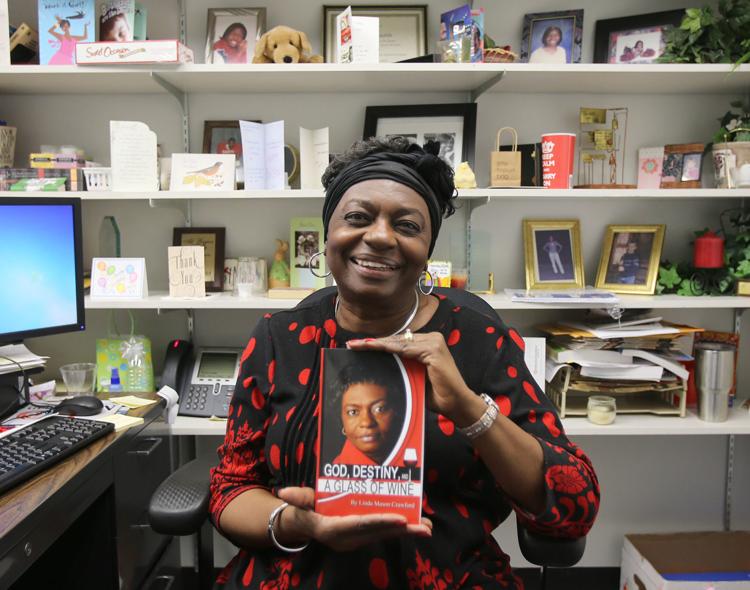 Like Duty, McLennan Community College English professor Linda Crawford knew from her childhood that she wanted to write. After surviving a drug-abusing husband, poverty, single motherhood and dropping out of school, the Mississippi native knew she had experiences as a young adult worth writing about. Still, it took a word from God to get the job done.
"I knew at some point I was going to write about it, but it was going to be a guide, 'Married To An Addict,'" she said.
That guide would have some practical advice for people trapped in a marriage or other relationship with an addict. Handy tips, like always carrying your car keys so your husband cannot sell your car for drug money. Or telling your employer not to let your husband pick up your paycheck.
After that, though, Crawford would stall. The member of High Point Church made it a matter of prayer and after writing out an initial chapter, she realized her story was about forgiveness as well as surviving an abusive partner and her audience broader than people living with addicts.
Over time, Crawford, 62, collected ideas and notes for her book, sticking them on her computer or, if she was out driving, calling them in to voice mail to recover them at home or school. The tipping point came at a Sunday morning worship service in Oct. 2017.
"My pastor said he had a word for me that he did not quite understand, but it was 'Get. It. Done,'" she recalled, knowing full well what that meant. "And so I did."
Chats with colleagues, church members, her second and current husband J.L. and, well, God shaped the book into something different than a guide. Readers' activities at the end of each chapter, motivational questions and a strong faith message throughout makes her "God, Destiny and a Glass of Wine" useful for group studies and devotionals.
She published her book herself, admitting that self-publishing involves a lot of work to market, distribute and sell, as well as overcoming a prejudice some readers may have against self-published works. Still, another book, perhaps a devotional, may be in her future, she said.