---
A noon-hour shootout Sunday involving rival motorcycle gangs and Waco law enforcement officers left nine people dead and at least 18 wounded at the Twin Peaks restaurant in Central Texas Marketplace, with a veteran Waco police spokesman calling the crime scene the bloodiest he has ever seen.
The melee reportedly started in a Twin Peaks restroom and quickly spread to the bar and spilled into the parking lot, where an estimated 100 bikers with allegiances to as many as five gangs had gathered.
Law enforcement officials said at least two of the gangs were trying to recruit new members.
Multiple police sources confirmed that the Bandidos and Cossacks were two of the five gangs involved.
Waco police Sgt. W. Patrick Swanton said Twin Peaks had become a known hangout for motorcycle gang activity and he blamed management for creating an atmosphere that contributed to Sunday's violence.
"What happened here today could have been avoided. . . . They failed and this is what happened," he said, referring to the Twin Peaks local management.
Swanton repeatedly said throughout the day that law enforcement officials had asked for cooperation from Twin Peaks' management and received none until after Sunday's shooting.
Jay Patel, operating partner in Twin Peaks' Waco franchise, posted on the restaurant's Facebook page: "We are horrified by the criminal, violent acts that occurred outside of our Waco restaurant today. We share in the community's trauma. Our priority is to provide a safe and enjoyable environment for our customers and employees, and we consider the police our partners in doing so. Our management team has had ongoing and positive communications with the police and we will continue to work with them as we all want to keep violent crime out of our businesses and community. We will continue to cooperate with the police as they investigate this terrible crime."
At a media update about 10:30 p.m., Swanton responded to Patel's claim that Twin Peaks has been cooperative with police by saying, "That is an absolute fabrication."
Gang members reportedly clashed using knives, chains and clubs, and then drew firearms on each other and on law enforcement officers who responded.
"In 34 years of law enforcement, this is the most violent crime scene I have ever been involved in," Swanton said. "There is blood everywhere."
He estimated that 100 weapons were used, and said vehicles parked near Twin Peaks were riddled with bullet holes.
He added, "This is one of the worst gunfights we've ever had in the city limits. They started shooting at our officers."
The shootout prompted authorities to shut down Central Texas Marketplace, at State Highway 6 and Interstate 35.
Other local dining and drinking establishments, including Rudy's Country Store & Bar-B-Q at I-35 and Circle Road, closed early as concern spread that other gang members were traveling to Waco to resume the violence.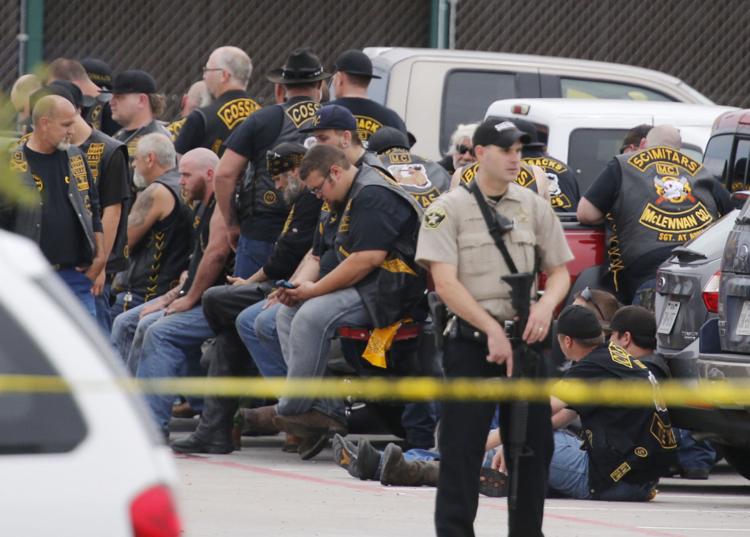 Local, state and federal law enforcement agencies were on high alert Sunday afternoon. Long before Sunday's violence, the Department of Public Safety and intelligence agents reportedly were investigating the biker gangs and their activities in Waco, specifically at Twin Peaks.
At least 12 Waco officers, including a SWAT team, and DPS troopers were at Twin Peaks or in the immediate area when the incident erupted.
But they could not immediately quell the violence and chaos of what one witness described as akin to a war zone.
"There were maybe 30 guns being fired in the parking lot, maybe 100 rounds," said Michelle Logan, 37, who was at the restaurant and said she knows some of the victims who were wounded and taken to both Baylor Scott & White Hillcrest Medical Center and Providence Health Center. "There's a lot of people in the hospital, a lot of people shot."
Logan said she did not get the impression that the incident was a random confrontation, adding, "It was a setup."
At least 18 people were confirmed injured, in addition to the nine confirmed dead. The nine killed were all members of biker gangs, Swanton said, as were the 18 people who were taken to hospitals. Most of the injured had gunshot or stab wounds, and some suffered both. Some of those suffering injuries were transferred to different hospitals for their own safety, Swanton said.
Brad Doan, general manager of the local Twin Peaks, said the restaurant did not have an immediate statement in response to the shootings or Swanton's claim that Twin Peaks was not cooperative with police until after Sunday's shootings. Doan referred all questions to corporate management in Dallas, which could not be reached Sunday afternoon.
But Rick Van Warner, a spokesman for the Dallas-based corporate franchisor, said the company is reviewing the circumstances surrounding the shooting and is "seriously considering revoking" the Waco location's franchise agreement.
Van Warner said he couldn't address what the franchise owners "did or didn't do leading up to this," but added that the company is "very upset that clearly our standards of safety and security were not upheld in this particular case," he said.
Later in the evening, Twin Peaks tweeted: "Our thoughts and prayers are with the families and victims of the tragedy at franchise partner's restaurant in Waco."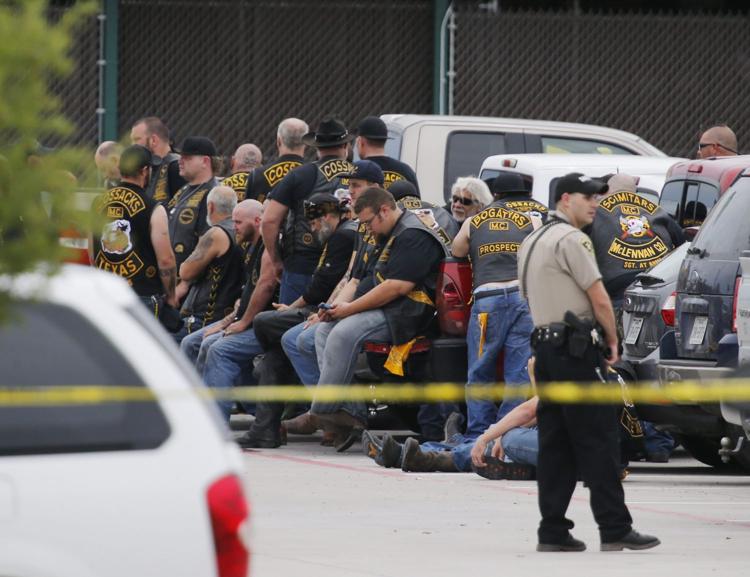 Officials continued to comb the crime scene early Sunday evening, and several weapons and even dead bodies remained in the parking lot.
Authorities ferried about 100 people to the Waco Convention Center from the marketplace for questioning, and several streets were closed downtown, including bridges spanning the Brazos River.
Reports trickled in Sunday evening of stores and restaurants closing early because of concern over renewed violence, among them the Dodge City Saloon at 1009 Wooded Acres Drive, where an employee who would not identify himself said the club was shutting down about eight hours before the usual closing time.
"The owner thought this was the safe thing to do," he said. "He did not want anyone to be put in harm's way."
A person who answered the phone at the Don Carlos Mexican restaurant next to Twin Peaks said he would have no comment and abruptly hung up the telephone.
The 24-hour Wal-Mart Superstore on Franklin Avenue reportedly closed for business early in the evening Sunday.
Police on Sunday afternoon received reports that possibly hundreds of members of the biker gangs from around the state were headed to Waco.
But Swanton had a warning for those who might feel inclined to travel to the city to take up the fight: "I would encourage them not to. We have plenty of room in our jail."
He said Sunday evening that he had no idea of the number of people who would face charges over the shootout, saying the investigation likely would prove lengthy, but he expected the number of arrests to be substantial. Swanton said late Sunday that more than 100 people had been detained.
"I do want the people of Waco to know that we have the situation under control," Swanton said.
Swanton declined to identify the gangs involved in the shootout, saying: "I don't care who they are. They're a criminal organization."
Three gang members arrested outside the neighboring Cabela's Outpost with weapons were taken to the McLennan County Jail on charges of engaging in organized crime.
The sergeant said police will charge suspects with the most severe charges possible, adding: "This is not something we're playing around with. This is a major crime scene . . . a pretty gruesome scene."
He added, "I don't think people were defending themselves. I think they were involved in criminal activity and didn't care who they shot."
Associated Press contributed to this report.