Cindy Dennard remembers her life as a young mother, raising three children with her husband, alongside their two pet dogs, Lucy and Odie.
Lucy, a dachshund, and Odie, a Labrador mix, were considered furry members of the family, and they remain a reminder of that chapter in Dennard's life, thanks in part to the pets' final resting place, the Sleepy Hollow Pet Cemetery in Bellmead.
"Lucy was seven when we lost her to heart worms about 20 years ago and Odie, we had him almost 15 years, and he just wore out," Dennard said. "Odie was so funny, knew so many tricks, and we used to call him the nanny dog, because if there was a little in the house, Odie was watching over the little."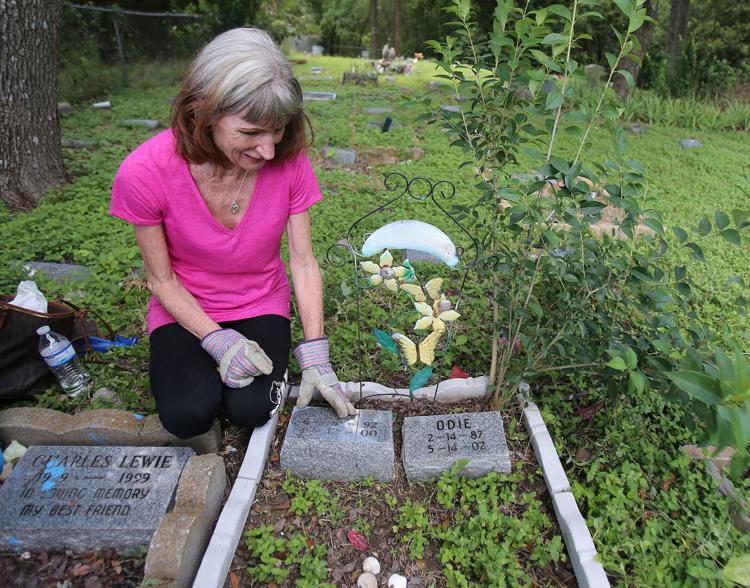 Lucy died in 2000, shortly before Odie. Dennard and her family had lived in Bellmead 19 years but had long-term plans to move on from their house, so they did not want to bury Lucy and Odie there and be forced to leave them behind.
"It still hurts sometimes and I miss them still, but it's nice that we all have a place to come visit them," Dennard said. "They were just wonderful animals, they were great companions and they absolutely were a part of our family. We still treat them like a part of our family."
Opened in 1978
Lucy and Odie are two of the hundreds or thousands of pets buried at Sleepy Hollow Pet Cemetery since it opened in 1978 off Bellmead Drive, near the Doris Miller Memorial Park. It started as a one-acre plot and has been expanded since.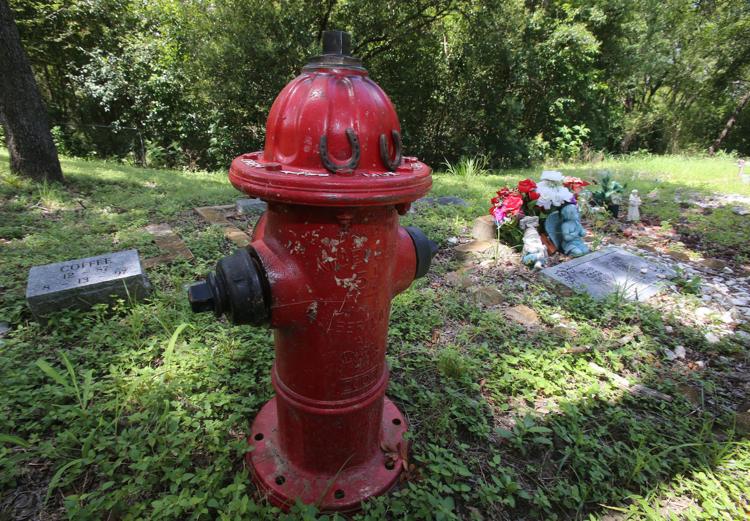 Sleepy Hollow Pet Cemetery is decorated with scores of marble grave markers, plus ornamented tombstones and memorial urns, even a repurposed fire hydrant.
"This is a beautiful spot with all these trees, all this shade," Dennard said. "The noise of the highway is an irritant, but oh well. They don't care. I like that they have company."
Jesse Perez Jr., a retired Waco insurance salesman, heard about a pet cemetery somewhere in Bellmead after he lost his beloved dog Buster in 1989. He found the Sleepy Hollow property had been abandoned for several years and had ended up in the possession of a bank.
Perez had hoped to buy plots for Buster and for future family pets but ended up buying the original one-acre property and eight more adjacent acres that sit in a flood plane. With determination and help from family, he started cleaning up the overgrown pet grave sites.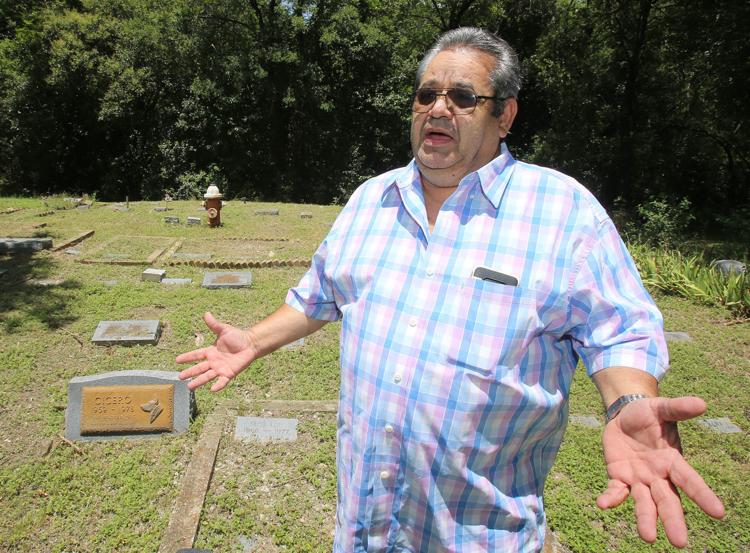 "I didn't want to bury my dog in the backyard, because I didn't know if we were ever going to move and I didn't ever want to leave them behind," he said. "Now, they are all my pets."
Family participation
At the height of operation, Perez said he buried eight to 10 pets a month, giving locals and travelers alike a place they could return to visit their lost pets. Perez lets the owner pick a spot on the property, and he digs the grave, builds a burial box and performs the burial, allowing the family to participate if they wish.
"It was always about half and half," he said. "I'd say now, about 65 percent of these people are gone and don't come visit anymore. I tell everyone who comes out here that I now consider their pets as my pets and I promise I will always take care of them."
Plots for dogs, cats, guinea pigs, birds, snakes, two horses, goldfish and even one for sea monkeys are scattered throughout the property. Perez said hundreds, if not thousands of pets have been buried at the Bellmead property in the last 40-plus years.
There are about 700 pet cemeteries in the United States, according to the International Association of Pet Cemeteries & Crematories. Because there are no consistent regulations regarding pet cemeteries, it is unclear exactly how many are in operation, according to the association.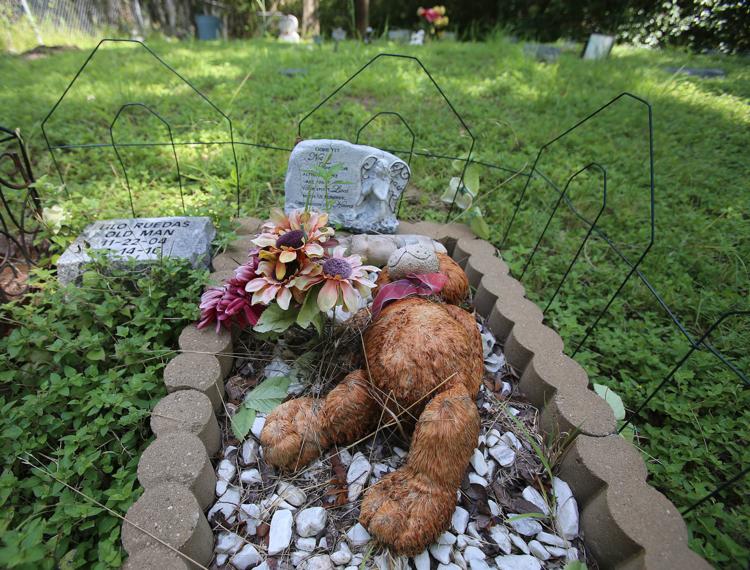 It typically falls to veterinarians or animal care officials to discuss options with owners when pets don't make it or need to be euthanized.
Options for pets
Debbie Bigham, lead customer care specialist for Northside Animal Hospital on MacArthur Drive, said in her 34 years of animal care experience, those options have included cremation, taking animals home or referrals to Sleepy Hollow.
"For as long as I've been doing this, Jesse has been out there taking care of the pet cemetery," Bigham said. "It can be a very emotional process for everyone, so we've always tried to make it easier on people when it comes to these decisions.
"These days, most people either chose cremation or take their pets home, but I know Jesse has been taking great care of the cemetery for years. We just want to give everyone their options to make this difficult time easier for them."
Certain cemetery plots at Sleep Hollow are adorned with large tombstones, complete with etchings of their pets. Pet toys and water bowls are left out as reminders of the life pet owners had with their companions.
"Some people will spend more on their pets than they will for themselves," Perez said. "The blue dog house out here was built because the owner never wanted to leave their dog outside without a home. These pets were a big part of people's lives, and we won't forget them."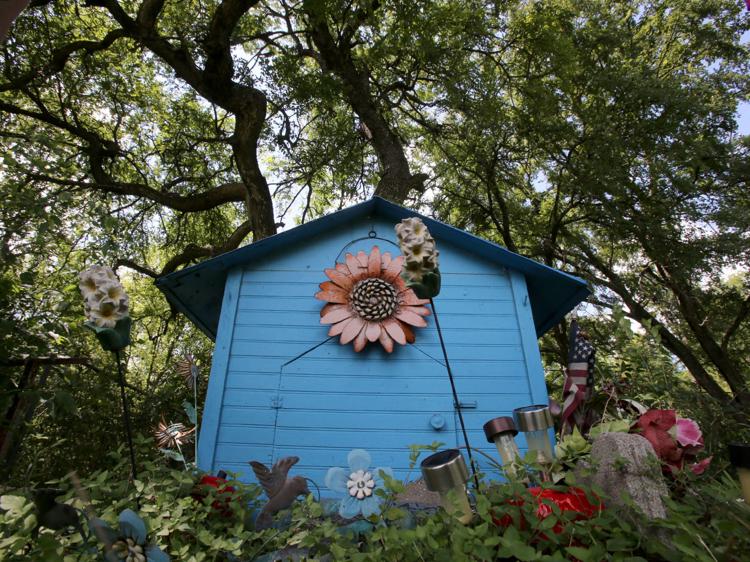 Costs for a plot, burial box and marble grave marker vary by the size of the pet, anywhere from $185 for a cat or small dog, up to $425 for an extra large animal, he said. Some pet burials, like those for goldfish, may be free of charge.
Dennard moved with her family to Hallsburg several years ago, and with plans to remain on their property of several acres indefinitely, family pets are now buried at home near a special tree. But she has not forgotten about Odie and Lucy.
"I've thought about bringing some of my other animals out here so they can all be together, but now that we have more, I'm happy they have their final place there too," Dennard said. "I am not some crazy cat lady. I am a normal lady with a job and a family, but anyone who doesn't believe a pet is a member of your family is really missing out."
Volunteers, donations
Perez said after 30 years of operating Sleepy Hollow, his age and health have started to wear thin. He said volunteers are welcome to help clean up portions of the cemetery, and donations are welcome for repairs needed along a creek that runs along the back of the cemetery.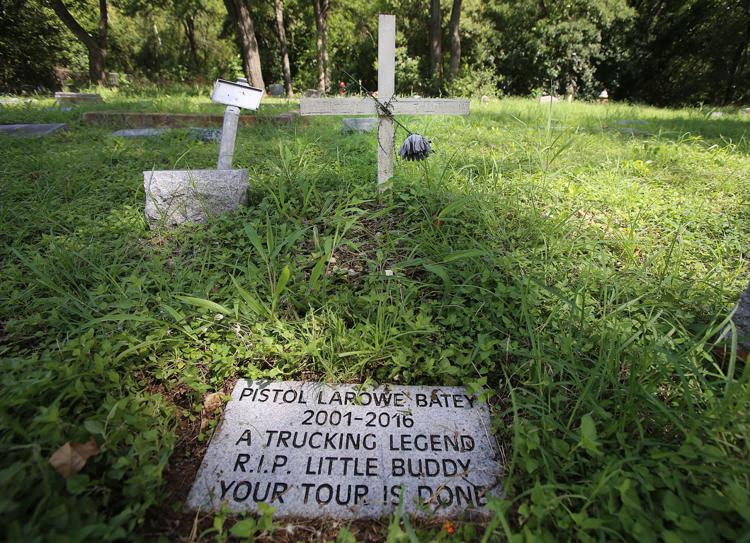 "I've never been in this to make money. The cemetery is paid for, so this is really just a place for people to be able to come to visit their pets," he said. "I have never put the grave markers out for my pets that I've buried out here, because I feel when I put their markers out, I am going to be done.
"I am not done out here. I am keeping my promise."
For more information about Sleepy Hollow Pet Cemetery, call Jesse Perez Jr. at 744-6345.