NEW YORK — Quarterback Robert Griffin joined the most exclusive club in college sports Saturday night and forever branded his name at Baylor University.
After a sensational season, Griffin was named the 77th winner of the Heisman Trophy at the Best Buy Theater in Times Square. Griffin wore a big grin and thanked his family and coaches after becoming Baylor's first winner of the Heisman.
The fourth-year junior looked quite comfortable cradling the most prestigious award in college football.
"I've always said this isn't an individual award, it's about Baylor Nation and the Waco community," Griffin said. "It's huge and I hope this inspires people to chase their dreams. I achieved mine tonight. I realize this is a once-in-a-lifetime thing."
Griffin became the seventh player to win the award from a university in Texas and the first in 13 years.
Griffin joined Texas Christian University's Davey O'Brien (1938); Southern Methodist University's Doak Walker (1948); Texas A&M University's John David Crow (1957); the University of Texas' Earl Campbell (1977); the University of Houston's Andre Ware (1989); and UT's Ricky Williams (1998).
"I couldn't be more happy for Robert," Baylor head football coach Art Briles said. "This outcome, in our minds, wasn't by chance — it was by design. Robert has been preparing himself to be the best he can be for four years at Baylor.
"This award is the result of Robert's dedication and discipline and the support of our team and football program. This is the exclamation point on the direction of Baylor football and Baylor University."
Griffin earned 1,687 points from Heisman voters across the country, including 405 first-place votes.
Stanford University quarterback Andrew Luck finished second with 1,407 overall points and 247 first-place votes, while University of Alabama running back Trent Richardson placed third with 978 overall points and 138 first-place votes.
Griffin won five of the six regions, finishing second only to Luck in the Far West. Perhaps most surprisingly, Griffin won the South against finalists Richardson and Louisiana State University defensive back Tyrann Mathieu.
"It just seemed like the script was written perfectly for me to win the Heisman," Griffin said. "After we beat Oklahoma, my teammates told me they're going to win the Heisman for me. They're probably at a watch party celebrating right now." 
Griffin won the Heisman after leading the nation in passing efficiency by completing 72.4 percent for 3,998 yards and 36 touchdowns. He gathered momentum in the final weeks as he led Baylor to five straight victories as the Bears finished the regular season with a 9-3 record — the program's best mark in 25 years.
Griffin seemed at ease in front of a national television audience and many former Heisman Trophy winners who attended the presentation. Dressed in a black pinstripe suit, Griffin lifted his pants leg to reveal Superman socks complete with a red cape.
"When you go to a Heisman ceremony, you should wear your best suit, shoes and socks," Griffin said.
Thirty minutes after winning the Heisman, Griffin checked his phone messages.
"My phone blew up," Griffin said. "I've got 146 text messages."
Griffin was joined at the Heisman presentation by his parents, Robert Jr. and Jacqueline, older sister DeJon Griffin and fiancee Rebecca Liddicoat.
"My dad sacrificed so much for me and motivated me, and gave me everything I need to be successful," Griffin said. "I've always had my mom's love. Rebecca was there the whole time that I went through my knee injury (in 2009) and kept me positive."
Briles and co-offensive coordinators Philip Montgomery and Randy Clements were also on hand for Griffin's big night.
The Baylor women's basketball team, which plays St. John's today at Madison Square Garden, cheered loudly outside the Best Buy Theater when Griffin arrived for the Heisman presentation.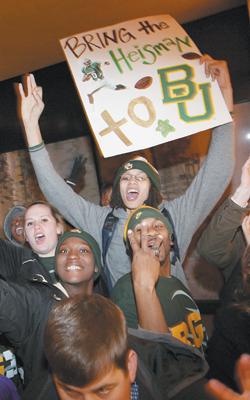 "I wish everybody back home could be with us today," Baylor women's head basketball coach Kim Mulkey said. "I can tell you, looking at the crowd here, nobody outnumbers Baylor tonight. I did give him a big hug. I was at the front of the line, and I sprinted back down here to the back of the line to tell everybody he was on the way."
Baylor President Ken Starr and Athletic Director Ian McCaw were among the Baylor administrators who attended the ceremony. McCaw said Griffin's Heisman Trophy will help the university grow at many levels.
"This is a transforming moment for Baylor football and the university," McCaw said. "It will have a lasting impact. What's gratifying is that he's not just a good player, he's also a good student who does what he can in the community. This is an emotional time when you look at Griffin's journey from an ACL tear to the level of success he's attained."
Briles believed in Griffin's ability since the day he stepped on campus at Baylor in 2008 after a standout career at Copperas Cove High School.
"Coach Briles said with my ability to run the ball and the way he could develop me as a passer, it would be something college football has never seen," Griffin said. "Now all those things are coming true, and it's because of hard work. Things could have gone haywire after my sophomore year when I got hurt, but we stayed focused and got back to the plan."
After an impressive freshman season, Griffin's career took a bad turn in 2009, when he tore up his knee in Baylor's third game. But Griffin turned that negative into a positive.
"I didn't love the game of football before I got hurt," Griffin said. "I played it because I was good at it. But when you can't practice or walk, you start appreciating every little thing. I missed the camaraderie with the guys. I missed being part of the team."
Griffin came back strong last season as he passed for 3,501 yards and 22 touchdowns and rushed for 635 yards and eight scores while leading the Bears to the Texas Bowl. It was Baylor's first bowl game since the 1994 Alamo Bowl.
Griffin was named the Davey O'Brien Award winner as the nation's best quarterback on Thursday and was honored as a Football Writers Association of America first-team All-American on Saturday.
But his biggest award arrived Saturday night.
"Robert reached a real pinnacle tonight," McCaw said. "I think we'll find a place to expand the trophy case at the Simpson Center."
757-5716
---
Heisman Voting
Finalist voting for the 2011 Heisman Trophy, with first-, second- and third-place votes and total points (voting on 3-2-1 basis):
| Player | 1st | 2nd | 3rd | Total |
| --- | --- | --- | --- | --- |
| Robert Griffin III, Baylor | 405 | 168 | 136 | 1,687 |
| Andrew Luck, Stanford | 247 | 250 | 166 | 1,407 |
| Trent Richardson, Alabama | 138 | 207 | 150 | 978 |
| Montee Ball, Wisconsin | 22 | 83 | 116 | 348 |
| Tyrann Mathieu, LSU | 34 | 63 | 99 | 327 |
| Matt Barkley, USC | 11 | 33 | 54 | 153 |
| Case Keenum, Houston | 10 | 20 | 53 | 123 |
| Kellen Moorre, Boise State | 6 | 21 | 30 | 90 |
| Russell Wilson, Wisconsin | 4 | 12 | 16 | 52 |
| LaMichael James, Oregon | 5 | 12 | 9 | 48 |
Heisman Regional Voting
Regional points breakdown of the top five finalists in balloting for the 2011 Heisman Trophy:
NORTHEAST
1. Robert Griffin III, 257
2. Andrew Luck, 254
3 Trent Richardson, 160
4. Tyrann Mathieu, 47
5 Montee Ball, 36
MID-ATLANTIC
1. Robert Griffin III, 254
2. Andrew Luck, 248
3.Trent Richardson, 168
4. Tyrann Mathieu, 64
5. Montee Ball, 39
SOUTH
1. Robert Griffin III, 303
2. Trent Richardson, 256
3. Andrew Luck, 182
4. Tyrann Mathieu, 80
5. Montee Ball, 36
SOUTHWEST
1. Robert Griffin III, 381
2. Andrew Luck, 188
3. Trent Richardson, 132
4. Montee Ball, 85
5. Tyrann Mathieu, 72
MIDWEST
1. Robert Griffin III, 272
2. Andrew Luck, 220
3. Trent Richardson, 125
4. Montee Ball, 85
5. Tyrann Mathieu, 44
FAR WEST
1. Andrew Luck, 315
2. Robert Griffin III, 272
3. Trent Richardson, 137
4. Montee Ball, 31
5. Tyrann Mathieu, 20