At 4:15 p.m. on a drizzly New Year's Eve, DaLayshia Majors, 17, curled up in sideways in a seat on the Route 20 bus parked at Waco Transit's downtown hub, dressed up with makeup and a cheetah-print hoodie.
It was the last leg of an hour-and-a-half journey that began near her home in Marlin. Soon she would hop off near La Fiesta and brave the rain and Franklin Avenue traffic in a half-mile walk to Cheddar's, where she would work as a hostess until midnight.
For Majors, a Waco native who is earning her GED while she works, Waco Transit is an inconvenient blessing. The long routes and limited hours try her patience. Yet, overall, she is grateful to be able to pay $3 a day instead of buying a car.
And since she began riding the bus a few months ago, she found it far less scary than she imagined.
"The first time I was freaked out thinking about it," she said. "I'm a germaphobe. But when I saw it I realized it wasn't that bad."
Waco Transit and city of Waco officials are the first to admit the shortcomings of Waco's public transportation system. It runs only until 7 p.m. on weekdays and 8 p.m. on Saturdays, with no Sunday service, so evening shift workers like Majors have to find another way home. Routes run only in the urbanized section of Waco. Routes are an hour long and typically require a downtown transfer, meaning crosstown trips can take an hour and a half — as long as it takes to drive to Dallas, Waco Transit officials point out.
Now, momentum appears to be building at City Hall for a faster, more effective system.
Waco City Council members are seriously considering a transit consultant's recommendation for a "bus rapid transit" system that could cut most travel times in half. Meanwhile, the Waco Metropolitan Planning Organization is recommending such a system in the Connections 2040 transportation plan that is up for public comment and approval this month.
Mayor Malcolm Duncan Jr. said the bus rapid transit system is a high priority for him.
"I would definitely like to do it," said Duncan, who sits on the MPO board. "When you look at the options for transit, it's the most cost-effective and most practical for our density and amount of riders. . . . We've got to do a better job with our public transit system."
The plan involves creating an east-west "backbone" route with several express buses running at 15-minute intervals from Bellmead to the Texas Central Industrial Park, probably using Franklin Avenue. Traffic lights could be programmed to turn green as the buses approach.
Instead of nine "spoke" routes feeding into the downtown hub, circulator buses would collect passengers and deliver them to about eight small bus stations positioned along the backbone route. Waco Transit General Manager John Hendrickson said many trips that now take an hour or more could be reduced to about 30 minutes, making the bus a competitive alternative to driving.
"BRT will change the dynamics of how public transit is viewed in the community," Hendrickson said. "It would open up a lot more choices. I think ridership would double."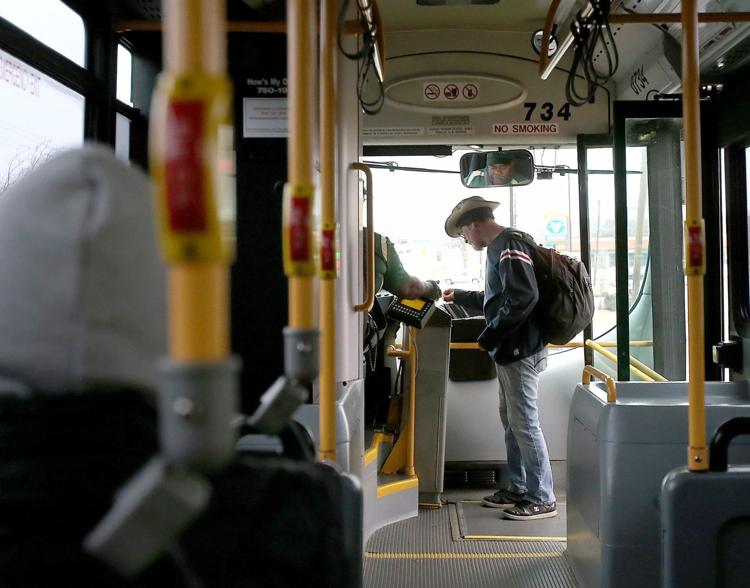 Waco Transit's 10 regular fixed routes give about 800,000 rides a year, counting each transfer as a ride. Waco Transit also includes shuttles for college students and on-demand service for disabled residents. In all, Waco Transit's operations will cost $6.2 million this year, with more than $3.7 million coming from state and federal revenues, $552,000 from Baylor University and $485,000 from fares and passes.
Duncan said he expects the council this year will move forward with a more in-depth study on the BRT to determine route configurations, infrastructure and costs.
The MPO estimates the system would cost $75 million to create, most of which would be funded by federal and state sources, but the true costs are unknown. The MPO's Connections 2040 plan also recommends extending transit hours to 11 p.m. and extending routes to communities such as McGregor, Hewitt and Robinson.
In Oregon, the neighboring cities of Eugene and Springfield spent $24 million to build a four-mile bus rapid transit line between their downtowns, using mostly state and federal funds. Travel times were reduced by 27 percent and ridership doubled the first year, leading the cities to expand the system in subsequent years.
The Waco "backbone" would be nearly 10 miles long, but it probably wouldn't include the more expensive dedicated bus lanes that the Oregon cities used.
More importantly, city leaders increasingly see transportation as a roadblock to improving the city's standard of living.
During Duncan's term, the city has set in motion the Prosper Waco initiative, aimed at reducing the city's 30 percent poverty rate and increasing education, income and health care access to all.
In an employment study last year tied to the Prosper Waco initiative, the Upjohn Institute found that lack of access to reliable transportation was a barrier to connecting potential workers with jobs.
Citywide, only 7.2 percent of working-age adults ages 36 to 64 don't own a car, according to Census surveys compiled by Upjohn. But in many inner-city Census tracts in East, South and North Waco, 1 in 4 adults does not own a vehicle, and the majority of workers in those neighborhoods work in other parts of town, the study found.
City Councilwoman Toni Herbert, who represents North Waco, said the Upjohn study and the community poverty discussion have created a new framework for talking about transit.
"We haven't really talked about transportation as a priority," she said. "I think maybe it's time to go there with the same sense of urgency as we did with housing. Instead of thinking about costs, we should think of net costs. It costs a lot not to do it, too."
Duncan said transportation to work is important not only for improving employment but for improving health care access and education, also pillars of Prosper Waco.
"If we're going to be serious about addressing the long-term economic welfare for those cities, public transit has to be part of the solution," he said.
Councilman Kyle Deaver agreed that the current system doesn't go far enough to help people get to work, as well as to doctor's appointments and grocery stores.
"It sounds to me like something that needs to be done," he said. "We've got to improve our public transit system to make it more efficient."
Hendrickson, the Waco Transit general manager, said incremental improvements to the current hub-and-spoke system aren't going to have a major impact on route times.
Even if the city doubled its bus fleet and put two on each route, it might still take up to two hours to get from one side of town to the other, Hendrickson said.
"We have 10 buses now," he said. "If I put 20 buses out there now without a BRT system, service would be faster in some areas, but East Waco to Hewitt wouldn't be any quicker."
He said reorganizing the system won't be easy, but it would pay off in creating a community where residents can choose to live without a car.
"You've got to have the political will and public will to drive this thing forward," he said.