It's known as New Dallas Highway, but U.S. Business 77 is no longer new and no longer the favored route toward Dallas.
It looks like a freeway in places, with frontage roads and triple-decker interchanges, but it carries only a quarter of the traffic for which it was designed. The wide river of asphalt cuts through a sparse landscape of trucking companies, honky-tonks, thrift stores and by-the-week motels that thrived before Interstate 35 superseded the highway more than four decades ago and left it without a clear purpose.
But local transportation planners are developing a radically new vision for New Dallas Highway that involves shrinking it, bringing it down to ground level and replacing the interchanges with a series of traffic roundabouts.
"For planners, this is really a fun project," said Chris Evilia, director of the Waco Metropolitan Planning Organization, which commissioned the $180,000 study by Freese and Nichols. "It's very much a transformational project. It turns it into a more traditional boulevard section that's more visually appealing than what we have right now. The hope is that this makes it a more attractive corridor for businesses, offices and employment centers to come along the corridor."
The study is to be completed and presented to the MPO this summer for approval, but implementation likely will be gradual during the next 25 years, as funding becomes available and the road system deteriorates to the point of needing replacement.
"Our concept was that we probably won't see anything go forward until we see structural issues with the facility itself," Evilia said.
He said many of the structures are more than 65 years old and could need replacement in the next 20 years. Evilia estimated that replacing all the existing structures as currently configured would cost more than $100 million — several times more than the Freese and Nichols plan will likely cost. A simple overpass could cost $10 million to $15 million, while a roundabout costs about $1 million, Evilia said.
One of the first projects to take shape may be the Texas Department of Transportation's plan to take Business 77 down to ground level at Interstate 35, where it is the middle stack of a convoluted triple-decker "spaghetti bowl."
The seven-mile study corridor for Freese and Nichols begins at the Brazos River and cuts under I-35 northwest to Lacy Lakeview before joining I-35 north of Texas State Technical College. The highway is also known as La Salle Avenue, New Dallas Highway, South Loop, North Loop and Lacy Drive.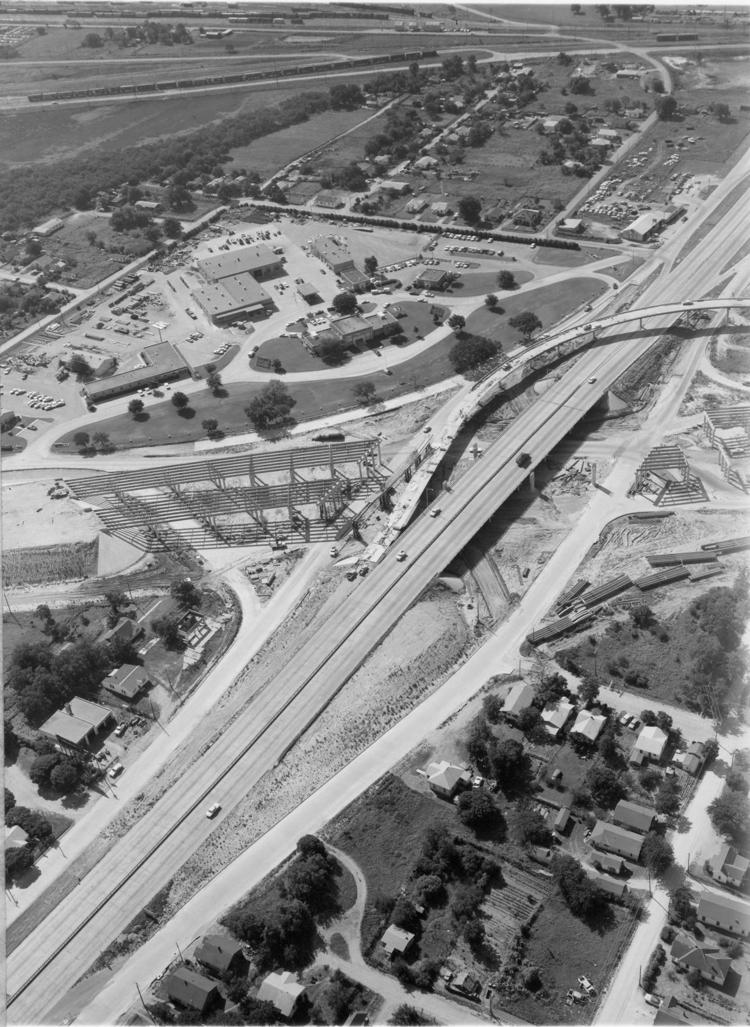 For much of the 20th century, Highway 77 was the only practical route for traffic headed to Dallas. The state built the northern half of the highway in 1920 along the line of the Texas Electric Railway and built the southern route in the late 1930s, extending it down La Salle Avenue to the traffic circle. In 1950, the state built Potts Interchange, the triple-decker interchange with Highway 84 and its access roads. Frontage roads were added in 1954, and through the 1950s it evolved into a freeway with overpasses at Old Marlin Highway, Orchard Lane and Waco Drive.
The road was busy with cross-state traffic as well as workers from General Tire, airmen from James Connally Air Force Base and patrons of restaurants such as Leslie's Chicken Shack. North of Potts Interchange, out of the "dry" precincts of Waco, were liquor stores and honky-tonks brimming with country and rock 'n' roll.
That era ended when I-35 was completed north of Waco in 1972, siphoning off the traffic from New Dallas Highway and assuming the mantle as the new Highway 77.
Traffic counts have continued to decline on Business 77 during the past decade, dropping to about 11,000 vehicles per day around Potts Interchange in 2014, Freese and Nichols consultants said. For comparison, that's about as much traffic as the boulevard section of University Parks Drive between Franklin Avenue and I-35 .
Evilia said the Business 77 envisioned for the future would be a minor arterial route, looking more like University Parks and less like a midcentury freeway.
---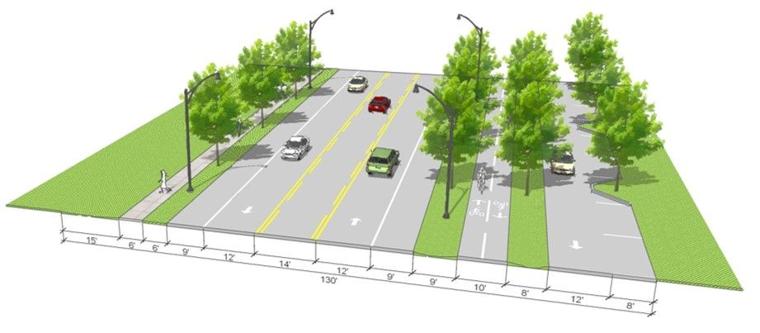 Bike-pedestrian connectors, perhaps even a "bike superhighway," could be built down the middle of the boulevard. (Freese and Nichols image)
---
The plan is still in flux and was refined during this week's public input process but would likely include the following features:
• More traffic roundabouts could be added at Craven Avenue, Crest Drive and Loop 340 in Lacy Lakeview, which are now intersections with traffic signals.
• Some frontage roads would be removed, while others would be deeded to adjacent industrial property owners that need them for driveways.
• In places, the main lanes would be reduced and pushed to the edges to create landscaped medians.
• Bike-pedestrian connectors, perhaps even a "bike superhighway," could be built down the middle of the boulevard.
• Old Dallas Road, which runs parallel to the highway on the west side, could be improved for better local access to homes and businesses.
• At Lacy Lakeview, the eastbound and westbound lanes of Loop 340 could be consolidated into a two-way road that met Business 77 at a roundabout. The current westbound lane could be turned into a local street, and the wide expanse between them could be sold or redeveloped as a park or a walkable urban-style business development.
---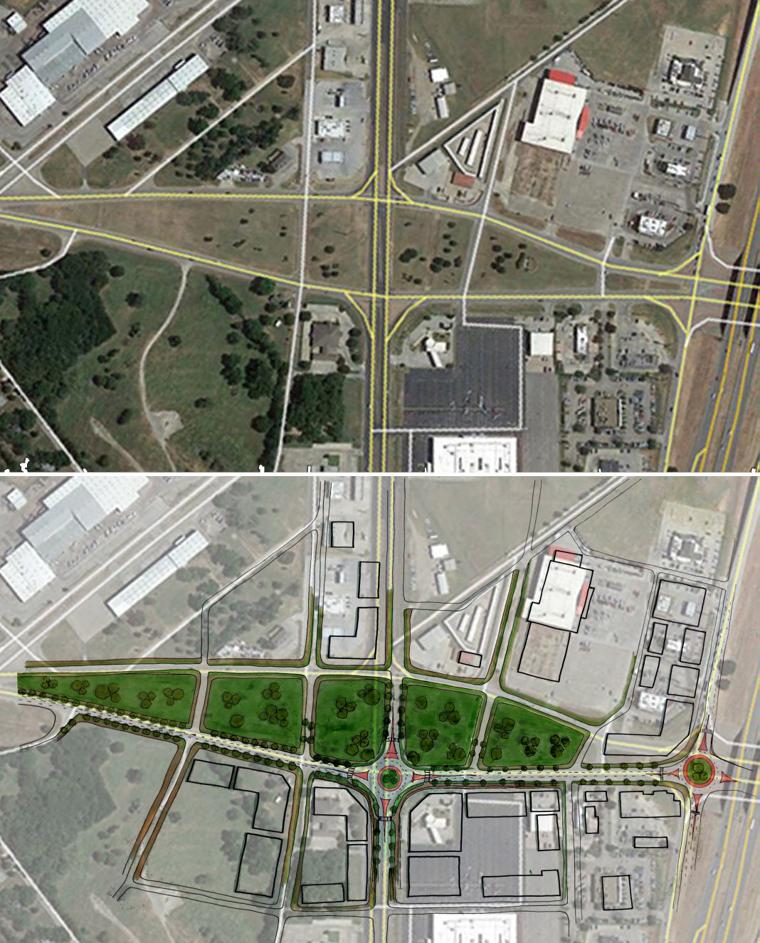 At Lacy Lakeview, the eastbound and westbound lanes of Loop 340 could be consolidated into a two-way road that met Business 77 at a roundabout. The current westbound lane could be turned into a local street, and the wide expanse between them could be sold or redeveloped as a park or a walkable urban-style business development. (Freese and Nichols images)
---
Waco Mayor Malcolm Duncan Jr. said he agrees with the prescription for downsizing the road, and he would like to see it done sooner rather than later.
"It's not only old and out of date but it completely divides the neighborhood," Duncan said.
City Center Waco executive director Megan Henderson said the redesigned roadway would help connect neighborhoods and create opportunities for redevelopment.
"The current design is really inaccessible," Henderson said. "So much of it is elevated. It doesn't provide a lot of access to businesses that are fronting it. . . . You have much more access to businesses along the corridor if you have a flat boulevard feel."
Bellmead City Manager Bo Thomas took part in the workshops this week and said they assuaged his concerns that the plan would hamper traffic flow or business access on Business 77.
"I don't think it would have any adverse effect to any of the adjoining businesses," Thomas said. "Anytime you can take something like that and simplify it, it's probably a good thing in the long term. . . . It could have the effect of rerouting some traffic, but I don't see that anything they're talking about is going to lengthen anyone's travel time."
Roy Hawkins, co-owner of Friday's Seafood and More on Business 77 south of Behrens Circle, said he just hopes the Business 77 plan won't affect traffic in front of the restaurant and store.
Hawkins and his wife, Friday, bought a vacant nightclub four years ago and now sell fresh fish, oysters, boudain sausage and alligator there, with a soundtrack of zydeco playing in the background. He said customers from across the Waco area and even out of town manage to navigate the interchanges to get to the shop.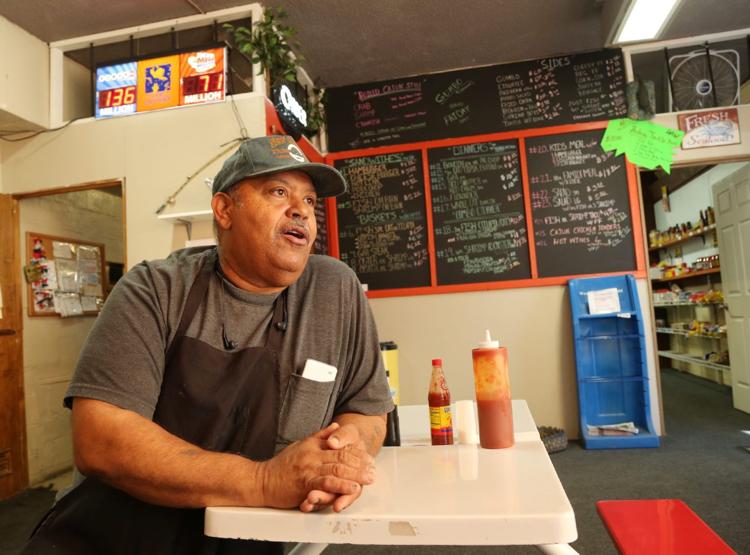 "They said it's confusing," Hawkins said, referring to the Potts Interchange. "I guess it is depending on how long you've been here. . . . A traffic circle would probably be worse than what they've got there now. Taking it down to grade wouldn't be so bad. I don't see it changing anything for us."
Rebecca Arrellano, longtime counter worker at Torres Meat House near Hogan Lane, agreed that it's still possible for businesses to thrive on New Dallas Highway if it provides what people want. The decades-old business, which was recently purchased by Antonio Torres, sells hand-cut steaks, Czech and German sausage and seasoned fajita meat.
"I know all the customers by name," Arrellano said as a regular from Crawford placed his order. "We have a bunch of regulars and most of them are in here every week. We get them coming in from Valley Mills, Clifton, even Meridian. . . . I think we're going to be around a long time."
Calvin Hodde, mayor of Lacy Lakeview, wasn't able to attend the meetings last week but said he hopes to have more discussion about the plan before it's adopted.
Hodde said he agrees that much of the frontage road can be abandoned, but he is skeptical about turning separated interchanges into roundabouts.
"We'd have more crashes than we have police," Hodde said.
Metropolitan Planning Organization Director Evilia said old-fashioned traffic circles like the one on La Salle Avenue do have some traffic safety issues. He said the Waco circle has too many roads that connect to it, and its circumference is too wide, allowing people to go too fast around it. But Evilia said traffic studies show that smaller modern roundabouts are effective at slowing traffic without requiring a full stop. He said the structures are safe and efficient for traffic flows of up to 30,000 vehicles per day.
Even the old Waco circle has some safety advantages in that cars that do crash tend to meet at a shallow angle rather than a 90-degree T-bone, Evilia said.
"Even though there's a number of crashes at the current traffic circle, they tend not to be severe," he said. "Everyone's walking away from it."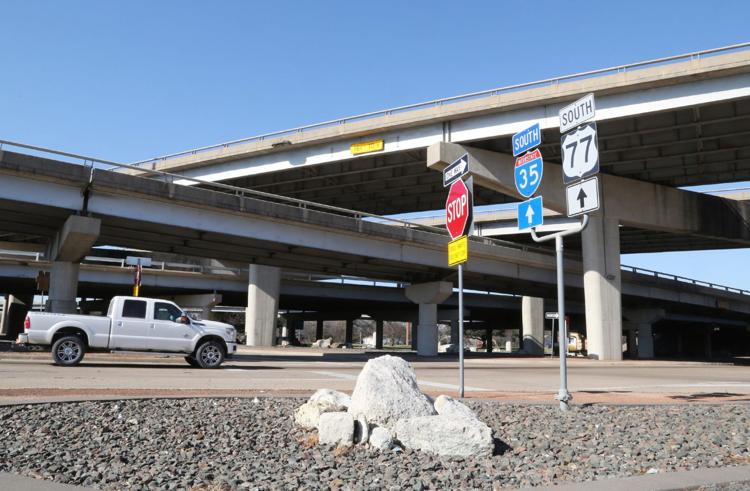 One unresolved issue concerns access from Elm Avenue to Business 77 and I-35.
The historic East Waco street connects with the massive interchange between those highways and continues on to Bellmead Drive.
TxDOT's current plans would cut off northbound Elm Avenue traffic to the interchange, though drivers could veer off west to Hillsboro Drive to get onto Business 77.
Mayor Duncan has asked TxDOT to look at other alternatives that would preserve or even improve access between Elm and I-35, but Evilia said there's no easy answer.
The segment of Elm Avenue connected to the I-35 interchange sees only about 2,000 cars a day, which Evilia acknowledged seems minimal "if you assume nothing is ever going to change."
"But the argument is being made by the city and City Center Waco that a lot of efforts are being made to change what's happening on Elm and to create some destinations for people to go to," Evilia said. "We need to make it easy to get to it from the interstate."
---
Presentation