North Loop 340 has become a relief valve of sorts. Bent on avoiding Interstate 35 through Waco, now under siege from men and machines executing a $341 million mission, more and more drivers are taking the loop through Bellmead instead.
La Vega High School principal Sandra Gibson does not like the view.
Classes begin Wednesday, and she worries about seniors who leave campus for lunch, their plight as they merge with heavy traffic. Others who do not slip behind the wheel may follow old habits and hot-foot it across the highway to grab a meal at Wendy's, Whataburger or Subway.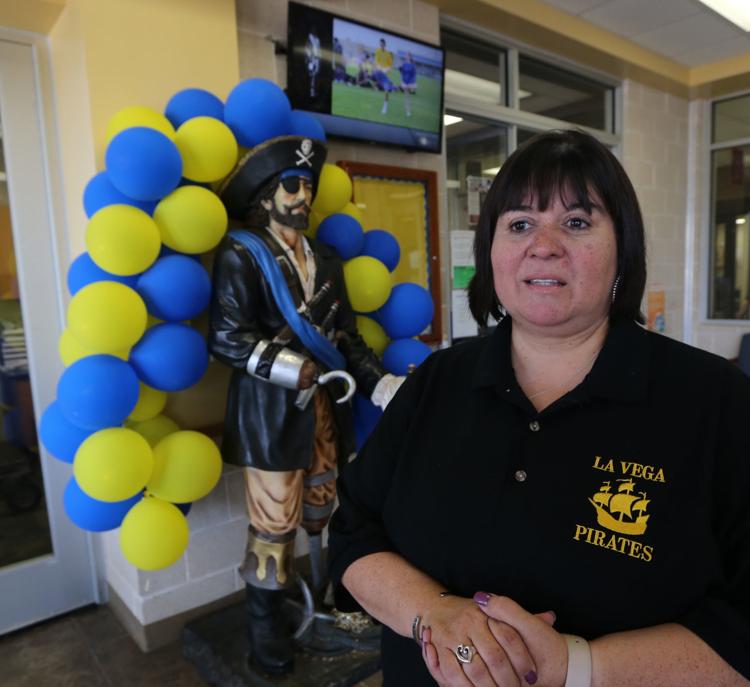 "Kids only have 30 minutes at lunchtime. Are they going to hurry to get somewhere and get back?" said Gibson, speaking by phone. "Those without vehicles . . . Are they going to have more traffic to dodge once they walk out that door? Some don't want the hassle, so they stay in the cafeteria. But we have 900 students, and about 200 are seniors. We want to make sure they're safe. We are aware of the situation, and are monitoring it."
John Symm drives daily from his home in Lorena to work at Advance Auto Parts in Bellmead. He said North Loop 340 has become a mess, from Highway 6 through Bellmead.
"There's a lot of traffic on that loop, and bottlenecks occur where it becomes two lanes. I drive in from Robinson, and I've encountered traffic backed up for what seems like miles. Sometimes I wonder if there's been an accident," said Symm, a five-year Advance Auto veteran. "It all started about a week after work began on the interstate, people taking the loop to avoid it."
Symm said the extra traffic has not translated to increased sales.
"They're not taking the loop to come here. They're taking it to get away from I-35," said Symm. "I guess it will be all good when they get done."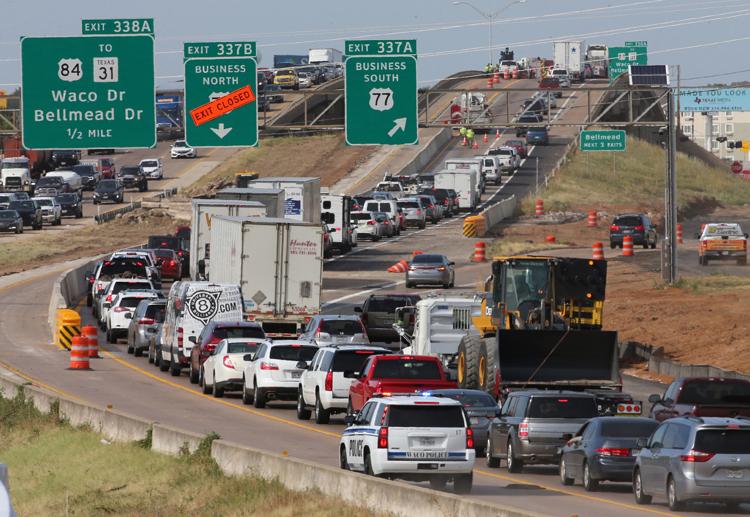 Christina Morin, a sales associate at Bealls department store at 1000 N. Loop 340, said she avoids Interstate 35 at all costs now that it has become a seven-mile-long traffic jam in the making. A longtime local resident, she said she takes back roads and obscure routes to reach her place of employment.
She said she has no empirical data at her fingertips, but believes customer flow at Bealls has increased as North Loop 340 has become more congested.
Angelo Torres, a shift manager, said he takes Lake Shore Drive from his home in North Waco to reach his Whataburger on North Loop 340. He passes the Cracker Barrel Old Country Store in Lacy Lakeview practically surrounded by heavy equipment, piles of construction material and directional signs.
But so far his route to Whataburger remains unimpeded. He said though the rumble of machinery echoes nearby, Whataburger has not suffered. If anything, he said, those stopping to order burgers, fries and shakes have made more of their presence felt as heavy equipment rumbles nearby.
"It gets pretty packed around here at rush hour, between 4 and 6 in the afternoon, and when school starts, I expect to see a lot of La Vega and Connally students. It could get even tighter (on the loop)," Torres said.
Bellmead City Manager Yost Zakhary said increased traffic on the loop was to be expected and there is not much the city can do about it.
"The best way to sum up the whole thing is that short-term losses will mean long-term gains. What TxDOT is doing will be great for the future," said Zakhary. "We encourage patience. We've had a couple of complaints about the traffic. I just fielded a couple of calls. I really haven't talked with TxDOT specifically about traffic on North Loop 340, but they have done a good job of keeping us informed. The TxDOT app is very good, very helpful when it comes to keeping the public informed about developments and route changes."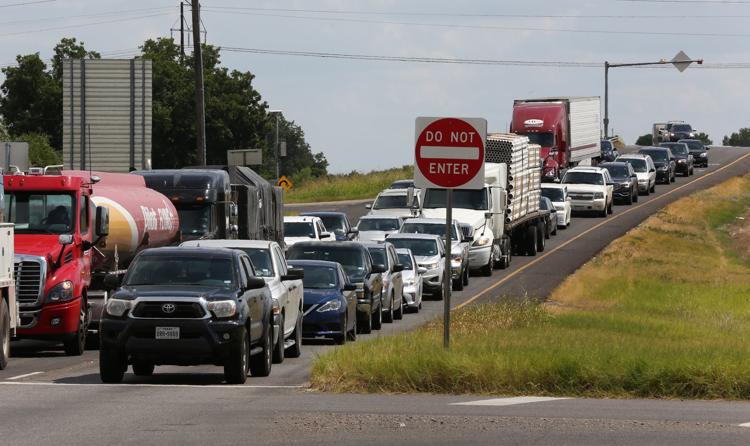 Bellmead Police Lt. Brenda Kinsey said officers have observed a slight increase in traffic volume, but the reopening of school should tell the full story.
"We're actually encouraging that route, the use of Loop 340, because traffic on the I-35 service roads is getting so backed up," said Kinsey.
Church of the Open Door pastor Ronnie Holmes said the stream of vehicles rolling past the church on North Loop 340 has become too big to ignore.
"I've been tempted to put up a sign saying, 'Turn in here,' but I'm afraid we would be overwhelmed," said Holmes with a laugh.
Ken Roberts, a media spokesperson for the Texas Department of Transportation, said increased traffic on North Loop "is not surprising at all, just a natural response to all the congestion through Waco on Interstate 35. I would expect it to continue, though to what extent remains to be seen."
Magnolia Market at the Silos spokesman John Marsicano said in an email that to his knowledge work on I-35 has not affected attendance or foot traffic.
Though the I-35 project may make navigating entrances and exits a chore, it also is creating additional demand for goods, services, meals and lodging.
Mari Pillar, communications manager for Houston-based Webber Construction, general contractor for the project, said the company has just under 100 employees on-site day-to-day, about 200 subcontractors and 25 to 75 truckers serving the site. In the future, said area manager Nick Wolf's release, there will be about 150 to 175 Webber employees, 300-plus subcontractor employees and about 100 truckers between plants and on-the-job work.
"The project has a good mix of local and out-of-town employees," said Wolf in his message. "Several crews are staying in hotels or have rented apartments. Everyone is eating locally throughout the day and people staying here are enjoying the local establishments and businesses at night and on the weekends. It's a great town with very hospitable people."
He went on to say Webber is hiring every day, and has demand for crane operators, general operators, laborers, carpenters, finishers and truck drivers. Information is available at wwebber.com/careers.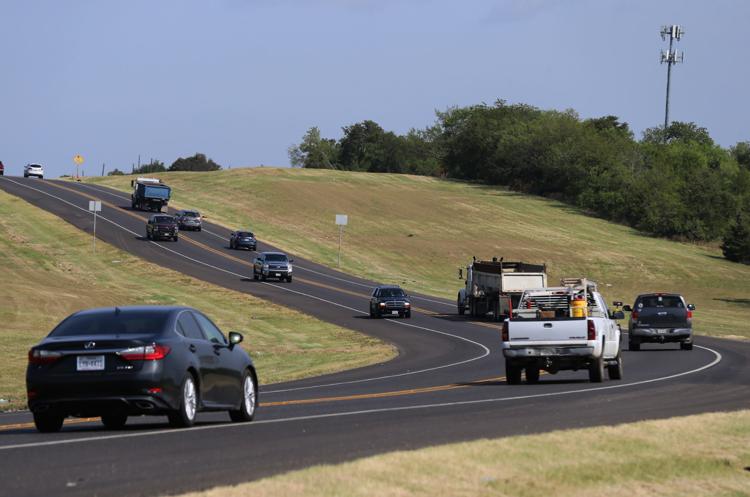 Chris Evilia, executive director of the Waco Metropolitan Planning Organization, said TxDOT continuously monitors traffic patterns and volume, including overloads, and would make adjustments if necessary.
He said North Loop 340 "is busy, but we've got busier roads."
TxDOT, he said, already is planning for life after the I-35 widening, and reportedly will turn its attention to North Loop 340 itself in 2023. In late 2018 it announced it was seeking public input on a proposed $85 million project to expand a 5.2-mile stretch of the loop on the eastern edge of Waco and Bellmead that serves as an alternative route to Interstate 35.
As proposed, the work would help serve future development demands and offer an alternative to the 100,000 cars traveling I-35 daily, TxDOT spokesman Ken Roberts announced at an October 2018 session.
The project would expand the stretch of Loop 340 from a two-lane to a four-lane divided highway with frontage roads and shoulders between the Brazos River and U.S. 84 in Bellmead. Long-term, it would build frontage road bridges over the Brazos River. It would also create a new main lane overpass at Loop 484, or Marlin Highway. Other features include a 6-foot-wide sidewalk on each side of the frontage road and grassy medians.