The thousands of shoppers who head to downtown Waco every week may swoon over the rusty silos at Magnolia Market, the tastefully weathered wood furnishings at The Findery and the exposed pink brick at the Backyard Bar and Grill.
But the broken sidewalks? Not so much.
"It's very neat that there's a rustic feel that's been preserved," said Joel Moore, a Southern California pastor who was walking north on Sixth Street back to his car after shopping at Magnolia on Friday afternoon. "But there are still some things that are flat-out dangerous. . . . I said to my wife, 'Be careful of that sidewalk.' "
The sudden popularity of the area has goaded downtown and city leaders to find ways to accelerate the rebuilding of downtown sidewalks, many of which are now nonexistent or deteriorating.
The Tax Increment Finance Zone board is considering a new policy that could help. The TIF board approves funding to help developers install public amenities such as sidewalks and lampposts, but typically only at the given property and its adjacent right of way.
Under a proposal from Waco city staff, the TIF board would approve enough money for developers to rebuild the entire block of sidewalks that connect to their property.
The goal is to create pedestrian connections among the "islands" of activity in downtown, including RiverSquare Center, Austin Avenue and the area around Magnolia, said City Center Waco executive director Megan Henderson, who backs the proposal. Across the Brazos River, the goal would be to connect the shops of Elm Avenue to the river, she said.
"We need to have good sidewalks and transit connectivity and improvements that create places to convene," Henderson said. "It feels so different in areas where there are bad pedestrian amenities. It's a disincentive to develop when the sidewalk is narrow, there's no on-street parking and it's dark."
The new sidewalk policy would be part of a new direction for the TIF Zone, which funds central city improvements by diverting a share of tax revenue from properties in the zone.
Henderson said it's time to see TIF funds more as a means to build infrastructure for a pedestrian-friendly downtown, rather than as simply an incentive for developers.
"It's not a reward, not a bonus for individual businesses," she said. "What we've been doing is treating sidewalks like they're a front porch, a place where customers get to stand outside, like it's an amenity for the property. . . . You need a sidewalk to be able to explore downtown. To have the experience of going downtown and walking around, you need connective sidewalks."
The TIF board discussed the sidewalk issue and other possible policy changes at a retreat earlier this month but hasn't yet made a decision. In the meantime, the board already has taken a step toward building the pedestrian network Henderson describes.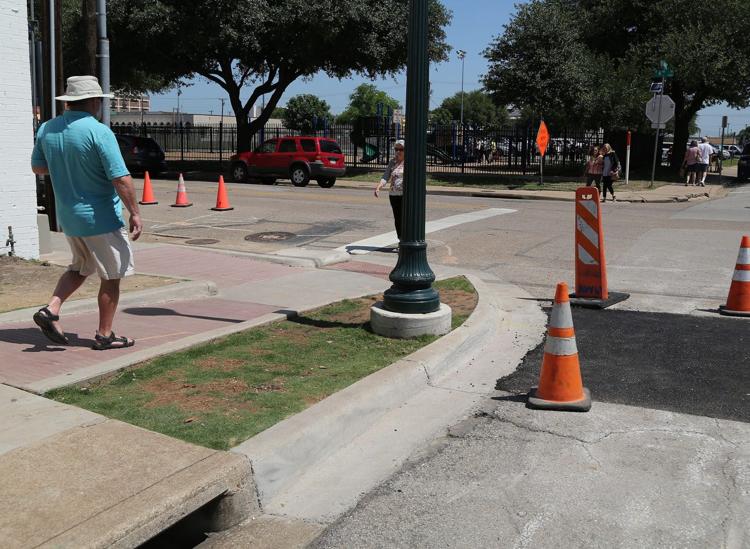 In March, the TIF board voted to give Magnolia an additional $650,000 to rebuild two blocks of lighted, landscaped sidewalk along Sixth Street between the silos and Mary Avenue — the area where Moore was walking Friday. The project also involves burying overhead utility lines.
At the same meeting, the TIF board approved an extra $220,000 for the developers of Altura Lofts at 214 S. Sixth St. for enhanced sidewalks, street trees, alleys and lighting.
Henderson said it was a quick and cost-effective way to build a much-needed pedestrian connection between the Magnolia area and the Austin Avenue retail corridor.
"The popular understanding was that those projects were given additional money, but that's false," she said. "The city has identified projects that need to be done for an overarching public purpose. . . . That is the city piggybacking on Magnolia's contracting ability."
Mayor Malcolm Duncan Jr. said he agrees with the principle of using TIF funds to build out a seamless network of sidewalks in downtown, though he's still studying the details.
"The concept of doing that makes a lot of sense as long as we can agree on the priority of corridors," Duncan said. "I see a lot of people walking (in downtown), and I'm not sure we've made it easy for them. I think every study we've done says walkability is a key ingredient to a successful downtown."
Sam Brown, who owns several blocks along Elm Avenue with his sister, Cathy Turner, said the new approach to sidewalks would benefit development there.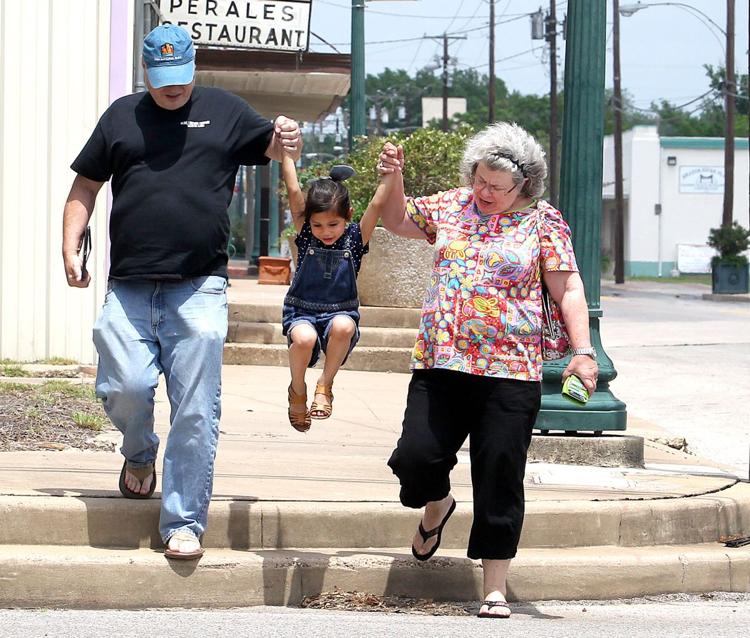 "I love the sound of that," Brown said. "What I hate is where you have a new sidewalk, then a destroyed sidewalk — it's just a patchwork."
Brown inherited a portfolio of old buildings from his father, Douglas C. Brown, who had a vision for Elm Avenue's resurgence. But the elder Brown was a critic of the policies of the TIF Zone, saying private developers wouldn't come to areas like Elm until the public infrastructure such as sidewalks was built first.
"I don't necessarily agree with the way my dad approached it, that you have to have the infrastructure before the project," Sam Brown said. "Projects are not always cookie-cutter. If someone wanted to buy four blocks to do one huge project, there's no point in the city going in and redoing the sidewalks, only to have to tear them up."
But Brown said the block-at-a-time approach would be a happy medium between public and private investment.
Brown said he hopes the money developers get for off-site sidewalk improvements wouldn't be counted against their overall TIF funding.
That wouldn't happen, said Assistant City Manager Cynthia Garcia, who presented the sidewalk proposal at the TIF retreat. But Garcia proposed a new way of calculating the total funding related to new developments.
Currently, the TIF board helps fund a fraction of the total project cost — usually between 5 and 15 percent, depending on how City Center Waco scores it for various criteria, such as how well it advances historic preservation, tax base growth and downtown vibrancy.
Garcia proposed that the TIF board and city staff work together to determine how much public money a project needs to be financially viable, then fund that "gap" if the project is seen as desirable.
City staffers say that could mean less funding for a project in the booming retail area along Interstate 35, but more for a project in a more challenging business environment such as Elm Avenue.
"I do think it makes sense to say, 'But for this incentive, will this project happen?' " City Manager Dale Fisseler said. "If they don't need these funds, it's better to spend the money on a more difficult project that needs the help."