For Interstate 35 travelers, negotiating the 6-mile, $341 million rebuild through Waco comes down to one question: stay on or exit to Loop 340?
For Waco-area drivers, it is a little more complicated.
The interstate is narrowed to two lanes from 12th Street in Waco to Craven Avenue in Bellmead, and this is the first Thanksgiving holiday in the four-year timetable of the I-35 construction project. The year's busiest travel day is Sunday, and it presents even bigger challenges for motorists traveling through Waco and Bellmead's construction zone.
Choosing the best route could simply be a matter of luck, or priorities.
For Hewitt resident Kimberly Pullman, the choice is simple. Loop 340 takes a little longer, but it brings her peace of mind.
"My mom lives in Mexia, so I go pretty much every weekend to see her or to take care of my niece and nephew," Pullman said. "I used to just get on 35 and take it all the way to Bellmead to get to Mexia, but now with the construction it is just a disaster.
"Even trying to take Waco Drive and cross under I-35 is just a pain, so I usually just take the Loop now since they've finished the construction over there," Pullman said. "For me, it's less stress, because I don't often worry about getting stuck in traffic and I don't like to drive at night, because sometimes you can't see the roads or markers as well. So even though the Loop might take a little longer, I just try to avoid the interstate completely."
Since construction started in May, there has been a 25% increase in the number of accidents in city limits on I-35 compared to the same time period last year, according to the Waco Police Department. Between May 1, when construction started, and Nov. 20, police worked 383 accidents on I-35. During that period last year, police worked 307 accidents on the interstate.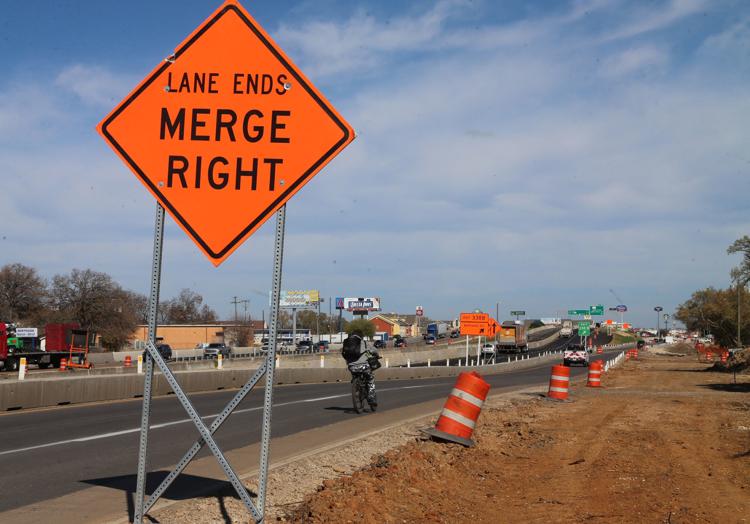 I-35 choices
The construction zone starts at Craven Avenue in Bellmead to the north, and at 17th Street to the south. On most days, traffic starts slowing down well before it gets to the actual construction zone. Travelers along the interstate can either stay on I-35 or take the loop around Waco. Or they can get creative with their own route.
The Tribune-Herald test-drove three routes earlier this month to determine which is the quickest.
The team drove the main lanes of I-35, as well as Loop 340, in both directions. It also used Lake Shore on Waco's western edge as an alternative.
Southbound I-35 from Craven Avenue to the Highway 6 flyover took 12.15 minutes during the 8 a.m. rush hour. There were no accidents at the time of the test, and traffic was moderate. Minor congestion in Bellmead and near McLane Stadium and South Fourth Street slowed traffic slightly, but the congestion seemed to clear up before the end of the construction zone.
The northbound drive from the Highway 6 flyover to Craven took 10.34 minutes. Merging traffic at nearly every exit from New Road to Craven Avenue proved to slow traffic.
Google Maps' estimated drive times for the 13.3-mile trip typically vary between 10 minutes and 33 minutes, depending on a variety of conditions.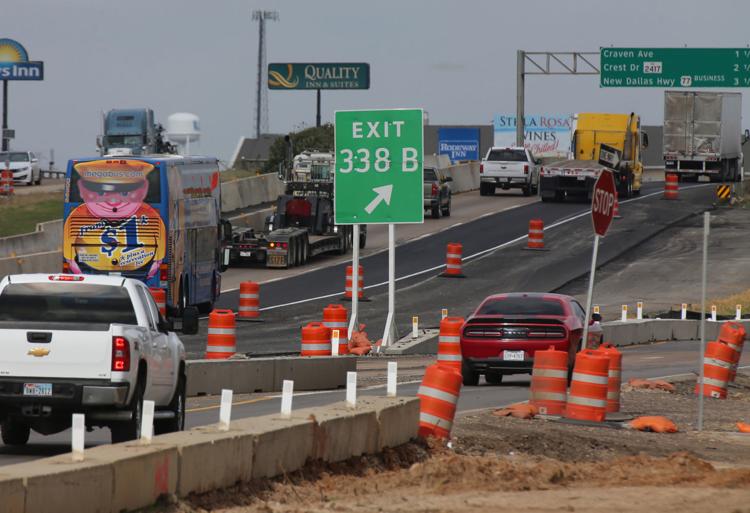 The Texas Department of Transportation designates Loop 340 around the east side of Waco as the official alternate route. The Tribune-Herald team drove the 14.5-mile loop route in 18.43 minutes in morning traffic.
In each direction, the test drive team had to stop at the light where Highway 6 and Loop 340 split.
A popular alternative among I-35 travelers at least somewhat familiar with Waco is Lake Shore Drive. In the test drives, this was the longest and slowest alternative.
Getting from I-35 at Craven Avenue in Bellmead to the Highway 6 flyover via Lake Shore took 25.31 minutes and 18 miles of driving.
Local challenges
Access to I-35 from downtown Waco is limited. The frontage road on the southbound side is one lane from University Parks Drive to the temporary on-ramp near 17th Street. Access to the frontage road and on-ramp is available only at Fifth Street. Traffic on Fifth is a bottleneck at most times during the day, backing onto Sixth and even Seventh streets on Waco's "fast-food row."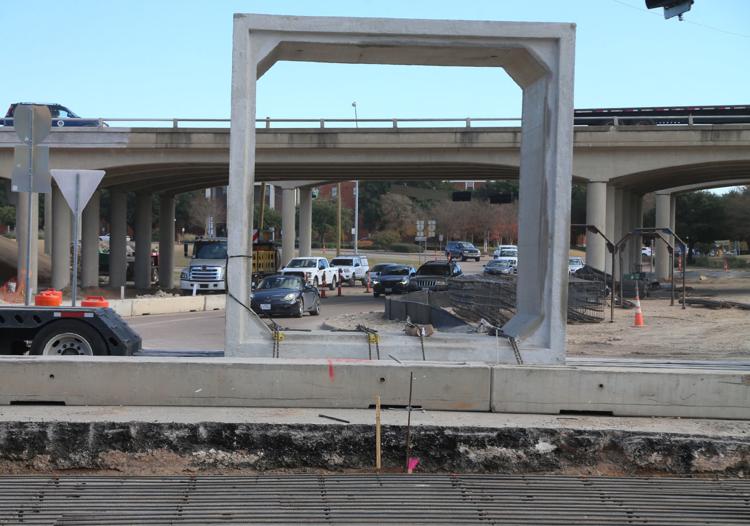 On the northbound side, on-ramps at 17th, Fifth and Martin Luther King Jr. Boulevard remain open for now. However, motorists have to negotiate temporary frontage roads between 17th Street and Fourth Street.
On-ramps at Forrest Street and U.S. Highway 77 in Bellmead are not available, funneling traffic north beyond Behrens Circle before entering the main lanes. Ongoing construction on Highway 84, not connected to the I-35 project, is also frustrating Bellmead drivers.
Coming into downtown, the left two lanes on 17th Street remain closed after a recent fire below the bridge over the Union Pacific railroad tracks.
Webster and Clay avenues between 11th and 18th are carrying much of the downtown traffic trying to get to the interstate.
Three-year project?
TxDOT spokesman Ken Roberts said Webber LLC, the general contractor for the Waco project, is reportedly ahead of schedule. The project is scheduled to be nearly completed by 2023 but will likely be finished earlier than that.
"I am not going to say crews are going to knock off a year from the original plan, but we certainly anticipate that it is not going to be as long as was originally indicated," Roberts said this week. "We still have weather, equipment, personnel and all these other types of factors that can play into this in the end, but as it's looking right now, things are looking very good."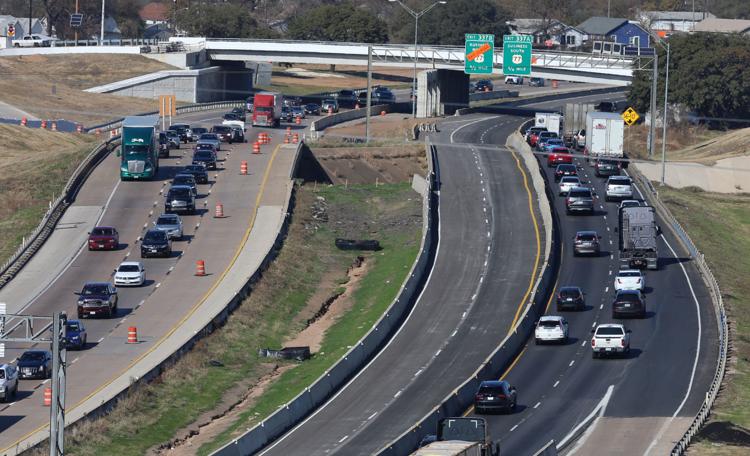 Webber crews have already poured concrete for parts of the southbound frontage roads in downtown Waco, and have begun dirt work on the new main driving lanes from 12th Street to Fifth Street. In Bellmead, work is focused on the southbound frontage roads while diversion lanes to reroute southbound traffic continue to be built.
The southbound lanes for the entire project are expected to be completed before crews switch to the northbound lanes.
No timeline has been released for replacing the bridges over the Brazos River.
Holiday travel
More than 4.1 million Texans will travel over the Thanksgiving holiday period, making this year the busiest Thanksgiving for travel since 2005, according to the AAA auto club.
Roberts said no lane closures are scheduled between Wednesday and Dec. 10, hopefully easing holiday congestion.
"Lanes will be open for traffic to move through here, but everyone needs to be aware of the conditions," Roberts said. "There is obviously going to be a tremendous amount of traffic over the holiday weekend and everyone needs to reduce their speed, be patient, give everyone a little extra distance between vehicles, wear their seat belts and remember everyone wants to get where they are going safely."