After a long look at McLennan County's sidewalks and bike lanes, or lack thereof, the Waco Metropolitan Planning Organization is urging local governments to prioritize cross-town pedestrian and cycling connections.
The MPO's draft Active Transportation Plan, a long-term planning document, homes in on specific issues throughout the county, focusing on instances of pedestrians or cyclists being injured or killed by vehicles, mapping out sidewalks, categorizing them based on condition and making a massive list of recommendations. MPO Director Chris Evilia said the plan prioritizes projects that would create a basic network of pedestrian- and bicycle-friendly routes linking Waco-area communities.
"We've got some facilities here and there, but they aren't connected to anything," Evilia said. "It's not an ideal setup, but we have to start from somewhere, and we're kind of starting from the very beginning."
Large chunks of Waco lack sidewalk of any kind, often leaving residents without the option to travel on foot safely or comfortably. Evilia said residential developments between World War II and 2009 rarely, if ever, included sidewalks. Hewitt, Woodway, West Waco, North Waco, Bellmead and Lacy Lakeview all developed during that time period.
Evilia said MPO officials are discussing the possibility of making sidewalk construction or rehabilitation part of any road construction project.
"Now, that adds cost to that process, and there's been some reluctance to do that," Evilia said. "I think that given the interest in bicycle and pedestrian accommodation, maybe that's a conversation we can keep moving forward."
City of Waco ordinances require some sidewalks along main roads in residential areas, and some subdivisions include extensive sidewalk networks that are marketed as amenities. New businesses often build sidewalks, but not always. Evilia said surrounding cities like Bellmead and Lacy Lakeview, however, lack even the limited requirements Waco enforces.
"Bellmead has a lot of commercial and retail development especially, but it's still a very rural transportation design," Evilia said. "So, we're seeing issues in Bellmead."
In a seven-year stretch between 2009 and 2016, Bellmead accounted for about a third of the pedestrian deaths in McLennan County. Bellmead has about 4% of the county's population.
Evilia said concerns about Waco's air quality, traffic and parking have pushed walking and cycling to the forefront of people's minds in recent years and provided motivation for the Active Transportation Plan.
The plan recommends adding bike lanes throughout the county and notes Waco has only about 7.25 miles of striped on-street bike lanes, not including the limited lanes at Baylor University. It also recommends ordinances requiring new businesses to include bicycle parking.
Since 2017, MPO Senior Planner Chelsea Phlegar has reached out to local schools, colleges and community organizations and has conducted an online survey to inform the draft plan. The draft is available at waco-texas.com/cms-mpo. The MPO board will accept public input on the draft through July 5.
"The city staff can take a look at that as a starting framework," Phlegar said. "It's like a guidebook. It's a plan from the regional agency."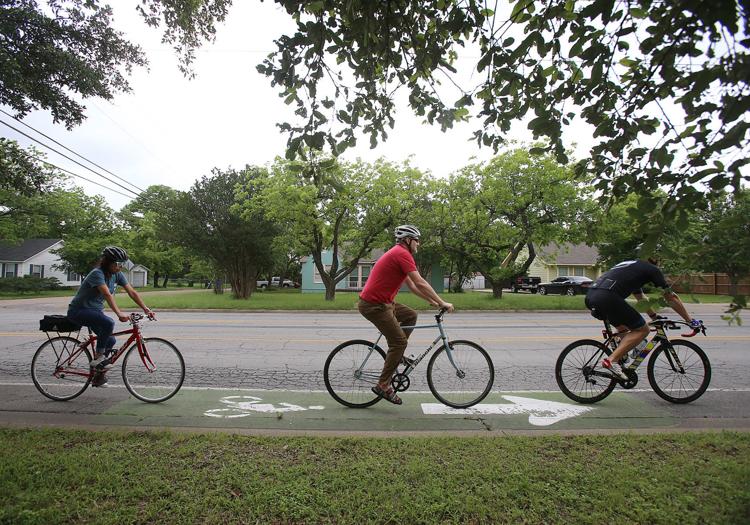 Phlegar said Waco's transportation infrastructure was shaped by the same trends that shaped many American cities. The urban core developed on a grid, with pedestrians in mind. Cars became the dominant form of transportation after World War II, a mindset that extended to the developing suburbs.
"You can see by the '60s and '70s that everyone was driving and no one was expecting to be walking anymore," Phlegar said. "So, a lot of those suburbs were not developed with sidewalks."
Phlegar said the plan is primarily a tool for Waco and surrounding communities. She said MPO can implement some pedestrian projects, but local governments have the most control.
"It really and truly needs to have local implementation as well as regional implementation," Phlegar said. "To me, ATP is a master plan, especially when you're not just looking at engineering projects, but potential policies. It's a menu of options."
The plan also gives Waco and surrounding communities a leg up when it comes to applying for grants.
"The grant applications will always say, 'Is there an adoptive plan that has gone through a public process where you've considered this?' Now, cities can point to this ATP and already have that first foot in the door."
MPO worked closely with a cycling and pedestrian work group, composed of members of the Waco Bicycle Club and Waco Walks. The group gave first-person accounts of routes already being used, specific problem areas and routes that have potential.
"I leaned on them very heavily, especially the bike club, when it came to mapping out regional bike routes that would connect the different cities," Phlegar said.
Waco Walks founder Ashley Bean Thornton said when she first started the organization her intention was to encourage people to walk. She soon realized that meant encouraging the city to build the necessary infrastructure as much as convincing individuals of the value of walking.
"It was kind of a chicken-and-egg thing," Thornton said. "Nobody is going to spend money on sidewalks if nobody walks. Well, when there's no sidewalk, nobody walks."
She said the group also discovered East Waco's sidewalks are aged, inconsistent in size and broken in places.
"Part of what we're doing is pointing out where it's not a great place to walk but it could be a great place to walk," Thornton said. "East Waco was a great example of that, though it's getting much better."
She said sidewalks are not the only element that matters. An area also needs to feel comfortable for pedestrians.
"Like I said, there are sidewalks under the freeway, but it's not welcoming at all," Thornton said. "So, how do you make it to where people feel safe? Not just that it is safe, but it feels safe."
Cyclists have had run-ins with poorly maintained pavement as well. Cracks and bumps that are uncomfortable in a car can become dangerous for bicycles. Dave Morrow, outreach coordinator for the Waco Bicycle Club, said he has watched interest in cycling and walking grow in the last few years, but safety is still a concern.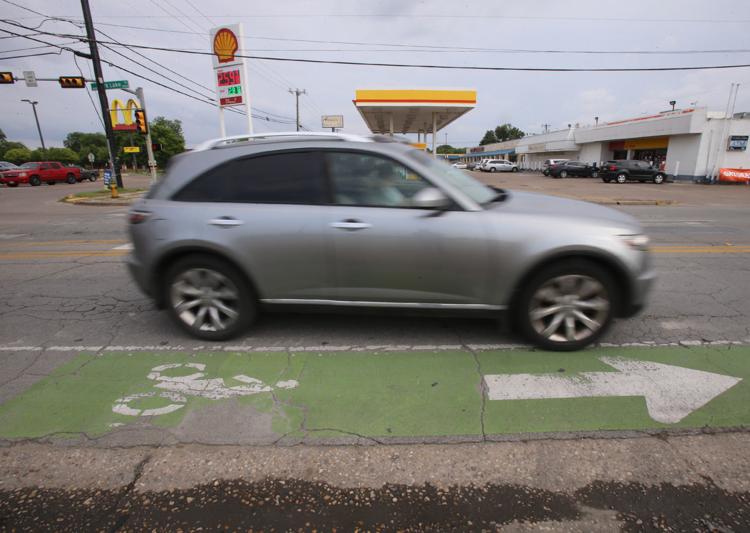 On Rock Creek Road, a four-inch lip of concrete jutting out of the road caused two separate incidents. A club member crashed after hitting the spot and broke his collarbone, and a member of the Waco Triathlon Club was injured at the same spot. The county's maintenance department has since fixed the pavement.
Morrow said he is encouraged by recent development in downtown, including sidewalks, improved lighting and bike racks.
"Rightfully so, the city is concentrating on where we have a tourist presence," Morrow said. "A really good, walkable downtown is key for businesses and tourists."
The club worked with the MPO and the city for two years to produce a bicycle map now available from the Waco Convention and Visitors Bureau. The map lists suggested bike paths, pedestrian paths, bike lanes and the locations of planned bike lanes.
"In general, the awareness of cyclists and pedestrians has increased," Morrow said.
He said in his experience, Waco drivers are fairly considerate about sharing the road with bicycles. However, bike lanes can often become littered with debris, tree branches from pruning projects and trash cans.
"We encourage our folks to ride single file, we try to signal our turns, and most of us use flashing lights," Morrow said. "We respect other drivers. We're just on a slower moving vehicle."
The plan's recommendations would make the county more livable for disabled residents as well. Meg Wallace, founder of Amberley Collaborative, a Waco-based disability advocacy group, has been wrestling with the issue since she first moved to Waco. In 2017, Wallace attended public improvement meetings intended to examine the 17th, 18th and 19th Street corridor.
At the time, she was an intern at Calvary Baptist Church. She said one church member, an elderly person who lived on 18th Street and walked to church, said she felt unsafe doing so because of the state of the roads.
"It was really bad," Wallace said. "There was no safe crossing. There was no good way for her to get to church, and she only lived half a block away."
She said when new development brings new sidewalks, it leads to a patchwork of new and old sidewalks that are functionally disconnected from each other. In some maddening instances, one side of a street has a sidewalk with curb cut ramps, but the opposite side does not.
"In places I felt like they're following the letter of the law, but not the spirit of the law," Wallace said. "All you can do is roll into the street. It might meet the legal requirements, but it doesn't provide accessibility."
Wallace said while those issues are far from being properly addressed, she feels somewhat optimistic about the transportation plan.
"They're thinking about how the old and the new intersect, and they're trying to connect them somehow," Wallace said. "They are thinking about accessibility."