McLennan County District Attorney Abel Reyna has demoted prosecutor Michael Jarrett, two weeks after Jarrett fired a colleague's new pistol through a DA's office window.
Reyna called a mandatory office meeting Friday afternoon and announced to his staff then that Deputy First Assistant Greg Davis will become his first assistant district attorney and Jarrett will become an assistant district attorney handling what Reyna called a "special caseload designated by me."
According to county records, Davis and Jarrett swapped salaries, with Jarrett dropping from $117,863 to $103,600 a year. Davis' salary was increased from $103,600 to $117,863, according to county payroll status forms filed last week.
Reyna said Monday his decision to demote Jarrett was not solely related to the window being shot out. It also involved related but unspecified personnel matters, Reyna said.
Jarrett and Davis did not return phone messages Monday afternoon. Reyna said the special caseload assigned to Jarrett "will take advantage of his excellent prosecutorial abilities."
"I am standing by Mike Jarrett and his abilities as a prosecutor," Reyna said. "There are a lot of successes this office has had in the last 34 months that can be attributed to his expertise, his trial skills and his performance of his duties as first assistant."
Jarrett angered Reyna by shooting out a fellow prosecutor's office window Nov. 4 after Jarrett asked the colleague if he could inspect his new Glock .40-caliber pistol.
Jarrett, who has a concealed handgun license, has said he asked if the gun was loaded and was told it was not.
He said he pulled back the slide on the semiautomatic pistol to double-check and didn't see a bullet slide into the chamber. He aimed the gun at a window and pulled the trigger.
The bullet shattered the window and struck the brick exterior of the adjacent vacant downtown county jail, Jarrett said previously.
No one was injured, which Jarrett said at the time was because he was careful to point the pistol out the window at a brick wall.
"I was being extremely safe," Jarrett told the Tribune-Herald earlier this month. "I inspected the gun even after I was told it was not loaded, but it was just an unfortunate accident."
Reyna has said his prosecutors will continue to be allowed to carry guns for their own safety, but said he implemented new office policies that should ensure against a repeat of the incident.
"Yes, there are new policies in place, but they are nothing more, really, than a restatement of the law and common sense," Reyna said.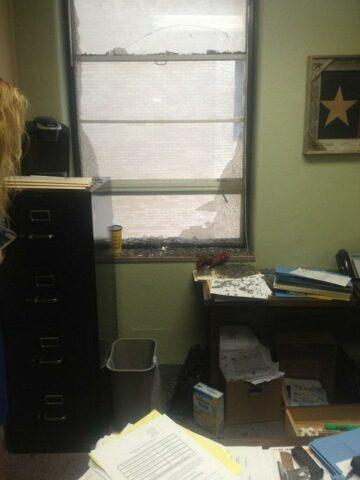 After the shooting incident, an internal office investigation was launched to try to determine who sent a photograph of the shattered window to the Tribune-Herald, courthouse sources said.
Prosecutors' phones have been examined and prosecutors have been interviewed by Reyna's staff in an effort to uncover who sent the photo to the newspaper.
Reyna said Monday the investigation was not conducted because the photo appeared in the newspaper. He said it was conducted because the photograph "jeopardized the security of this entire office and was a huge security issue."