McLennan County Sheriff's Office Cpl. Scott Dent was in the jail lunch hall Wednesday when he got the radio call.
An inmate known for drug use and mental health episodes was being aggressive and smearing human waste all over his segregation cell. An extrication team was heading toward the wing with shields and protective gear to remove him for a trip to the showers.
Dent was familiar with the inmate and thought he could use his new mental health training to open a conversation with him and avoid the use of force.
The man was screaming and crying when Dent arrived. As the extrication team watched, Dent spoke to the man in a calm voice.
"Hey, let's talk," he said. He urged the man to take deep breaths and keep talking.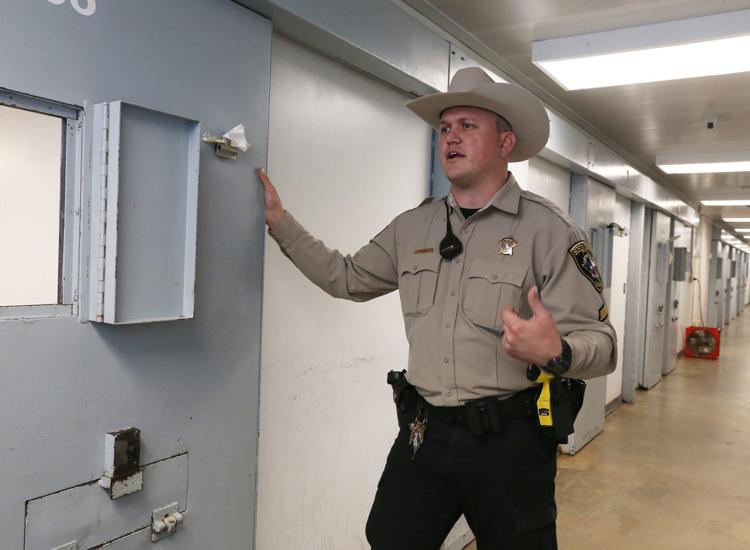 Within about 15 minutes, the man had agreed to come out without a struggle and be led away in handcuffs to the shower.
The recent episode illustrates the new approach local jail officials are taking. In the past year, McLennan County has budgeted new money for dealing with mental health needs, including additional psychiatric staff and required training for all staff dealing with inmates.
And Dent said it seems to be working.
"You can tell these people are hurting and there is a lot of pain in what they are saying," he said. "Sometimes they just need to know you are there to help them, not hurt them."
Dent said the training helps him keep his cool in confrontations like the one Wednesday.
"I have to understand that he was not mad at me," Dent said. "I was upset about the situation when he was yelling. He was not yelling at me. He was just mad, but if you stop right there, then you aren't going far enough."
Jails' role in treatment
Mental health concerns have been a constant for correctional institutions for years, said Capt. Ricky Armstrong, the sheriff's office jail administrator. About 20 percent of McLennan County Jail inmates are struggling with acute, severe mental health issues, resulting in struggles to find healthy coping mechanisms, stay on proper medication regiments and have appropriate therapy options.
"I think there are mental health issues in our country, but then those people sometimes end up in jail, because some commit minor crimes that they don't necessarily know they are committing," Armstrong said. "Sometimes, it is quicker and easier to take a person to jail than to take them to a mental health hospital, so we are now the largest mental health hospital in the county."
In October, McLennan County included $300,000 in its budget to improve the standard of care at the jail by hiring a full-time psychiatric nurse practitioner, five specially trained mental health counselors and CorrHealth, a private company that provides inmate health care.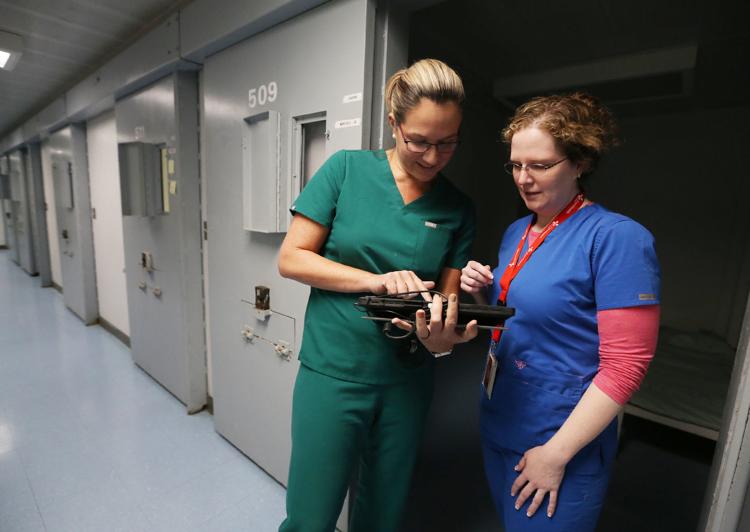 "You see statistically that your mental health population who can't get treatment or have resources tend to gravitate toward jail, because they commit crimes," said Melissa Jarrett, a registered nurse and regional manager for Texas CorrHealth. "You see them in this population and if you don't do something to identify that need and provide a safe place to detox with a provider who is able to diagnosis them and get them on medication or coping skills, you are going to see them back at this facility more often than not."
According to the National Alliance for Mental Illness, more than two million people are booked into jail each year. In Cook County, Illinois, which has one of the largest jails in the country, about a third of the jail's population is considered to have a serious mental illness.
Of the 941 beds at McLennan County Jail, about 24 inmates are housed in a dormitory-style mental health ward, where they work through health issues before they can be moved back into general population. About a dozen inmates with severe mental health-related illnesses are currently being housed in administrative segregation, where they are evaluated and undergo treatment plans.
Overflow space is available at the Jack Harwell Detention Center next door to the county jail on Highway 6.
"We try to give them the life skills, coping skills and even the medication and resources to change," Jarrett said. "On the street, you don't see that out there and we know we aren't going to cure the mental health issues in six months in the Waco area. But our goal is to help the acutely mental ill population to reduce recidivism."
It costs an average of about $65 per day to house an inmate at McLennan County Jail, compared to an average of about $200 per day for inmates with mental health needs, Armstrong said.
"We have teams that work with inmates with therapy, talk therapy and exercises, and I do see a lot of requests for help, because medication is not going to do all of it," said Deborah Sant'anna, a psychiatric nurse practitioner at the jail. "They do have to learn how to cope with the anger and have simple things of distraction in the moment they feel they are getting angry."
Mental health officials and jail administrators said mental illnesses can be hard to diagnose but have become a key concern for the care of people in custody. Armstrong said years ago, there was little education about mental illness and the beset approaches to treating unruly inmates.
"You never know when something minor may escalate to something much worse when you have to factor in things with mental health," Sheriff Parnell McNamara said. "It is a real concern to us to be able to provide safety, not only to our citizens, but for our inmates and try to get them proper help, medical or psychological help.
"It's very important to recognize what the issues are so we can address them for the safety of everyone."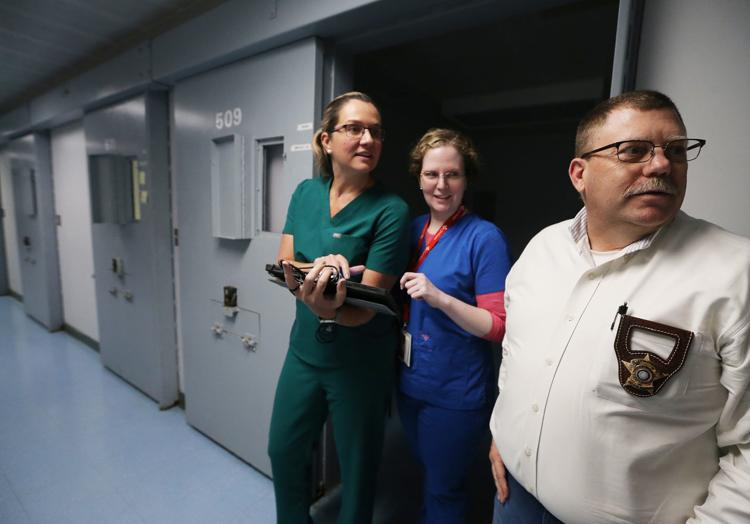 Lt. Jason Davis and Sgt. Marco Hinojos attended the Correctional Management Institute of Texas at Sam Houston State University for two weeks, which included a program of mental health training for jailers. After the training, both jail employees hosted a statewide training session locally and offered jailhouse staff and other counties scenario-based training to help provide inmates with mental health help.
Jail administrators said they have a goal to have everyone working in the McLennan County Jail trained with mental health skills within the next two years.
"That training makes you realize you just need to be a little more patient and know that everyone reacts different to different scenarios," Dent said. "There is nothing wrong with being a good person, so when you try to understand and realize that if I was in jail, I would be frustrated and mad, but sometimes you have to listen and try to understand what they are going through and treat them like a human."