Despite elevated heart rates, increased adrenaline and intentionally impaired vision, 30 local high school students are getting a clearer look at law enforcement operations.
The group just wrapped up the first week of the Waco Police Department's annual Junior Police Academy. In their first of two weeks, participants from around the region have gotten a taste of training for active shooter scenarios, SWAT operations and crime scene forensics and have taken on exercises involving DWI enforcement and cadet obstacle courses.
"Even though these are drills, everything feels real," Jairo Romero, 17, said. "Your adrenaline is pumping real hard and your mind was really going and you had to keep your mind open."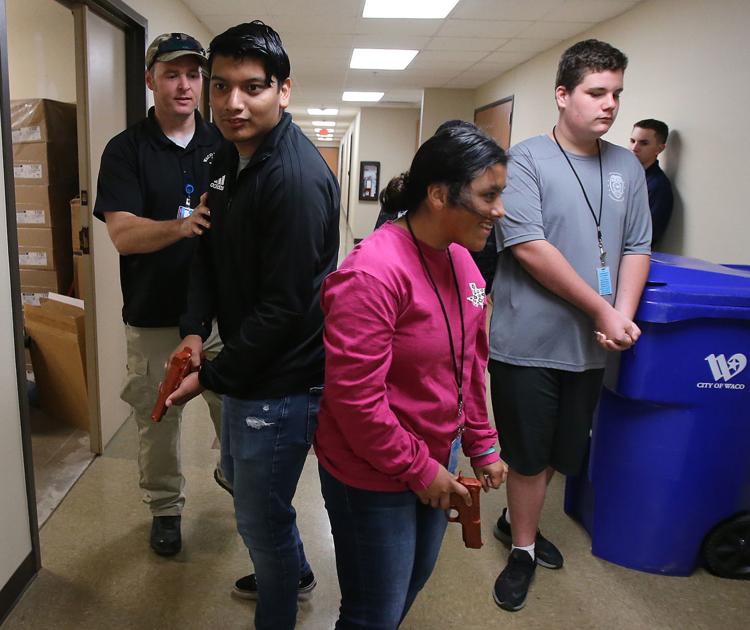 Romero, who will start his junior year at Waco High School in the fall, was one of the 30 guided through the academy by Waco police officers, McLennan County Sheriff's Office deputies, Texas Department of Public Safety troopers and Waco Fire Department marshals, among others.
Traffic officers and DPS troopers handled DWI training Thursday. With goggles that help mimic elements of alcohol impairment, pedal cars and field sobriety tests, students got a taste of the effects and the enforcement involved in drunken driving.
"It threw you off balance and threw you off course a lot more than you realized," Romero said. "I can tell you that I am never drinking and I am never getting in a car like that."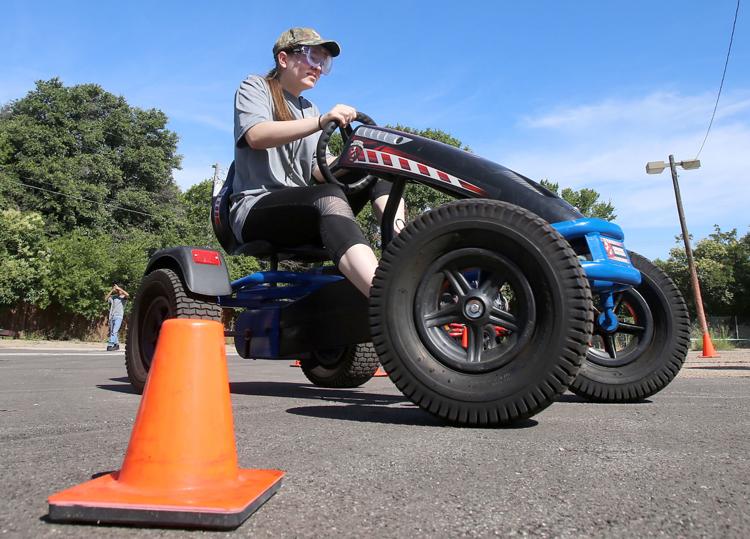 Waco police Crime Prevention Officer Sofie Martinez said this year's class is the biggest since she started leading the program five years ago. Students are not eligible to participate if they have been convicted of any criminal offense higher than a Class C misdemeanor, are on probation or parole, or otherwise cannot pass a criminal background check.
"The interest in policing and the curiosity of policing both I think contribute to the interest, but I even had to turn some way this year," Martinez said.
Rapoport Academy Meyer High School student Anastasia Olivarri, 15, said she has enjoyed the academy even though law enforcement is not in her career plans. It has been interesting to see some ins and outs of police work, but she wants to become a veterinarian, Olivarri said.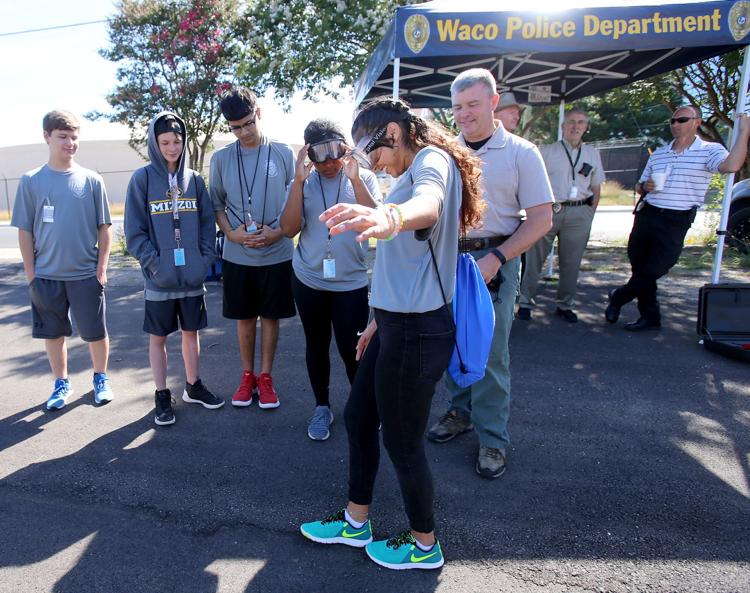 "This is awesome and is an amazing experience," she said. "To be able to see what law enforcement goes though on a daily basis, it is really eye opening."
Last year, Waco police admitted 27 students into the junior academy, Martinez said. One of the intents of the program is act as a recruitment tool for the department's yearlong Police Explorers program for from high school age to 21.
"You see a lot of negativity and you see videos where teenagers jump on officers who are trying to arrest someone, or some kids in general don't like police, even though they have no idea about our job," Martinez said. "These programs educate students how police departments work, different things we do, and get one-on-one contact with officers to help get young people comfortable and see officers are just like them."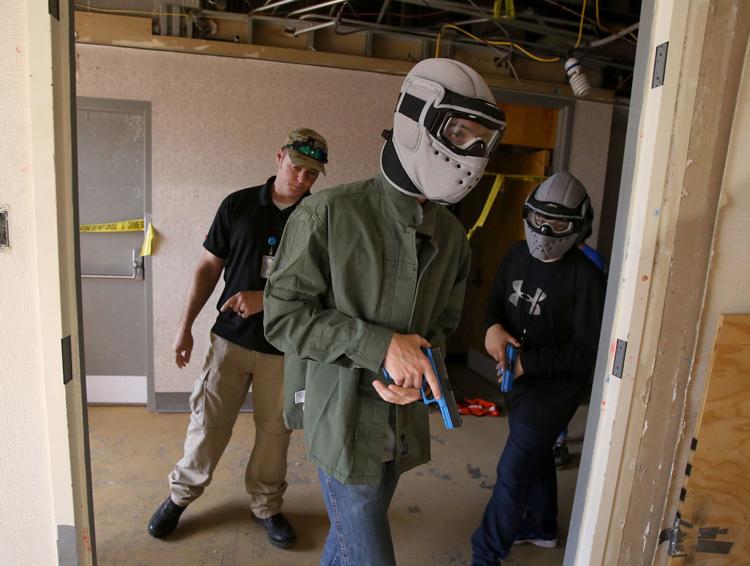 Joey Jackson, 15, said he started the week knowing he had some insight into law enforcement, but the academy has already shown him much more.
Joey's father, Heath Jackson, is a 12-year veteran with the Waco Police Department and helped instruct students during active shooter drills and on SWAT interactions and maneuvers.
Students armed with training simulation pistols cleared buildings, searching for active shooters and victims and speaking to suspects involved in violent crimes.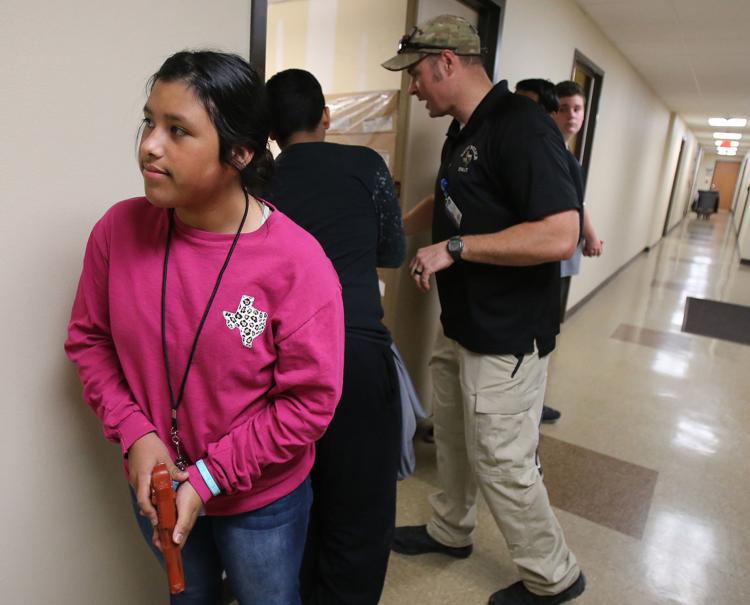 "My dad teaches me stuff all the time, but not this stuff, like when to shoot people or not to shoot people," Joey said. "After high school, I am definitely going into the Marines Corps, but after that, I don't know, maybe become a cop."
Heath Jackson said encouraging his son go through the ups and downs of training has brought a new element to the process.
"This is definitely tough on me and watching him go through some of this makes me proud a little bit, but I hurt for him when he struggles," he said. "We've learned how you learn this best,"
"By screwing up," Joey said, completing his father's sentence.
"That's how we learn the best," his dad said.
Participants will graduate Thursday at the Waco Police Department.