Immigrant advocates are calling for the McLennan County Sheriff's Office to ask an outside agency to investigate allegations that an immigrant detained at McLennan County's private jail was sexually assaulted by a guard and then subjected to harassment after she reported it.
Members of the Waco Immigrants Alliance and friends and supporters of Estela Briceno Fajardo held a press conference Monday in front of the sheriff's office to bring attention to Fajardo's plight.
Fajardo, 46, has been behind bars for 2 1/2 years on criminal and immigration charges, separated from her four children, who range in age from 3 to 21. Now at McLennan County Jail, she is awaiting trial on the misdemeanor criminal charges. Even if she is found not guilty, she faces the prospect of being deported to Mexico, a country she left when she was 14, and leaving a community where she has built two businesses and is known for her civic involvement.
Fajardo claims that before she was transferred to the county jail this spring, she suffered sexual abuse at the hands of a female guard at the Jack Harwell Detention Center, a privately run jail next to the county jail. After the transfer to McLennan County Jail, Fajardo claims she was given the wrong medication and suffered a serious allergic reaction.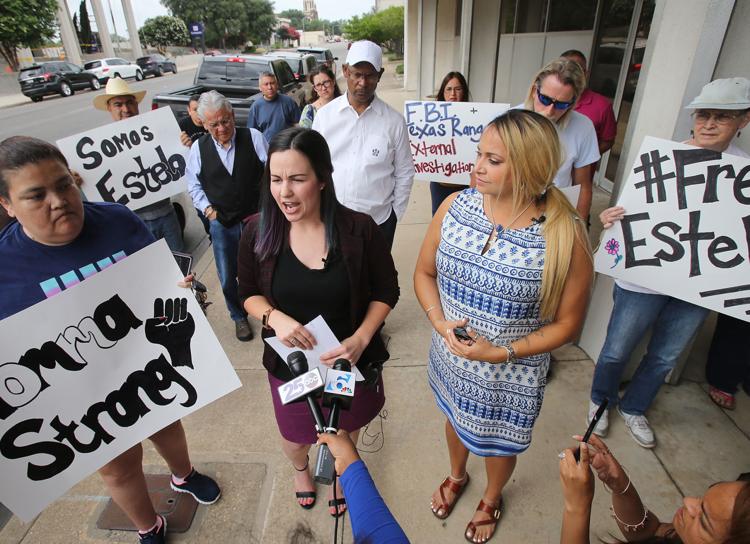 Hope Mustakim, director of the Waco Immigrants Alliance, said Monday that Fajardo was harassed and intimidated after filing her complaint. Mustakim said Fajardo's hardships came after a 20-year marriage in which Fajardo suffered abuse.
"Estela has endured a lifetime of domestic violence and still contributed to this community," Mustakim said. "She is a member of two churches, is a self-made businesswoman and is a community leader. Our hope is, first, for the sheriff's department to launch a better or another investigation, if not ask the FBI or Texas Rangers to do that, and for (U.S. Immigration and Customs Enforcement) to recognize all the abuses involved in Estela's life and that she deserves deferred action."
McLennan County Sheriff's Office Chief Deputy David Kilcrease has pledged to reopen the initial investigation into Fajardo's complaints. But he said Monday that based on Fajardo's own description of what happened and statements she made in recorded jail conversations, the incidents are not crimes and amount to routine "textbook pat-downs" by a female officer.
"It's obvious here that the whole thing is to try to enhance her immigration status," Kilcrease said. "But ruining somebody's life so she can keep her life here is not reasonable. If somebody did something to her, they need to answer for it. But what she is claiming is just not there. This is a textbook pat-down. There was nothing wrong with it, or there was certainly nothing illegal about it."
Fajardo was arrested 2 1/2 years ago on felony charges of engaging in organized criminal activity and burglary of a habitation, and she has languished in jail waiting for her case to go to court. Recently, she got a new defense attorney, Gerald Villarrial, who said Monday the McLennan County District Attorney's office reduced the felony charges against her to a Class A misdemeanor theft charge.
In 2016, Fajardo served six months in a federal facility for illegal re-entry into the United States and was then returned to the Jack Harwell Detention Center, a private jail in McLennan County operated by LaSalle Corrections. She was placed under an immigration hold and faces deportation after her criminal case is resolved unless attorneys and supporters can convince immigration officials to exercise discretion in her case and allow her to remain here with her children, based on the alleged domestic and sexual abuse she has suffered.
Villarrial, who replaced Fajardo's first attorney a few months ago, said they are considering filing a civil lawsuit against LaSalle Corrections based on the allegations of sexual assault by a female guard.
"I knew Estela before all this happened," Villarrial said. "She has always been a well-respected, hard-working businesswoman. I believe in her."
Now that prosecutors have reduced the charge to a misdemeanor, Fajardo faces a year in the county jail if she is convicted, and she would likely be sentenced to time already served if she pleaded guilty.
"That is not going to happen," Villarrial said. "She won't plead guilty because she says she is not guilty. She won't even hear of pleading because she said she didn't do that. It looks like we are going to have to take it to trial unless the state decides to dismiss it."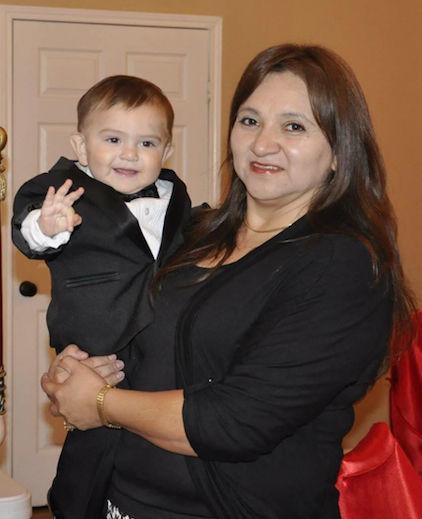 Fajardo says the criminal case began when a man, his wife and their baby approached Fajardo about buying some jewelry. She said she doesn't buy gold, but they convinced her that they needed cash to buy food and diapers for their baby, Villarrial said. She agreed to buy the jewelry with the understanding that she would hold it until they came back, returned her money and buy back the jewelry, Villarrial said. She was not aware that the merchandise was stolen but merely was trying to help the family, he said.
Attorney Anali Looper, director of the Waco office of the non-profit immigration law firm, American Gateways, is helping Fajardo with her immigration case. She said Fajardo plans to pursue a claim under the Violence Against Women Act as an abused spouse of a U.S. citizen.
It is not an immigration status, but if they can prove the abuse, it might convince Immigration and Customs Enforcement officials to exercise discretion and allow Fajardo to remain in the country to pursue her civil claims that she was sexually assaulted in the jail. Fajardo also will seek a U-Visa as an alleged victim of sexual assault, Looper said.
"I have only recently met Estela but I had heard of Estela long before this," Looper said. "She was been an upstanding member of the Waco community, been in the United States since she was 14 years old and she is just a lovely person. It is a tragedy all the horrible things that have happened to her and we hope the Waco community stands by her and does right by her and her family and she is allowed to stay in the country and be with her children."
Kilcrease said he will ask investigators to interview four inmates housed with Fajardo at the Jack Harwell Detention Center who Fajardo's supporters claim were never interviewed during the first investigation that they characterized as "lacking."
"What is important is this sheriff is nationally known for his stance in protecting illegal immigrants, especially helping them escape from sexual exploitation," Kilcrease said. "This sheriff has proven he doesn't have a problem arresting officers, especially at Jack Harwell, because he has done it before. We are not here to cover for officers of LaSalle Corrections, nor are we here to cover for any officer. I think these people have picked the wrong sheriff in trying to make these allegations because of his track record on these issues."
Kilcrease said Sheriff Parnell McNamara was out of town Monday.
Mustakim said Fajardo worked to help get McNamara elected and used her moving company to help him move into his new office six years ago. The alliance handed out a photo with McNamara standing with Fajardo on Monday.
"The sheriff would be very disturbed to know she is in jail and that she is a constituent who is personally known to him," Kilcrease said. "But Parnell McNamara doesn't pull punches when it comes to family members or friends or anyone else who breaks the law. He just doesn't do it."
Every inmate must be patted down or searched when they move from one area to the jail to another. While it might not be pleasant to the inmates, what Fajardo described to the investigator was not sexual assault, Kilcrease said.
Besides, Kilcrease said, in recorded jail visits with a friend, Fajardo never reports to him that she was sexually assaulted.
"She talks about her days and different problems she is having, but she never talks about anyone feeling her, touching her or coercing her into sex," Kilcrease said. "The only thing she mentions about this guard is she is strict, she is intimidating and she would like to see her out of her area. This is all about her wanting to get victim's status so she can override the (immigration) detainer."
Kilcrease said Jack Harwell center officials said they reviewed a video of the alleged incident and determined nothing more than a routine pat-down occurred. He said he wants to discuss policies with jail administrators because they did not save a copy of the tape showing what happened, Kilcrease said.
"If they have an allegation and a tape that proves the official did nothing wrong, common sense tell you to save that tape," Kilcrease said. "But they allowed it to be recorded over and now we don't have it."
Looper said she finds Kilcrease's comments "very disturbing," and said she hopes he takes her allegations seriously and that his department or another agency conducts a thorough investigation.