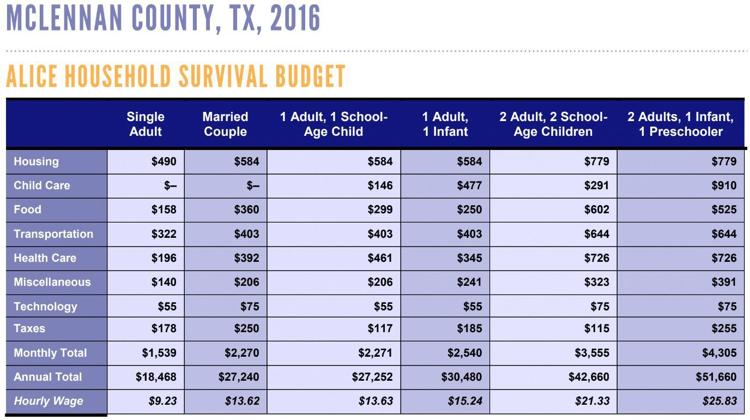 Forty-four percent of McLennan County households in 2016 were either in poverty or one emergency away from falling into it, according to a new study by the United Ways of Texas.
While much attention has been paid to the 17 percent of households in McLennan County that fall under federal poverty guidelines, the United Way report finds that a much larger population lives in households where financial crisis is the norm.
The study shows that 27 percent of families here earn more than the poverty level but not enough to afford basic cost-of-living expenses for Texas. The study calls this population "asset-limited, income-constrained, employed," or "ALICE."
ALICE families struggle daily to meet the basic cost of living expenses, said Barbara Mosacchio, United Way of Waco-McLennan County executive director.
"They often move in and out of poverty and crisis, and our United Way is committed to joining with our partners to increase financial resiliency for ALICE families and individuals," Mosacchio said.
Those identified as ALICE households are typically the ones falling through the cracks in regards to getting services, she said.
"They are one crisis away from going over that federal poverty line," she said.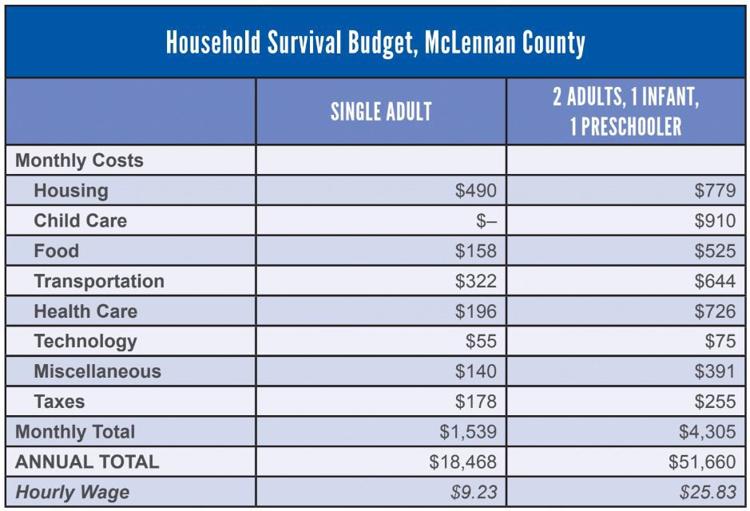 The report shows the cost of basic needs in a household survival budget for each county in Texas. A comparison chart shows what the household must achieve for financial stability.
For McLennan County, a single adult operating on an ALICE "survival budget" makes an hourly wage of $9.23, or $18,468 a year, whereas a household of two adults and two school-age children must make $21.33 an hour or $42,660 a year, according to the report.
The report calculates that financial stability in McLennan County would translate into a single adult household earning $15.08 an hour, or $30,156 a year. A household with two adults and two school-age children would need to earn $83,028 a year, according to the report.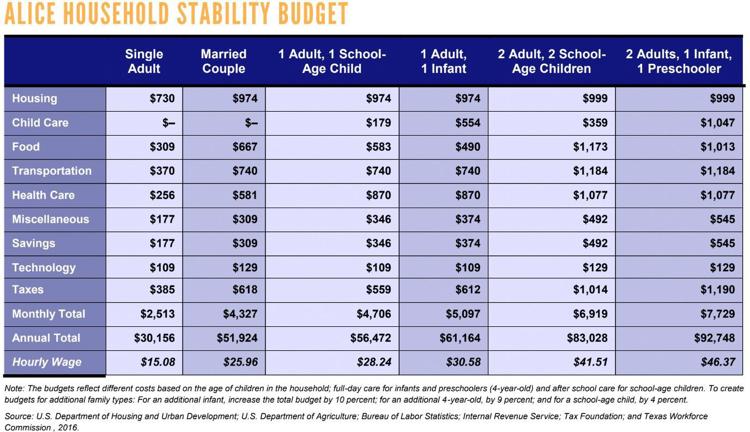 In 2016, there were 247,934 people living in McLennan County, representing 87,163 households, with a 3.7 percent unemployment rate, according to the report. The median household income was $46,860, compared to the state average of $56,565, according to the report.
Compared to McLennan County's 44 percent of households in 2016 who lived in poverty or ALICE status, Bell County had 41 percent; Bexar had 51 percent; Harris had 43 percent; Jefferson had 45 percent; Lubbock had 42 percent; and Frio County had 72 percent of households.
The report documents the increase in the basic cost of living, the decrease in the availability of jobs that can support household necessities, and the shortage of affordable housing in areas where higher-paying jobs are located.
The 135-page report tracked Texas households before and after the recession between 2007 to 2010, and then during the recovery through 2016. The total number of Texas households increased 22 percent from 2007 to 2016, reflecting the state's position as a population growth leader.
Mosacchio argued that the federal poverty line is an outdated calculation and no longer provides accurate information about the number of people facing hardship across the country.
Mosacchio said the agency, along with its community and state partners, will use the data to inform programmatic and policy solutions for McLennan County households and communities.
The ALICE Reports use new measures to provide a more accurate picture of financial insecurity at the state, county, and municipal level, she said. The project began as a pilot program in New Jersey and has expanded to include 18 states, which represent nearly 40 percent of the U.S. population.
The local numbers weren't surprising to those who work with struggling households, Mosacchio said.
"For those of us inside this work, inside the fence of understanding poverty, it's not startling," she said. "It's important that the rest of the community, our community leaders, the people who contribute to our campaign, work collaboratively with us, understand just how significant this problem is."
Mosacchio said the report gives the agency a baseline to work from. The nonprofit will compile the data so it's defined by ZIP codes and other measures to allow program progress to be measured, she said.
"We are grateful to our state association, United Ways of Texas, for helping us to create awareness and inform our local community about ALICE," she said.