The men of Tranquility Lodge will get together Saturday in Waco, as they have every July for two decades.
But as they fellowship, eat and enjoy a planetarium show on the 50th anniversary of the Apollo 11 mission, they will be reminded of their true home base, 238,900 miles away.
"Waco is our official home until we can go to the moon," said Mike Gower of McAllen, charter master of the one-of-a-kind Masonic lodge.
Tranquility Lodge, named for the lunar Sea of Tranquility, is the only Masonic organization in the world that can trace its roots to the first moonwalk on July 20, 1969.
That's when astronaut Edwin E. "Buzz" Aldrin Jr. and Neil Armstrong steered the fragile Eagle lunar module to the moon's surface. Tucked away with Aldrin were a Masonic flag and documents necessary to establish a Freemason presence on the moon.
That part of the story is little known, and may sound unlikely. But the evidence for it is hiding in plain sight in downtown Waco.
A display in the publicly accessible basement museum of the cavernous Grand Lodge of Texas building, 715 Columbus Ave., tells the story of Aldrin's Masonic mission in documents and artifacts.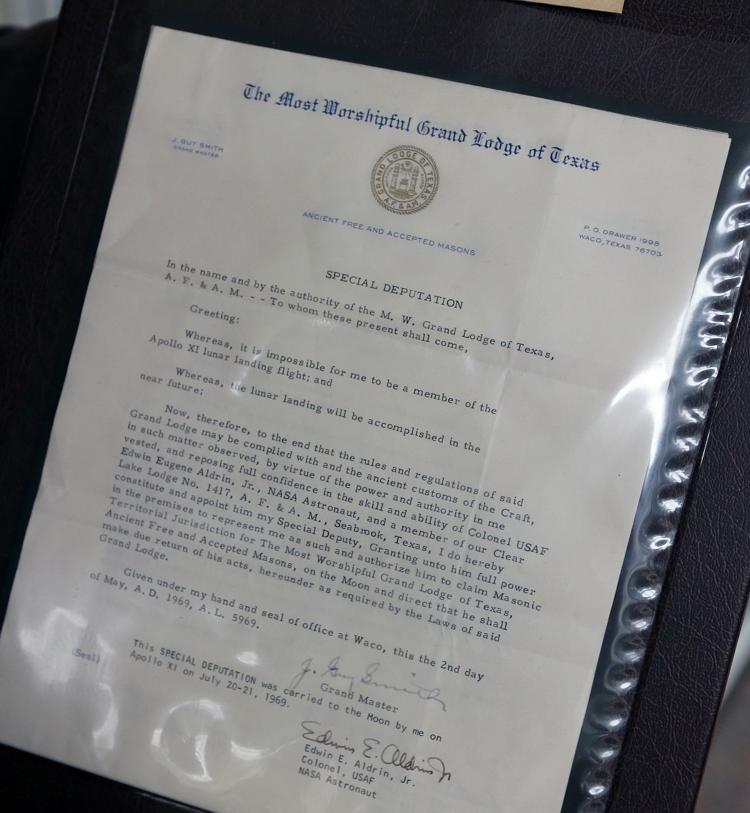 The key is a "special deputation" by J. Guy Smith, then the grand master of the state's Grand Lodge, deputizing Aldrin to "authorize him to claim Masonic Territorial Jurisdiction for the Most Worshipful Grand Lodge of Texas, Ancient Free and Accepted Masons, on the Moon."
The deputation was given May 2, 1969, in Waco, and it bears Aldrin's signature under the statement, "This Special Deputation was carried to the Moon by me on Apollo XI on July 20-21, 1969."
The document notes that Aldrin was a member of the Clear Lake Lodge No. 1417 in Seabrook, Texas.
Also in the Grand Lodge of Texas display are Masonic journals from the time noting Aldrin's Masonic background, beginning with Masonic degrees in Montclair, New Jersey, in 1955 and continuing with other honors including York Rite degrees and orders he received in Waco in 1967.
In one article, Smith, who was also a regional Texas Department of Public Safety official, explained the Masonic moon mission as a gesture toward harmony on Earth.
"Just as a Mason set foot on the moon, can't Masonry help solve some of today's problems?" he is quoted as saying.
"Can't our teachings of Charity and Brotherly Love be used to lead America out of its current dilemma?"
In September 1969, Aldrin visited the Masonic House of the Temple in Washington, D.C., and presented the handmade silk flag he had taken to the moon.
It was not unusual for astronauts to bring small items into space and present them as souvenirs to civic groups, said Robert Pearlman, a space historian and journalist who was a historical consultant on CNN's recent "Apollo 11" documentary.
Pearlman said Armstrong and Aldrin both carried flags to the moon that they later shared with the Explorers Club. Aldrin, a Presbyterian elder, also carried the elements to serve communion on the moon lander, he said.
In subsequent missions, Edgar Mitchell brought microfilmed Bibles to the moon, and Charlie Duke would later leave a family photo on the lunar surface.
Space suits had pockets with Velcro patches, but Pearlman suspects Aldrin and Armstrong left most of the souvenir materials in the landing module.
Pearlman has known Aldrin for two decades and created the astronaut's first website, but he had not heard of the Masonic materials. He said Aldrin is a proud Mason, so it makes sense.
"It is surprising that there's still stuff to learn about the Apollo mission 50 years later," he said.
The era of manned moon exploration ended with Apollo 17 in 1972, and with it faded the enthusiasm for a Masonic presence on the moon.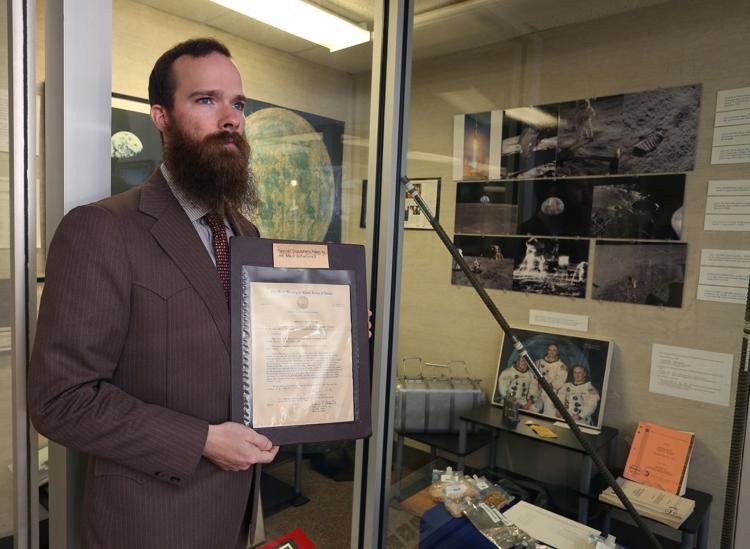 Robert Marshall, a 2012 Baylor University graduate who manages Waco Lodge 92, said the lack of publicity about the episode has do with generational attitudes among Masons.
"That generation of Masons, starting in the 1940s until recently, got mixed up about what was supposed to be secret and went overboard making things secret and shot themselves in the foot," Marshall said. "It used to be a very public organization. Had the moon landing happened in the 1920s, (the Masonic claim) would have been a headline everywhere."
It took three decades before a small group of Masons, inspired by Aldrin's story, set out to make good on its promise.
In the late 1990s, Duncan Howard, a Waco dentist and past president of the Grand Lodge, researched the history of the Masonic deputation to the moon. In a 1999 newsletter, he proposed a special lodge named for the Sea of Tranquility, where the Eagle landed.
"He was a real historian," Mike Gower, 81, recalled this week. "He and (grand secretary) Jim Ward came to me with the idea, and as soon as I heard it I thought it was a wonderful idea. I wanted Mr. Duncan to be the first master, but he was a very humble man, not looking for accolades, and he refused."
Gower was persuaded to lead the lodge, which was to be unique in accepting Masons from all over the world and offering no degrees. Today it meets quarterly: every July in Waco and at various locations during other times of the year.
"We've got a real widespread membership — Germany, Japan, Holland," he said. "We have about 1,200 members. … We have way less members than we'd like. We'd like to have 10,000 members. That would give us an endowment to really be a factor in some charitable efforts."
The organization raises money for scholarships in science and engineering careers, for science educators and for graduate education related to space and aeronautics. The organization supports the Conrad Foundation, which supports science education in honor of late astronaut Pete Conrad.
"The lodge is designed to do some interesting things, some important things," said Phil Morehead, an Abilene attorney who is active in the lodge. "We're hoping to support STEM (Science, Technology, Engineering and Math) at the lower level, and we're hopeful we can find a program we can support in Texas."
Bruce Hammond, a health care entrepreneur and Tranquility Lodge officer from Arlington, said Tranquility Lodge appealed to him because space exploration is in his blood.
He was 16 and living in California on July 20, 1969, when he sat glued to the TV, watching the first moonwalk. By then, his father had already been working on the Apollo 11 mission through his job at Rockwell. His dad's job was to drill holes in the metal of the capsule to allow a nonconductive fluid to bathe the instruments and prevent them from burning up on re-entry.
"This wasn't just an occasional thing. We were living with it," Hammond recalls.
Hammond said he joined Tranquility Lodge about 10 years ago, not long after becoming a Mason.
"Once I got in, I heard about it and was like, wow," he said. "First, it's the space thing, but the other piece of it is the money we're spending and the places we're spending it in."
Pearlman, the space historian, said the interest Masons still take in the moon landing all these years later underlines how inspiring it was across the world.
"What it shows is that the moon landing reaches all different kinds of groups, all of which have found different meanings In it," he said. "The moon landing speaks to us that we're all one humanity."