When Good Sports co-founder Christy Keswick reached out to Chip and Joanna Gaines' Magnolia Foundation, she did not expect the high-profile "Fixer Upper" stars' charity arm to respond with such interest.
Keswick, who also is the national sports nonprofit's chief operating officer, knew the Magnolia Foundation must receive countless requests like hers, but she also knew she and Chip Gaines shared a common passion for sports.
"I reached out to Magnolia because I was reading Chip Gaines' book, and in there he talks about his love of baseball and how he played growing up," she said. "In several passages, he talks about different pieces of equipment and and how he kept his glove soft and his uniforms clean, while his other clothes lie dirty on the floor."
About 50 Magnolia employees organized $73,000 in new sports equipment, footwear and apparel for underserved children in the Waco community on Friday morning. Magnolia provided the funding, while Good Sports collected the brand new sports equipment to distribute to various Waco youth programs, Keswick said.
"Magnolia was very interested in giving back directly to organizations in Waco," she said. "I've been doing this for 16 years, so when I hear someone talk passionately about sports equipment, it definitely makes my antenna go up."
Good Sports tries to provide children with the "lifelong benefits" of sports and physical activity by donating equipment, apparel and footwear to those who need it the most, Keswick said. The nonprofit organization works with companies including Nike, New Balance and Under Armour to secure donations or discounts on sports items.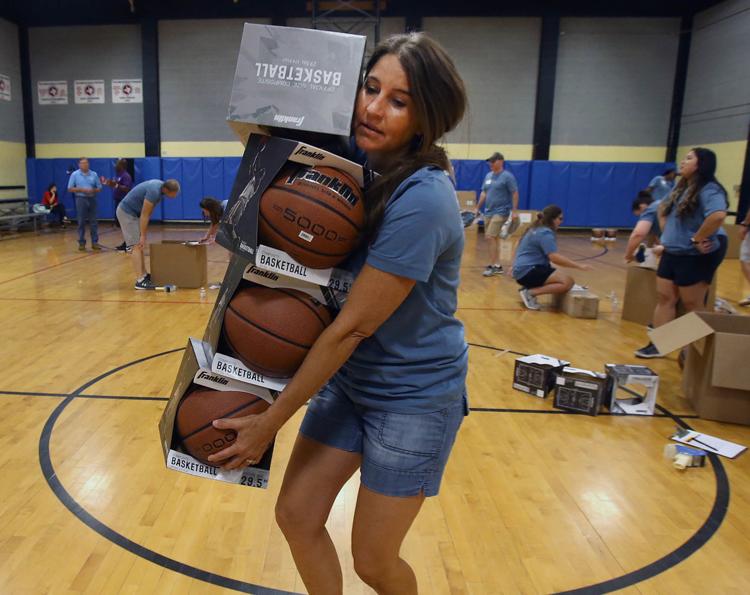 Donated items in the local effort included first aid kits, jump ropes, Frisbee sets, dodgeballs, basketballs, volleyballs, pickleball equipment, footballs, bowling sets, tetherballs, swimming goggles and sports clothing. The items went to children in need at the Bledsoe Miller Recreation Center, Boys & Girls Clubs of Waco, Doris Miller YMCA and Special Olympics Texas — Heart of Texas.
Founded in the fall of 2016, the Magnolia Foundation supports the "most vulnerable children and families in our communities through orphan care, youth development, family housing and community restoration," Magnolia spokesman John Marsicano said in an email.
Keswick said the Magnolia Foundation was interested in giving back to the community and not just through money.
"We talked a lot about the reaction we see in kids when they see new sports equipment and are able to put on a uniform," she said. "They were wonderful to work with. It just seemed to be a good fit. I'm hoping we will be able to continue this partnership."
Marsicano said the foundation decided to work with Good Sports because there was "a lot of natural synergy" between the two organizations. Both want to serve the underprivileged youth in Waco and share the benefits of playing sports.
"Statistics are showing large declines in both physical activity and youth sports participation — the gap for children impacted by poverty is even larger — robbing those youth of the proven, long-term emotional, physical and intellectual skills and benefits that pave the way for all sorts of other opportunities down the road," he said. "Good Sports is doing great work to tackle these issues community by community, program by program, and we want to do our part to help eliminate any obstacles that may stand in the way of children in this community. We want to help empower these kids and their families to make extracurricular decisions based on their interests and passions, not whether they have the resources or equipment necessary to participate. For us, that's what this is all about."
Since 2004, Good Sports has contributed more than $43 million in donated sports equipment, benefiting almost 7 million children from more than 4,200 youth programs across the country, according to its website.