Waco's congressman delivered commendations to three Central Texas veterans Wednesday for their service and continued dedication to the area as civilians.
In a ceremony at the Veterans One Stop in Waco U.S. Rep. Bill Flores, R-Bryan, presented the 2017 TX-17 Congressional Veteran Commendation to retired Air Force Tech. Sgt. Everlyn White Humphrey, of Bruceville, retired Army Sgt. Maurice Reyes Ramon, of Waco, and retired Army Lt. Col. Michael Lee Russell, of Woodway.
"If you think about what our military men and women do for our community, they protect us from all the threats abroad," Flores said, encouraging attendees to pray for them.
The award was first given in 2012.
Humphrey served in the Air Force from 1981 to 2001 and has earned the Air Force Joint Service Commendation Medal, the Air Force Commendation Medal and the National Defense Service Medal, Flores said. She is now a U.S. Department of Veterans Affairs transition advocate.
Ramon served two tours in the Army during the Vietnam War in the 25th Infantry Division. He earned the Vietnam Cross of Gallantry, the Vietnam Service Medal and the Vietnam Campaign Medal. He served in the Army Reserve and National Guard. Ramon also earned the Good Conduct Medal, the Army Commendation Medal and the National Defense Service Medal.
He has worked for the VA and the U.S. Postal Service and is now connected to the Hewitt Veterans of Foreign Wars post, providing counseling to younger veterans with post-traumatic stress disorder, Flores said.
Russell served four deployments in 24 years of military service. He has earned the Legion of Merit, the Joint Service Commendation Medal, Army Commendation Medals, Army Achievement Medals and more. He has conducted neuroscience research into veterans who have suffered brain injuries.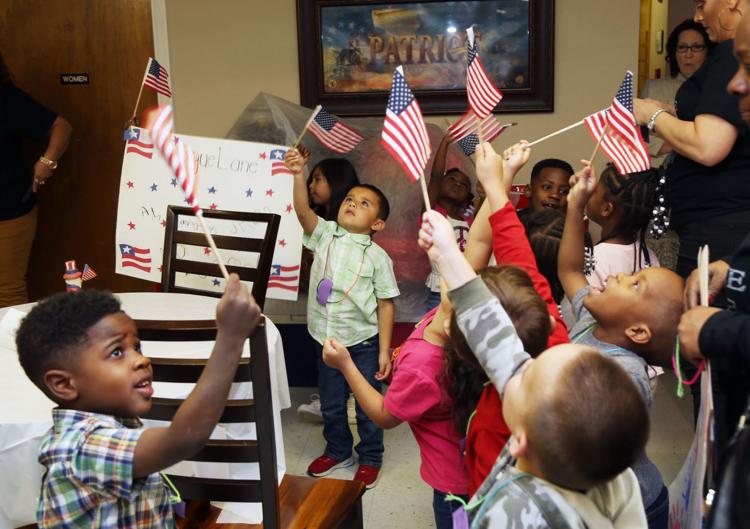 "Veterans One Stop is really a unique resource," Flores said. "It's the only one like it in District 17 and it's become the example I use when we talk about how to provide veterans services for the most important part of our population."
Veterans One Stop Executive Director DeLisa Duncan Russell said she was thrilled to honor the three recipients this year while also hosting sailors and officers of the U.S. Navy during Navy Week.
"We thought it would be perfect to tie it in with Navy Week and so many people that are doing so many amazing things, so we're honored we get to actually have it here at the Veterans One Stop every year," Duncan Russell said.