Debra Coffey was 9 when she came home from school one day and two Air Force officers were sitting in the living room. Her mother was crying.
The third-grader, who still was coping with her parents' divorce the year before, went into a bedroom with her mother and her older sister. That's when her mother told them the devastating news that their father, Air Force Capt. Robert Russell Barnett, a former Baylor University football player, had been shot down during a secret bombing run during the Vietnam War.
"It was very confusing to us," Coffey said. "I ran back to school crying and I went to find my teacher."
Air Force officials listed Barnett, shot down in his B-57 on April 7, 1966, as presumed dead, missing in action, body not recovered.
Coffey and her older sister, D'Lynn, were presented with her father's medals during a memorial service at Fort Sam Houston in San Antonio. There is a memorial marker there for her father, but no remains were recovered. Her family was not able to conduct a proper funeral and burial.
Remarkably, in keeping with the military's code to never leave a fallen comrade behind, searchers found the crash site in Laos in 2005. With persistent dealings with the Laotian and Vietnamese governments, teams in December recovered partial remains from Barnett — a single molar — which will be returned to Barnett's family so they can have a formal burial after more than 50 years.
"We are thrilled. It is some very definite closure for us," Coffey said. "Not that I hadn't come to terms that my father was killed in action and he wasn't coming back, but it was just a relief on several fronts.
"One, we are so proud that our military just kept looking and worked so hard for so many years to bring us some finality and some closure. That was very comforting to our family. After all these years, I never thought that he would come back. But as a little girl, I would sit in class thinking he was going to come to the door."
Coffey, who lives in Fort Worth, has applied to have her father's remains buried at the Texas State Cemetery in Austin. If approved, they plan to have the service April 7, the 51-year anniversary of when Barnett was killed in action.
"We have selected a casket, and for the funeral service, we will bury the tooth with a fresh uniform, his medals and an American flag," Coffey said.
Coffey, her sister and mother, Betty Sue, first heard from the Department of Defense in 2005. They determined the location of the crash site, found the B-57 tail number and were going to continue to work with Southeast Asian government officials, including those in Laos, in an effort to begin an excavation and recovery mission.
Coffey and her sister met with Defense Department officials in Washington, D.C., in June 2006. They explained that the Laotian government would allow them to go into their country for 30 days at a time only once or twice a year. With many crash sites identified, the officials told them it might take some time to get around to excavating their father's site, Coffey said.
Other pilots from Barnett's 8th Bomber Squadron based in Da Nang, South Vietnam, saw his plane get hit. According to extensive research into Barnett's record by Vietnam Army veteran Robert Gamboa, others from Barnett's 6252nd Tactical Fighter Wing reported that Barnett, knowing his co-pilot, Capt. Thomas Walker, was dead and that he likely would die if he tried to land the plane, rolled the plane and targeted the anti-aircraft gun site that had brought him down and imperiled other crews.
Members of the squadron reported that Barnett destroyed the gun, Gamboa's research showed.
Gamboa, historian for the Waco Vietnam Veterans Memorial, said he will seek to add Barnett's name to the Waco memorial along with four other former Baylor students who died in Vietnam.
"In all my years of researching all these guys who gave their lives for our country, it becomes part of me, as if I know them," Gamboa said. "I never met Capt. Barnett, of course, but from past experiences, once I get to that part of putting pieces of this initial puzzle together and it starts to become a big picture, I understand much of what Capt. Barnett's daily duties might have been as an Air Force pilot. I can see him on the ground checking his aircraft over, making sure whatever bombs have been authorized for his aircraft are secure."
In an interesting twist, Gamboa turned his exhaustive research about Barnett's school and military records into a guest column for the Tribune-Herald in December. Coffey said someone sent her a copy of Gamboa's column on the same day the Air Force notified her it had identified her father's tooth by using his dental records.
After it found Barnett's tooth, Coffey and her sister met again with Air Force officials in San Antonio. Officers gave them an inventory list and showed them photos of every item recovered from the crash site, Coffey said.
The debris field from Barnett's bomber stretched more than 300 yards, she said. Workers' progress was impaired by dense jungle vegetation. They also found unexploded bombs at the site and detonated a few of them, Coffey said she was told.
Workers used "bucket brigades" to remove the recovered items, which included co-pilot Walker's dog tags, a Zippo lighter case, fabric from a boot and flight suits, parts of flotation devices, and oxygen hoses and parachute pieces.
All that was left from the plane were fragments of a windshield, a turbine and a section of the tail with the identifying number on it, Coffey said.
Gamboa, who served two tours of duty in Vietnam, said his experiences and his research into other's military careers give him a unique insight into the "nature of the beast."
"I mean war and its impact on the family," Gamboa said. "Capt. Barnett is there doing his job, yet there is such a negative impact on his family. It is a very empty feeling realizing countless millions of people are going about their daily routines.
"But not him. His routine is as a warrior on behalf of the nation, and his routine includes kill or be killed. There is no in-between. Every time he cranked up that B-57 and went down that runway, he knew without question he may never come back to the base at Da Nang."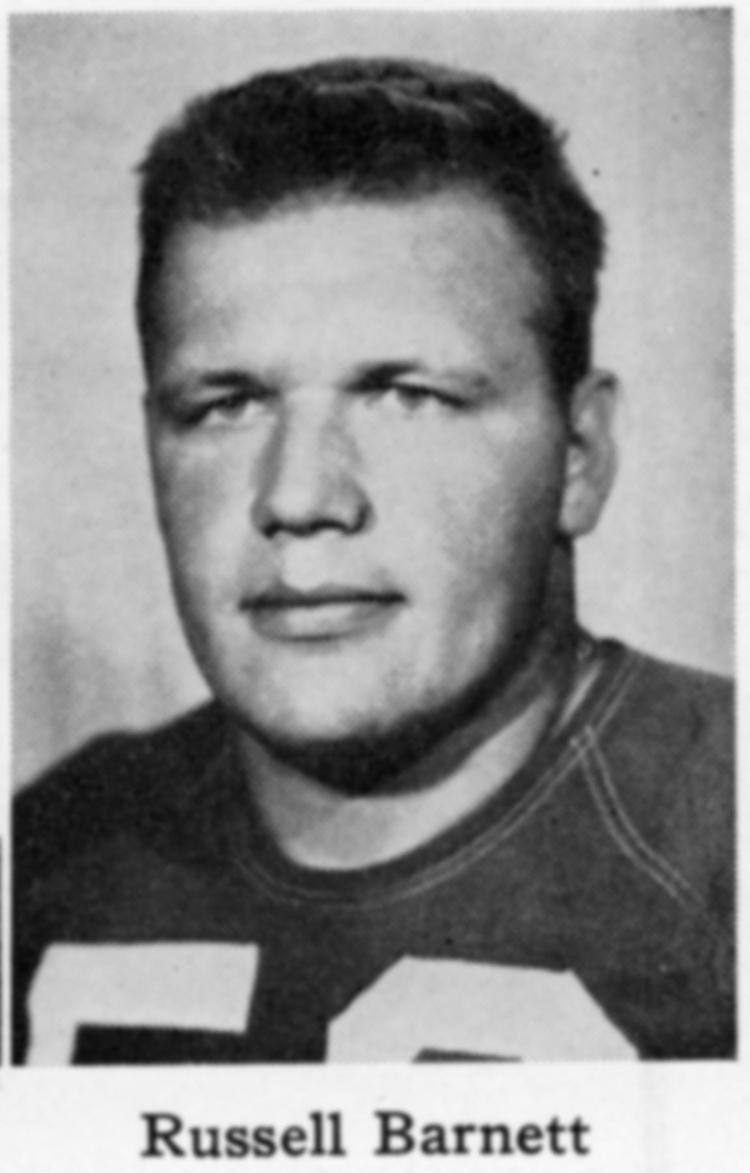 Barnett, whose nickname was "Bear," was a football star at Gladewater and enrolled at Baylor in 1951 as a member of the Air Force ROTC program. He was a hulking defensive lineman who won a starting job on the freshman team before starting on the varsity squad as a sophomore.
The 1952 Bears finished 4-4-2, placing fifth in the Southwest Conference. Barnett recovered a fumble late in the fourth quarter against Southern Methodist University, but Baylor missed a field goal that would have won the game. Barnett played most of the season with an injured ankle and he sat out the 1953 season after having ankle surgery, according to Gamboa's research.
Barnett met his future wife, Betty Sue, at Baylor, and they married in 1952. After he graduated from Baylor, Barnett enlisted in the Air Force as a second lieutenant in February 1956.
Barnett was assigned to several Air Force bases flying top-secret missions around the world, Gamboa said. One major assignment involved flying secret missions over North Korea before he was sent to Vietnam and the 8th Bomber Squadron in mid-1965.
Coffey said her mother told her and her sister not to tell people that their father was killed in Vietnam because of the demonstrations and anti-war sentiment at the time.
"The men coming back from the war were treated so badly, and my mother was afraid that they would say horrible things to my sister and me," Coffey said. "But my father loved his country and he felt so strongly about America that he wanted to serve his country. He wasn't always around much because he was flying so much, but I know he would have been proud of how he gave his life for his country."
That devotion to country likely cost Barnett his marriage, Gamboa said. His research shows Betty Sue didn't want to be a military wife, and they divorced.
"I can imagine the love of flying he had and the top-secret assignments, especially flying over North Korea after the Korean War," Gamboa said. "The picture I was able to draw from my research was that he was thinking about his wife, who just wasn't going to put up with him being gone all the darn time.
"But he was getting out and coming home. He ordered a bouquet of flowers to be delivered to his wife a couple of weeks before he was to leave Vietnam. He saw the error of his ways. He didn't blame her. He loved her and wanted to find some way to get back together."