Trailing by 17 points after the first half, Giddings Indians lineman, jersey number 17, rallied his fellow players with a speech of family and brotherhood.
"We family. We got each other. We stick together and we family," he said in the locker room at Paul Tyson Field on Friday night. "No matter what, we got each other."
That message of togetherness overpowered the Friday night lights on the six-man football playoff field. For the first time in the history of the Texas Association of Private and Parochial Schools' six-man Division 1 football, the Gainesville Tornadoes of Lone Star High School North and the Giddings Indians of Lone Star High School Southeast squared off in the football division semifinals.
The Texas Juvenile Justice Department school teams, with rosters filled by boys serving sentences for felony convictions, typically face off against private and parochial schools. Friday's contest offered a rare matchup between two state schools. Because the players are juvenile offenders, they cannot be identified by name.
"Football means a lot and we take it seriously," said Gainesville Tornadoes lineman, jersey No. 1. "Like coach tells us, this is a new chance to make our lives right. That is what means a lot."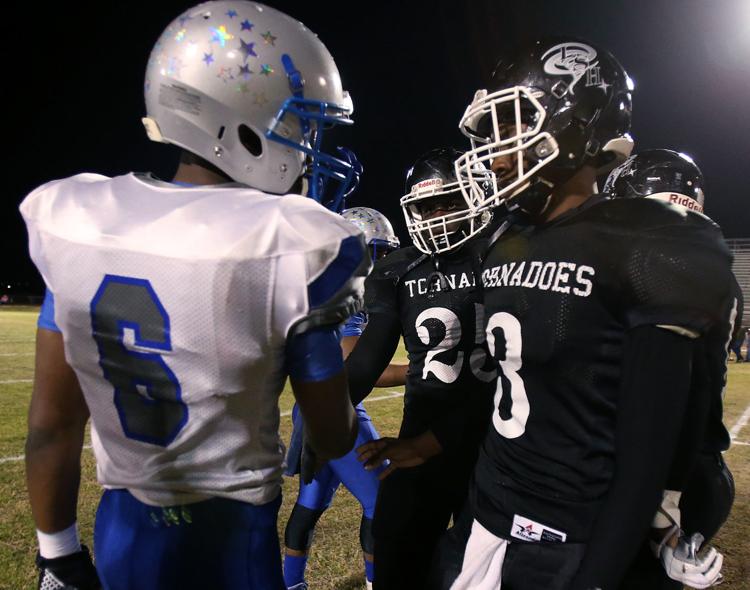 After the battle on the gridiron settled and Gainesville hoisted the trophy in a 44-32 win to advance to the state championship game against Austin Veritas on Thursday, the fellowship of brotherhood surpassed the importance of the final score, said Sandy Brown, Giddings' coach for 38 years.
"You guys handled us and by 12 points more," Brown said at the end of the game. "We are real proud of y'all, and I'm proud of my kids. They played all-out, but we are with you guys in the championship game."
While serving their sentences, players go to classes and work through courses to prepare them for the future, said Seth Christensen, Texas Juvenile Justice Department director of stakeholder relations.
"This type of game and these types of programs normalizes their day-to-day (life) inside our facilities," Christensen said. "Just like in high school, any high school has a football team, and in Texas, football is a big sport that does great things and creates great leaders.
"At our facilities, it works in the same way."
Christensen helped coordinate efforts with Waco Independent School District to secure the football field for the playoff game, he said. The players, aged between 16 to 18 years old, experienced a true football atmosphere with cheering fans and encouragement from mentors in the stands.
"I've seen players who have played on our football teams at our facilities have come back to talk about how the program helped them in their lives to become better leaders than what they otherwise think they could have been," Christensen said. "Our whole goal is to move these kids back into communities where they can make rational choices and decisions, and treat the trauma that has affected each of them."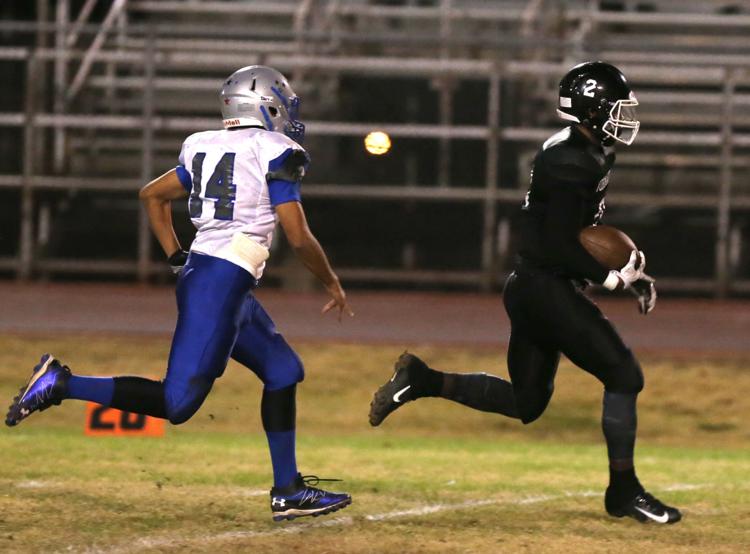 Emotions ran high as players focused their attention and work onto football field. At the end of the game, Gainesville's second year coach Roy Burns had a final message for the opposing team.
"You are a great football team," he said at the center of the field. "We are going to go win the state championship for y'all. This is going to be for you."
Kickoff for the state championship game will be at 3 p.m. Thursday at Panther Stadium in Hewitt.