Stormy spring weather — well, images and video of it — blew into the McLennan Community College Emergency Services Education Center on Saturday for about 80 prospective McLennan County storm spotters in a National Weather Service Skywarn training session.
The annual workshop, one of 40 held between January and March in the weather service Fort Worth office's 46-country coverage area, provides basic information on what causes severe weather and what sort of helpful information citizen storm spotters can provide to the weather service. The Fort Worth office covers an area of north central Texas from the Red River border with Oklahoma to Milam County in the south.
Even with highly detailed weather radar, trained meteorologists and computer-assisted forecasting, the weather service relies on amateur weather-watchers for crucial ground-based reporting that fills in the gap that weather radar and satellite imaging cannot reach.
"We rely on weather spotters for ground truth," said Jennifer Dunn, the National Weather Service warning coordination meteorologist leading Saturday's Skywarn session.
By reporting where large-diameter hail is falling, where high winds are causing damage and where tornadoes are touching down, citizen spotters provide crucial confirmations that help shape weather service alerts and warnings that can save lives, Dunn said.
While storm information is good, detailed information is better, and the general session provided helpful descriptions and parameters of what and when to report. Spotters are encouraged to report hail more than penny-sized, winds of more than 40 mph capable of blowing roof tiles off, flooding and tornadoes or cloud formations that may turn into tornadoes.
Spotters are encouraged to report severe weather by phone, email, amateur radio and even spotter networks on Facebook and Twitter. Dunn also said spotters with video clips of severe weather can send them to the weather service office for possible use in future Skywarn sessions.
Dunn handled the morning's general session with an afternoon session by fellow meteorologists Lee Carlaw and Joey Picca bringing a more detailed, weather-wonkish analysis of what meteorologists look for in predicting and monitoring outbreaks of severe weather.
For volunteer Jeb Leutwyler, the Saturday session offered the first chance for storm spotting education after he had earned an amateur radio license. Retired from Southwestern Bell, Leutwyler said he sees storm spotting and emergency communications as yet another opportunity to help in his community.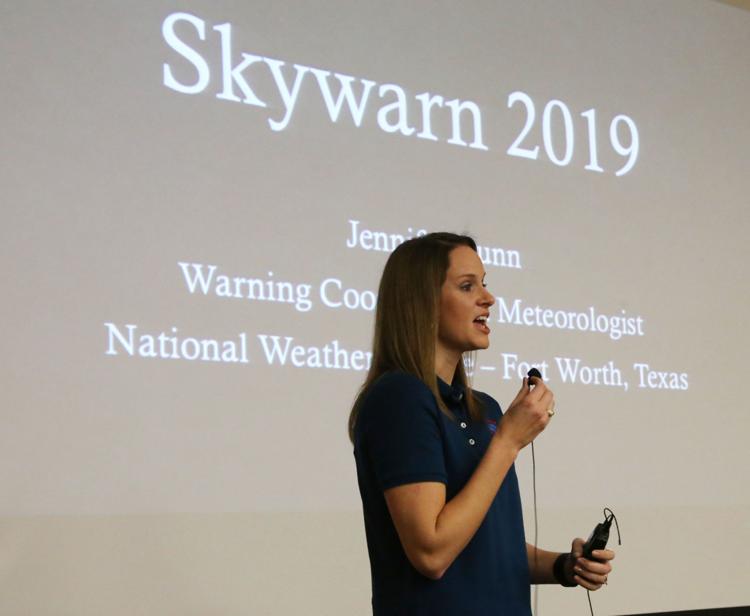 Frank Patterson, McLennan County Emergency Management Coordinator, and Ed Hynan, the McLennan County emergency coordinator for the Amateur Radio Relay League, attended the Skywarn session along with several of Hynan's amateur radio operators.
Storm spotters, law enforcement officers in the field and radio operators offer wide-ranging reporting networks that can help pinpoint severe weather and coordinate rescue efforts if needed.
"It's an advantage for us to have spotters," Patterson said. "The next step (after radar storm tracking) is the ground truth. That's what spotters provide us."
He cited an incident in Clifton when weather radar indicated a tornado. So did a ground spotter, but in a different location. It turned out that two tornadoes, in fact, had touched down in the same area.
Both Patterson and Hynan, retired from the Air Force, started covering severe weather and emergency situations in their respective professional positions in the 1990s. Some 20 years of ever-evolving technology has revolutionized weather forecasting, reporting and emergency notifications, Patterson noted. Waco's outdoor warning sirens now number 37 and include Bellmead, Lacy Lakeview and Beverly Hills, with Woodway, Hewitt and McGregor operating their own warning sirens.
Sirens were once connected by phone lines, and a phone or wiring malfunction could cause a siren to go off. They are now are radio controlled, allowing more geographically specific warnings, he said.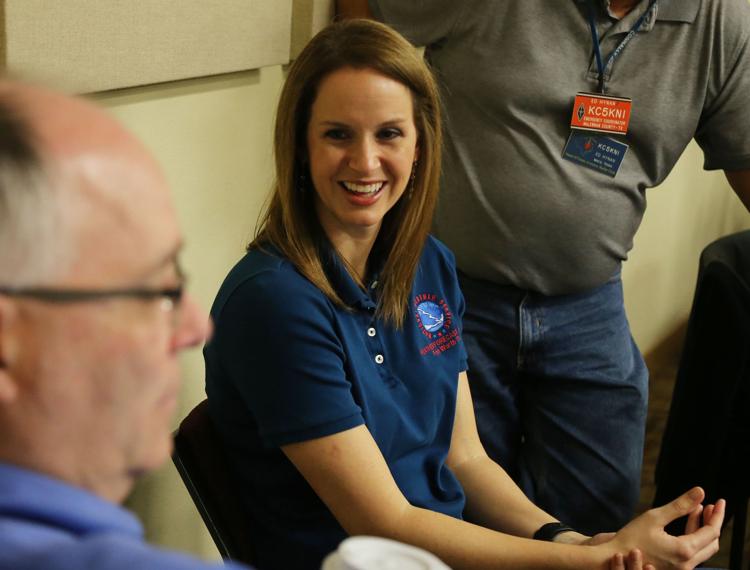 Hynan also said he remembers monitoring approaching storms, when the National Weather Service had a Waco station, by tracking blips with a grease pencil on a plastic overlay on a radar screen.
"Now, I have a $10 phone app on my phone that's as good as the NWS radar," he said.
Even with advancing technology, human observation on the ground still provides critical information during a time of dangerous weather, although sometimes those observers can be fooled. When a tornado passed near West and Tokyo not too long ago, one spotter reported multiple cars tossed around and damaged by the tornado, Patterson said.
The cars, it turned out, were not in a residential neighborhood or business area, but a salvage yard the tornado had skipped through.