McLennan County Sheriff Parnell McNamara announced Thursday that he would be honored to remain sheriff for another four years.
"I am just 72 (years old), going on 25," McNamara said. "I am going to go as long as I can."
The longtime lawman announced his intentions to run for re-election in 2020 at the McLennan County Republican Club luncheon at the Texas Ranger Hall of Fame and Museum. The crowd applauded McNamara's announcement, with its new campaign slogan: "Riding Herd on the Lawless."
"We have a great effort going and the people of McLennan County have encouraged me to run again," McNamara said. "I've got a great team working with me and I just absolutely love the job."
After 32 years with the U.S. Marshal's Service, McNamara was elected sheriff in 2012, then won re-election in 2016 after a primary battle against Waco police Sgt. W. Patrick Swanton and the Rev. Willie Tompkins.
No other opponent has announced intentions to run for sheriff on Thursday. Swanton, a nearly 39-year Waco police veteran, said he is considering running for sheriff again.
"That is certainly a viable option for us — one that I will have to take careful consideration of and make a determination in the near future," Swanton said. "It has been an honor and a privilege to serve the citizens of our community and we will see what the future holds."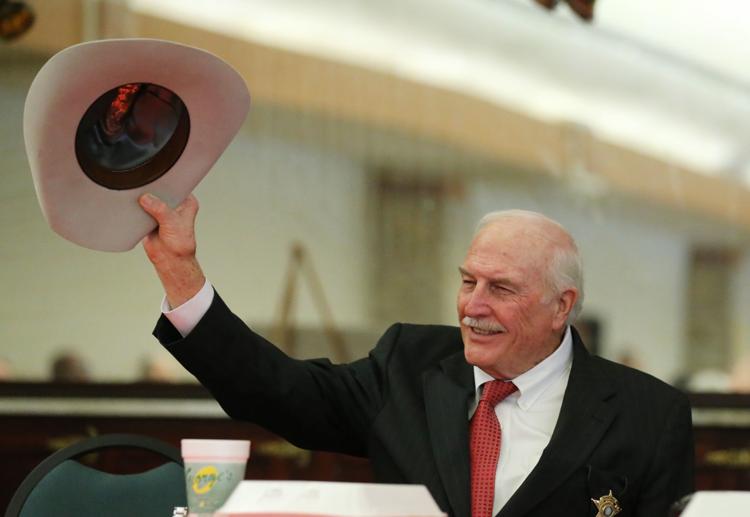 Supporters shook McNamara's hand and said they admired his dedication to the job. McNamara's wife, Charlotte, said she is fully supporting a potential third term for her husband.
"Every morning that man gets up and runs circles around me every day," she said. "That is no joke. Twenty-four hours a day, seven days a week, he is going nonstop. I know he is doing a great job and he loves the people of McLennan County."
McLennan County Republican Club President Wesley Lloyd said caterers at Thursday's luncheon ran out of food and seating for the large lunch crowd. He said it was a testament to support of McNamara, but the announcement was not a surprise.
"It was not a shocking announcement, but it is good to get it out of the way for him, because he is doing a good job, they appreciate him and like him," Lloyd said. "He obviously has a lot of enthusiasm for the job still and you can tell it when he speaks. My impression is that it feels like he has unfinished business, so we need our elected officials to stay hungry."
Ahead of his announcement, McNamara told audience members about the office's ongoing efforts in combating human trafficking and work done by investigators with the cold case unit.
McNamara gave highlights of the work of human trafficking detectives and the fight to end modern-day slavery. He spoke of the Beth Bramlett cold case and how investigators last year pinned her 1982 murder on Talmadge Wayne Wood, who died in 2014. He also told of the December arrest of Charles Emory Sedigas, who has been charged in the 1984 murder of his grandmother in Bellmead.