A group of wrestlers will take to the ring soon in an event aimed at helping a local nonprofit support human trafficking victims who may find themselves on the ropes in a much more serious way.
"At the end of the day, it is entertainment for fans, but we are properly trained so while it's real and it hurts, we don't get injured," wrestler Cody Pack said. "Doing this for a group that has a purpose, it means a lot to help others who are helping people."
Pack, a Lorena resident who wrestles under the name Ethan Daniel, will be one of more than a dozen professional wrestlers participating in the Heart of Texas Wrestling Battle for Unbound, which will support the local anti-human trafficking nonprofit, Unbound. The free, family friendly event will be held at 6 p.m. Sept. 21 at the Karen Shrine, 400 Karem Circle, off North River Crossing.
"There are going to six matches with about 14 wrestlers, said William Hitch, a McLennan County Sheriff's Office detective organizing the event. "It is going to be a kid-friendly event with no blood, no cursing, but we will have the hero, the villain, and we want people to cheer and not feel like they have to sit still."
Hitch is himself a former professional wrestler who started his career in 1988 and retired from the sport about five years ago. He worked out with Pack at the Waco Boxing Club on Thursday afternoon and said he is coming out of retirement to help raise money and awareness of human trafficking through the Battle for Unbound.
"I started in 1988. I never was full-time, but I knew a lot of the full-time guys and we did several fundraisers over the years to help others raising money for various things," Hitch said. "We were trying to figure out something to do and we came up with the idea to do a wrestling show, because it is something that kids like to do. This is something that will be fun and bring the action right to them."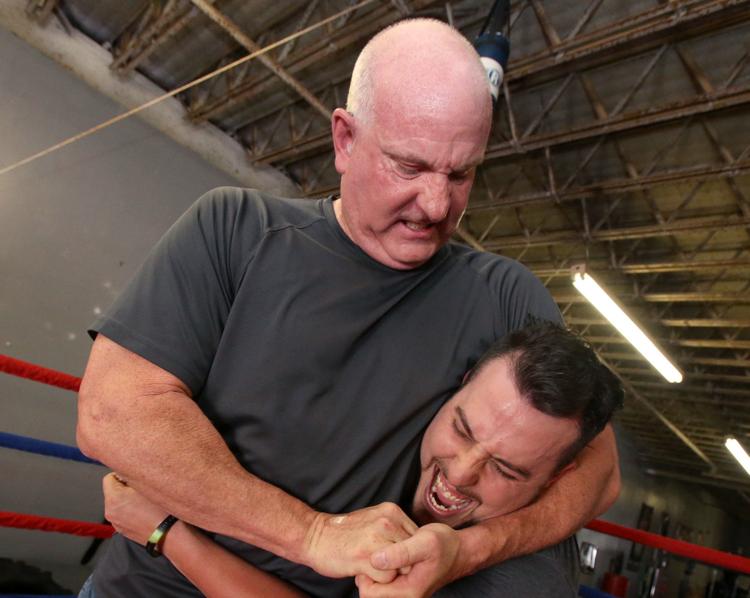 Acknowledging it may seem like an odd partnership, Unbound Director Susan Peters said she is happy with the event's potential. It may reach a new audience for the nonprofit that works to prevent human trafficking and provide services to victims.
"It is an interesting partnership, but they approached us with the idea to do it with a focus of being family friendly. And they said they cared about the issue," Peters said. "We are thrilled they want to do something to benefit the victims we serve and spread awareness."
Pack, 28, of Lorena, said he travels around the state and country wrestling. He said he is excited to perform in front of a local crowd, and what he has learned about the impact of human trafficking in the state has increased his desire to help with the cause.
"I've never experienced anything like that and I don't know of anyone who has, but I try to look at it from an outside perspective as to how I would feel if my family member was in that situation and was being used like that," he said. "I've heard some of the stories and I just want to do what I can to help, whether it's on the front lines if I see something that doesn't look quite right or if it's raising money and bringing awareness."
The event will free for guests, and donations to Unbound will be accepted.
Heart of Texas Wrestling is still seeking sponsors for the event, Hitch said. Sponsors who are interested in contributing to the event are asked to call Hitch at 759-7534.