Waco's very own castle has hit the market, again.
The stone structure at 3300 Austin Ave., which looks every bit the part of a medieval abode sans the moat, is priced at $425,000.
Listing agent is Kelly Realtors' Ashley Burgess Weist, who said in a brief interview she expects the castle to attract interest, considering its history and place of prominence in the community. She placed her sign in the yard on Valentine's Day but said she would rather not discuss inquiries so far.
"I will have to beg off answering that question," she said politely. "The owner of the home is a very private individual."
Work on restorations and updates has been ongoing during part of the ownership stint of Dirk Obbink, a papyrus expert who lectured at Baylor University and lives in England.
"Since the purchase four years ago, much behind-the-scenes work has been completed, and this iconic property has been painstakingly disassembled where necessary, materials meticulously cataloged and carefully preserved," according to a Multiple Listing Service post. "This magical German-style stone castle needs a new guiding hand to complete the work so lovingly begun by the current owner."
When Obbink bought the castle in 2014, neighbors and preservationists said they were hopeful the now 129-year-old landmark had better days ahead, according to a Tribune-Herald report at the time.
"The lucky buyer will one day be able to reveal the 9-foot oak front door, weighing 400 pounds, elaborate Honduran mahogany mill-work, fine quartersawn oak, intricate diamond-paned windows, eight fireplaces — one of carved French Caen stone and another of pink granite — and exquisite light fixtures all of which have been thoroughly protected," according to the Multiple Listing Service post.
Much work remains to make the renovation complete, "but once completed 'The Castle — as Wacoans fondly refer to it — will once again shine brightly," according to the listing.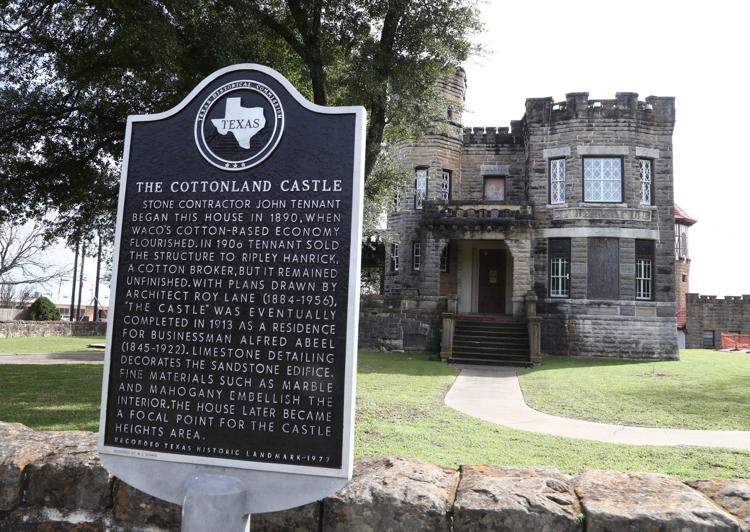 At the time Obbink bought the castle, it had not been occupied in more than a decade and had major water damage inside.
Local longtime real estate agent Towne Adams lives at 2912 Austin Ave. and passes the castle almost daily. He said he has noticed little activity but did see the new for-sale sign posted outside. He said traffic has remained light.
"It is a source of pride for the Austin Avenue Neighborhood Association, our crown piece," Adams said. "I remember from stories in the past when the castle was the only thing out here, everything else grew up around it. You could see from the castle toward the center of the city. I'd like to see someone buy it, live in it and enjoy it again."
Obbink spent more than $270,000 for the property in 2014, David Tekell, an attorney representing seller Clarissa Carter, said at the time.
Carter and her former partner, Russell Giles, bought the 4,700-square-foot house in 2006 and started to repair it, but the project stalled when they had a falling-out, resulting in a protracted legal battle.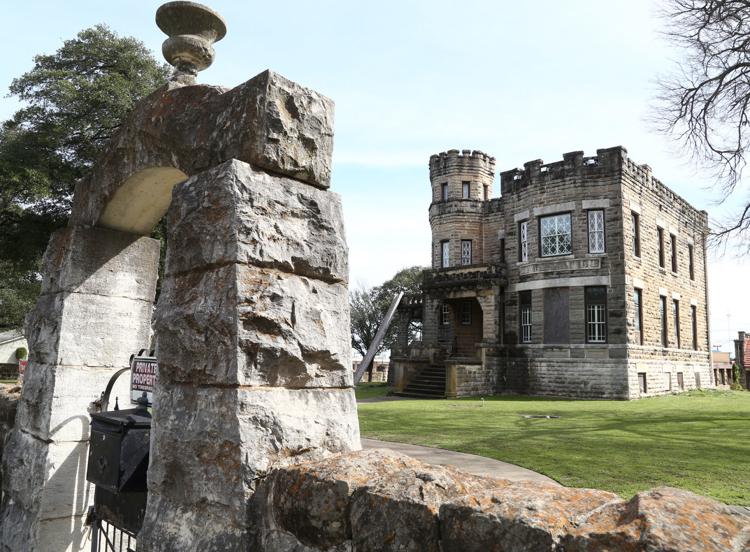 $200K more in repairs
Giles said in 2014 that she spent $125,000 replacing wiring, plumbing and plaster ceilings that had fallen because of a leaking roof. She estimated another $200,000 would be needed to complete repairs.
The castle has seen owners come and go since its construction in 1890, with a re-do in 1913 that included its transformation to a castle with a 60-foot tower.
Later title holders included Irene Pipkin, whose family owned Pipkin Drug Stores; Austin Avenue United Methodist Church; a car dealer named Jack Schwan, who bought it for $50,000 in 1969, and renovated the upstairs interior with a "tropical fantasy" decor, the Tribune-Herald previously reported.
One owner later unsuccessfully tried to make it a bed-and-breakfast, a notion that shocked some neighbors. Hatch Bailey, who oversees the Wilkirson-Hatch-Bailey Funeral Home, also once resided there with his family.