Joe Don Bobbitt spent five years in the Army, including two tours in Iraq, where he dodged mortar shells and helped protect his base from suicide car bombers.
However, his time in the service only marginally prepared him for the hostility he often faces in his job as acting chief appraiser for the McLennan County Appraisal District.
"I am proud of my service and enjoyed it while I was in as long as you didn't focus on the potential of what could happen," Bobbitt said. "But being with the guys and doing battalion work as part of a team, I enjoyed that. It is a well-respected career, which is different from what I do now. Now, when I go places, I am hesitant to tell people where I work."
Bobbitt, 37, was a captain when he left the Army in 2010, and at that point, his job was mostly administrative. He said the logistical side of his Army service and focus on attention to detail is helpful in his current job, but there are not that many parallels between the two careers.
"There's not a lot of use for ballistic trajectories and shooting things in my current job, but we do encounter hostile people from time to time. We make sure we have security guards present during Appraisal Review Board meetings to mitigate risk. I do enjoy the 8-to-5 aspect of my current job. That is definitely different than the Army.
"But I consider them both public service. Most people don't think what I do is a public service, but I look at it like that. Somebody has to do it and you might as well attempt to do it right," Bobbitt said.
Bobbitt grew up in Lindale in East Texas, where he graduated from high school in 2000 and built trailers as a member of the high school's Future Farmers of America chapter. His favorite teacher taught agriculture courses, which influenced Bobbitt to get an agriculture science degree from Texas A&M University.
Bobbitt also followed the recommendation of his high school principal, also an Aggie, and joined the A&M Corps of Cadets. He discovered his plan to be an agriculture teacher was overshadowed by his desire to serve in the Army.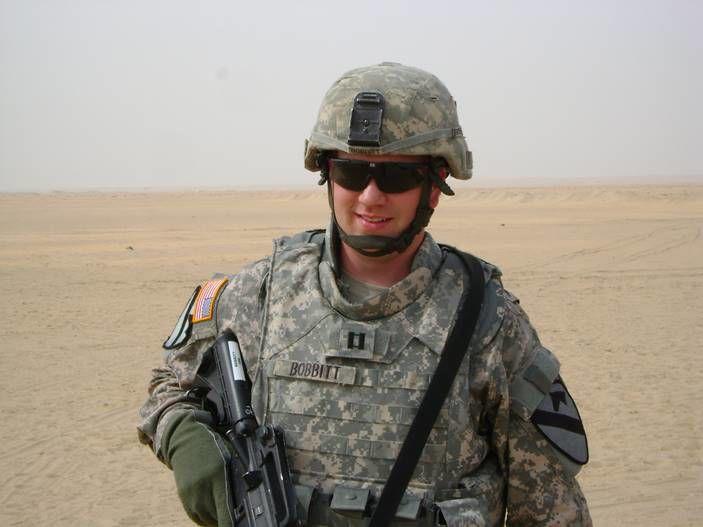 The Sept. 11, 2001, attack on the World Trade Center in New York shocked the world during Bobbitt's sophomore year at Texas A&M, but he already had signed a contract to join the Army nine months before to take advantage of Army scholarships.
But 9/11 had an obvious effect on him and many others. Out of 500 Corps members who graduated in Bobbitt's Texas A&M class, 90 went into the Army and more joined other branches of the service.
"It was concerning because you don't know what is going to happen," Bobbitt said. "My parents were definitely concerned and afraid. But when something like 9/11 happens, you want to do what you can. But when we signed up, even before that, we pretty much knew we were going to war."
Bobbitt graduated from A&M and was commissioned as a second lieutenant. Field artillery was not his first choice for assignment, but because of the Army's needs, he was assigned to the First Battalion, 82nd Field Artillery Regiment, First Brigade combat team of the First Cavalry Division after six months of officer training at Fort Sill, Oklahoma.
Bobbitt, met his future wife, Stephanie, at A&M and they were married in April 2006 at a campus chapel while Bobbitt was serving at Fort Hood before his first deployment.
"We were having a field exercise for two weeks and that was the only date the Army would let me leave," Bobbitt said. "I came out of the field at Fort Hood, took a shower, went to College Station, got married, turned around and went back to Fort Hood. Our honeymoon had to wait."
Bobbitt said his new wife was supportive of his military service but was naturally concerned for his safety.
"There was a time where we got so busy that I forgot to call her for two weeks," he said sheepishly. "I really thought that it had been about three days, but it had been two weeks. That was a good conversation."
Operation Iraqi Freedom was in full swing at the time and he arrived at Camp Taji, Iraq, in October 2006. He was promoted to first lieutenant six months later while serving a 15-month deployment in Iraq.
Battalion's jobs
His battalion had two jobs. Some in a firing battery manned 155 mm Howitzers, huge cannons with 6-inch-wide barrels. Bobbitt's group spent most of its time guarding the camp's front gate and checking vehicles that came in and out.
Bobbitt returned to Fort Hood for about a year and was deployed again to Iraq in January 2009. He returned to the same base and served as the battalion logistics officer, making sure there was sufficient food, water, gasoline and other resources at the base.
The battalion got mortared a few times but no one in Bobbitt's battalion was killed or injured, he said. His battalion lost one soldier to suicide during his time in Iraq, he said.
Bobbitt served about 18 months in the Army Reserve after he got out. He and his wife now have a 3-year-old son and are enjoying a less-stressful life, except when his office sends out property appraisal notices and people realize their taxes are going to be more.
That's when Bobbitt wishes he had a battalion surrounding him again.