They're touching up their scars, donning their bloody shirts and tuning up their chainsaws.
For the monsters at the Museum of Horrors, starring in your worst nightmare is their fondest dream.
The haunted house at 14656 Interstate 35 in Elm Mott is entering its 29th season of scaring this October with a cast that includes some actors who return year after year.
"There's a lot of people out there that love acting, love Halloween, and this is an outlet for them," said Dana Anderson, co-owner of the roadside attraction and member of the cast. "They feel the connection the group out here, and they come back before because they feel like they're among family."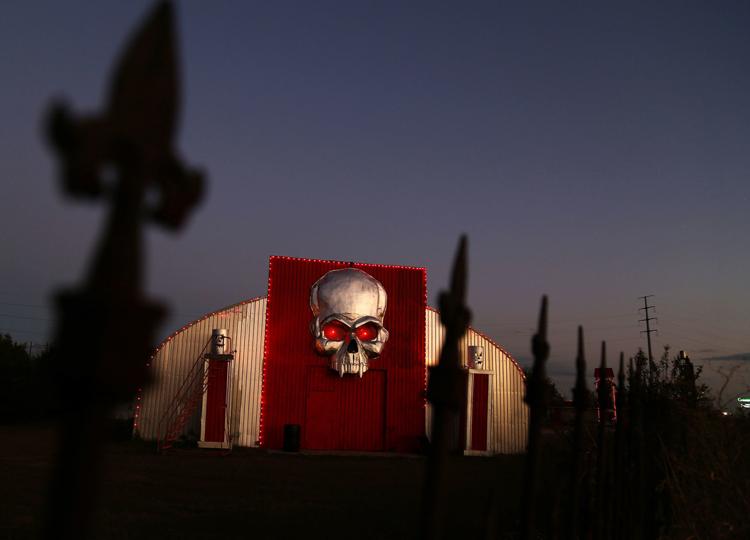 Sarah Ingram has been with the museum for 16 years, creating new characters, training other actors, and perfecting the art of scaring people senseless.
"I can scare people after having a full conversation with them," Ingram said, gesturing to her bloody makeup and creepy contact lenses. "I can walk down a line and scare 90% of the line by the time I'm done, but the kids won't be scared of me."
Ingram, herself a parent, said that's intentional. She said there's no fun in scaring someone so young, but selective scaring takes a bit more finesse.
"I can talk to them, and they'll wave and smile at me," Ingram said. "They're totally cool, even though they just watched me scare everyone around them."
This year, Ingram and fellow veteran monster Meagan Buchanan are playing the Twisted Twins, wicked twin clowns with wide Glasgow smiles like the Joker's. Ingram and Buchanan use everything from stage makeup and blood to cotton balls and tissue paper to create the characters' faces, a process that can take hours. With some 20 monsters on staff, teaching newcomers how to do their own stage makeup is essential.
"It takes practice," Ingram said. "If someone is always doing it for you, then you'll never learn, never expand your horizons and learn new things, so it's better if we teach them."
Dana and her husband, John, have operated both the Museum of Horrors and the adjacent Texas Chainsaw Nightmare for a quarter century.
The Museum of Horrors is more of a straightforward haunted house, with themed rooms, detailed, spooky scenery and a wide variety of character to chew it. The Texas Chainsaw Nightmare, which Dana considers the more extreme of the two, is a different story altogether. Inside, guests have to navigate a maze that changes every year while being chased by chainsaw-wielding assailants.
"It's a real high-intensity haunt," Anderson said.
At the haunted house this year, guests will encounter old standbys, like an homage to "Nightmare on Elm Street," wicked clowns and an inflatable "squeeze wall" that forces them to navigate a claustrophobic hallway, along with some new frights. This year, its lobby is being converted into an "Urban Legends of Waco" exhibit, featuring La Llorona, Bloody Mary and Goatman of Cameron Park. Also relatively new are the cryptically named Voodoo and Egyptian rooms.
This year, the trip through the museum begins with the electric chair execution of Sam, an animatronic who been with the haunted house for years and has been repaired countless times. One night, the mannequin's head detached in front of a crowd of guests and was thrown across the room by its own momentum.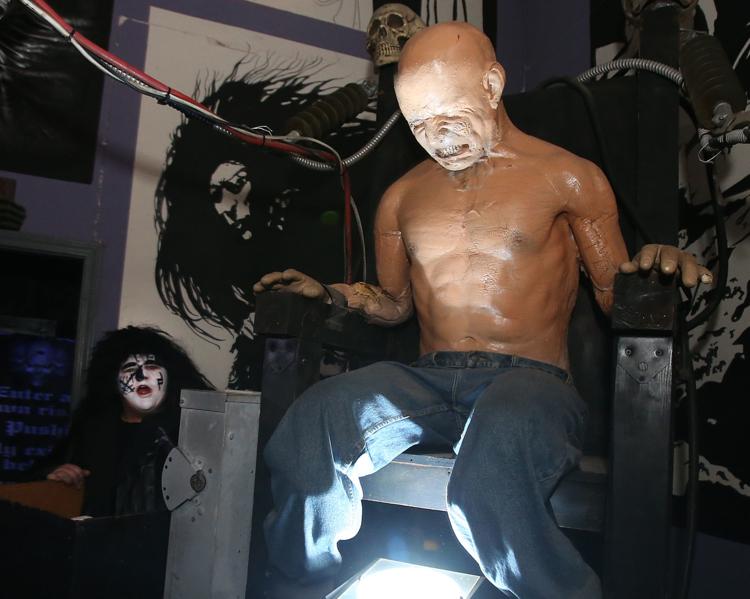 "That was the best scare ever," Michael Vinzant, head of promotions, said in fond remembrance.
Vinzant plays "Voodoo," a character he's been fine-tuning for over a decade. He said his role at the museum is slightly different than that of other monsters.
"Half of my job is to talk to the people outside who are too scared to go through. I'm the guy who comes and chats you up until you do go through," he said, pausing for dramatic effect. "And then I abandon you."
Nonetheless, Vinzant said the monsters have a strict 'We're monsters, not bullies' policy, and they try to keep a good gauge on their targets' terror.
Eric VonMessenger has been haunting the museum since a friend introduced him to the attraction in 1997. Like a lot of the monsters, he said he's always loved performing, and the haunted house gives him a creative outlet.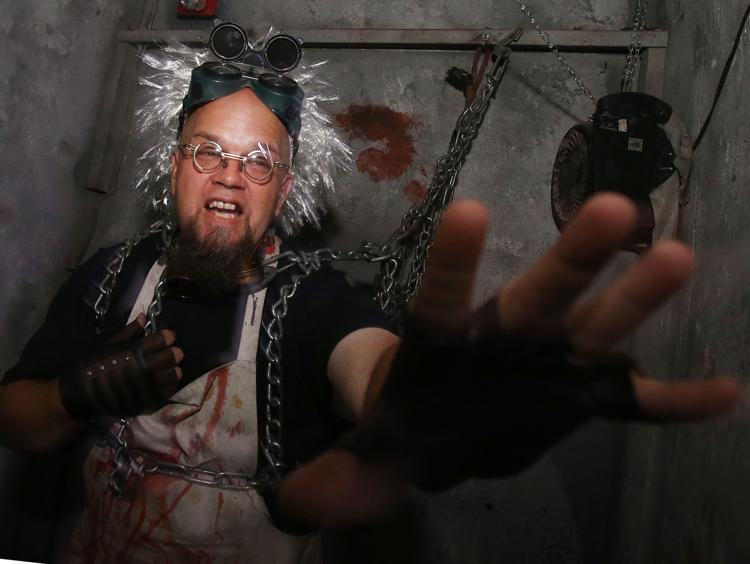 Over the years, he said he's learned how to time his scares for maximum impact, when to ramp up and when to show mercy.
"To a certain level, it's okay," VonMessenger said. They didn't come here to pick daisies and smell roses."
He said working at the museum is "kind of an outlet."
"You can save up all your frustrations and everything and just be yourself out here," he said. "You also learn timing, and of course staying in character is very important out here."
Cory Crum, who started at the museum five years ago as a high school student, agreed. He said the house gave him a chance to use the acting and tech skills he was learning in high school productions. This year, he's playing the executioner who kicks off the tour by dispatching Sam and greeting guests at the beginning of the haunt with jokes. He said after years of cutting his teeth by jumping out at guests in the haunt, he's excited to play a character with a distinct personality.
"As time progresses, through the years, you start to have passion in what you do," Crum said. "You start to build a character, and you want to entertain, rather than just scare. There are some people you just can't scare, but you can still give them the entertainment."
Dana Anderson plays her own character in the attraction, Dr. Frenzy Rigamortis, the museum's ghoulish curator.
"Our second week we were open, I found a mask a lot like this one in the five and dime," Anderson said, gesturing to the Frankenstein-esque prosthetic on her face. "I said 'I love that! I have to use that!' I had that mask for about 18 years, and I love this character because it was fun and it was creepy and I didn't have to wear high heels."
John Anderson, who hosted a public access TV horror show in the late 1980s in Dallas, ran haunted houses in the Dallas-Fort Worth Metroplex and made a popular how-to guide for running such attractions. He and Dana Anderson moved their operation to Elm Mott in the '90s, a period in which elaborate commercial haunted houses were beginning to catch on.
"They really did not have a haunted house here," John Anderson said. "It was very beginning of some of the big (haunted houses), the beginning of making them a big spectacle."
This year, the museum will remain open through Nov. 1-2 for a Day of the Dead celebration with live music, then reopen Dec. 13 for a special Friday the 13th event. Admission to both houses is $22.