Whether it's beer at the American Legion on Friday night, coffee at Schmaltz's every weekday, or even the occasional community pancake breakfast, veterans seek each other's company long after their time in the service is complete.
And it's not just the occasional meeting, either.
The Delaney, an assisted living facility in Waco, has a growing number of veterans who have chosen to live out their remaining days in fellowship together. They meet, pay tribute through their Wall of Honor, and swap stories as they face their twilight years together.
Al Weber, 87, is a veteran who chose The Delaney. He is friends with nearly everyone in the community. A reservist from Chicago's south side who was active during the Korean War, he served in the U.S. Navy from 1949 to 1953, stationed on the destroyer USS John A. Bole (DD755), known also as the "tin can," as Weber likes to call it. He estimated the combined experience of military veterans at The Delaney exceeds 300 years.
"It's a community within a community, and we've all shared what it's like, in many cases, to go into combat," said Weber.
He is joined by Lawrence Pennington, 88, a retired Air Force pilot from Andersonville, Georgia, who served from 1950 to 1979. That included a stint in Vietnam. He and Weber are part of a monthly veterans group facilitated by Weber.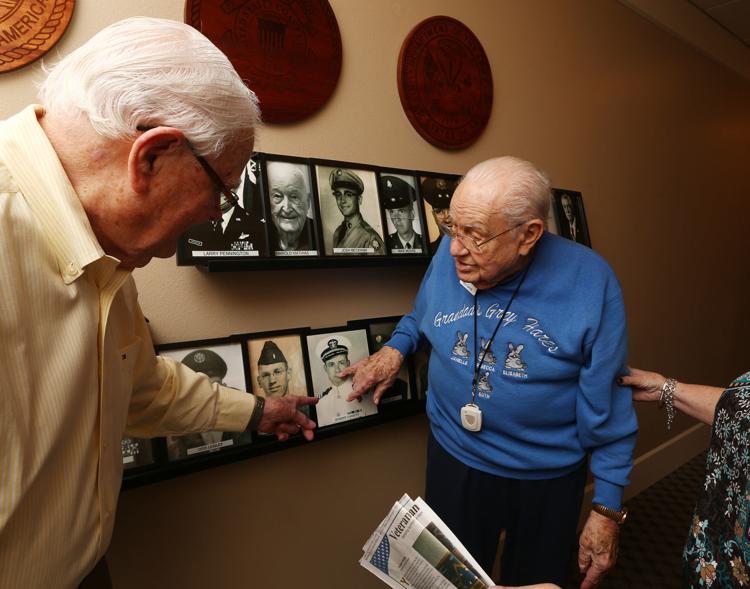 The Wall features photos of all 36 veterans who reside at The Delaney, said Mary Jane Voltin, community relations counselor. She was the initiator of the Wall of Honor, which took a year to complete. It debuted one year after The Delaney opened with the raising of the flag for the first time.
"I feel honored to be on the wall with other veterans," said Weber.
"In the military, you become a piece or portion of a family. And that family encompasses not only your wife and children, but your neighbors and all of the military people around you who share a similar experience," Pennington said. That's what it's like at The Delaney, a total supportive environment, he said.
Even those who don't live together will often go out of their way to attend special events or participate in some activity together with fellow veterans. They sometimes join clubs, attend reunions or meet regularly to fellowship. It doesn't matter whether they've been to war, served lifelong careers or participated in the Reserves. They represent all branches of the military service. And they speak each other's language.
Twice a year, the Robinson Area Lions Club serves a pancake breakfast to local veterans, a newfound tradition now in its third year.
"We do it just to honor the veterans," said David Hill, president of the Lions Club.
Hill said many of the same veterans come again and again. At its peak, the event has drawn some 80 people, no matter the weather.
Among the attendees are fathers and sons, husbands and wives, mothers and sons and others who come to enjoy the fellowship and the free breakfast.
"It's something to do with my dad," said Jason Savell, 44, a former Army veteran who served from 1993 until his retirement in 1998 due to a losing a leg. He's part of three generations that usually attend the breakfast. His father, Jim Savell, a former Green Beret, attended, and Jason's son, Brandon Savell, a former combat medic, usually attends but was away at school for the latest breakfast.
Why they hang out with other veterans is not so hard to understand.
"There's only a small population that were ever in the military, and civilians don't understand the mindset ― the experiences ― of what we had to go through. It's how you reconnect with people," Jim Savell said.
Don Kunze, a 24-year Air Force veteran, said the event provides a sense of family, common interest and community.
And Jack Chenyworth, a former Marine Corps veteran who helped defend Da Nang during the Tet Offensive, added "I have some friends here. We're all one family, as far as I'm concerned." A Robinson resident for the past five years, he found out about the breakfast and has been coming ever since.
Even one widow, Ruby Wegwerth, who lost her husband a few weeks ago, was in attendance with her son, encouraged by others to come. The event must have been bittersweet, as she came with her husband in the past.
Many at the breakfast are often part of smaller groups within the community. Jim Savell, for example, meets every Saturday with fellow veterans at a coffee shop in Hewitt. There's also a group of veterans that meets regularly in Rosebud and a group that meets at Schmaltz's Sandwich Shoppe in downtown, Waco.
For approximately 50 years now, this group of men has been meeting for coffee at one location or another. They've been at Schmaltz's for about 15 years and were its first customers downtown.
Hewitt resident Bill Martin, 77, is the group's longest-attending member. He was 22 years old and fresh out of the Navy when he "first went to the table," as he calls it. Coffee was just a nickel when he started coming.
He is usually joined by Gary Fraser, 72, the second oldest member. The Waco resident spent four years in the Air Force during Vietnam. He started coming in 1976 when he was just 29. The group meets every Monday through Friday for an hour.
Of course, all the guys are older now; the group includes a father and son, Galen and Darrell Huddleston, the only non-military members. All the rest — Crisp Pirelo, a WWII veteran who served in the Navy and Air Force; Louie Glanz, a former Air Force veteran; and Larry Dean, son-in-law of Pirelo, who spent months on a submarine with the Navy — have been coming for years. They wouldn't miss it for the world.
"This is our hobby," said Fraser. "This is our social hour, our fellowship."
"It gives you a reason to get up," added Glanz.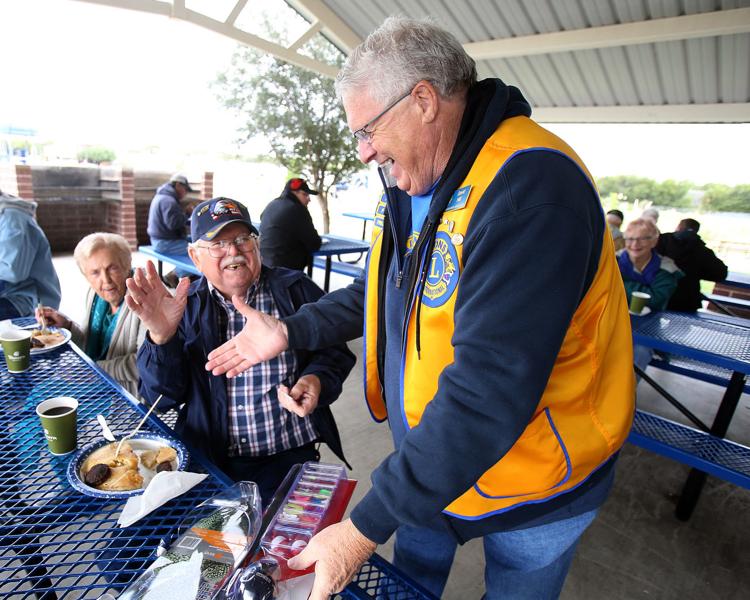 What attracts these veterans to each other is more than just fellowship, said Jon Spann, commander of the James A. Edmond American Legion Post 121 in Elm Mott.
"There's zero chance of being judged here," said Spann. "You're among brothers and sisters that have been in the same exact environment. They have an understanding how that feels."
Post 121 has about 500 members consisting of veterans, sons of veterans, and wives, daughters and granddaughters through the Ladies Auxiliary. The group spends a lot of time supporting other veterans through various entities such as the American Legion Riders, an organization that ensures there's a presence of fellow veterans at every military funeral.
One of the most important factors in joining a club such as this is to provide that feeling that's lost when one takes off the uniform, Spann said.
"When you serve your country … when you know you're doing something that you feel strongly about, feel so positive about, then you're discharged from military, and you no longer have that feeling anymore. Now you've got to find something to do," said Spann.
The Legion provides opportunities for veterans to do just that — serve others. Through ROTC programs, special fundraisers, dances, dinners and other events, veterans learn they can still provide valuable service to their community.
No matter the venue, be it a club, a breakfast or a coffee shop, as long as the military continues to operate, somewhere, some place, a group of veterans will be gathering in support and fellowship. Consider buying them a cup of coffee.