Waco-area worshipers are gradually migrating back to in-person church services this month, with hand sanitizer replacing handshakes, 6-foot distances replacing hugs, and new routines for communion and offering-taking.
Local congregations have been credited for helping protect Greater Waco from the coronavirus outbreak over the past two months by voluntarily shifting from in-person to virtual meetings. A few churches began to reopen early this month, and others are preparing to open in June. But they are finding life together isn't like it was before.
For pastor Derrick Watley and his Mighty Wind Worship Center congregation, it's been a balancing act of COVID-19 protective measures, changing old habits and the eternal truths of the faith since it started phasing in in-person worship on May 3.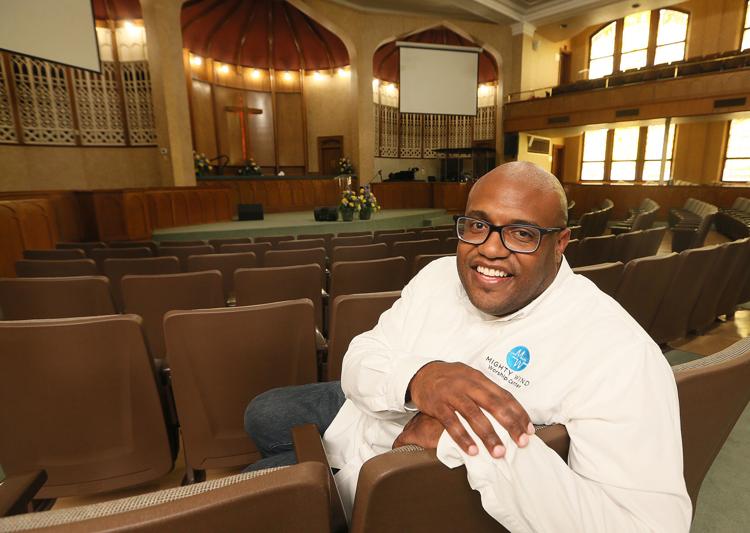 Sunday services have been shorter with members spaced in seating, masks and hand sanitizers encouraged, a giving box in the foyer for offerings, no children's programs, and communion postponed to a later date. About 80 of the church's some 400 members showed up the first Sunday back and that number has slowly grown as members feel more comfortable about worshiping with the new COVID-19 protocols.
"We believe that this is the time in this season that the church of Jesus Christ had to be there. … But I am telling you, I feel safer being at our church than at H-E-B or Walmart," he said with a laugh.
One of Greater Waco's largest congregations, First Woodway Baptist Church, has announced plans to resume in-person Sunday worship May 31, but with a limit of 250 people, social distancing and hand sanitizing protocol in place and no choir. Other Waco Christian churches, such as Family of Faith Worship Center and Catholic churches in the Diocese of Austin, began edging back toward in-person services in May after Texas Gov. Greg Abbott's plan in late April suggested reopening protocols for churches.
Waco's Living Word Church of God in Christ had its first public service May 17 with about 30 people and is continuing with social distancing, hand sanitizer stations and temperature checks in place.
Most congregants are wearing masks, said Gilbert Gillum Jr., pastor of the historically black church in East Waco.
"There's some churches that never stopped, but I didn't do that," he said. "I wanted to be safe. I have faith, but I've got good sense, too. I didn't want people coming in getting sick. … I would not want anybody to contract this virus, not on my watch."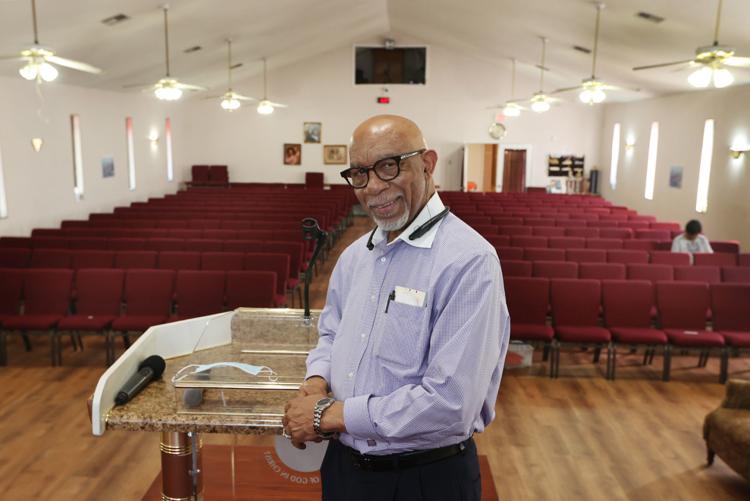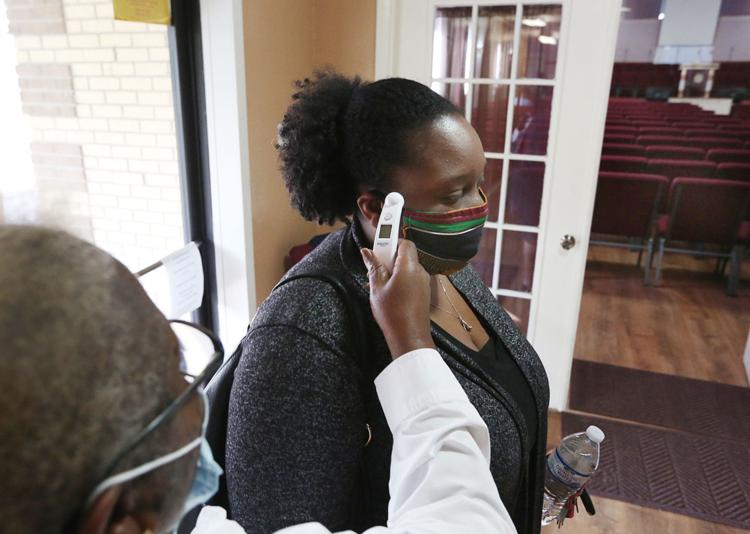 Waco Mayor Kyle Deaver and McLennan County Judge Scott Felton issued a shelter-in-place order March 23 that prohibited public gatherings, which appeared to include churches. Gov. Greg Abbott on March 31 issued a statewide shelter-in-place order but specifically exempted churches, superseding local orders.
It appears most Waco church facilities remained closed at least until April 27, when the state guidance on reopening churches was issued.
Felton said at a press conference Wednesday that the impact of the church closures on containing the COVID-19 outbreak is impossible to quantify. But he said the voluntary closures were an important step, especially since many local people had traveled over spring break.
McLennan County's number of cases, hospitalizations and deaths have stayed low in comparison to other Texas counties of similar size. McLennan County, with a population of about 256,000, has had 107 confirmed cases as of Friday, 13 of which were active. One COVID-19 patient remained in local hospitals.
Church support has been crucial, Waco City Council Member Andrea Barefield said. Both Deaver and Abbott have held teleconferences with faith leaders to discuss the importance of measures to limit the spread of the coronavirus, she said.
Barefield said outreach to local pastors and congregational leaders was intentional and early, with contacts assisted by the Central Texas Interfaith Alliance.
"People have been inundated with information on COVID. We had to look at who in our community had a trusted influence and we trust our pastors and our faith leaders," she said.
Communication was a two-way street with pastors sharing their concerns about stopping church services and ministries as well as city and health officials recommending actions to slow disease transmission, Barefield said.
President Donald Trump took the discussion national Friday when he called churches "essential" and called for their reopening this Sunday, regardless of any state or local orders limiting gathering size or public meetings.
While a few churches have already reopened, about 30 Waco churches, including Antioch Community Church, one of its largest, have announced June 7 as their return to congregational worship in a statement of solidarity of faith.
John Durham, lead pastor at Highland Baptist Church, said the June 7 return for his church won't look or operate like services did before mid-March, when gatherings stopped.
The church's three Sunday services will expand to four to allow spacing of members with a fifth service for senior adults and other members of at-risk populations held separately in the church's chapel. Members will attend services divided alphabetically, and seating will be reduced from 1,475 seats to 423, with one- to six-chair groupings spaced appropriately.
Sunday morning worship won't feature a choir or coffee stations for pre- and post-service fellowship. Masks are encouraged but not required, and doors will be opened to minimize contact. Highland's online streaming of its services will continue as well.
Durham said roughly two-thirds of the church's 3,400 members wanted a return to in-person services when polled three weeks ago, even with protective measures in place.
"I think Highland has missed seeing each other," he said.
While some Waco churches are returning to corporate worship, others are treading more cautiously, given the risk of spreading the contagious virus. And cases in Arkansas, Georgia and Houston, where contact at a worship service or church function spread COVID-19, have made some congregations wary of getting back together too soon, particularly for churches where seniors compose a considerable or important part of the fellowship.
Downtown Waco's First Presbyterian Church will stay with its online Sunday morning services for the time being, opting to follow the leadership of Deaver and the U.S. Centers for Disease Control and Prevention's recommendations to avoid nonessential gatherings, Pastor Leslie King said.
At Calvary Baptist Church, a COVID-19 task force urged members to wait a little longer.
"Overwhelmingly, their guidance was we need to continue to wait before coming back in person," Senior Pastor Mary Alice Birdwhistell said.
Waco's two synagogues are continuing their online services for the time being. At Temple Rodef Sholom, leaders will meet later this month to see if the situation warrants any change.
"Things have just recently reopened and we don't know the effects yet," Cantor Monica O'Desky said.
St. Alban's Episcopal Church rector Aaron Zimmerman said the city's Episcopal churches were in discussion on when they could return to services together, conditional on their bishop's approval of a return plan and a two-week period of sustained decline in local COVID-19 cases.
"It still feels too early to tell. Churches have proven to be effective spreaders (of COVID-19)," Zimmerman said. "It will be challenging when we get together again and, in some ways, bittersweet."
Going two months without physical meetings has forced creativity in reshaping some church functions and discovering new ways of doing things. Online giving increased to offset the absence of Sunday offerings. Church youth and children's programs adapted to online video. Some held online game nights and talent shows.
Pastors traded Sunday sermons for Facebook Live messages or short video talks. Many churches set up phone trees or other organizational systems to contact members, find needs and share prayer concerns.
Moving services and prayer times online broadened some churches' reach. Calvary Baptist Church connected with members overseas, met families' new babies and blessed college and school graduates in video interviews and messages.
"One of the unexpected gifts of this time is reimagining what the church looks like and I think that's been a good challenge for us," Birdwhistell said.
St. Alban's Episcopal Church found it had to include the time zone in listing the start of online services to accommodate new followers across the country.
Highland Baptist Church started providing food and grocery items, in a contactless manner, for those in need in their central Waco neighborhood, serving nearly 9,000 people over the last five weeks, Durham said. First Presbyterian increased its financial support for those in the community needing help with rent and other costs.
Still, as a transitional May has proven for the churches shifting back to in-person services, the need to meet and see fellow members of the faith is strong, if not essential. Barring a local outbreak of COVID-19, some church leaders were guardedly optimistic they could be closer to their regular Sunday services, though with social distancing, masks and other precautions, by mid-summer.
"I know we have to be very cautious, but at the same time, God never wanted us to live in fear," Watley of Mighty Wind said. "(COVID-19) is not going away. We have to learn how to function with it."
Some predicted the experience could leave their churches better and stronger.
Highland's Durham said he feels the changes forced by COVID-19 have brought his church back to the first days of the Christian church found in the New Testament Book of Acts.
"The church was called to preach the good news, love each other and care for the marginalized," Durham said. "This pandemic has kind of made us go back to our roots, and there's a beauty and purity in going back to the church that Jesus wanted us to be."